After being closed to the public for decades, the 106-year-old Teatro Carmen in Barrio Viejo will once again open its doors and welcome the community inside this weekend.
The theater will be open for a one-day sale of assorted fixtures, furniture, and antique items the theater's current owners have accumulated over the years as they prepare to transfer ownership of the building in the coming weeks.
Until the 1920s the Teatro Carmen served as a cultural and artistic hub for the Spanish-speaking community in Tucson, featuring performances by premier Mexican and Spanish theater groups and the most famous actors and actresses of the time, as well as a space for community and social events.
"We look forward to having visitors in the teatro, we hesitated to do that for some time because there's always people that have been wanting to take a peek," says the current owner Don Rollings, a longtime Barrio Viejo resident whose family has restored several properties in the area since the 1970s, including the former Cushing Street Bar and Grill that's now home to The Coronet.
"This serves as a way of inviting people in with a purpose and the purpose is to see this wonderful place and also (find items) that may be of use to them where they live," Rollings says.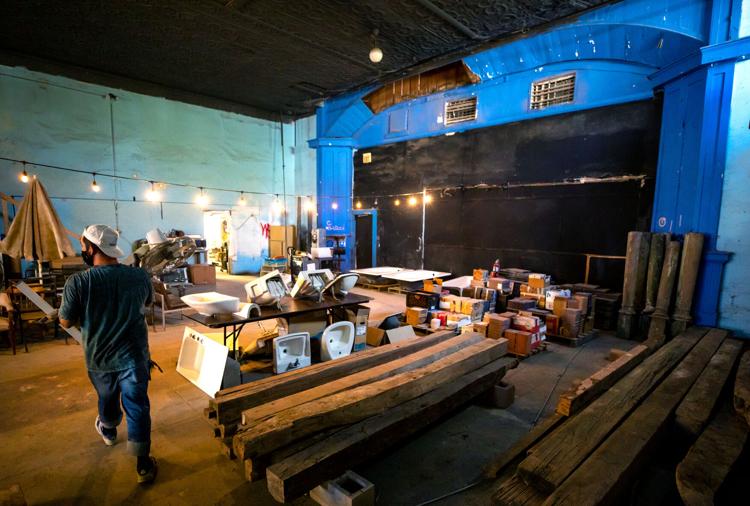 Rollings says his father, Kelley Rollings started purchasing property in Barrio Viejo after the construction of the Tucson Convention Center and other urban renewal projects razed dozens of homes. Hundreds of residents, largely from  Mexican-American, Black and Chinese working class families, were displaced with those projects. 
"He knew deep down that this was a very important part of the heart of Tucson and to have any more of it demolished than was already demolished by the Tucson Convention Center would be at best a shame," Rollings says about his father. 
Since the '90s the Rollings family has mostly used the teatro as a workshop and storage for the various items used in their historic preservation work.
"In 25 years you accumulate a lot," Rollings says. "…My father would collect things he felt were appropriate to use in the buildings, could be sinks, bathtubs, light fixtures, it's been a process going through all that."
Items you'll find at the sale include: a 19th century fireplace, hand-hewn beams, soap dishes, lanterns, antique tables, clawfoot tubs, lockers, branding irons, Italian tiles, handmade doors, chandeliers, doorknobs, lanterns and other vintage and some new items. The treasure trove mostly came from Tucson homes, businesses or Rollings' father's travels to Mexico.

Photographs of some of the items filling the 9,000 square-foot building can be found on the Teatro Carmen Tucson Instagram page, created to promote the sale.
"This is an opportunity to share some interesting things for people maybe looking for a piece of Tucson history," Rollings says.
Items will range in price from $2 to $2,000, with plenty of items under $100, Rollings says.
The Teatro Carmen, the mustard yellow Sonoran-mission style building on Meyer Avenue is a favorite backdrop for photographs, and was featured in scenes from the 1995 movie "Boys on the Side," but its history as a hub for community, entertainment and culture dates all the way back to the early 1900s.
Named for its founder Carmen Soto, the teatro opened almost exactly 106 years ago on May 20, 1915, and was built on a plot of land in Barrio Viejo gifted to her by her husband in 1914, according to an Arizona Daily Star story. 
After 1922 the theater was used a cinema, ballroom and boxing arena. Soto sold it in 1926 and while the building is most frequently associated with Soto and continued to bear her name, for nearly half of its life — from 1937-1986 — it was home to the Pilgrim Rest Elks Lodge #601, a Black Elks club, author John Warnock wrote in the book "Tucson: A Drama in Time."
Rollings says his father, Kelley Rollings who died in 2018, purchased the theater in the '90s and always intended to restore it, but wasn't able to.
The sale of the building has been in the works for over a year, Rollings says.
"We sat as a family and decided we would not be the ones to restore the teatro and having accepted that we said 'what are our options?'" he says. It didn't feel appropriate to continue to use the space as storage and Rollings says he's been excited to see more activity happening on the barrio streets — people taking photographs and painters painting the buildings, for example.
The sale isn't yet final so Rollings would not disclose who the new owners of the teatro will be, but is optimistic it will once again become the life of the barrio.
"The teatro as a community treasure is headed in an excellent direction for the future," he says. "I believe it will be recognized as part of the the heart of the barrio which is what pleases us possibly the most."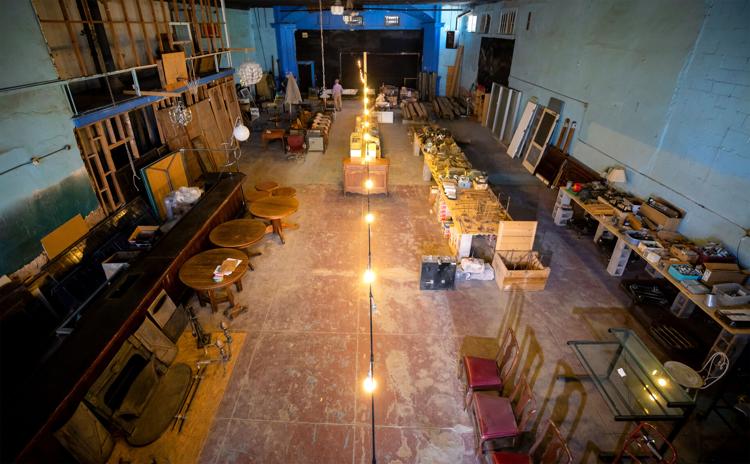 But until then, everything must go. Rollings says if there are still a lot of items left after Saturday's sale, they will likely host another sale the following weekend to clear out more things to make way for the teatro's next act.
"Our purpose is not a commercial endeavor to sell all of these things, it's part of another process that's departing from the theater and being sort of a baton pass to another party who cares about Tucson's history, culture and the arts."
If you go
When: Saturday, May 15, 9 a.m. to 2 p.m.
Where: Teatro Carmen, 380 S. Meyer Ave.
What to bring: Face masks are required. Cash and cards will be accepted.
Follow the Teatro Carmen on Instagram and Facebook for updates.