Naked yoga is a thing. And, it's not just reserved for big cities or nudist resorts. 
It's in Tucson. Near Fourth Ave.
Yoga in the Buff is a clothing optional co-ed yoga class that takes place every Tuesday at Floor Polish, a cozy dance studio by Ermanos patio that offers all kinds of fitness classes.
The class is led by A.J. Rogers, a certified yoga instructor, who believes naked yoga is a great pathway to improve self-image by bringing awareness to yourself without judgement. It's also a way to realize and embrace the fact that everybody is different.
"Sometimes you have big bodies. Sometimes you have little bodies," Rogers said. "The benefit of being nude is it's a way to put us all on the same plane and put us together in a community. Putting yoga and nudity together helps people get a better understanding of themselves and let go of ego."
The class is new to Tucson and met for the first time last Tuesday. Eight people showed up. Men, women, young and old, Rogers said. 
"Everything flowed smoothly," Rogers said. "Body image came up a lot, even with the men. There's always a misconception that it's just women who experience that."
Rogers works to make everyone feel accepted, safe and comfortable.
For example, at last week's session, a transgender woman was in attendance. She wanted to do intros before class started. Rogers complied.
"She shared with us that she still has a penis and explained that she wants to be called she," Rogers said. "And the class was so supportive of that which is great. We were like 'we don't care.'"
A screen is placed in front of the door, so nobody can see in if the door happens to be open. When class is ready to start, the door is locked. 
As participants arrive, they can undress to their level of comfort. During that first class, Rogers said everybody took off all of their clothes, but it's not required. 
"It's not a place to be sexual, stare, touch or make anyone feel uncomfortable," Rogers said. If anybody does those things, she will make them leave.
Practicing nude yoga is about finding your comfort zone and self expression, Rogers said. 
"You might be sitting in class and realize when you bend over your belly comes over more than you hoped it would or your boobs are going in weird places," Rogers said. "It's part of the process. They have to find that comfortable place and come in and express themselves in whatever level they want to."
Rogers hopes to build a big enough community of participants to sustain a nude yoga retreat in the future, as well as a school to teach others how to teach nude yoga.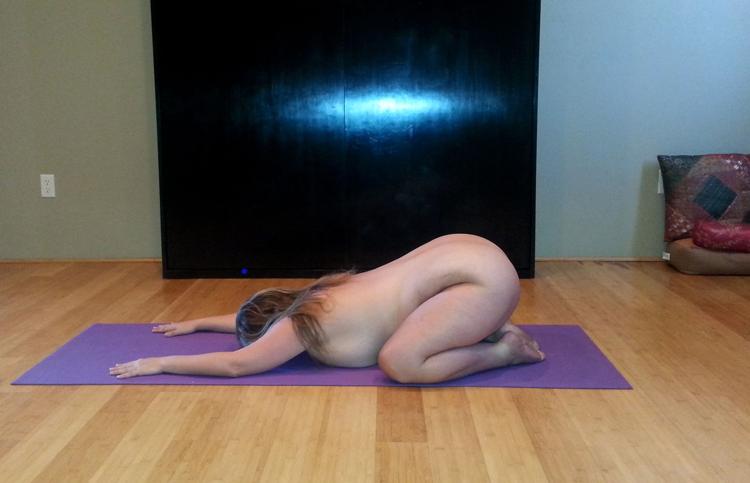 Details
Info: Class is for ages 18 and over. Bring a mat and a towel. You do not have to register.