We may not have canopies of gold and red leaves, but fall in Tucson is still something special. 
The light changes. The days shorten. And the temperatures (eventually) drop. 
We're ready for sweater weather. 
As we welcome the new season, we know much will be different in autumn 2020 — our usually-packed festival season is quiet, and much of our celebrating will take place at home, with those who are closest to us. 
But, we're here to tell you, there are still many Tucson ways to partake in all things autumn. 
Go pumpkin picking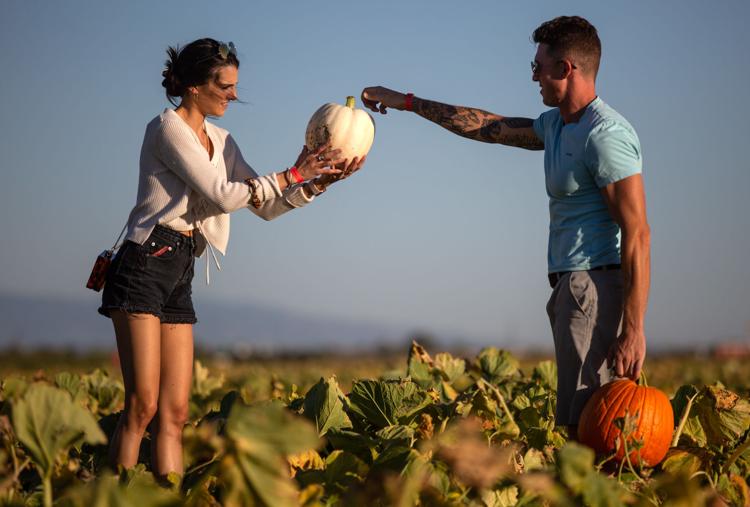 You have options here. 
• For a comprehensive fall experience, make the trip to Willcox to visit Apple Annie's Produce and Pumpkins, 6405 W. Williams Road, to pick your own pumpkins, veggies and sunflowers daily. There's also a corn maze, along with hayrides on weekends. The farm is free to explore and you pay for each activity. Pumpkins range in price from $3-$25, with specialty pumpkins costing 69 cents per pound. Visit appleannies.com for more information. 
• Closer to home, the Marana Pumpkin Patch and Farm Festival also has you-pick pumpkin patches, corn maze options, a petting zoo and other fall festivities, Thursdays through Sundays in October. Admission costs $12-$14. Pumpkins are priced at 50 cents per pound. Visit maranapumpkinpatch.com for more information. 
• If you live on the east side Brian and Kelly's Pumpkins, Christmas Trees and Farmers Market at Broadway and Rosemont Boulevard has pre-picked pumpkins priced by size, with the average cost for a basketball-size pumpkin around $6. Visit Brian and Kelly's Pumpkins Facebook page for more information. 
Earlier this week, we wrote a story detailing all of your pumpkin options, plus pandemic-related precautions you can expect from each location. Check with individual organizations for detailed safety procedures. 
Light a fall candle
Support a local maker and fill your house with the smell of fall all in one purchase.
• Arizona Craft & Candle, made in Tucson, specializes in desert fragrances, with several fall scents including, Prickly Pear Cider, Sonoran Spice and Desert Brittle. You can purchase the natural soy wax candles for $24 at arizonacraftandcandle.com. You can also find several of these scents (and others) at Why I Love Where I Live, 267 S. Avenida del Convento. Masks required in the shop.  
• For your other fall-scented candle needs, check out Velitas by Estefany Gallego. All of the natural soy wax candles feature clever Spanish names "and sometimes inappropriate English tag lines," she says on her website. Velitas has several fall scents including: Que Pasa Calabaza and Otoño Vibes for $16. The candles should be in stock on Saturday, Oct. 10 at velitasrei.com or you can purchase them in person at an outdoor pop-up market at Galeria Mitotera, 1802 S. Fourth Ave., Saturday, 1-4 p.m. Masks will be required. Check out the Velitas Facebook page for more details.
Find those autumn colors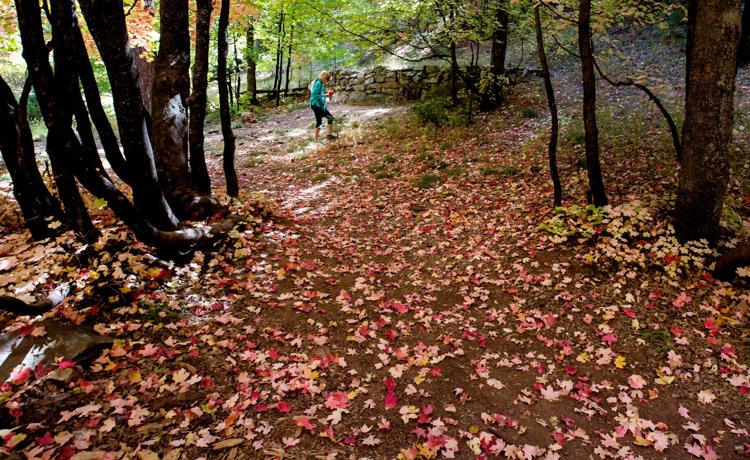 Although many campgrounds and trails are still closed in the aftermath of the Bighorn Fire, those seeking colorful leaves can take the drive up Catalina Highway to Summerhaven (where, by the way, the Mt. Lemmon General Store just posted on Facebook about fall fudge flavors). 
It's important that you abide by the restrictions in place for certain trails and recreation areas, because the fire created hazards such as leaning or fallen trees, an increased possibility of flooding and debris flow. Plus, there's a hefty fine for ignoring those restrictions. You can see the closure order to get the complete list of closed trails and follow this Coronado National Forest FAQ for updated information. 
The leaves are just beginning to change on the mountain, according to Visit Mount Lemmon. 
You can also join the Facebook group Arizona Fall Color Reports, where people post current photos from around the state, to help you plan a leaf-peeping road trip. 
Taste the world at Tucson "Eat" Yourself
Although Tucson Meet Yourself won't converge on one weekend downtown this year, organizers are still bringing us the flavors of the festival for three weekends in October. 
On Oct. 10-11, 17-18 and 24-25, local vendors will sell food to-go. Order, pay and then take your food home (or eat in your car). There will be no dining areas, and masks will be required. While you wait in line, pre-recorded Tucson Meet Yourself performances will be shown on large LED screens.
Usually, more than 60 food vendors participate in Tucson Meet Yourself. This year, expect about 20, with offerings ranging from Jamaican to Japanese. 
Find food vendors at the Mercado San Agustin, 125 S. Avenida del Convento, on Oct. 10-11, Café Santa Rosa, 2615 S. Sixth Ave. on Oct. 17-18 and St. Demetrios Greek Orthodox Church, 1145 E. Fort Lowell Road, on Oct. 24-25. 
All food vendors will be set up from 11 a.m. to 5 p.m. For more information and a complete list of vendors, visit tucsonmeetyourself.org.
Sample pumpkin sweets
Let someone else do the baking. 
• Order a loaf of Pumpkin Cranberry Bread from Beyond Bread for just $9.99. The seasonal bread is a blend of "pumpkin, cranberry and holiday spices," according to Beyond Bread's website. The beloved Tucson restaurant has curbside pickup at all three of its locations (421 W. Ina Road, 3026 N. Campbell Ave. and 6260 E. Speedway) and you can order over the phone or online. Visit beyondbread.com for more information.  
• Pumpkin empanadas are another Tucson favorite this time of year. You can get a dozen for $9 at La Estrella Bakery at 5266 S. 12th Ave. and 100 S. Avenida del Convento. For more information, visit laestrellabakeryincaz.com.
Participate in the digital All Souls Procession
As we're sure you could guess, the massive, in-person procession is canceled this year. The annual procession in November brings together people from all walks to celebrate and honor the lives of lost loved ones. 
Although there will be no mass of people moving through the streets this year and no in-person gatherings hosted before or after the ceremony, organizer Many Mouths One Stomach will offer a livestream of the finale ceremony Sunday, Nov. 8 at 6 p.m. 
People can still submit prayers and photos to be burned in the urn during the ceremony digitally or at a collection site that will be set up later in the month. Get more info on that at the Facebook event. For updates and additional information, visit the All Souls Procession Facebook page. 
Make a cuppa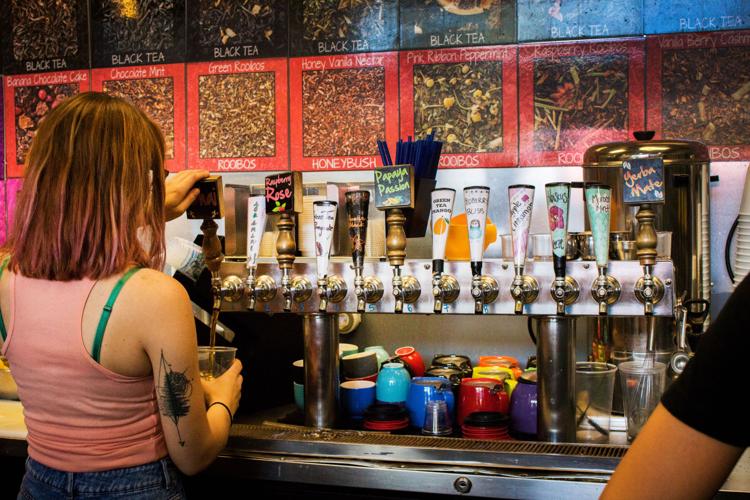 Make a cup of tea to go with those pumpkin goodies.
• The Scented Leaf Tea House, a local tea shop with locations at 943 E. University Blvd. and 308 E. Congress St., has fall teas you can purchase in the shop or online. For $35 online, you can buy a fall sampler with loose leaf tea flavors including apple cinnamon, chai, hazelnut vanilla oolong and more. For more information and to peruse tea flavors, visit thescentedleaf.com.
• Tiffany Nakatani's business Love in a Cup is another source of local tea. Love in a Cup also has seasonal blends including Focus Pocus, Sleepy Hallow Pumpkin Chai and more. You'll be able to purchase Love in a Cup's fall flavors at an upcoming pop-up shop 7 a.m. to 6 p.m. Friday, Oct. 16 at Boss Women Unite, 1130 E. Pennsylvania. For more information visit love-in-a-cup-llc.myshopify.com.
Visit La Calavera Catrina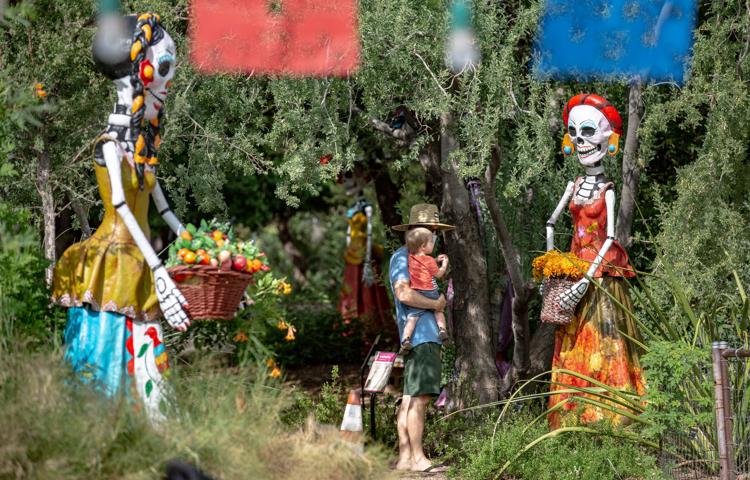 La Calavera Catrina is a symbol of the Mexican holiday Día de los Muertos, or Day of the Dead, when families honor the lives of deceased loved ones. 
Sculptures of La Catrina by Los Angeles-based artist Ricardo Soltero are on display on the grounds of the Tucson Botanical Gardens, 2150 N. Alvernon Way. These tall skeleton sculptures are 8- to 9-feet tall. 
The exhibit is on display through Nov. 29. The gardens are open daily 8:30 a.m. to 4:30 p.m. You can also check it out during the cooler evening hours when the botanical gardens are lit up from 6 to 9 p.m. Tickets must be reserved in advance. To do that and learn about other safety precautions, visit tucsonbotanical.org.
Get crafty 
Learn from local artists and maybe even make some of your own fall decorations. 
• The Tucson paint-and-sip studio Creative Juice, 2959 N. Swan Road, has upcoming, seasonal art classes Jack and Sally from "The Nightmare Before Christmas" ($25), a black cat ($25) and more. Classes are small and many have outside patio options. Visit creativejuiceartbar.com for more information. 
• On Tuesday, Oct. 27, Tucson Meet Yourself will be hosting a virtual, paper flower making lecture with Pascua Yaqui artists. You'll learn both how to make the paper flowers and why they are significant and sacred to Yaqui culture. The workshop is free. Visit Tucson Meet Yourself's Facebook page for more information and to catch the livestream 1-2:30 p.m. Tuesday, Oct. 27. 
Plant a fall garden
Late September through mid November, Tucson has another planting season, according to this handy planting guide by Native Seeds / SEARCH. Now's the time to plant your leafy greens such as kale, lettuce and spinach — plus onions, broccoli, cabbage, carrots and more. 
If you're new to desert gardening, the Pima County Master Gardeners puts out a month-specific to-do list for gardeners. According to October's reminder, now is the time to not just plant the veggies mentioned above, but also trees and shrubs, cool-season annuals, citrus trees and desert wildflower seeds. You can find more information about Tucson gardening in the Pima County Master Gardeners' Tucson Garden Handbook, which you can find in a handful of local stores. 
The Arizona Daily Star also just launched the bimonthly Tucson Garden Guide newsletter to help you nurture your green thumb.