With 2021 poised to be the deadliest year on record for violence against transgender or gender non-conforming people living in the United States, one local nonprofit is stepping up its efforts to provide safe housing for Tucson's transgender women of color.
As of Dec. 4, 50 transgender or gender non-conforming people were fatally shot, or killed through other violent means, according to the Human Rights Campaign, an LGBTQ advocacy group and political lobbying organization. In previous years, the majority of victims were Black and Latinx transgender women, the organization says.
This is up from 2020's record 44 fatalities, making 2021 the most violent year on record since the Human Rights Campaign began tracking such crimes in 2013.
While the details of the cases differ, data has shown that fatal violence disproportionately affects transgender women of color — especially Black transgender women — and that unequal access to resources, including housing, increases their likelihood of being victims of crimes, the organization says.
Tucsonan Monica Jones has long advocated for the rights of transgender women. Now, she is increasing her efforts to help make an impact by providing safe, affordable housing to one of society's most marginalized groups.
'What we want to do is build communities'
Jones got her start fighting for transgender rights while attending Phoenix Community College. As she was transitioning, her access to the fitness center locker rooms was revoked and she found herself having to speak out.
"That was my first time being an activist," she said.
After graduating with her degree in social work, Jones began working as a public speaker, teaming up with nonprofits that advocate for transgender rights, and also for sex workers' rights.
A few years ago, she started her own nonprofit, naming it after her friend and longtime activist Sharmus Outlaw, who had died.
The Outlaw Project started out working to change policies, rather than provide direct services for people in need, but Jones said she always had the vision of creating a community of tiny homes for transgender women.
"Sharmus, even though she was an amazing policy person, because she was a Black transgender woman, she didn't have secure housing," Jones said.
"I wanted to do tiny homes after going to South Africa for an international AIDS conference," she added.
During her trip, Jones saw shipping containers that had been turned into offices and mobile HIV testing sites, quickly realizing they could also be used as homes.
She initially started looking at Phoenix, but with property values on the rise, Jones also considered Tucson as an option.
That's when the stars aligned.
"I have a friend who was selling a house and (The Outlaw Project) had an opportunity to purchase an acre of land," Jones said.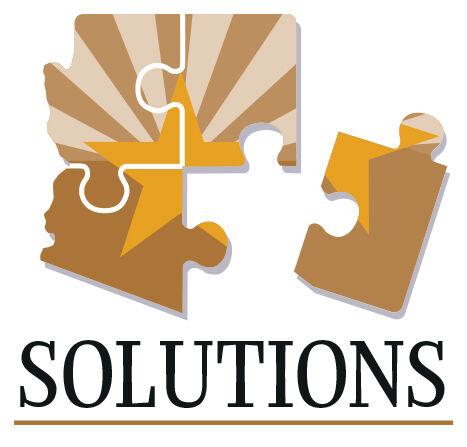 "We're still in the fundraising process so we can start prepping the land for tiny homes, but we'll always be fundraising because of the things we need to provide."
Electricity, water, food and other basic necessities will be provided to residents of the tiny home community. The main house that exists on the property will be used for meetings and group meals, and as a residence for Jones.
"It's about housing first, but we're also creating a community," Jones said. "We're building a community with transgender women so they can have a sense of community and so that when they decide to leave the program, they'll still have a community and have friends in Tucson and the state of Arizona."
Jones is in the process of getting the backyard area plumbed for the homes, which will be fashioned inside of four shipping containers. With solar panels on the roof, each home will also be sustainable.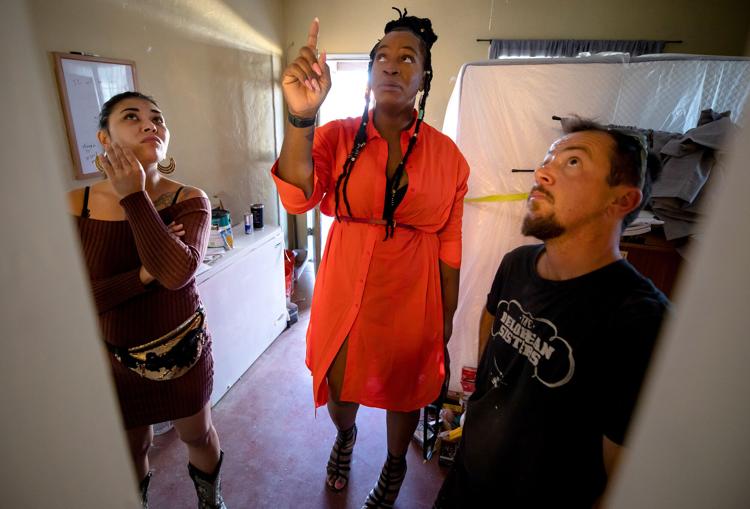 "I really want trans women to have a place that is nice, not just something that's thrown together without thought," Jones said. "Everything they need is there. It might not be the biggest bathroom, but it's a fully functioning bathroom, and they'll also have a small kitchen."
Each resident will have access to community exercise equipment. And while every tiny home will have its own shower, there will also be a bathtub on site for the women to use, in the event there's a woman who uses a wheelchair, or if a resident just wants to unwind and take a bubble bath.
With the prices of building materials having increased during the pandemic, costs have increased, delaying the timeline.
"We're looking to get people aware that this is happening. Even if they can't donate they can just spread the word that what we want to do is build communities," Jones said.
'Dignity is also really important'
Natalie Brewster Nguyen, one of Jones' partners in The Outlaw Project, is no stranger to the world of activism, starting the Splinter Collective Arts Warehouse in 2020 and developing it as a community arts and activism space.
Nguyen also co-founded the Justice Movement, a training and educational collective that addresses racial equity, and organizes for sex workers' rights. She's known Jones for a decade and says they've been working hard together to address housing issues for transgender women of color.
"There's a major disparity in terms of folks being able to access services, similar to people experiencing homelessness," Nguyen said, adding that transgender women of color have a lower life expectancy as well as a higher likelihood of being a victim of violence. "Stable housing is especially important in protecting that community from danger."
But with little action from federal, state and local officials, it falls on the community to take care of its most at-risk populations, they said.
Before the pandemic, Nguyen was helping The Outlaw Project from a distance, writing grants and helping to raise funds for the tiny house community. Once COVID-19 hit, the project had to pivot to fill the immediate need of people who needed a place to stay.
"They were housing people, paying for apartments or hotel rooms or whatever needed to happen," Nguyen said, adding that she signed on with the project in an official capacity this spring.
They are also working to form a housing justice coalition, made up of local groups that will help rethink rental practices and reduce barriers to obtaining housing.
"As a property owner, I didn't come from money. I came from an immigrant family. My mother's family was very much middle class, so I've watched these struggles," Nguyen said. "And I have not been in stable housing frequently in my own life."
Nguyen said the only way to solve the housing crisis is to prioritize keeping people in their houses.
"I've watched people get evicted and move onto the streets with all they can carry, and in a few weeks, their life is ruined," they said. "Their stuff is stolen or they've been sexually assaulted and their mental health goes down the drain."
Throughout the pandemic, The Outlaw Project has helped keep transgender women of color in their homes, or help get them into new housing quickly. They've been able to do it with a little money and a lot of community support, Nguyen said.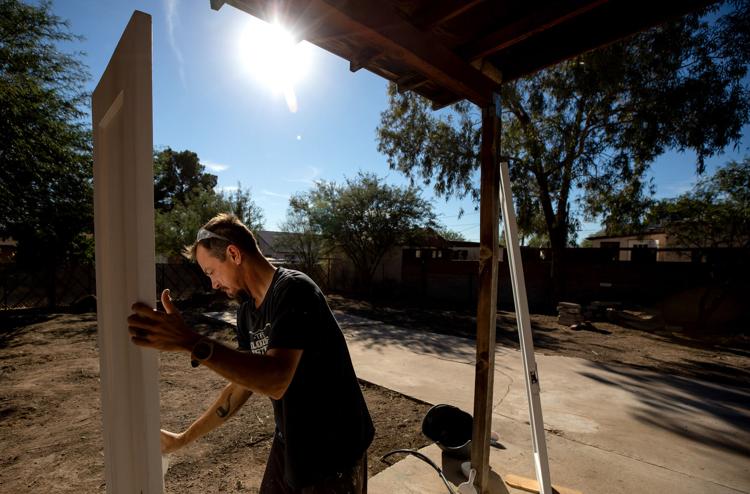 "If the government could just support us, we could move really fast on these things," they said.
Estimated costs associated with the tiny house community include the $1,300 per month mortgage, $20,000 to plumb the lot for the tiny homes, up to $6,000 for each shipping container and roughly the same to build and fit the containers to be used as homes.
The project is looking for sustainable, affordable ways to build the community's perimeter wall, with costs to be determined, and the wheelchair-accessible bathtub unit will cost roughly $10,000.
"Dignity is also really important," Nguyen said. "To be able to have a nice place that's not just a shelter and that's really yours, where you can relax and heal. To be in a place where your needs are met, you'll be able to then better assess your resources and figure out the next steps."
'That makes for a precarious life'
The housing will be open to sex workers, among other transgender women of color, Jones says.
With transgender people facing systemic, institutional and interpersonal discrimination, many transgender women see sex work as their only viable career option, according to a research article cited by a library arm of the National Institute of Medicine.
A National Center for Transgender Equality survey from 2015 — the most recent year available — found that 19% of transgender people surveyed said they had engaged in sex work at some point in their lives in exchange for money, food or a place to sleep.
The number was 20% for Latino or Latina respondents. It jumped to 27% for Black transgender individuals and 31% for American Indian and Alaska Native respondents, compared to 16% of white survey takers and 17% of Asian and Native Hawaiian/Pacific respondents.
The survey also found that transgender women represented 60% of Black respondents who had done sex work for money in their lifetimes.
"The thing about sex work is that it's controversial. People have their moral objections to it, but they fail to look at the root causes," said Juliana Piccillo of Tucson's Sex Workers Outreach Project.
"If you don't have housing that's affordable, safe and affirming... that makes for a precarious life."
A new "housing first" approach, that centers on quickly moving people experiencing homelessness into independent and permanent housing, then providing additional supports and services as needed, is being used in many cities. But it's still lagging for marginalized communities, Piccillo said.
That's where people like Jones are making a difference.
"Monica is tireless. She's done such amazing work and I'm thankful for this project," Piccillo said. "I hope to see more of it."
To learn more about The Outlaw Project or to donate to its tiny home community, visit the organization's website or GoFundMe.