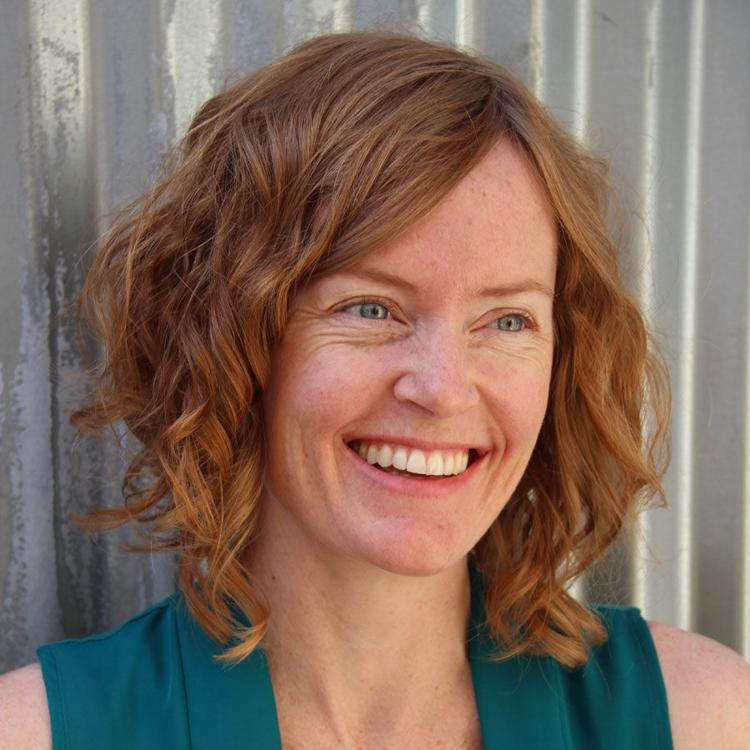 This story is the opinion and analysis of guest writer Emily Yetman, the executive director of Living Streets Alliance, a local nonprofit that aims to create awareness over unsafe streets and to push for wider uses of city streets. Contact her at emily@livingstreetsalliance.org.
---
With Arizona's stay-at-home order lifted, businesses are allowed to open back up, but many — especially within the restaurant industry — are faced with a difficult dilemma.
Most restaurants, bars, and cafes operate on thin profit margins and before the pandemic, that meant maximizing every square foot of their establishment's floor plan. Now, with the need to create more distance between tables, the numbers don't work — restaurants can't make enough profit to survive.
On top of that, research shows HVAC systems can easily spread the coronavirus and recent polls suggest that most Tucsonans are still hesitant to venture out and resume their old habits.
But there's a solution to this problem right in front of our eyes — and often literally right in front of the restaurants themselves.
A growing list of cities across the U.S. like Las Vegas; Berkeley, California; Tampa, Florida; and Breckenridge, Colorado have moved quickly to convert parking spaces into outdoor dining spaces using things like umbrellas, paint, planters, railing, and folding bistro furniture.
These "streateries" are proving wildly popular. So much so, that in some urban areas with a high concentration of dining establishments, entire blocks of street are now temporarily being converted into giant, continuous outdoor dining rooms.
In a sunbelt city like Tucson, these "flex zones" could become key to helping local eating establishments survive. Indeed, many of Tucson's culinary gems that helped earn its status as a UNESCO City of Gastronomy got their start as the original "streatery" — the mobile food cart.
Sonoran cuisine trailblazers like BK's and El Güero Canelo started out as food carts, utilizing empty lots for pop-up, flexible dining. Simple canopies, folding chairs and tables created space for a quick, casual bite, while keeping overhead low. The streatery concept is a way for brick-and-mortar businesses to reap the benefits of many of those same tactics now.
So what could it look like in Tucson?
Consider Historic Fourth Avenue. Here, a parallel parking spot in front of a restaurant could quickly be converted into dining space by adding some shade, seating, tables, and a buffer to cars passing by — such as planters or pedestrian railing. All of these things can be installed relatively inexpensively within a day, affording that business an additional 320 square feet of dining space.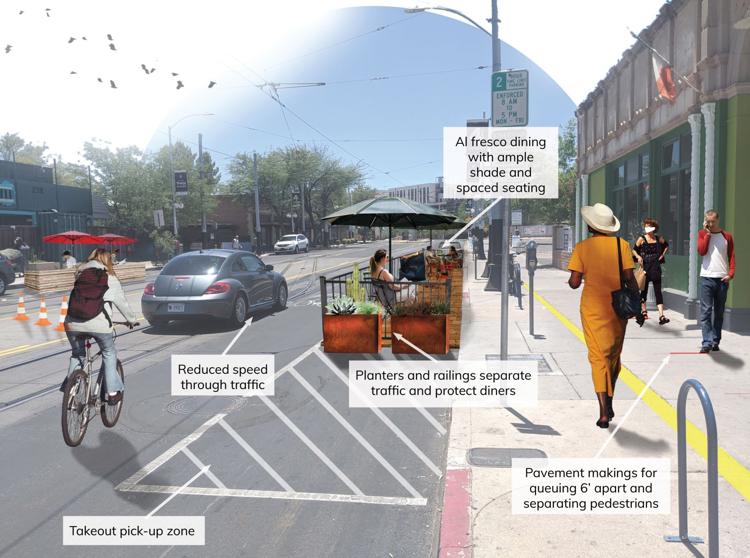 On blocks with multiple restaurants, parking lanes could become "flex zones" for shared dining space the entire length of the block. People would be free to roam, shop, and dine with room to safely distance from other shoppers and diners.
And with one travel lane still open in each direction, the streetcar and traffic could still flow through at a safe speed. Emergency vehicle access would be maintained and designated takeout pick-up zones could be established for all establishments to utilize.
The entire flex zone could be created all at once, saving individual businesses from having to go through the application process separately.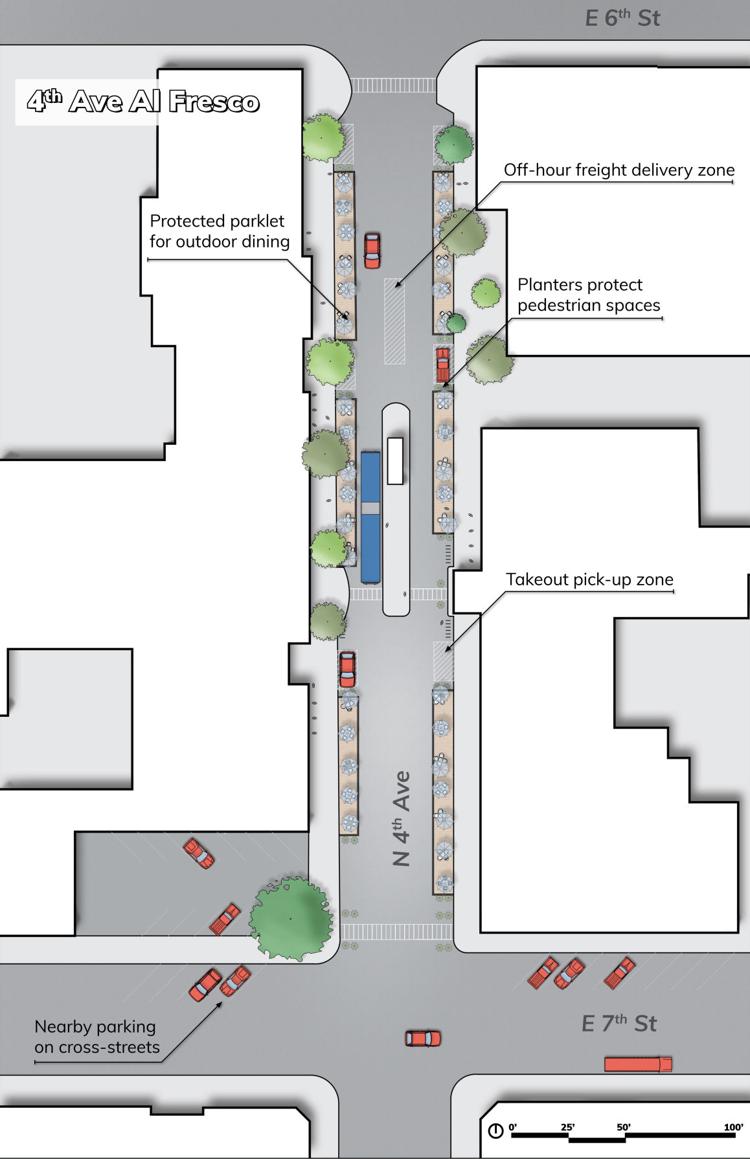 The same concept could work on sections of Congress and Broadway in downtown Tucson, where a number of similar established parklets and outdoor dining patios are already in existence. And it's not just a downtown/University-area thing: corridors in many other parts of Tucson have a density of destinations that would make full-length flex zones a no-brainer: La Doce (South 12th Avenue), Main Gate Square, Campbell Avenue Business District, to name a few.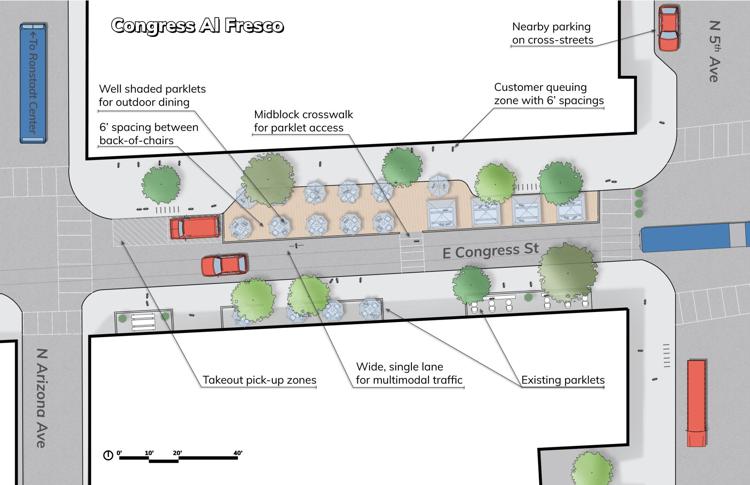 On May 27, Tucson Mayor Regina Romero and city council members paved the way for streateries to begin popping up all over town by temporarily waiving certain zoning requirements, fees and restrictions and by approving an expedited process to help restaurants extend their footprint into the public realm now through the end of the year.
This strategy brings benefits to businesses of all sizes. Relaxing things like sign codes, waving fees and allowing for modifications that are less costly means that smaller businesses that often don't have the capacity, connections or resources to navigate the city's permitting system can now be on more equal footing with larger restaurants with more capital.
Converting parking space to dining space is relatively quick and affordable; It doesn't require relocation or a total rebuild, which would be unrealistic for businesses that are already hanging on by a thread. And in a sunbelt city like Tucson, the majority of businesses have streets in front of them and parking spaces adjacent, ensuring that streateries are an option for all.
It seems likely that COVID-19 will be with us in Tucson for a good while. Like many cities, Tucson may need to close down and open up again with future waves of the pandemic. Having tools to easily transition between opened and closed — and everything in between — will build Tucson's resiliency.
Streets and parking lots remain an abundant and underutilized resource to tap into. Flex zones and streateries are easily scaled-up and down as many times as needed until the pandemic ends. Their impermanence means that they're a great tool for innovation and for experimenting with alfresco spaces, breathing new life into Tucson's streets well after the pandemic.
For now, though, streateries might be just the kind of innovation that helps keep small businesses alive during the coming months of uncertainty — and allow us to get back to the restaurants we love without taking unnecessary risks with our own health and with the health of our friends, neighbors, and fellow Tucsonans.