Every Monday morning, a growing group of refugee women line up in cars in the parking lot of Our Saviour's Lutheran Church to collect the supplies they'll need to sew cloth masks in the week to come. 
As they arrive, Dana Smith, the organizer of the group, and Susan Gamble, a volunteer, move — masked, of course — between the cars, collecting completed masks and handing out fabric to make more. 
The women (and one husband so far) receive $3.50 in cash for every mask sewn. So far, masks have been donated to El Rio Community Health Center, Northwest Medical Center and La Frontera Center, among others. 
The longtime sewing group had to stop gathering for classes in mid-March. And when Smith began sewing masks for health care professionals with Mending Souls, a Tucson nonprofit that has donated tens of thousands of cloth masks by handing out mask kits, drive-thru style, she realized that format could work with her own group. 
"I thought, I have all their phone numbers. We can do the same with social distancing and teaching the pattern on a board outside their car so they know step one, step two," Smith says. But she also wanted to pay them.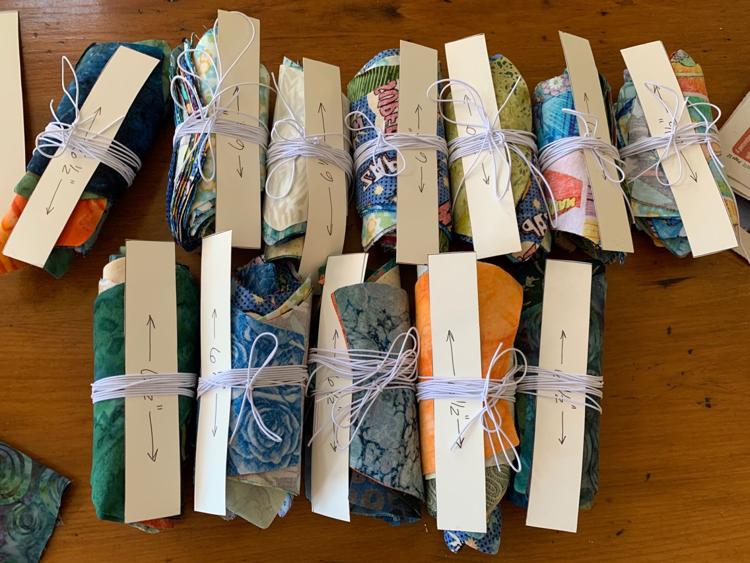 Partnering with Imago Dei Middle School provided the structure for funding the project through community donations and some grant money, says head of school Cameron Taylor. He was already familiar with the sewing group. At one point, Lutheran Social Services of the Southwest, and subsequently, the sewing project, used space in the school's building, he says. Volunteer Susan Gamble is also an art teacher at Imago Dei, a tuition-free private school for low-income families.  
"The mission of the school is to break cycles of poverty through education, and we don't feel that that's limited just to the children who we have in class each day," Taylor says, adding that about 20 percent of the school's students come from refugee families.  
He sees the sewing group as a future opportunity to help families learn about starting small businesses and developing skills. From the start, these sewing classes have been about helping women build confidence and contribute to their families and communities. 
For example, women who attended enough of the weekly group lessons got to take a donated sewing machine home. Some worked together at tables at Tucson markets and festivals to sell their creations, most recently at the Tucson Museum of Art's Spring Artisans Market, says Gamble, who has recruited a sister and nieces to help her assemble enough mask packets for the women. 
When they began handing out mask kits five weeks ago, they started with nine people sewing 10 masks each. Most recently, 18 people took materials to make 50 masks each, Smith says.
Sewing 50 masks for $3.50 each amounts to $175 of cash in a week for each participant. 
"The students really like the whole idea that they're helping contribute to their families and they're contributing to their communities," Smith says, adding that many of these families have lost income due to the pandemic. "They feel part of what is going on. It gives them a real feeling of pride and belonging." 
Kobra Jafary, who attended the sewing classes for four or five months, told two friends about the project. When she learned that one of the women did not have a sewing machine, Jafary let her friend use her own machine. 
Jafary, who is originally from Afghanistan and moved to the United States in 2017, felt her friend needed the income more. 
"She is unemployed because of coronavirus," Jafary says. "I told her, 'I'm alone. I'm good. And you have two kids. You can use my machine." 
Smith was soon able to loan out a second machine, so both women could sew masks. Jafary, who works as a caregiver, says sewing masks keeps her busy. 
"After the mask is ready, I feel so happy and proud of myself," she says, adding that she wonders who will use the masks she makes. 
"I hope they will be safe and healthy," she says. 
For Janighol Ahmadi, sewing masks has become a way to give back. When she's not working ⁠— at a daycare where she says she has seen her hours reduced from full to part time ⁠— she's helping her fifth-grader with remote learning or sewing masks. The extra cash has given her something to send her mother and brother in Afghanistan. 
Ahmadi came to the United States in 2014 and joined the sewing group around 2018. Although she learned to sew on her mother's machine, the group has helped her navigate a new machine. 
"We have to right now help first the doctors, the nurses ... the Fry's workers, because they work for us," she says.
In addition to donating masks, the effort has also received a few paid orders from organizations, Taylor says.
Still, the project is limited, both by how many masks participants can make and by how much material the group can acquire. Imago Dei and Our Saviour's Lutheran Church have both donated fabric, Taylor and Smith say. 
Smith estimates that about three-quarters of the participants are students from the original Monday sewing group. 
"Mondays, we found, were something they looked forward to all week, because they got to leave their homes and see their friends and learn a new technique in class and just enjoy the socialization and learning of something new and being creative," Smith says. "This kind of continues that. ... They wave out of their windows at their other friends in their cars and still get that feeling of community and purpose." 
And for Ahmadi, that has been huge. 
"If we don't help others now, when are we going to help?" she says. 
---
Donate
You can also donate financially to support those sewing masks by visiting imagodeischool.org/support. Indicate in the online form that you're giving to the sewing program.