When Brittany Butler's dream to work at Disneyland didn't come true, she decided to bring the magic to Tucson. 
It only took a bit of faith, trust and pixie dust. 
Butler, 30, wears many hats — librarian at Magee Middle School, voice and acting coach and founder of More to the Story Entertainment, a local company that brings beloved characters to life. 
If you've been to the museum, 4455 E. Camp Lowell Drive, you might be familiar with Fairy Caitlin, the petite pixie tasked with guiding big people through the museum's miniature world. 
For the last few years, Butler has assumed the role of Fairy Caitlin at story times and other museum events. You can meet her yourself Wednesday morning when she joins an Arabian Princess for story time in the museum's Enchanted Realm. Later in the year, the museum will host Alice, Pocahontas and other characters in its Tiny Tales for Tots program.  
Fairy Caitlin has connections. 
Butler started More to the Story Entertainment with her mother Tamara Butler in 2012 after graduating from the University of Arizona with a degree in theater arts and a minor in music. 
"I was looking for a way to couple my love of working with children with literacy and music," she says. 
Inspired by a song from "Shrek the Musical," Butler settled on a name that implied what most of us know — there's way more to those fairy tales than a prince and princess falling in love and living happily ever after. Her characters tell those stories.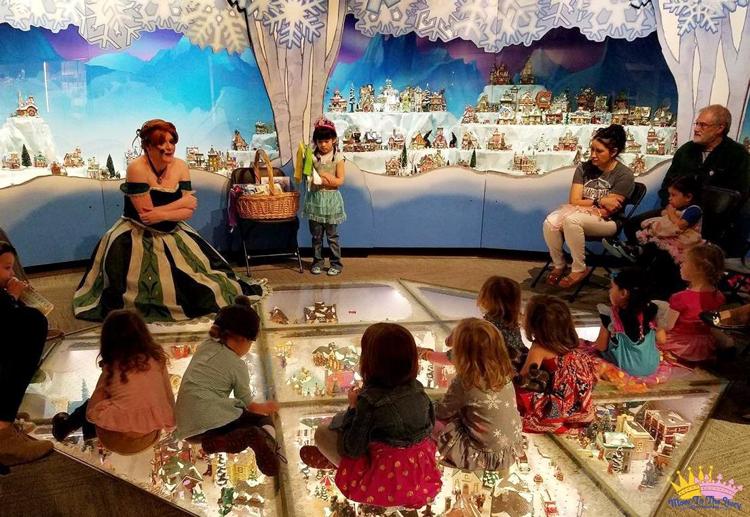 The company started small — just Butler and a few friends showing up as princesses at kid birthday parties and community events. Now, she has a team of about six and more than 65 characters available for appearances.  
In addition to story times at The Mini Time Machine Museum of Miniatures, More to the Story books three or four parties a weekend, makes hospital visits and attends community events such as the Tucson Festival of Books. You've probably seen them outside the Disney house in Winterhaven. 
Michelle Richards, an actress with the company, says the kids' reactions are the best parts — especially when characters show up in unexpected places. 
After performances, they'll often stop for Starbucks or wander a mall, Richards, 28, says. Mouths drop when Cinderella settles in for a coffee. 
Party packages start at $80 for a 30-minute visit and usually include a sing-along. Throughout the visit, Butler wants her characters to tell a story and make it at least a tiny bit educational.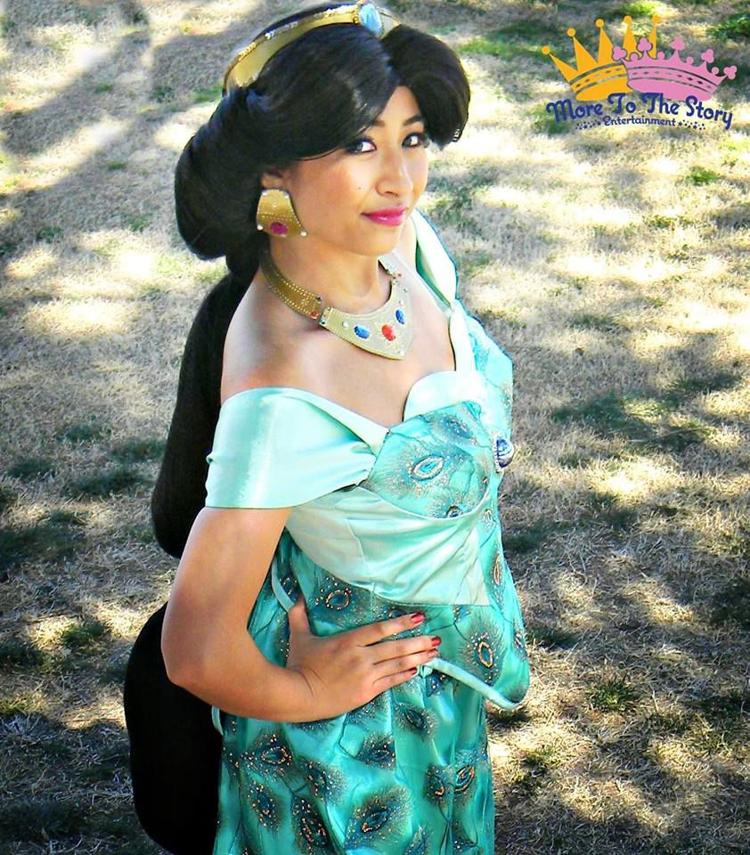 "We focus on literacy and we focus on music, so we are all about being storytellers," she says. "I like to couple the stories everyone already knows and go beyond that to involve the child and family's story into the famous story, which elevates it." 
Prior to working as a librarian, Butler spent almost 10 years teaching performing arts, dance, music and drama in elementary schools. 
She attributes her own love of stories and music to her family. She calls her grandfather "a master storyteller" who has appeared at the museum as a wizard. She says her father sung with the Arizona Opera, and she herself is a classically-trained vocalist. Books were always available.
"I literally want the library from 'Beauty and the Beast,'" she says. "But who doesn't?" 
Butler writes every script More to the Story performs — 58 to date. They commission most costumes locally, and Butler's mother Tamara oversees most of that, along with the tech for the museum program. 
More to the Story characters are never direct clones of Disney favorites. Butler gives her characters their own stories and costumes with characteristics familiar to but distinct from the Disney heroes. For example, Elsa doesn't do parties. But the Snow Queen (Hans Christian Andersen) does.
"Copyright is a big thing in the community of parties," Butler says. "The biggest thing is doing your research and knowing what is available in the public domain. Cinderella is available. Moana, not available." 
Butler says she has been researching fairy tale origin stories since she could read, so you'll also find heroes from outside of Disney lore such as Sir Lancelot and Queen Titania (Shakespeare's "A Midsummer Night's Dream) at More to the Story events. And then there are Fairy Caitlin and her faithful BFF, Commodore Evangeline Winters, a steampunk fairy, who only appear at The Mini Time Machine Museum. Butler has brought to life a few other characters from the museum. 
Moira McGee, the museum's director of education and registrar, says the  story time allows kids to engage with the museum in a new way.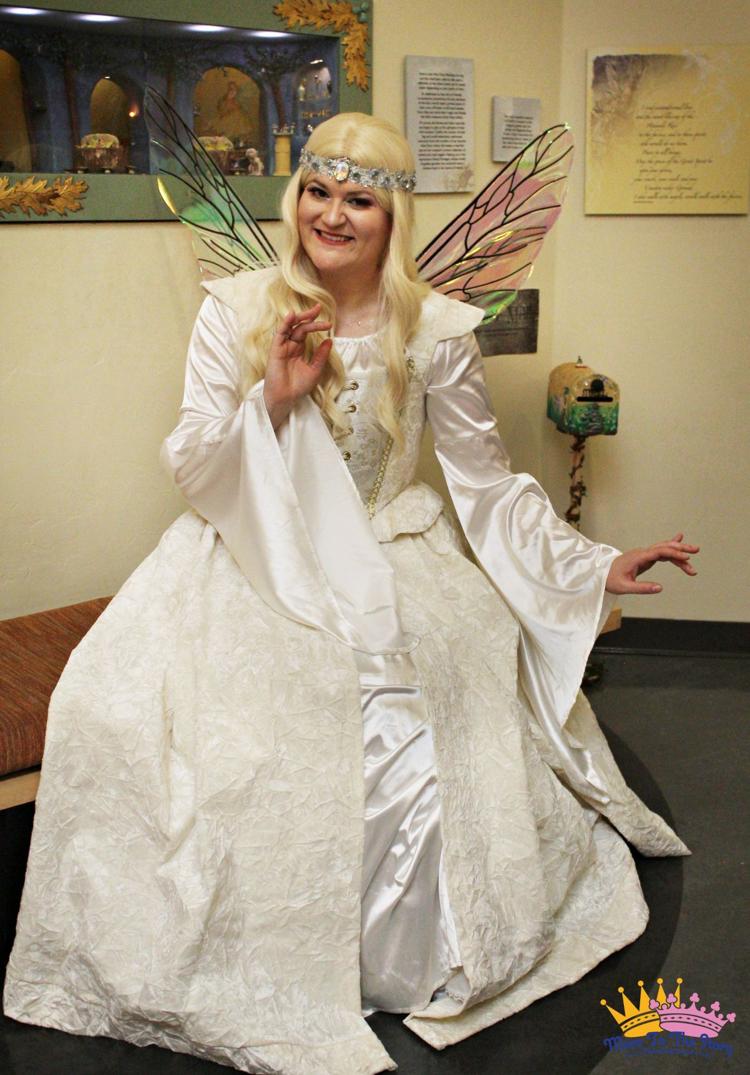 "The kids really love it and are able to sit on the glass floor, and then usually the story time is taking place just in front of them," she says. "It's a magical experience and it really brings the gallery to life for them, and a lot of the time, Brittany will work in pieces from the collection or walk around the gallery with the kids." 
There's even a spot at the museum for children to leave letters for Fairy Caitlin. 
Tiny Tales for Tots happens at the museum one Wednesday a month, plus some Saturdays. It's a 30-minute story time that caters to infants through 5-year-olds on Wednesdays and kids as old as 12 on Saturdays. 
At this coming story time, you can expect a story about a brave but kind princess. 
"These stories can be written off as trite, like, 'Oh, you're just dressing up in pretty costumes,' but it's more than that," Butler says. "Kids see these characters and these stories as heroic. They look to them as their first role models, and so our objective as storytellers is to heighten them."
---
If you go
What: Tiny Tales for Tots
When: 10:30 to 11 a.m. Wednesday, Sept. 19
Where: The Mini Time Machine Museum of Miniatures, 4455 E. Camp Lowell Drive
Cost: Free for museum members; $9 museum admission for grown-ups, $6 for ages 4 to 17 and free for kids 3 and younger.