When Kerstin Block opened a tiny, 400-square-foot resale shop on Warren Avenue 45 years ago, she did it on a whim. 
An avid thrifter herself, she needed something to do with her growing wardrobe. 
Positioned between the University of Arizona and its medical school, the shop drew students, delighted to find cheap prices and funky finds — western and Hawaiian shirts, kimonos and vintage pieces. What's more, they could bring items from their own closets to exchange for cash or trade, a concept Kerstin says was uncommon at the time. She adds that most of the items in the store were priced around $3.50.
That store became her life. Today, Kerstin is the founder and president of Buffalo Exchange, a business with 48 stores around the country and two more on the way. You've probably heard of it.
The Tucson store is at 2001 E. Speedway and the company is still headquartered here.
Although Kerstin, 77, says she never had a grand vision for the business, her husband and co-founder Spencer Block thought the business should last for 100 years, she adds. So far, so good.
The couple's daughter Rebecca Block is now vice president of the company. Spencer died in 2009 after a battle with pancreatic cancer.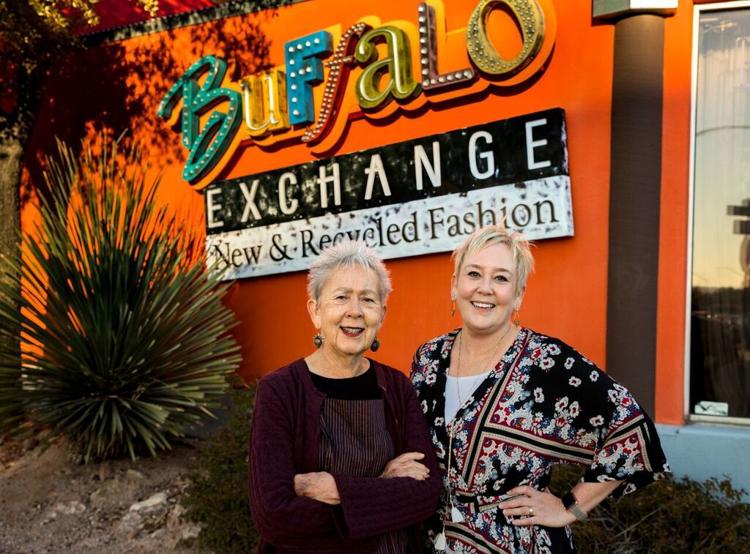 Kerstin has other business endeavors besides Buffalo Exchange, including Buffalo Trading Post (an "older sibling" to Buffalo Exchange that resales a broader inventory) at Cat Mountain Station, a shopping center on the far west side the couple purchased and renovated. Other offerings there include an observatory, restaurant, bed and breakfasts and art shows. Spencer was the one who was really passionate about the shopping center, but when he died, Kerstin decided to continue on with it. 
"She continues to look for opportunities," Rebecca says. "I think people can get complacent in their jobs or businesses, but she is continually thinking of what we could do to be better or how we could expand. She'll drive by an empty office building and go hmmm..., maybe we could use that. She's opportunistic."
When Kerstin and Spencer started Buffalo Exchange in 1974, they had only Spencer's upbringing working in the family fish market for business know-how. Kerstin had a degree in anthropology with thoughts of becoming a museum curator and had worked a few years arranging displays at Sam Levitz Furniture. Spencer was a librarian at the time.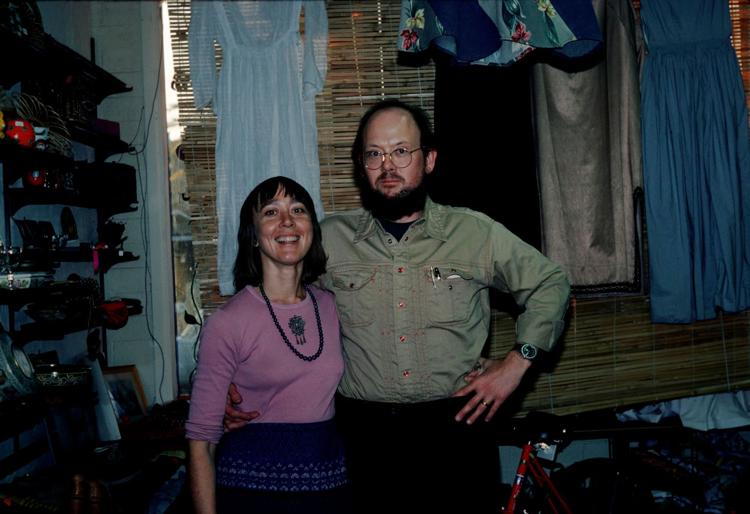 "We didn't know anything," she says. "We knew about the fish business and accounting, but that was about it. But I would make things that people wanted to buy like jean skirts and then sell them at little fairs and things like that. But otherwise, we didn't really have any business background." 
Kerstin just wanted to see if it could work. She grew up in Sweden and came to the U.S. to study anthropology for a year at the University of Arizona, where she met her husband. After several moves, the couple eventually ended up back in Tucson, where they raised their two daughters.
She figured other bargain hunters would appreciate a carefully-curated, well-priced inventory. 
"We built our business on a lot of principles ... such as respecting people and treating everybody fairly and listening to people" she says. "Those are our tenets in business." 
Buffalo Exchange stores will be celebrating the 45-year milestone with vintage pop-up shops at every location on March 16 and 17.
We've asked Kerstin to share a bit more about her journey. Here are some excerpts from our conversation. 
Editor's note: These comments have been edited for length and clarity. 
How did the early idea for Buffalo Exchange develop?
I was the kind of person who spent a large portion of my time going to thrift stores, and I figured it could be an interesting thing.
We could sort things and curate them and present them in a more interesting environment.
A lot of the inventory came from my closet, my husband's closet, my friends' closets. I was going around buying stuff, because I was the kind of person who would say, "This is nice. I can do something with it." But when you accumulate a lot of stuff and spend all of your time shopping, you have to do something with it. 
Where did your interest in thrift stores begin? 
I grew up in Sweden, and in Sweden, they didn't have thrift stores.
I'm the kind of person who made my own clothes or would remake other people's clothes to fit me, so I would reuse stuff.
My husband and I moved to Chicago, because that's where he was from ... and we didn't have any money. In Chicago, they had a section of the city with a whole bunch of thrift stores, and I originally went there to look for furniture or our apartment. And it was just amazing. I got a couch for $14.
It kind of opened my eyes to the fact that you can buy stuff like that, and I just started looking for other things like clothes. 
Tell me about raising kids and starting a business. 
We were all together. We would all go in the morning. I live pretty far away on the west side, so we would all get in the car in the morning and drive to school, and I would go to work ... and then the kids could walk from school to the store, so they would come and then we would all pile into the car to go home. 
Where did you get the inspiration for the name? 
"Exchange" was my husband's idea, because that's what it is when you buy, sell and trade. And "buffalo" because I was from Sweden and it felt so American.
I liked the western aspect of it. 
What challenges did you encounter while building the business? 
It was pretty easy in the beginning. It was more challenging when we started growing and had to find people to work for us. We had to learn how to figure out who we could hire.
Are you still a thrift store shopper? 
I have a cabin on Mount Lemmon, and it burned down and everything I had up there was stuff I got at thrift stores ... and I furnished it again with stuff from thrift stores.
Even in Tucson, I looked for stuff from Sweden, and I found tons of stuff you wouldn't expect. 
I also have two bed and breakfast places and those are also put together with thrift store pieces.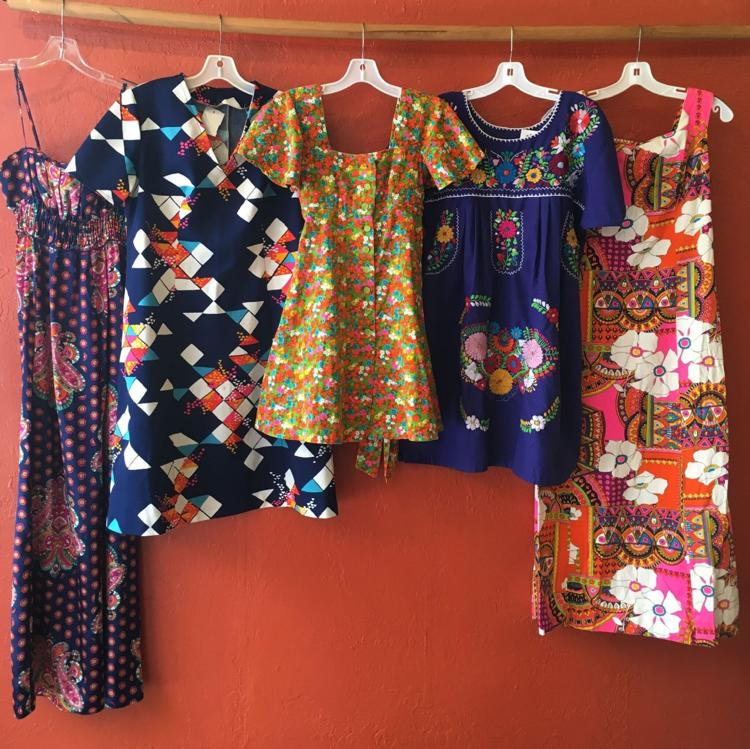 How does it feel to be Tucson famous? 
I'm not a person who aspired to notoriety whatsoever. Yesterday, I was at Starbucks getting a coffee and a guy was like, "You're the buffalo lady," and I said, "Yeah, I'm the buffalo lady." But I think more and more people don't know who I am any more. It's one thing when you're in the store everyday working there, but I don't do that anymore.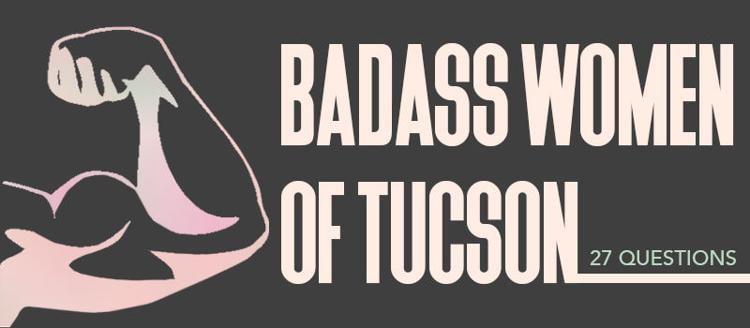 Kerstin Block, 77, Buffalo Exchange president
I'm on a mission to ____________.
Help save the environment while empowering women.
What's your astrology sign? Does it fit you?
Describe yourself in three words.
Serious, introspective and vain.
I worked at Sam Levitz doing furniture displays.
How long have you lived in Tucson? 
I moved here in 1968 and have been here for over 50 years.
Who and/or what inspires you? 
Art and nature are both so inspiring to me.
The secret to coping with stress is ________. 
Your favorite Tucson spot? 
Arizona-Sonora Desert Museum
What are your three favorite songs and why? 
"London Homesick Blues," which reminds me of a fun time in my life. "The Girl From Ipanema" — Stan Getz, it has always been with me. I played it a lot while my husband was dying — he loved it too. "Dublin Blues" — Guy Clark, it's a good traveling song.
Your go-to order at your favorite Tucson restaurant?
A Sam burger from ZinBurger
What's your favorite Tucson-only thing?
Arizona-Sonora Desert Museum
You know you're a Tucsonan when _____________.
You learn to love the desert.
What constitutes your morning getting-ready routine and how long does it take?
It takes me about three hours to get ready for my day which consists of walking the dog, having breakfast, reading the paper and showering to get ready for work.
Favorite app at the moment?
Give us a two-sentence pep talk. 
What would you tell your teenage self?
What's a quality you got from your mama?
My appreciation of art and the visual world.
And one you hope to pass on to the next generation? 
The last great book you read? 
The last great movie you watched? 
"Like Water for Chocolate"
People would be surprised to hear you're actually a(n) ______________ expert.
Is there something you've always wanted to learn, but haven't had the time? 
Anything you've always wondered about Tucson?
I've always been curious to why there are so many golf courses and gun ranges.
Favorite ice cream flavor?
Salted caramel from the Hub
Where can our readers follow you on social media? 
Is there something you REALLY nerd out about?
I like routine and eat the same thing for breakfast everyday.
What's your spirit animal?
Which fictional character (from TV, movies, books, etc.) just gets you? 
I like the characters from "Velvet." It's a Spanish drama about a department store and the people who work there.
What makes you feel the most confident?
When people ask me for advice and I know what they should do.
What is the best advice you've ever received?
You are just not that important.