We're kicking off December with 12 Days of Nonprofits — a 12-day celebration of the many local organizations that provide needed services to our community.
---
Less than three miles north of downtown Tucson sits an 8,000-square-foot warehouse filled with bicycle parts, refurbished bicycles, plenty of art made from recycled materials, and people passionate about connecting the community with affordable and sustainable bicycle transportation.
Bicycle Inter-Community Art & Salvage — also known as BICAS — has been Tucson's go-to nonprofit for bicycle recycling, refurbishing and education for 32 years. Previously referred to as Bootstraps to Share, the organization changed its name to BICAS in 1996.
Despite the organization's name change, the mission has remained the same: "participate in affordable bicycle transportation, education and creative recycling with our greater Tucson community," according to their website.
BICAS hopes to improve the quality of life for marginalized communities in Tucson by providing them with the tools and education they need to keep them riding with accessible transportation.
"We include LGBT people, we include people of color, we include low-income families and we include people experiencing homelessness," said Shruti Kaul, the Women, Trans, Femme program coordinator at BICAS. "And so we really care about engaging those communities. Because it's not just about giving people a bike, it's about making sure that they understand how it works and that when it breaks or something happens with your bike, they know how to fix it and keep going."
The organization hosts a variety of programs, classes and workshops right at the BICAS shop. One of the programs is the Women, Trans, Femme workshop, which allows WTF people to fix bicycles in a safe environment while creating a sense of belonging and acceptance in the bicycle community.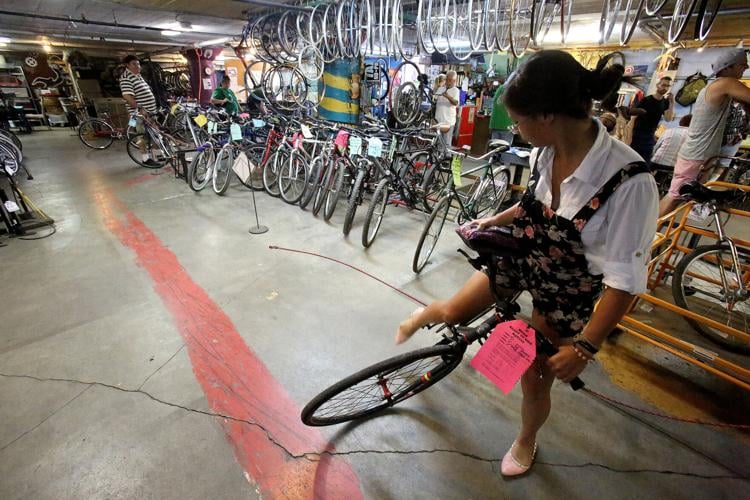 BICAS also provides an education program for Tucson's youth. The Youth Earn-A-Bike program allows local youth ages 9-18 to learn bicycle mechanics and apply those lessons to fixing a bicycle that they can take home at the end of the program, along with a bicycle helmet and lock. They also learn leadership and problem-solving skills, and appreciation for the community throughout the program.
The Youth Earn-A-Bike program runs on a sliding scale fee from $25 to $200, but BICAS has full scholarships available upon request, according to Kaul.
But what if you need help with a bike repair right away?
You can stop at BICAS anytime during their hours of operation and receive one-on-one instruction from one of the bike mechanics through BICAS' Community Tools program. An appointment isn't needed, but Kaul recommends visiting as soon as they open so you can get more repairs done.
BICAS offers this service on a $6 to $12 sliding scale fee.
"Basically people can pay for bike services with their work," Kaul said. "So if they don't have a lot of money available with them or if they have a lot of time, they're able to help volunteer with us and they can do anything from like, sweep to put away bike parts to even repair bicycles and they get $12 an hour (in shop credit)."
Bike maintenance and mechanic classes range from $30 to $100, depending on the class type. Most of the programs, such as the adult Earn-A-Bike program, do not have fees due to the work-trade program.
Through the work-trade program, individuals participate until they have earned a bike that they are interested in, valued at $100 or less.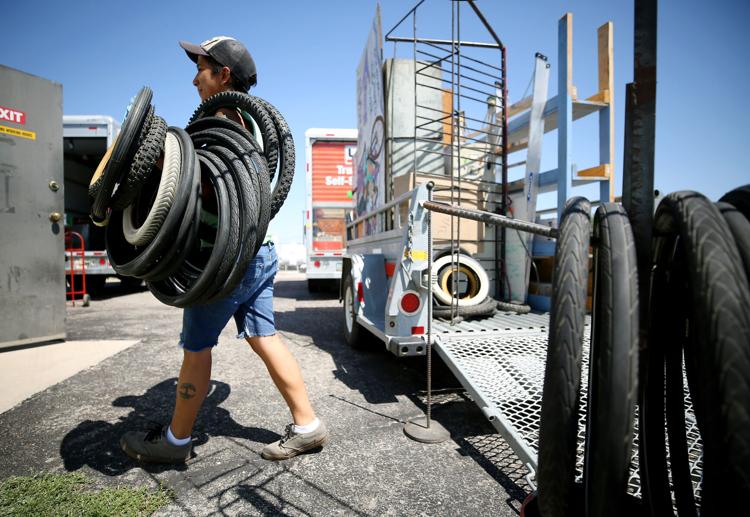 Don't forget about BICAS' art program that recycles old bike parts into stunning art pieces.
With a variety of programs, BICAS remains determined to adjust to the needs of the community. For example, during the COVID-19 pandemic, the organization stayed open and switched their business model to an essential services model and repaired people's bicycles for them instead of having them in the shop and teaching them to do it themselves. BICAS also gave away bikes to those who desperately needed them.
Meeting the needs of the community plays into BICAS' six pillars of values: community, empowerment, sustainability, justice, inclusivity and collectivism.
"Our success is because of community engagement and that's something about BICAS that's really special is we have all of these different programs like the subsidized youth programs, we have the WTF night," Kaul said. "We have all of these, like, really exciting programs that we're able to do to connect different types of people to BICAS and cycling."  
How to help
The community can help by spreading the word about BICAS and its mission and programs on social media.
The organization is also seeking recurring donations of any size. Donations can be made in person or online. In addition, you can see what your donations contribute to with BICAS' "Year-in-Review" annual pamphlet.
Lastly, you can volunteer your time at the organization by cleaning and organizing parts, performing cleaning tasks around the shop or assisting staff with projects.
"There's a lot of different ways to volunteer," Kaul said. "You don't have to just be in the shop. We're looking for people to help grant-write and help do different committee work for us. So if you're someone who has any skills with web design or financial experience or legal experience, that's really, really exciting for us. We're even looking for board members so there's a lot of different ways to plug in."
Other bike-centric nonprofits in Southern Arizona