Editor's note: This story was up-to-date at the time of publication on March 26, but because this is an ever-changing situation, you should check with individual hospitals, the Centers for Disease Control and Prevention and the Pima County Health Department for updated information. We also wanted to let you know that on April 3, President Trump announced that the CDC is recommending that people wear fabric face masks when in public. This is a change from previous guidance that said healthy Americans did not need to wear face masks. The change comes as recent studies show that individuals with no COVID-19 symptoms can still spread the disease to others. Wearing a cloth face mask may prevent people who have the virus but don't know it, from infecting others. Wearing a mask in public is voluntary and does not replace social distancing. It's also important to note that the CDC is not recommending the public use surgical masks or N95 respirators — the shortage of these supplies makes it crucial to reserve what we have for healthcare professionals. Go here to read the full recommendation. 
---
On Wednesday, around 20 cars lined up in the parking lot of the Tucson Mall to pick up fabric from a local nonprofit creating face masks for Banner-University Medical Center Tucson. 
The nonprofit Mending Souls received the cloth, often used to wrap sterilized surgical instruments, from Banner-UMC. Mending Souls president Michelle Don Carlos spent this last week mobilizing sewers.  
"It's a relief for people to do something as they're sitting at home," she says. "This gives me something to be proactive about to help fight the problem, rather than just worrying about the problem and watching TV."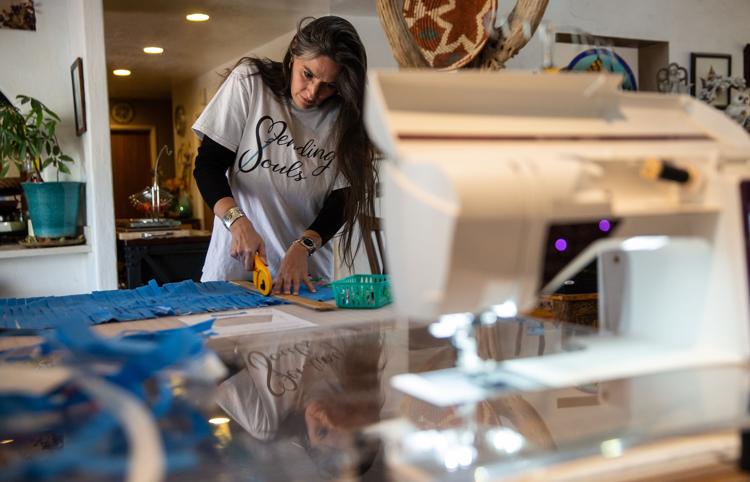 Don Carlos is not alone. You've probably seen homemade masks all over social media, as people take up the fight against COVID-19, armed with needles and thread.
The campaign to sew cloth masks for medical professionals arises out of a nationwide shortage of personal protective equipment, PPE, including masks. As a response, doctors and nurses have taken to social media with the hashtag #GetMePPE.
In an effort to prolong the supply of masks, the Centers for Disease Control and Prevention suggests strategies including re-using some face masks and canceling "all elective and non-urgent procedures and appointments" that would require the use of a mask.
Wearing a homemade mask is a last resort when there are no other face masks available, the CDC says, pointing out that homemade masks "are not considered PPE, since their capability to protect (health care personnel) is unknown. Caution should be exercised when considering this option." 
In Tucson and around the country, people have taken to their sewing machines, eager to help, though local hospitals vary on how, or if, they're using homemade masks at this time. What they really want are donations of unused N95 respirator masks and other medical-grade masks. 
"(Homemade masks) are not meant to — in any way, shape or form — replace PPE," says Rebecca Ruiz McGill, the Southern Arizona media relations manager for Banner-UMC. "They are just to be used as social comfort masks for our staff."
Some health care workers may feel more comfortable having access to a mask in non-essential situations, although homemade masks aren't appropriate for preventing disease transmission, according to a Banner Health news release.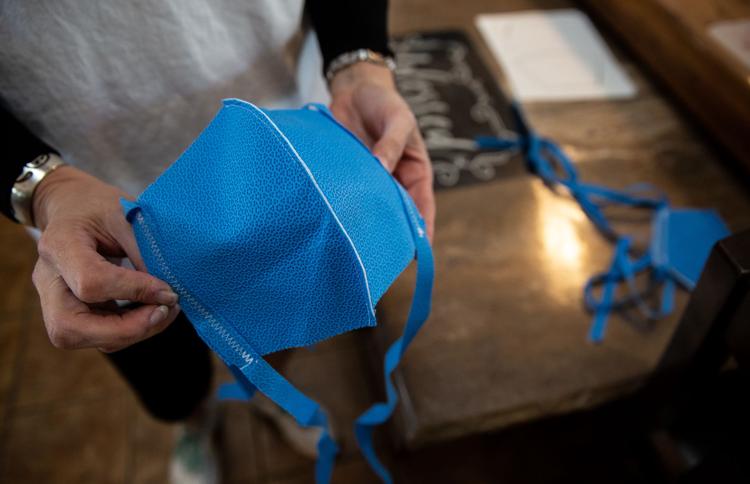 At Banner facilities, homemade masks are only to be used for personal comfort outside of procedure rooms and isolation areas and can preserve PPE for those who most need it, according to the news release. All health care workers caring for COVID-19 patients must wear medical-grade masks. 
In an Arizona Daily Star story, Dr. Bob England, interim director of the Pima County Health Department, expressed concern over acquiring supplies and said the health department was even looking at homemade masks, "not for critical healthcare needs, perhaps, but they may offset other needs to free up other masks, or otherwise help extend their use."  
Spokespeople for Banner-UMC, Tucson Medical Center, Carondelet Health Network and Northwest Healthcare all report having sufficient PPE at this time.
On Saturday, Gov. Doug Ducey said Arizona received a large shipment of medical supplies for health care professionals treating coronavirus patients. That shipment includes more than 440,000 masks, gloves and surgical gowns, according to this story from the Arizona Daily Star. 
"We are grateful and humbled to see the community's readiness to support those on the front lines of health care," writes Carondelet spokesman Keith Jones in an email. "We are investigating the efficacy of using homemade masks in the hospital setting." He adds that Carondelet hospitals will accept donations of homemade masks and will determine their usefulness after they are received. 
Tucson Medical Center is not currently utilizing homemade masks, but notes that its rural partners are using the masks, and this TMC site has guidelines for making fabric masks. Banner will take them for employees to use for personal comfort. And Northwest Healthcare is accepting hand-sewn masks but only to use as a last resort. 
"We continue to find options to source approved masks, N95 respirators, etc. with the goal that no one has to use a non-medical grade mask/device," writes Veronica Apodaca, the network director of marketing for Northwest Medical Center and Oro Valley Hospital, in a prepared statement.
Kelly Reynolds, a University of Arizona professor in public health and environmental microbiology, worries that homemade masks are not only ineffective but can also lead to cross-contamination and a false sense of security. We don't really know how well they would work, she says. 
In recent guidance on mask use during the coronavirus outbreak, the World Health Organization actually says "cloth (e.g. cotton or gauze) masks are not recommended under any circumstances." 
That's because the coronavirus gets dispersed into the air through a cough or sneeze, with most of the viral particles in large droplets, Reynolds says. And while perhaps a fabric mask could block those large droplets, it's not going to stop the small particles that can still make you sick. 
"That's why the N95 respirator is so important," Reynolds says. "It's rated to remove 95 percent of these smaller particles, and a cloth mask won't." 
Touching a fabric mask while it is contaminated or failing to properly dispose of or sanitize it can also lead to cross-contamination, she says. 
"For health care workers, it may come to this last resort," Reynolds says. "But for the general population, this is not the last resort. They have lots of steps for protecting themselves before using a cloth mask. And those protections are staying home and social distancing."
Tucson's army of sewers is preparing for last resorts. 
"We need to protect the people who are first in line," says Andrea Rodriguez, who was compelled in part to start the Facebook group Sewing Masks for Tucson after hearing reports from her native Czech Republic about public mask requirements. "Not only in the hospital, but in the community, in shelters, in grocery stores. Everyone who still has to be working." 
"This is better than nothing," says Rodriguez, who created the group over the weekend and which already has more than 80 members. 
Rodriguez points out that it's important for mask makers to use fabrics and patterns suggested by medical providers and for masks to be regularly and properly washed, sanitized and stored. 
She says her group has already received inquiries from interested retirement communities.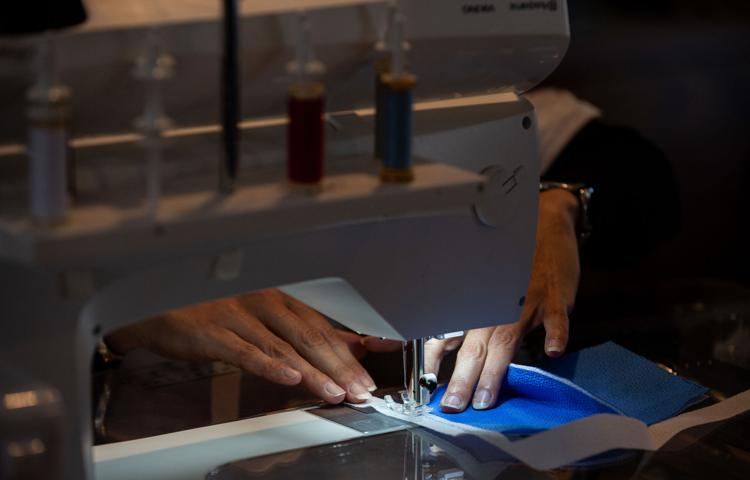 At Fellowship Square-Tucson, an independent living and assisted living facility, staff have begun making their own masks and gowns out of 300 thread-count, king-size sheets. Michelle Andris, a licensed practical nurse and assisted living manager, says that even in January, her orders for PPE were being rejected.
Normally, the facility doesn't go through much PPE, so they don't order much of it. And even though there are no positive cases of COVID-19 or even symptoms of it in their community, Andris wants to be prepared. 
"I've got some really kind, caring, self-sufficient caregivers who were all over it," she says. "If we want it, we need to make it." 
Renee Cloutier, the costume designer and costume shop manager for the currently closed Gaslight Theatre, started making masks for her daughters — a physical therapist and nurse.
Others have joined her, including a best friend who manages the costume shop at the University of Arizona. 
"This is a community of people who are like, 'We're here. We'll help. We'll do whatever we need to do,'" she says. They are currently making masks that fit over an N95 respirator and more basic masks that you would wear if you were sick. 
Cloutier's daughter Tamra Nazifi, a neuro-ICU nurse at St. Joseph's Hospital, says she hasn't yet seen a need for homemade masks in her unit, but when she gave several to other nurses, they were appreciative to have it as an option. 
"They're just another layer of protection..." she says. "But if any of us were in the room with a patient positive with COVID-19, we would want to be using an N95."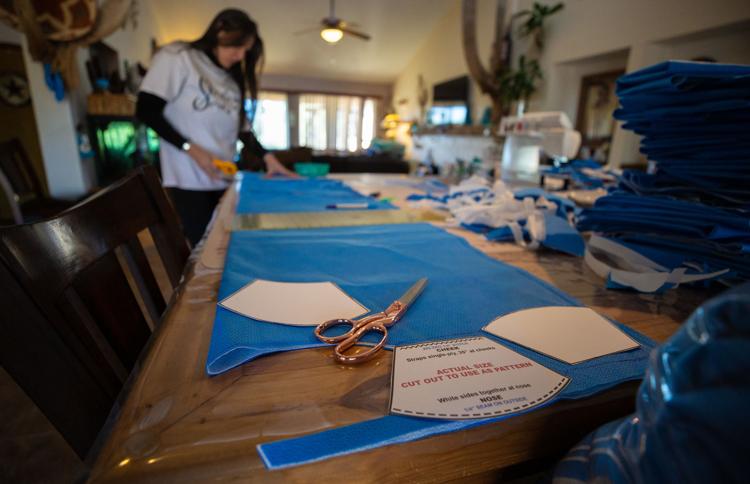 Don Carlos with Mending Souls says that right now this is all experimental. Her nonprofit is at the service of Tucson's hospitals, she says, ready to try what they think is best. 
She hopes the material Banner-UMC provided — used to wrap surgical instruments — can offer better protection than other homemade options if it comes to that. 
Right now, Don Carlos is focused on recruiting volunteers. Already, she is working with other Tucson nonprofits and religious organizations. 
Cutting and sewing one mask takes, at most, 10 minutes, she says. 
"If you have scissors or sewing machines, we want you," Don Carlos says. "If you don't have scissors, we will loan them to you." 
---
More info
• Contact the hospitals to learn about what they need and how to donate it. Call Carondelet Health Network at 520-872-3773. Learn about Tucson Medical Center needs here. Go here for information about donating to Banner hospitals. Send an email here to contact Northwest Healthcare hospitals. 
• To learn more about Mending Souls, visit lovemendingsouls.org. To learn more about Sewing Masks for Tucson, check out their Facebook group. To learn more about the Gaslight Costume Shoppe's efforts, go here.