As a mother for nearly 20 years, you could say Cynthia Carsten's love for nursing began by routinely monitoring fevers, bandaging up skinned knees and nurturing her kids as they grew up.
Now, as the chief nursing officer at Tucson Medical Center, Carsten is one of the many mothers in health care who find themselves on the front lines of the pandemic.
When she started nursing at TMC in 2012, Carsten never would have guessed she'd be leading a team through a major public health crisis just eight years later.
"It has been a huge effort trying to get all of my staff trained and comfortable taking care of COVID-19 patients," she said. "We've put a lot of time and investment in supporting the staff's education with drills and training and making sure they have the right PPE (personal protective equipment) and know how to use that appropriately so that they're safe, they can keep each other safe and go home to our families safe."
But even with the high risk of exposure, Carsten said she wouldn't want to be doing anything else.
"I love being able to be in a field where I can serve others. I want my bucket to be full and what does that for me is being able to take care of people in their vulnerable moments, and it's just gratifying," she said.
"I like to go home at the end of the day and feel like I've made a difference for somebody, whether it's my staff or the patient, and feel like I'm doing my part in the community."
As a mother of four young adults, Carsten is no stranger to taking care of others. Throughout her career, and especially in the last couple of months, she said her experience as a mother has helped her become a better health-care worker.
"I definitely do bring all of the things I've learned as a mom to work," she said. "I think it's made this job a lot easier because you have so many life experiences that you bring to the table that are unique, that you only learn as you go through life."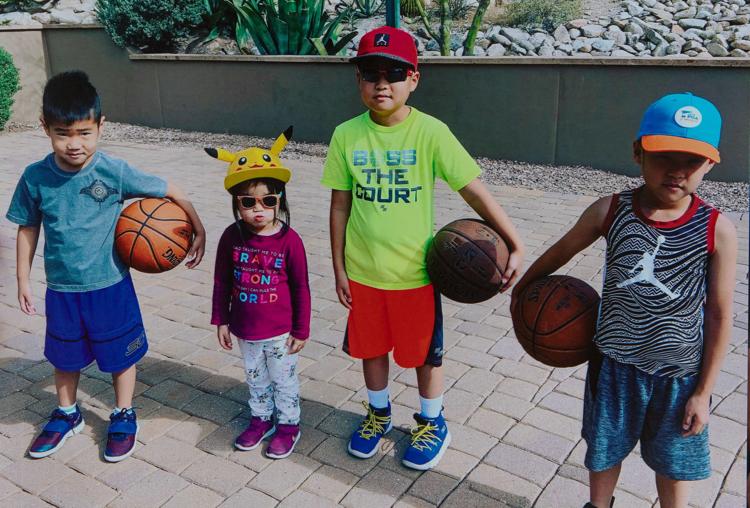 For Esther Kim, the medical director of the ICU at Northwest Medical Center, both her work and home life have been significantly impacted by the pandemic. As a mother of four young children, Kim said she's definitely much more aware of her increased risk for contracting the virus.
As a full-time physician in the ICU, Kim has been taking care of critically ill patients, both testing positive and negative for coronavirus, on a daily basis.
"It's so terrifying to have to tell somebody, 'You're not doing well. We're going to have to put a tube in to help you breathe. But this is what we need to do to help you get better.' It's exhausting," Kim said.
"It's emotionally draining to do all these things and do everything you can to help someone, but also at the same time, be a little bit fearful for yourself and your family."
Both Kim and Carsten said they've had to change the way they interact with their families and go through an in-depth decontamination process when they get home from work. They are also examined for symptoms of COVID-19 every day.
"When it first started, my 3-year-old little girl would hear the door open and say 'Mama! And she'd come running and her brothers would really sort of tackle her and say, 'No, you can't.' It's hard," Kim said.
"Especially after so much stress at work, you want to come home and snuggle with your kids, but you also have to be somewhat fearful and just very mindful of everything that's going on."
More than anything, both health-care workers said they hoped their kids would understand, or eventually understand, that the work they do is bigger than just themselves and that they have to make some sacrifices for the greater good.
"I would hope that they learn that this is a profession that I chose to be in and there's ways we can be safe while serving others and that there are people that are sick and that need help and they need people who have the ability to support them during those dark days," Carsten said. "It's something that I chose to do and I do it proudly."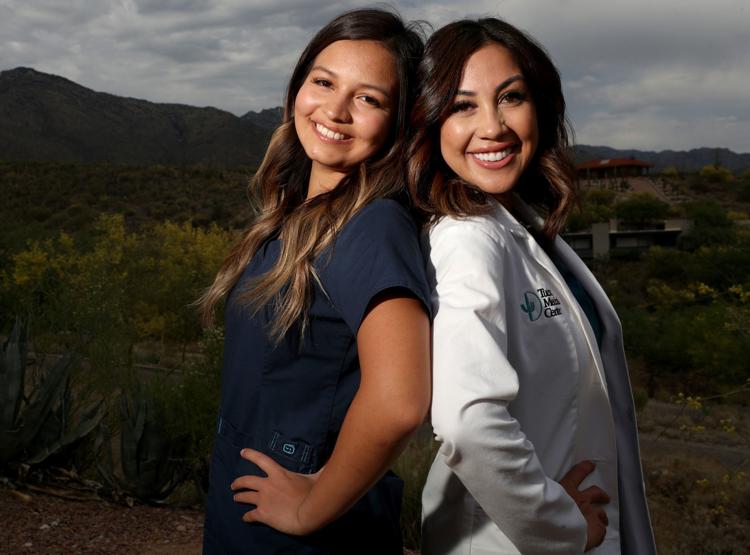 Carsten isn't the only one in her family who's been on the front lines of the pandemic.
In addition to her husband, who works for the Tucson Fire Department, Carsten's oldest daughter also works at TMC as a patient transporter.
For 18-year-old Aliana Sanchez, being able to watch her mom as she navigates through such a stressful and scary time has been eye-opening. Although Aliana's job isn't clinical, she interacts with patients and moves them from room to room, which also puts her at risk for contracting the virus. She said her mom has done a wonderful job teaching her and the rest of the transportation department about the proper use of protective equipment and making them feel comfortable in their ability to perform their tasks.
"I've always known she's pretty incredible, but it's so amazing to see my mom at work in the middle of chaos," Aliana said. "She has these professional moments where she's so passionate about something and making sure that it's done correctly and safely.
"And then to come home a couple hours later and just have this loving person. It's like two different people, but at the same time, they're so intertwined. And I see those motherly instincts in her even at the hospital."
Even through the stress of a pandemic, Kim and Carsten said their motherhood has given them a stronger sense of what it means to be a great health-care worker. They are also grateful for the community's support of local health-care workers and the ability of their teams to come together, as a family, to help their patients during such a difficult time.
"Health-care workers, first responders and essential workers in general have been sort of a bright light in all of this darkness," Kim said. "We're doing what we need to do to help each other out to serve the greater good. I think in times like this when everybody's feeling a little bit isolated and sad, it's so important that we carry on this good work to get us back on our feet."