When Terry Etherton decided to move his gallery to Convent Avenue in Barrio Viejo nearly two years ago, he had no idea what it would lead to.
The move, which came after three decades at his previous location on Sixth Avenue, led to a few notable changes — a fresh start in the perfect gallery space, double the foot traffic, and something of a domino effect that would ultimately transform Convent Avenue into the growing fine art hub that it is today.
Since Etherton moved into his new space at 340 S. Convent Ave., four other art galleries and studios have moved into the area — Andrew Smith Gallery, Bahti Indian Arts Gallery, Decode Gallery and Studio light | space. (Not to mention the Museum of Contemporary Art is located up the street, too.)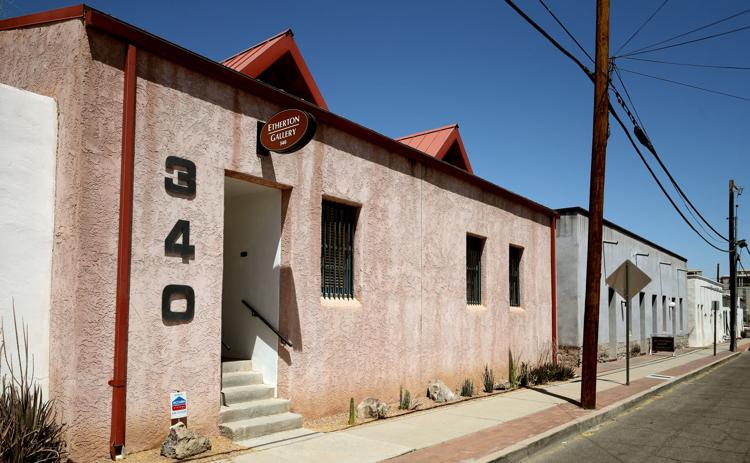 "I always tell people this feels a little bit like the movie 'Field of Dreams,'" Etherton says. "You know, he says, 'If you build it, they will come.' I kind of feel that way because we opened and within months, there were all these other people here. Now, I'm not responsible for all that but I am responsible for Andrew Smith (Gallery opening) next door because I knew that space was becoming available and I called him and said, 'Andy, I know you don't want to drive 45 minutes but you have to really consider this because I think this is where everything's happening right now.'"
Many of the gallery owners were inspired to make the move to Barrio Viejo because of its rich history. The neighborhood is one of the oldest in Tucson and is home to historical adobe buildings dating back to the 19th century.
One of the more recent occupants on Convent Avenue is Beverly Fisher, who owns Studio light | space and moved to Tucson from Pennsylvania at the end of 2020.
During a few of Fisher's previous visits to Tucson, she and a friend "fell in love with the barrio" for its beauty, age and historical abodes.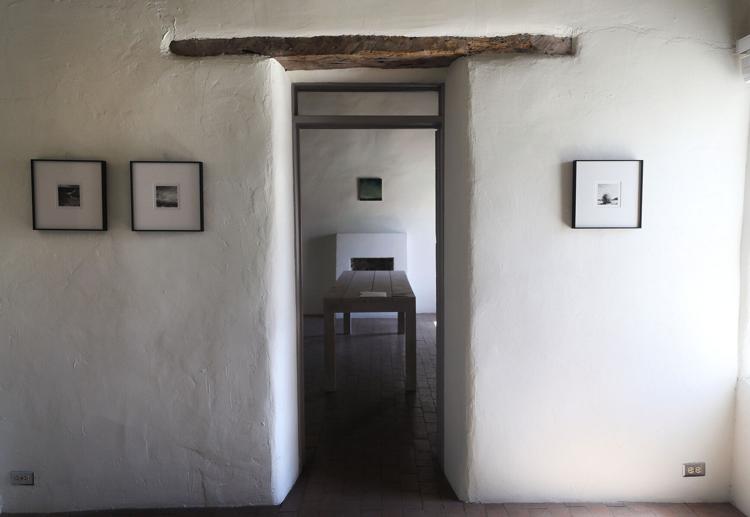 "I love how creative the neighborhood is," she says. "There's lots of designers and architectural firms in the area, too. So, even though it's a quiet neighborhood, it feels like it's just up-and-coming. There's just so much activity happening down there."
Since joining the galleries on Convent Avenue, Fisher says it's been a "fantastic" experience with the other gallery owners who are "incredibly supportive and generous."
"I feel like we're all really wanting to make this space a destination and continue to keep the fabric of the houses and buildings at a human scale and bringing more people in on foot and bicycle would be incredible," she says.
For Etherton, who has more than 40 years of experience in the art and photography industry, it's a welcoming sight to see younger folks getting involved in the art scene that he has loved for so long.
"I'm so happy all these people are here," he says. "And for us, especially to have much younger gallery owners in this block is a big deal. Because, you know, I've been doing this a while and I'm an old guy. Andy, he's my age, Mark (from Bahti) is kind of my age, too, but, Decode and (Studio Light | space) across the street, they're much younger. And because of that, we're seeing a much younger crowd. So, we're benefiting from them being here as well."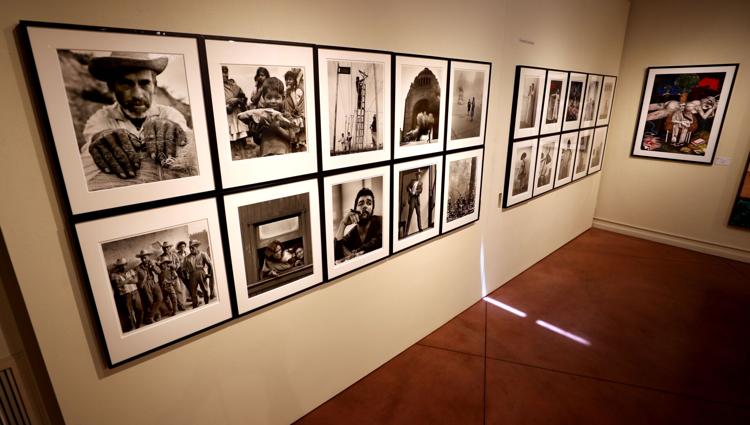 Now, the five galleries often schedule their exhibition openings on the same evenings so visitors can check out all the galleries around the same time. Typically, these openings feel more like a celebration with the open doors, crowds of people walking around Convent Avenue and live music coming from Etherton Gallery's patio.
"It's been just a wonderful kind of collaboration between all the people in this block," Etherton says. "I really like them. We're really supporting each other."
'It's completely reinvigorated me.'
Etherton had been a fan of his current gallery space long before he even knew it would be his one day. 
He had visited the space many times in the past and always appreciated it but never thought it would be his — until one day when he was visiting his framer and got a tip that the building was available. He called up the landlord and made a deal right then and there for the space on Convent Avenue.
That call gave Etherton a new space and a fresh start.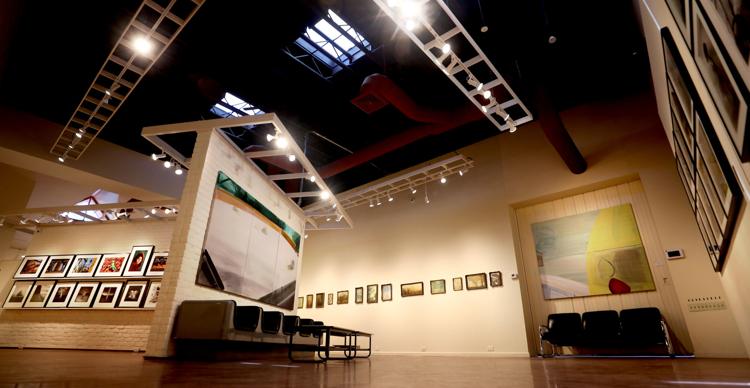 Unlike his previous space, the new space has an atypical layout, some natural lighting from skylights, an outdoor patio and convenient storage spaces throughout the gallery.
"I'm thrilled to be here," he says. "Every day I come in, I find something else I like about it. I keep looking for things I wish were this way or that way. But I haven't found anything that I would change."
More so, Etherton knew he wanted to remain in the downtown area — the heart of the city — making the choice to move to Barrio Viejo a simple one.
"This feels to me a little bit like it did when I first opened my gallery," he says. "With all these possibilities and experiencing things in a new way and meeting new people, getting a lot of positive feedback, it's completely reinvigorated me."
Currently, Etherton is helping develop a map of the area that will be dubbed the SOCO (South of Congress) Arts and Entertainment District. The map includes the area south of Congress Street to 18th Street, from Fourth to Meyer avenues.
Within that designated area, there are around 50 to 60 businesses, 10-plus hotels and numerous galleries and museums, according to Etherton.
"There's all this stuff and it's all close by," he says. "So we're going to create a map so that if somebody comes in here, I can give it to them and say, 'Here's the map, believe it or not, but you can walk to all of this stuff.' So we're working on that right now." The SOCO Arts and Entertainment District map is currently in the design phase and should be released this fall.
Etherton would like to see the Convent Avenue art hub continue to grow with more galleries and even some craft shops, as long as artists bring high-quality work to the area.
"My only regret is that I wish I was 20 years younger," he says. "So I can enjoy this longer, right? I mean, I wish this had happened 20 years ago, but it happened when it happened and I'm just grateful for the gift that I get to be here. I come to work every day and I'm like looking around (at the space), the people I get to work around, the work I get to do every day, the neighbors — it's just all really good."
5 galleries in the Convent Avenue art hub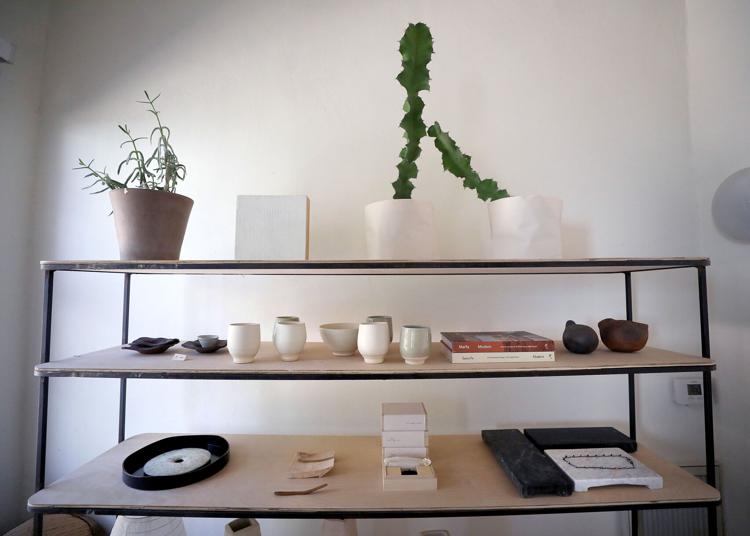 Andrew Smith Gallery
Andrew Smith Gallery is a renowned photography gallery featuring 19th-, 20th- and 21st-century photographs from popular artists and photographers.
Hours: 10 a.m. to 4 p.m. Tuesday through Friday; noon to 5 p.m. Saturday.
Find out more about Andrew Smith Gallery on their website.
Bahti Indian Arts Gallery
You may recognize Bahti from their gallery in St. Phillip's Plaza, but their latest gallery is housed on Convent Avenue in the historic Barrio Viejo. The gallery specializes in Native American art.
Hours: 11 a.m. to 4 p.m. Wednesday through Saturday.
To learn more about Bahti Indian Arts Gallery, check out their website.
Decode Gallery
You can find Decode Gallery on Convent Avenue behind a vibrant yellow door behind Andrew Smith Gallery. The submission-based photography gallery contains work from renowned artists like Ansel Adams and Edward Weston.
Hours: Noon to 4 p.m. Saturday. (Gallery exhibition openings are held on every second Saturday of the month from 5-8 p.m.)
Find out more about Decode Gallery on their website.
Etherton Gallery
Etherton Gallery has been a staple photography gallery in Tucson for over 40 years. The gallery specializes in photography from the 19th century to today.
Hours: 11 a.m. to 5 p.m. Tuesday through Saturday.
To learn more about Etherton Gallery, visit their website.
Studio light | space
Studio light | space is one of the newer additions to the Convent Avenue art gallery hub. The studio and gallery "presents work by artists with an emphasis on reductive and minimal drawings, paintings and objects," according to owner Beverly Fisher.
Hours: Noon to 5 p.m. Thursday through Saturday or by appointment.
Find out more about Studio light | space on their website.