Alyssa Wedler has long imagined a spring wedding with the cactus flowers in bloom. 
For weeks, she and her fiance, Nick Stefano, watched their May 2 wedding date with trepidation. 
As COVID-19 spread across the country and social distancing recommendations tightened, Wedler held out hope that somehow May 2 could still work, that maybe, by then, we'd be past this. 
After all, she's been planning this wedding for more than a year. 
"The worst part is the not knowing," Wedler told us when we chatted on March 17, following the recommendation from the Centers for Disease Control and Prevention to postpone or cancel gatherings of more than 50 people for the next eight weeks. "My wedding is just within that eight-week window, but it's at the tail end of it. So I don't know, maybe it's stupid to still be thinking there's a possibility that people will listen to the rules and we can squash this." 
But with a guest list of 130 and numerous family members traveling from out of state — including Wedler's 95-year-old grandmother who has COPD — saving that May 2 wedding date became less and less likely.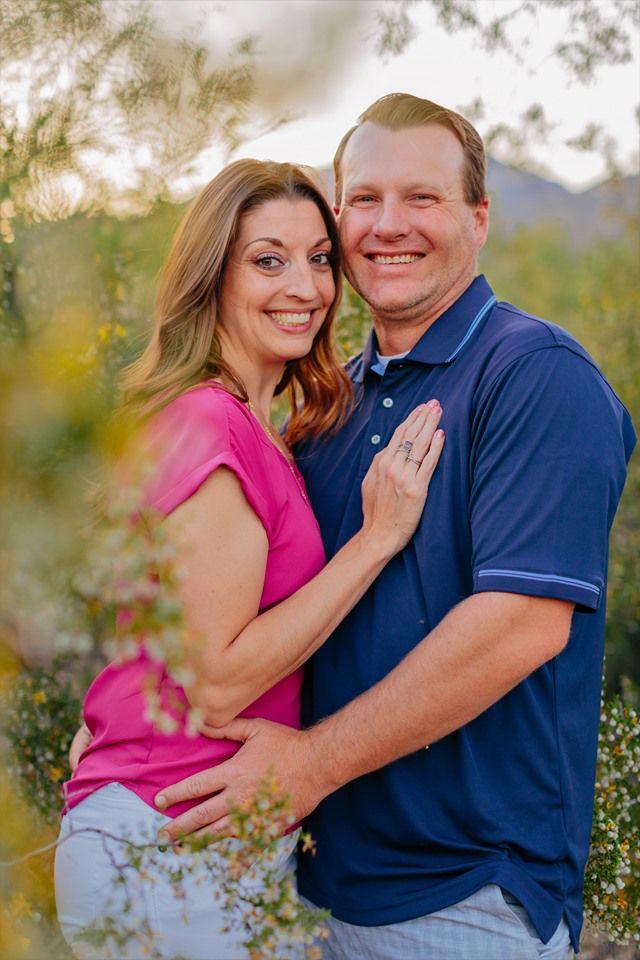 When their honeymoon in Jamaica fell through (Jamaica closed its airports and seaports temporarily and the resort the couple planned to stay at closed), and the Catalina State Park ramada they booked for their rehearsal dinner got shut down, Wedler says they knew it was time to postpone. That was around March 20. 
They rescheduled for April 24, 2021 — a spring wedding after all, but now a year out.  
"We talked about doing a small, intimate ceremony or just going to the courthouse or eloping, but we decided we really wanted to do it right," Wedler says. "I want to be able to share my sappy vows in front of everybody." 
Wedler says she gave herself about a week of mourning — of not working out, not caring what she ate and crying all the time. And then she came to peace with the change. At least now she knew. The not-knowing was over. And everybody would be safe. 
"This way everybody can really be present, with no concerns, no paranoia and all joy," she says. 
For Tucson wedding vendors, spring is the busy season. Jordan Ochoa-Stevens, the owner of the wedding planning company Pop Weds, says March itself is her busiest month. Or, at least, it was. 
Ochoa-Stevens had her own wedding celebration in her backyard on March 13. About one-third of their invited guests didn't come. 
In the next days, she started to get phone calls and texts from clients concerned about coronavirus and their weddings. Like Wedler, Ochoa-Stevens first took a wait-and-see approach. But then the postponements and cancellations began to flood in. 
"Summer is our dead season..." she says. "We're gearing up to not have any income happening until maybe September or October." Maybe longer when she considers weddings that may be rescheduled a year out. 
Already, she has lost her physical office space and retail location and has stopped doing anything besides a few 30-minute consultations for prospective clients. 
"Most (wedding vendors) are mom-and-pop shops and one-man teams who don't have a lot of money themselves," says Ochoa-Stevens, who works with 60 wedding vendors in Arizona and California as part of her all-inclusive wedding packages. "Everyone is struggling, to say the least. We're trying to take it one day at at time." 
Still, she has told her clients not to worry about making payments. 
"This isn't a time to think about weddings or events," she says. "Just think about your family ... make your rent. That's what it comes down to."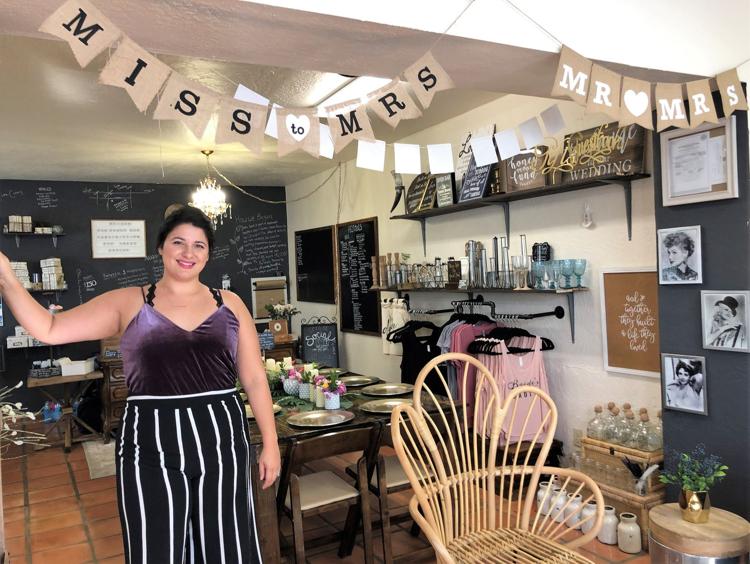 Early on, Judy Muhlestein, the owner of Angelica's Wedding and Event Center, decided to postpone all events at her venue until Sept. 1 after several days of research. Like Ochoa-Stevens, she says her clients have the option to stop making payments during the closure. She posted the decision to Angelica's Facebook page on March 17.   
As someone in her late 60s, she didn't want to take any risks. Plus, she quickly realized no number of hand sanitizing stations or disinfecting procedures would change human behavior at a celebration. She recalls one of the venue's last events before closing, when guests streamed past the cleaning stations to hug and kiss — "a mosh pit of disease," she says. 
Kelly Abbott, the owner of wedding venues Bates Mansion and Stardance Event Center, says she is working with brides to reschedule. 
"Unfortunately, this is wedding season," she says. "For me, it's not as impactful, because I'm not the bride. These poor girls have been working on their wedding date forever, and they're completely screwed." 
Courtney Encinas-White is another one of those brides. With her wedding originally planned for March 21, she and her now-husband chose to bump their large celebration back to July and have a small ceremony with immediate family on the intended date.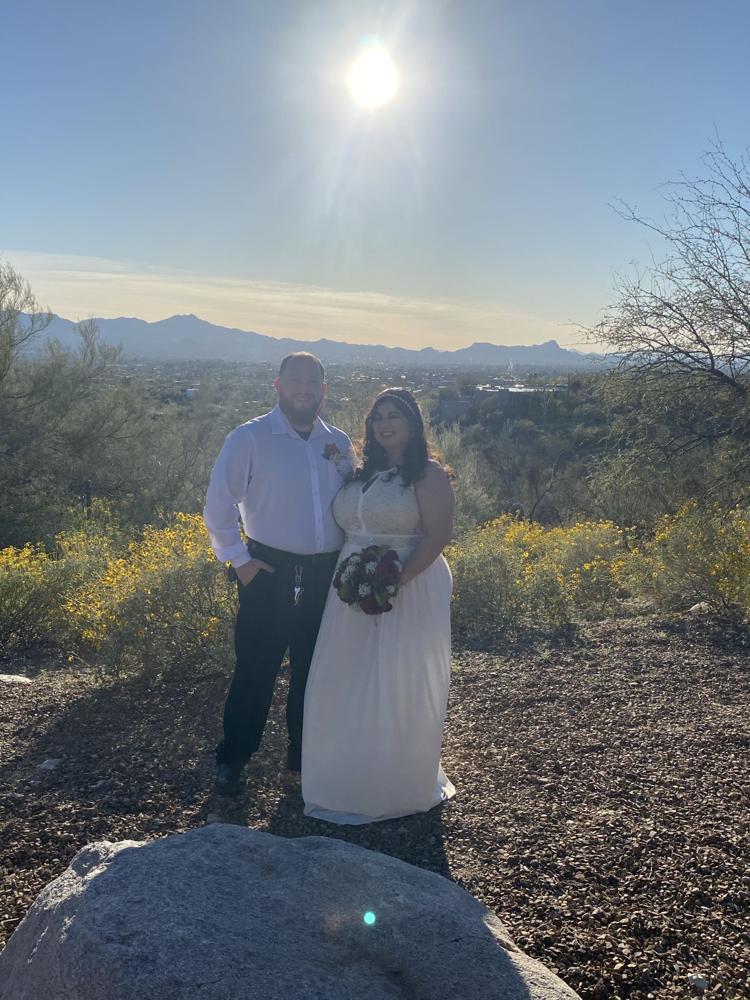 "I just couldn't wait anymore," she says. "I wanted to be married to him and that was the main point of everything, of all of it. To reschedule the wedding is one thing, but to reschedule actually being married to him?"
After being engaged since December 2018, that was not an option. But still, the loss of the planned wedding hurt. 
"The Sunday before the wedding, I kind of just cried," she says.
Instead of tying the knot at a venue in Oracle, the couple got married at the northernmost part of Campbell Avenue, overlooking the city. Their best friends weren't there, and Encinas-White wore a dress she found at Ross, not her wedding dress. 
"I didn't wear a big dress and he didn't wear a suit," she says. "I was hoping to save that for everyone. But we did get married. We just didn't have our wedding." 
At Z Mansion, owners Tom and Emmeline Hill have been preparing their brides and grooms for possible postponements for almost a month. The venue also serves as hub for providing food, first aid and other care to Tucson's homeless population and works with the University of Arizona to offer medical students experience in that area, Tom Hill says.
Because of this healthcare experience, Hill says they knew how to help couples plan accordingly, first using video calls to include family and friends in small ceremonies and then using virtual tours to show the venue to prospective couples when they had to close to the public. 
It doesn't hurt that rescheduling is always an option for Z Mansion couples, pandemic or not. 
"There are times in our lives that define a generation, and this is the time that is defining this generation that is getting married," Tom Hill says. "The decisions that they're making are not only wonderful and amazing because they're giving up something important for the greater good, but when we are doing weddings again, these weddings are going to be the most joyous, insane, out-of-control weddings in the history of weddings. We'll come out of this dark time and love will still be there and romance will still be there, and people are just going to go crazy."