As a Hispanic girl growing up in Tucson, Czarina Salido had to be a fighter to overcome negative assumptions and obstacles but the challenges helped her develop a greater sense of purpose.
"When I was 8 years old feeling that I couldn't do the same things that boys could do. I continually felt that I couldn't be as good in math and science. I found this troubling and unsettling," Salido recalled.
Salido struggled toward the end of high school but at age 17 she graduated from night school and later attended The University of Arizona thinking she would study business. 
"I kept being pulled towards questions about science, mathematics, morality, and the philosophy of science," Salido said. "I knew because I had a solid math and science background, I could switch majors from business to philosophy and physics." 
Salido is the program director of Taking Up Space, a program that prepares and sends Native American girls to Space Camp in Huntsville, Alabama so that by the time they are 20 years old, they too will be able to pursue their dreams.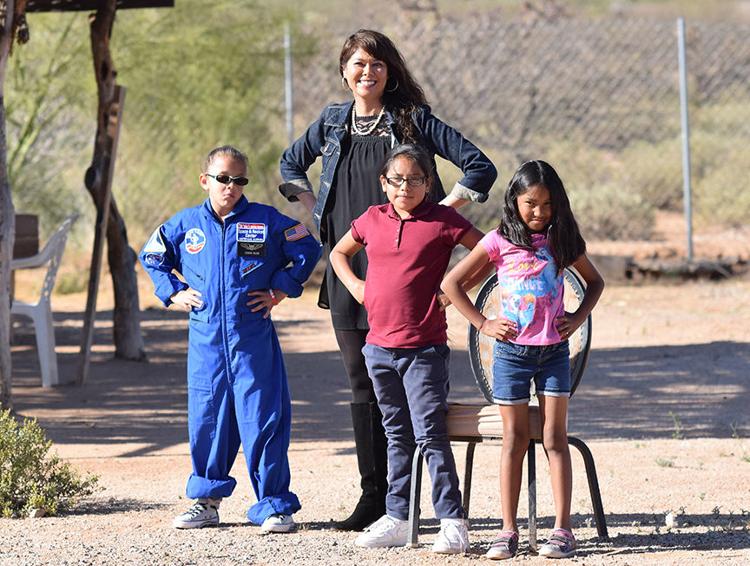 On the Taking Up Space program
"Our focus is on space exploration since it is a human endeavor that involves cooperation from all nations and requires several levels of expertise from many STEM fields. This program is intended to create a deep life-changing impact and to nurture future STEM teachers, engineers, pilots, astronauts, mathematicians..."
STEM stands for science, technology, engineering and mathematics.
On going to space camp as a grown-up
"Unfortunately, I was not able to attend Space Camp as a kid. A few years ago I discovered that Space Camp is also for adults, which a lot of people don't realize. The focus is on team building and developing leadership skills, and it was a life-changing experience. There were so many challenges requiring so many skill sets. It was a personal learning experience. Now I spend my days creating ways to encourage our young STEM kids in the same empowering way."
On making space camp possible
"Since I have been to Space Camp I know the camp experience builds confidence all while teaching space exploration and STEM. I grew from my experience and I would like to help girls experience the same thing. To help send the girls to camp we are having a fundraiser at La Cocina Restaurant on March 6, 2018, featuring Pascua Yaqui guitarist Gabriel Ayala, the International Association for Astronomical Arts, and I am pleased to announce that Master of Ceremony, Geoffrey Notkin, has a photography book coming out next year, Empirical World, where the first group of Pascua Yaqui girls will be appearing."
"I was afforded many opportunities to advance my academic and professional career by participating in outreach and internship programs. Coming from an underrepresented group myself, I felt it to be very beneficial for my future career interests. I have been so fortunate to have had these opportunities, that I wanted to give back and share the same passions and opportunities that I was given."
On the benefits of space camp
"Space Camp focuses on team building and enhancing problem-solving and critical thinking skills through many hands-on activities including realistic simulated astronaut missions, robotics, aviation, and a ropes course. This becomes such a challenging set of activities that it can be empowering and life changing. Past Space Camp graduate surveys have indicated that 88 percent of Space Camp graduates took more STEM classes, and 71 percent choose a STEM-related career field."
"The beauty about STEM is that it's more than math and memorizing things, it's about being creative. In engineering you have to figure out how to best accomplish your task at hand, and that takes creativity. All people have creative ideas."
On working in a male-dominated field
"There is a deficit of girls in STEM. Only 20 percent of women earn degrees in STEM-related fields. Often I'll walk into a lecture or presentation and there are only a handful of females. It can be challenging to speak up in these situations, and it requires a bit of courage and self confidence, much like jumping off a 30-foot pole."
"In my 20s I couldn't imagine I would be where I am at today, but I knew I wanted to do more and be more. It took me 10 years to get through university, for several reasons, some being deaths in the family and having to work to pay tuition. But I always wanted my degree, it meant something to me.
"For me a degree was huge, and achieving my childhood goal was immense. Some may not see school as their dream, but the same principles apply for success: one must work hard to attain and achieve their goals."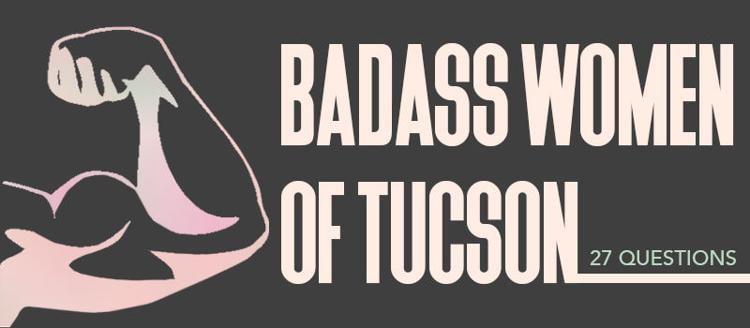 I'm on a mission to ___________________. 
Empower underrepresented girls to pursue any career they wish!
What's your astrology sign? Does it fit you? 
Libra. Yes, the scales represent balance, and I try to find harmony in my day to day life.
Describe yourself in three words... 
Sincere, Rebellious, Relentless.
Telemarketing for the Tucson Symphony Orchestra
How long have you lived in Tucson? 
My family moved to Tucson from Nogales, AZ when I was 1.
Who and/or what inspires you? 
Astronauts inspire me. They have to be so well-rounded and clear-headed in all situations, from simple things such as press junkets to life threatening emergencies in space. They risk their lives for us and to further our understanding of the universe.
The secret to coping with stress is ________________. 
To know to expect it and, as difficult as it is, not to fight it but to push through it. Exercise helps a lot too!
Your favorite Tucson spot? 
The ridge off the Finger Rock trail.
What are your favorite three songs and why? 
Rossini's William Tell Overture because it's super fun to play on the violin. Die Antwoord's Love Drug because it's a fun South African rap song. Tom Petty's Square One because it brings back lots of memories.
Your go-to order at your favorite Tucson restaurant? 
The Magritte pizza with ricotta from Fresco.
What's your favorite Tucson-only thing? 
The Catalina and Rincon Mountains, in all of their majesty, are always there to comfort and inspire me.
You know you're a Tucsonan when _____________. 
When you can't wait to see the most beautiful sunsets ever!
What constitutes your morning getting-ready routine and how long does it take? 
Shower, clothes, make-up and black eyeliner, stove-top coffee, brush teeth. 45 minutes.
Favorite app at the moment? 
Period tracker. Every girl should have this!
Give us a two-sentence pep talk. 
Always strive to be positive against all odds. Always know that belief in yourself will empower you.
What would you tell your teenage self? 
What lies ahead is not set in stone: rather, it is within me to make myself be whatever is in my heart.
What's a quality you got from your mama? 
The intuition and wisdom to challenge the many wrongs and to embrace that what is right.
And one you hope to pass on to the next generation? 
Never lose faith or belief in yourself!
The last great book you read? 
Falling to Earth: An Apollo 15 Astronaut's Journey to the Moon by Al Worden and Francis French.
The last great movie you watched? 
Blade Runner (The Original).
People would be surprised to hear you're actually a(n) ______________ expert. 
I'm actually pretty good at Search Engine Optimization(SEO).
Is there something you've always wanted to learn, but haven't had the time? 
I really really want to learn more Quantum Mechanics. I think it holds answers to several questions, not only about our universe but also about ourselves and our consciousness. I also want to learn to play the guitar.
Anything you've always wondered about Tucson? 
What was it like when some of our rivers flowed during most of the year?
Favorite ice cream flavor? 
Choosing one is like choosing which is your favorite kid - Pistachio, Rocky Road, Mocha Almond Fudge, Praline Pecan, Mint Chip, Chubby Hubby, Chunky Monkey.
Where can our readers follow you on social media? 
Is there something you REALLY nerd out about? 
Science, Philosophy, Math and Space Stuff.
What's your spirit animal? 
Which fictional character (from TV, movies, books, etc.) just gets you? 
The flawed hero, Captain Mal, from Firefly.
What makes you feel the most confident? 
I feel most confident when I set out to achieve a goal that most say I shouldn't attempt; and then when I can see the light at the end of the tunnel, I know I'll make it!
The best piece of advice you ever received? 
Someone once told me that failure should never be an option and that we follow our successes no matter how small they may appear.