Pandemic gardens are a thing. 
So, it seems, are pandemic chickens. 
Before COVID-19 sparked runs on grocery stores and stay-at-home orders, Carol Cardenas mostly focused on growing house plants and flowers. Growing food just wasn't a priority. Even the figs on her fig tree mostly just went to the birds. 
That changed after a few grocery store trips in March, when she says she found produce mostly "wiped out." 
Growing a few tomato plants looks pretty good right about now. So, too, does having a source of eggs that doesn't require you to brave the grocery store. Plus, many people have more time at home to tend veggie gardens and care for chickens.
Cardenas says she considered chickens, but they were sold out, so she decided to focus on gardening first. 
"Seeing this chain reaction, I'd rather have a garden and not need it than not have one and need it," says Cardenas, who lives west in the Tucson Mountains and started her garden about six weeks ago. 
Cardenas feels that she got a late start to this whole pandemic-gardening-thing, so she's also experimenting with planting produce from the fridge — ie: placing the bottoms of leeks and the tops of carrots into water to sprout new roots. She also planted an herb garden from seeds. 
"I didn't realize everyone was making a run on things," she says. 
Cardenas wasn't the only one with this idea.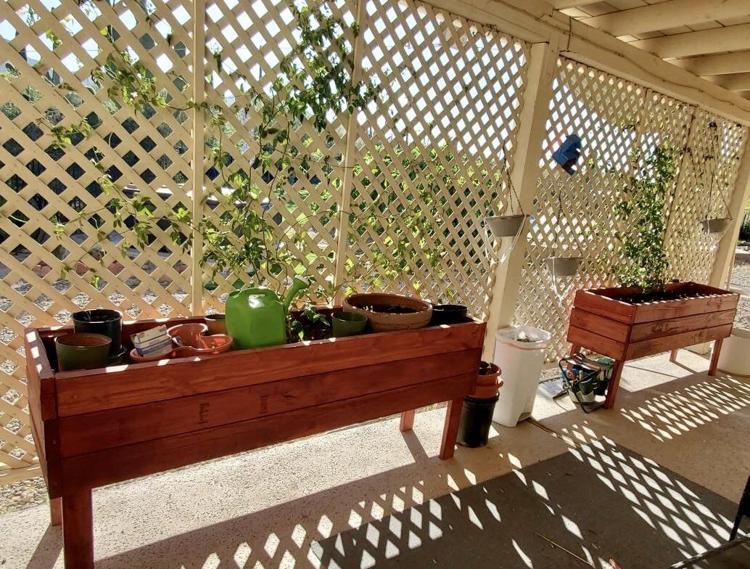 Sold out like hand sanitizer
Eric Clark, horticulturalist at the local Civano Nursery, says he gets about 15 to 20 calls a day from people curious about starting vegetable gardens and planting fruit trees. 
"We always sell a lot of tomatoes in the spring, but almost all we're selling is fruit trees and vegetables, from apples to citrus to tomatoes and pepper plants," Clark says. "We're just seeing a tremendous increase in that category, which previously had been waning a bit." 
To keep up with demand for fruits, herbs and vegetables, the local nursery has had to turn to new vendors, including out-of-state, Clark says. 
"We did run out of tomatoes the first week we started selling," he says, adding that many customers are first-time gardeners. "We sold out like they're selling out of hand sanitizer." 
(Tomato starts, luckily, have been restocked). 
The nursery is currently open, and also offers curbside pickup and delivery. 
Will Feurstock, the general manager of OK Feed and Pet Supply, has seen a similar demand for vegetable starts, potting soil and stock tanks that are used as raised garden beds. But it's the demand for chickens that has amazed him. 
Like Clark at Civano Nursery, Feurstock says he receives 15 to 20 inquiries a day from people asking about chickens. But the store is totally sold out. 
At the end of March, the store received a shipment of 500 birds. Feurstock says normally that would be sufficient through April. They sold out in several days.  
He says he can't get another order of chicks until June. 
"Normally this time of the year, I can book three weeks in advance, but now I'm booking three months in advance," he says.  
The store is also sold out of chicken coops and has seen a huge demand for other supplies related to keeping chickens.  
"It's a lot of first-time chicken owners, so we find ourselves having to explain how to raise them, what temperature to keep the brooder at, things like that," he says. "A lot of people want them for the eggs, but when you tell them it will be six, seven, eight months until you get eggs, people don't know that. ... I think a lot of people aren't doing research and think, 'I'm going to get a baby chick and have eggs in a couple of weeks.'" 
Keeping chickens
Michelle Boyer lives on five acres in southwest Tucson and raises hundreds of birds — chickens, ducks, geese, turkeys, pheasants, peacocks, "a little bit of everything," she says. She's been doing this since she was a kid.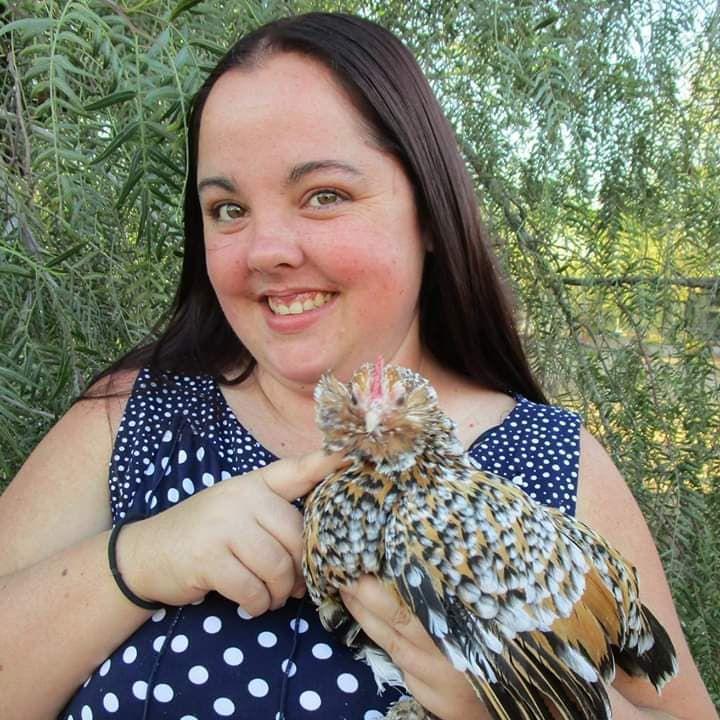 She says she has been fielding texts and calls from people she hasn't spoken to in years, suddenly interested in getting chickens. Every year, she says, people purchase chicks in the spring. Some end up loving it and others end up giving them away several months later. Chickens, it turns out, take some work. 
"The concern is this year, it's going to happen on a big scale," says Boyer, who is an exhibition breeder and has a backyard egg flock. "A lot of people are concerned that people rushed into it not realizing the amount of work and time involved and that a lot of birds will have to get re-homed." There's also the fear that unprepared chicken keepers will lose birds to predators. 
(Also, make sure to check with HOA and municipality rules for whether you can own chickens in your area and what guidelines exist.)
For some new chicken keepers, though, coronavirus was just the nudge to realize a longtime dream.  
Debra Plumley says her husband Brandon has been trying to convince her to "live a simpler lifestyle" for years. Born and raised in Tucson and quite content with "cookie cutter houses," Debra wasn't interested. As a concession, the family of five moved to Mescal, a small community between Vail and Benson, in July. 
Like Cardenas, it was grocery store trips that changed her mind. 
"He kept watching these chicken videos, and I was like, 'Let's just do it,'" Debra Plumley says
They started a garden and purchased 10 chicks.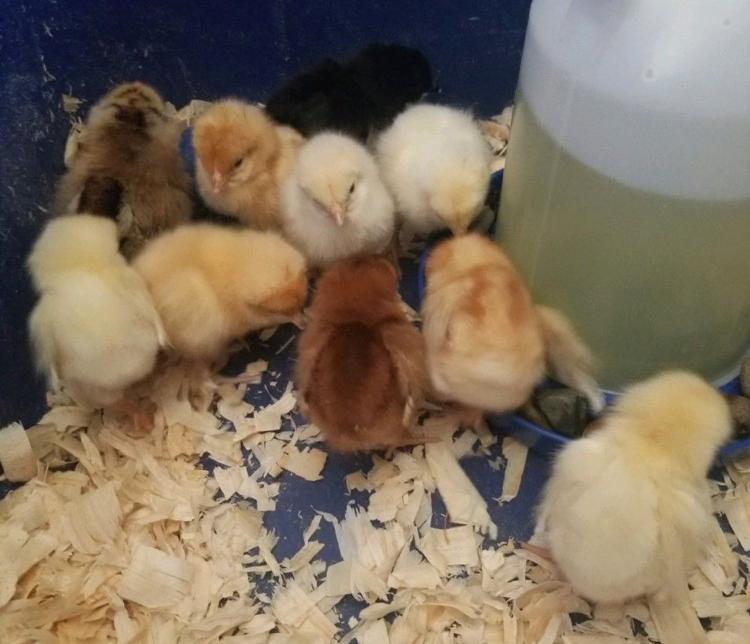 "It feels good to know if we ever had a situation where we had to be self sufficient, we're taking the proper steps to get there," Debra Plumley says. "Obviously, it's not everything, but certain essentials, we'll be able to have them." 
Start small
Chad Borseth, the former retail manager of Native Seeds / SEARCH, is also a lifelong desert gardener and an admin for the gigantic Facebook group Tucson Backyard Gardening. The group has more than 36,000 members. 
"I've seen a lot of ebbs and flows in the gardening world in Tucson and Southern Arizona, but this is unprecedented," he says of the spike in people planting veggie gardens. 
He says usually, springtime gardeners join the Facebook group, inspired by wildflowers to green up their backyards or plant flowers. 
"But this year, I think people are thinking about their food supply in a different way, and they're also trying to reduce grocery store visits," he says. 
And while he says it's probably not realistic for an average, home gardener to expect to sustain themselves completely with backyard bounty, even growing herbs can reduce what you need to pick up at the store. 
"And you can do that even on an apartment balcony," Borseth points out. 
Charles Collins began his home garden in his midtown backyard four years ago, accepting what he calls a "challenge" from the desert. In that time, he has developed hydroponic and aquaponic gardens and raised chickens. He's able to provide food for his family and his neighbors.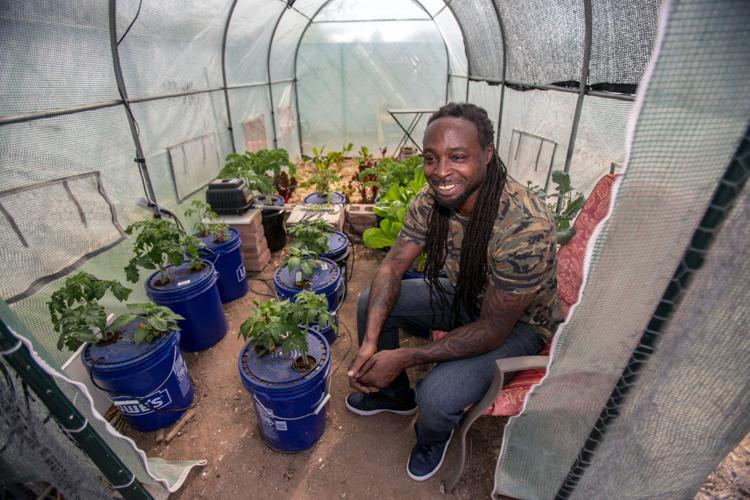 But even he started small, planting herbs. He and Borseth both suggest planting local seeds and following Tucson-specific gardening advice. 
"Set realistic goals for yourself," Collins says. "If you're trying to jump in and say, 'I want to feed a family of three,' don't do that. Learn to grow one tomato plant, one pepper plant." 
That's what Zoë Meade, who lives near the University of Arizona, is doing. She recently started a container garden with help from a friend who urged their entire friend group to plant gardens. Meade has 12 plants now — tomatoes, jalapeños, cucumbers, etc. They joke among their group of friends that they'll survive the apocalypse with their combined gardens. Plus, it's good for her mental health to get outside and watch things grow. 
"It wasn't until corona became this monster that it is that it was like, 'You're just sitting at home. You need something to do,' and it's nice being outside," Meade says. "But also, it's not security. I couldn't survive singlehandedly on my 'farm,' but with all of us, there is food coming from somewhere, and that's nice. And it's been giving us something to bond and talk about even if we can't all be together."