We are celebrating International Women's Day through the stories of our resilient neighbors, mothers, daughters and friends by partnering with La Estrella de Tucson for this special bilingual series, Tucson Women of the Pandemic. The stories are written by journalists Veronica M. Cruz, Stephanie Casanova, Gloria Knott, Danyelle Khmara and external contributors Paula Díaz and Maritza Felix; illustrated by Chiara Bautista; designed by María Camou; photographed by Mamta Popat and Rebecca Sasnett; and edited by Liliana López Ruelas and Irene McKisson. Read this story in Spanish.
---
A year ago, people's lives were upended as coronavirus cases were first reported in Southern Arizona.
Events were canceled, people were asked to stay home, adjust the way they do their job or to continue to work with the added risk of becoming infected by the potentially deadly virus that was quickly spreading,
Almost overnight, teachers were asked to find ways to teach virtually and medical professionals found ways to provide healthcare by phone or online through telemedicine. Those that couldn't work from home continued to go to work, in hospitals, grocery stores, cleaning, responding to emergencies and much more.
A New York Times survey from April showed women made up 52% of all essential workers in the U.S. between 2014 and 2018, and make up more than 75% of workers in social work and healthcare, and "nonwhite women are more likely to be doing essential jobs," the New York Times reported.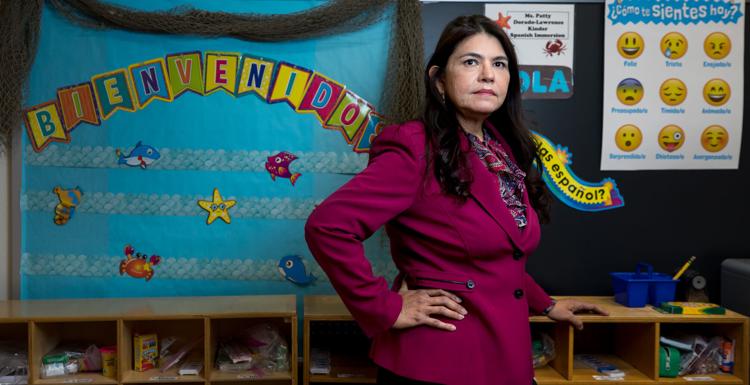 Patricia Dorado-Lawrence: Praying strengthened her family
Every day for almost a year now, Patricia Dorado-Lawrence, a Spanish immersion teacher at Ventana Vista Elementary, and her eight siblings connect on a video call with their mother to pray and talk.
Dorado-Lawrence is the only family member in the United States, and her mom and most of her siblings live in Hermosillo, Sonora, Mexico, while others live farther south in Mexico.
When the pandemic hit, Dorado-Lawrence had to pause her almost twice-monthly visits to Hermosillo for a few months, until she learned more about how to stay safe to avoid getting her family and herself sick.
Eventually, Dorado-Lawrence started driving the more than five hours to Hermosillo, where she and her siblings would visit their mother from their cars outside her house. With each sibling and their family keeping their distance near their own cars, and their mother looking out an open window, the extended family would stay in touch as best they could while protecting their mom and each other from the virus.
Dorado-Lawrence, her husband and 14-year-old son would then drive another 90 minutes to a home they have in Bahia Kino, a beach town west of Hermosillo, because they couldn't stay with their family during the pandemic.
The video calls provided the family strength as some of the siblings battled coronavirus, Dorado-Lawrence said.
"Listening to them, and praying with them gave me a lot of encouragement to get stronger, to try harder," she said. "Because it's so easy to feel down when you're sick, and to feel depressed, it's so easy. And that does not help you to recover."
By the time Dorado-Lawrence got sick early this year, she knew having her siblings there to pray and visit her virtually would help her overcome the virus, she says. She was the third of her siblings to get infected, and was sick for more than two weeks.
Dorado-Lawrence battled the virus mostly during winter break, but when classes started again, she tried to ignore the body aches and logged in to teach her online class.
"However I could, I carried out my work," she said. "And the parents, I did not tell them what was happening but they saw that I did not feel well. Maybe my face reflected many things."
Her COVID-19 symptoms — fever and body aches — started at the beginning of winter break. With no substitute teachers to replace her and two classrooms to teach, Dorado-Lawrence decided she could at least try to keep her online students on track, she said. The in-person classroom had to miss a week of instruction while she continued to fight off the virus.
Before the pandemic, Dorado-Lawrence was a Spanish teacher in the Catalina Foothills School District who had kindergarteners, second-graders and fourth and fifth graders visit her classroom twice a week, she said.
In late March, she and her colleagues were asked to shift entirely to a virtual classroom. Dorado-Lawrence said she had a weekend to make the changes so she could continue teaching her classes online.
Her job was considered part-time, as she worked four half-days a week. But she says she often found herself working 50 hours a week because any homework she gave meant she had to grade more than 300 assignments.
In the fall, Dorado-Lawrence moved to a full-time kindergarten-only classroom at Ventana Vista Elementary where she taught all school subjects in Spanish as a second or sometimes third language through a Spanish immersion program. While creating her online program, Dorado-Lawrence kept in mind that this was her students' first experience with school.
When the district shifted to hybrid learning in October, with some in-person classes and some online classes, Dorado-Lawrence found herself teaching an in-person class of 21 students and a separate, online class of 26 students.
"I had to find the tools for them to have fun, learn — and learn in a second language," she said. "It was very complicated. It's still complicated."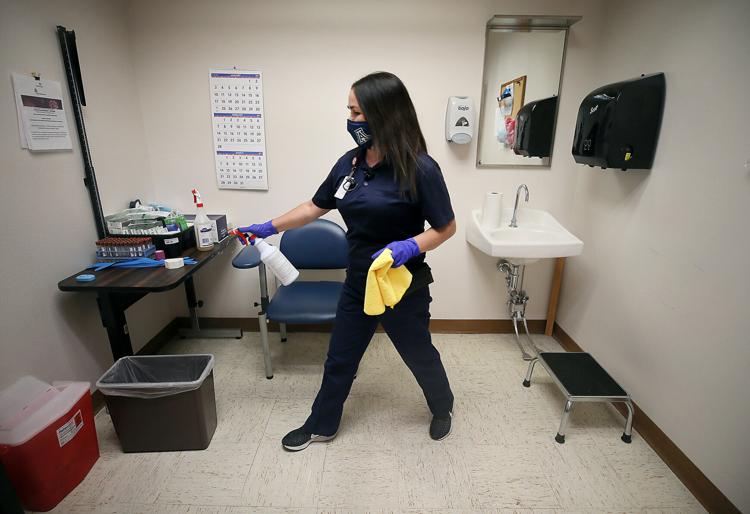 Sonia McElroy: 'We're practically at the forefront'
Every weekday, Sonia McElroy wakes up at 4 a.m. to get to work at 5 a.m. and clean clinics.
For McElroy, who is a custodian at the Arizona Cancer Center at the Banner University Medical Center main campus, working from home was not an option.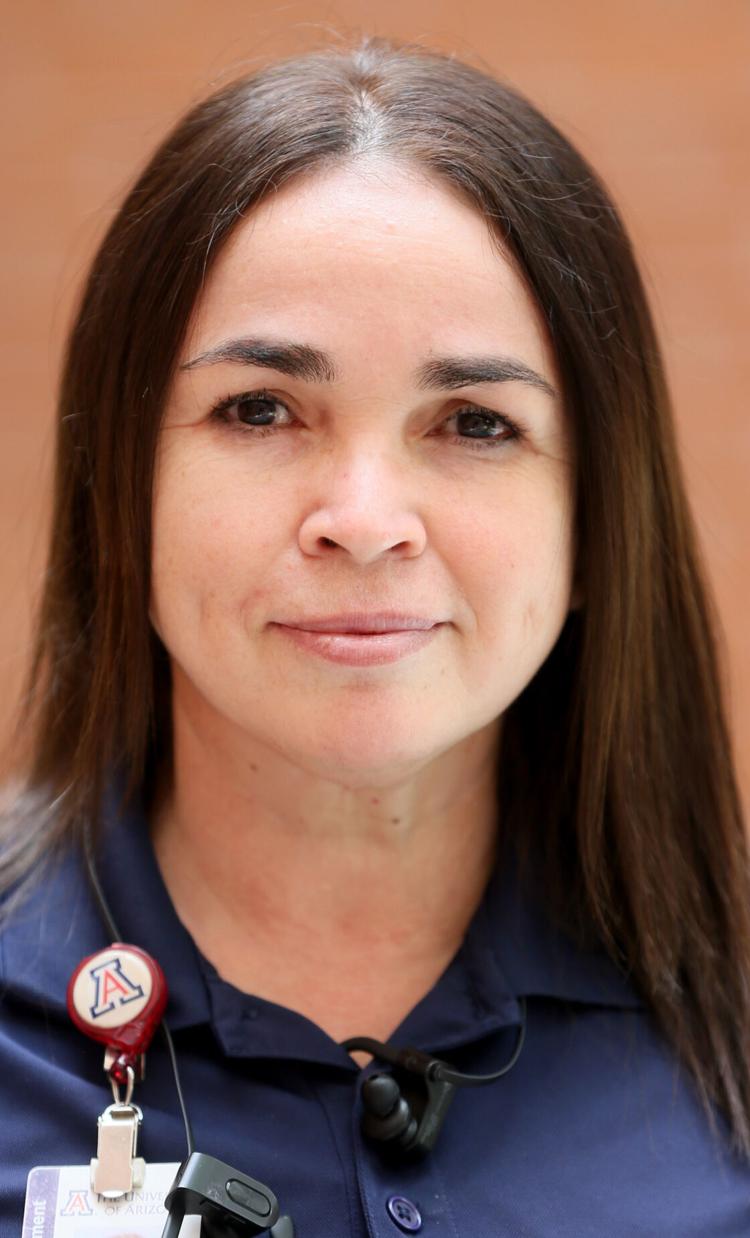 The pandemic brought on new fears and challenges as she cleaned medical spaces where she would sometimes later find out there had been a patient who tested positive for COVID-19.
The university had a special team that was sent to clean areas where COVID-positive patients had been, but sometimes by the time a test came back positive, McElroy and her colleagues had already cleaned that space, she said.
"We're practically at the forefront of everything because the offices are doctors' offices, nurses' offices, and they have to be disinfected, they have to be cleaned," McElroy said.
Her husband has diabetes, and she constantly worries she might bring the virus home and get him really sick, she says.
"There's no longer just the stress of making things look good," she said. "There is the stress of what has to be disinfected so that someone does not get sick. And that we don't become contagious, that we don't take the disease home."
But with her husband out of work due to the pandemic, McElroy continues to go to work every morning, using disinfectant products instead of the usual cleaners and making sure to clean every surface more carefully. When she gets home around 2 p.m., she immediately puts her work uniform in the washer.
Three hours later, McElroy heads to her second job, cleaning administrative offices in El Río at 5:30 p.m. and works with the same precision, understanding the importance of disinfecting the places where healthcare workers spend time.
After receiving her second vaccination in February, McElroy is feeling a little less stressed these days, she says. But she is still worried about her husband, who has not yet been vaccinated.
She said she received her vaccinations through El Rio.
She is grateful to have kept her jobs in a year in which so many lost theirs.
"I am grateful that I always had a job, I never went home, they never rested me," McElroy says. "We always kept the risk there but everything is at risk, we had to work. But we had a check to take home. We had food to take home. "
Monica Prieto: Prioritizing officer safety and support
Monica Prieto was promoted to captain of the Tucson Police Department's Operations Division South in August, amid the pandemic and during calls to defund police departments across the country after protests over the death of George Floyd at the hands of Minneapolis police.
"A lot of our officers were on those frontlines and feeling that their legitimacy was questioned and a lot of them were second-guessing their chosen career field," Prieto said.
After the summer, many officers retired, and eight patrol officers were promoted to fill those vacancies, leaving a shortage of patrol officers in the division, Prieto said.
Around the same time, there was a surge of violent crimes in Tucson, with an increase in aggravated assaults and homicides, she said.
Her priorities are to make sure officers are safe and successful in the job, she said. She had to focus on giving her officers the support and tools they needed to get through those same challenges of working through a pandemic and a rise in crime, Prieto said.
"These are the guardians of the community so it's my job to make sure that they're going out there with the right tools and helping them succeed in that," she said. "Because once they succeed then the community really succeeds."
She said what has kept her going through the challenges of the past year are her officers and their resilience.
"They come in ready for the day's challenges and handle whatever challenges are thrown their way," she said. "They do so without seeking recognition."
Prieto was born and raised in Tucson's south side and attended schools in the Sunnyside Unified School District.
Her parents, both from Mexico, have been married for 48 years and instilled in her and her siblings values of faith, family and work ethic. She has always been close to her siblings and nieces and nephews, but having to work through the pandemic meant she didn't see them as often, she said.
"Having to be an essential worker, having to come in I wasn't able to see them as often as I wanted and definitely not in the same regard as I was used to seeing them," Prieto said. "So just being away from my family was probably the most difficult challenge personally."
Dr. Khadijah Breathett: 'We are headed toward a better tomorrow'
Dr. Khadijah Breathett, an assistant professor at the UA College of Medicine and a heart failure specialist at Banner University Medical Center, was able to work from home during the pandemic via telemedicine.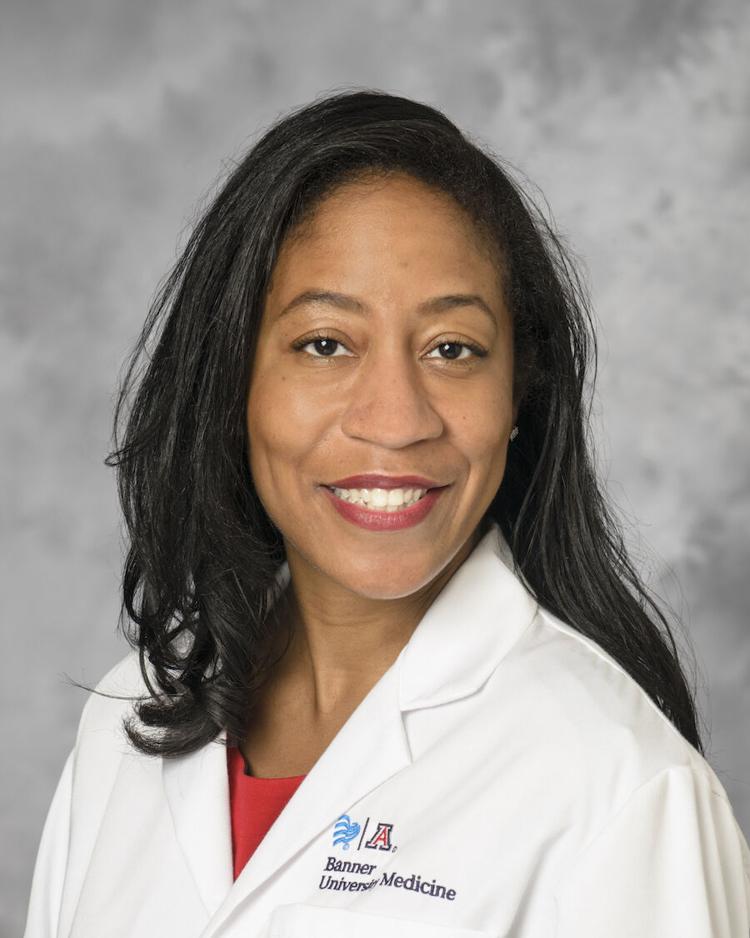 She says the ability to see her patients remotely was also beneficial to patients who sometimes don't have access or resources to get to the hospital north of the university or who live outside of Tucson and would have had to drive into the city before the pandemic.
"This whole area of telemedicine is completely taken off during this COVID time, because we have a number of patients that don't live in the Tucson area," she said. "And it's a burden to get to us physically. This provides opportunities in real time to receive care by your specialists."
Breathett says the past year has been painful because of loss of life and difficult because of the country's reckoning with social injustices.
As a physician scientist, Dr. Breathett also focuses on reducing racial, ethnic and gender disparities in heart failure. That has been especially important as the pandemic has highlighted healthcare inequities.
"I've been able to do different forms of implementation science, outcome studies, population-based research that helps address the core of some of these disparities that have been particularly illuminated during this pandemic," she said.
She says the apparent health disparities have led people to want to make things more equitable in healthcare.
"So I've been encouraged during this difficult time period to know that we are headed toward a better tomorrow," she said. "It's going to take a lot of work, continued momentum and desire to reflect within to change current systems that exist in order to make them equitable for everyone so that everyone can have an opportunity for in the setting that I work on, cardiovascular health equity."
Breathett was born and raised in Ohio and has attended universities across the country, in Illinois, Michigan, North Carolina, Ohio, and Colorado eventually moved to Tucson in 2017.
She's been unable to visit family in Ohio and the East Coast the last year, which has been difficult and isolating, she said. That isolation is a shared experience that has been necessary to keep our communities and loved ones safe, she said.
"I think that many of us feel that we can look forward to a better future as we are seeing there's been an increase in vaccination rate for COVID-19, there's still a long way to go before we reach herd immunity," she said. "But it at least appears to be on the horizon, and that's something to look forward to."