It's 7:05 p.m. on a chilly Tuesday night and Tiara Bertram is walking across the stage to kick off the last Female* StoryTellers event of 2022. The event closes out the organization's 10th anniversary.
As she crosses the stage at The Rock, her silver-sequined blouse sparkles under the venue's lighting and her vibrant cobalt blue skirt (that matches her braided hair) swings slightly as she arrives at the microphone stand. She greets the crowd of 25-plus and thanks everyone for attending the "FSTivus for the Rest of Us" show.
"Who's losing their F*STing virginity tonight?" she asks of the crowd.
The crowd responds with a quick laugh and only a couple hands pop up as the audience settles in and prepares for a night of amusing and raw holiday-themed tales from five women of all backgrounds.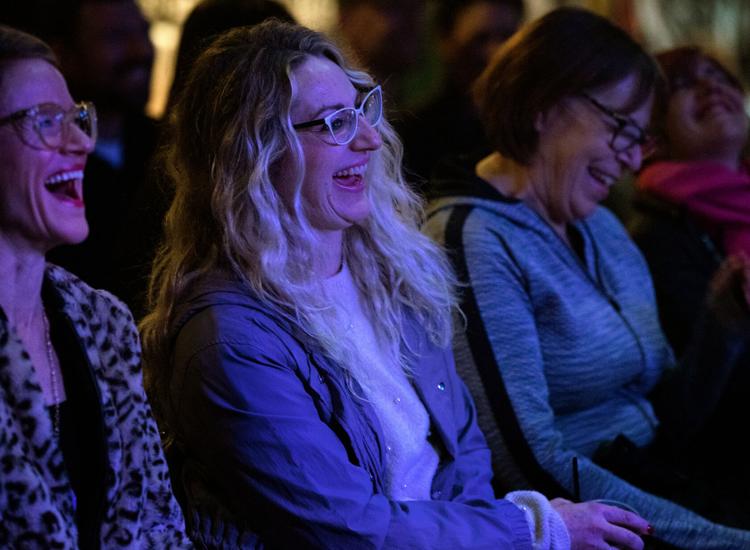 The women include a former pastor, a hotelier and singer, an investment advisor (who is also an F*ST board member), and Bertram, who is the F*ST president.
As they each take the stage and tell stories of the ghosts of Christmas past, an awkward sexual encounter, and the history of Hanukkah layered with experiences of antisemitism, the audience sits quietly, carefully listening to every word that comes from the storytellers' mouths.
After sharing their deeply personal, emotion-driven anecdotes, every storyteller was met with applause from the audience — and even a hug or two from F*ST members. 
For female-identifying individuals in Tucson, F*ST has been a safe space — and a platform — to tell uncensored stories about real-life experiences for the last 10 years. The organization is also a nonprofit, giving proceeds from ticket sales to local charities.
"I think that's part of why having an organization that's dedicated to the stories of women is really like an empowerment thing," says Bertram, who has been part of the organization for several years. "Especially because the #MeToo movement kind of demonstrated how often stories are disregarded. And so this is exactly to serve (women) or to help solve that problem. This is a platform where you're going to be heard and you're going to be believed."
Nearly every month, F*ST hosts a storytelling event with a different theme and, many times, different storytellers who interpret the theme as they see fit. Some upcoming themes include "swipe left," a reference to popular dating app Tinder, "mothers and others" and "the F word." F*ST's next show featuring the "swipe left" theme takes place Feb. 7.
Previous stories include light-hearted anecdotes about baking adventures or the power of wearing bright-colored lipstick for a daily confidence boost. But not all of the F*ST stories invoke a good laugh or a heartwarming feeling.
They also cover taboo issues such as miscarriages and abortions, according to Mel Blumenthal, an F*ST board member who has been with the organization since her friend Lauren Wiggins started it in 2012.
"In 10 years, we've had maybe two stories about miscarriages," Blumenthal says. "This is an experience that so many women and people who give birth have to contend with and it is still something that is not spoken about, hardly at all. And it impacts men, too. It impacts the whole family dynamic across the board. And it's still not discussed. And when you're looking at that issue, especially as something that can be criminalized under current laws, people need to be able to talk about how common it is."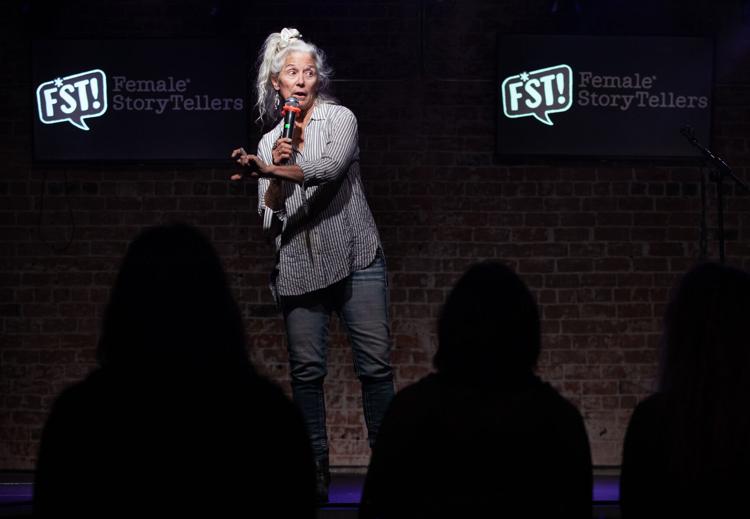 No matter what your story is or how you tell it, F*ST aspires to give women of Tucson a judgment-free zone to tell their stories while building a strong storytelling community that gives back. 
"I've said this before and I 100% mean it. Besides my children, I have never been more proud of anything I've done in my life than my work with F*ST," says Leigh Spencer, an F*ST board member and program coordinator for the University of Arizona's Gender and Women's Studies program. "I don't know how to categorize it beyond that, but it just feels so good to be part of something that's so powerful, but uses its power for good. ... In my life, I've bonded more with men than women and all my friends were always guys and getting a group of women together and having them work harmoniously was always a challenge. And that's never been the case with F*ST."
"I cannot believe the support we have for each other, the way we have each other's backs. There's never been infighting, at least in the current incarnations of the board. ... It's something really special to see."
Celebrating 10 years of female empowerment 
F*ST was founded 10 years ago by Lauren Wiggins who was inspired by a similar storytelling group she discovered during a weekend trip in Los Angeles, according to Blumenthal, who used to work with Wiggins at a local behavioral health agency.
"She came back and she walked into my office and she's like, 'Mel, while I was out in LA, I was at this bar and there were these women and they just got up on stage and they were just telling stories about their lives. And some were hilarious and some were just like, heart-wrenching. And it was fantastic,'" Blumenthal says. "And she was, at the time, in the local kind of stand-up comedy scene here in Tucson. And what she was finding is that it was very male-centric, there wasn't a lot of female or women-identified presence involved. And she said, 'If I have to hear one more rape joke, I am going to lose my damn mind.' She said, 'So I really want to start something exactly like that. I want to start a storytelling group and I want it to be for women. Do you want to be involved?' And I'm like, 'Yeah, that sounds awesome. However I can support you, (let's) go for it.'"
Since its origins a decade ago, F*ST has seen many changes over the years — new board members, an addition to the name, a new charitable angle, a pivot to online shows during the pandemic. F*ST has just about seen it all.
Several years after the organization's start, an asterisk was added to the name after the word "female" to represent inclusivity to all women. 
"This has always been a woman-centric organization, but the definition of woman is much broader than it has been historically recognized," Bertram says. "So, our stage is open to cis women, trans women, a fab non-binary. We really wanted to include people who have experienced marginalization for their gender and who, historically, have not been taken seriously because that's what it comes down to."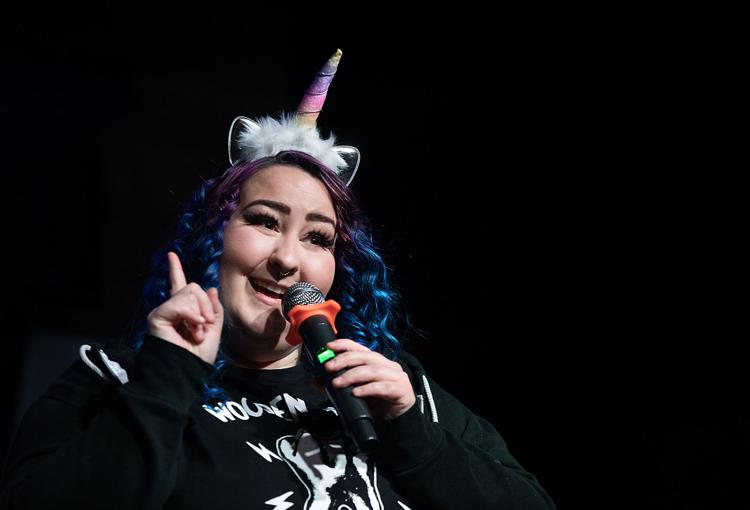 But for F*ST, some things haven't changed over its decade-long stint, including its dedication to giving back to the community, which has been part of the organization "from very early on," Blumenthal says.
Each month, F*ST selects a community organization to receive proceeds from the show. Since the organization is volunteer-run, all the proceeds from their monthly shows go toward the chosen charity.
Last month, the recipient was The Tucson Second Chance Community Bail Fund. Other organizations have included the Junior Achievement of Arizona (Southern District), Emerge Center Against Domestic Abuse and Tucson Abortion Support Collective.
Throughout the organization's history, F*ST has donated over $35,000 to local nonprofits and community groups, according to Bertram. 
"We are really focused on that empowering women aspect, right? It's female storytellers," Bertram says. "So right off the bat, cis men are not featured by us, not because we don't support humanity, but we're really looking for amplifying the voices that historically get disregarded. So that niche really sets us apart. Additionally, I'm not aware of any other storytelling organizations that do consistent fundraising and philanthropy that we do. So our model is also different. But again, the storytelling community in Tucson has an awesome community."
Bringing new faces to the storytelling community
Over the last 10 years, F*ST has had over 140 individuals share their comedic, heartwarming and sometimes gut-wrenching stories with the community.
One of those individuals is Bertram, who first got involved with the organization in 2016 as a storyteller while she was a student at the University of Arizona.
It was during her final year of college that she told her first story for F*ST about being a Black woman in the world of academia. It was part of the theme "fish out of water."
Shortly after her April 2016 story, she moved to Boston to study law at Northeastern University. But her east coast stay wasn't permanent.
She permanently moved back to Tucson to be closer to her friends in 2020, a mere three weeks before the pandemic caused a global shutdown.
"I came back for an internship to just live here for three months," Bertram says. "And I did a couple of shows while I was here for that and at that point is when the (F*ST) board was like, 'Hey, you're like super into this. Would you like to be on the board of directors?' And I'm like 'Hell yes.' So I finished up my classwork, moved back here (permanently) and joined the board."
Soon after, she was appointed president of the organization.
"I stepped into the president's role because I tended to be vocal at board meetings anyway," she says. "And I really started learning about what we do and trying to come up with alternative programming and even when things were kind of hard, like, from a logistic or administrative perspective, I would go into the events, our virtual workshops, our live-stream shows. And then when we came back this year, our live shows, and just seeing the community and seeing the connection, it's really powerful. I think I sound a little bit loopy when I talk about the power of storytelling just because of how deeply I believe in it. It just creates something that I think people need and people really treasure and value."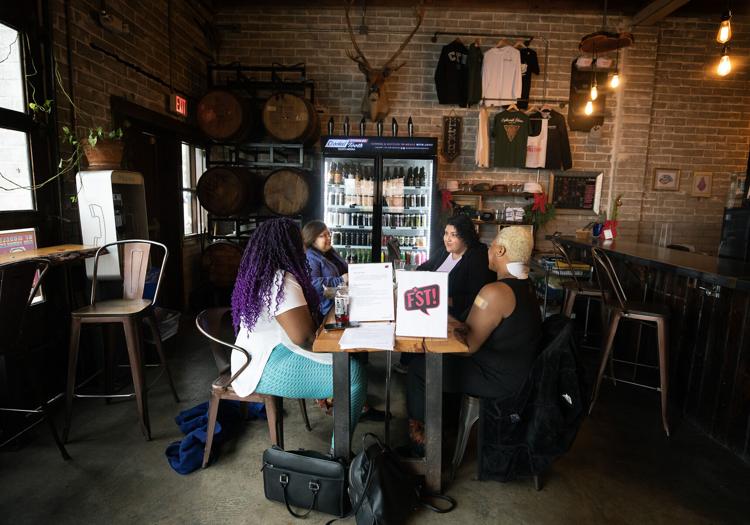 As president of the organization, Bertram wants to bring more diversity and make local storytelling more accessible to the community, regardless of age or background.
"In order to truly amplify women's voices, it's got to be women from every single background," she says. "So I came in really hoping for increased representation that reflects the Tucson community, so that should include more Mexican women, include more Native women. Me personally, including more Black women. … Part of what I think would be helpful, too, is to increase access because not everybody has access to technology in order to put their story in a Word document or has access to the internet or things like that. So in order to be able to receive submissions, I'm hoping that we can change up the types of submissions that we receive."
F*ST typically receives submissions through text documents that then have names removed, allowing the storyteller to receive feedback from the F*ST volunteers anonymously. Even if the story isn't one of the five selected for an upcoming show, every story receives feedback.
After the team selects the stories for the show, they contact the writers and set up a time to do a writing workshop and rehearsal before the show date.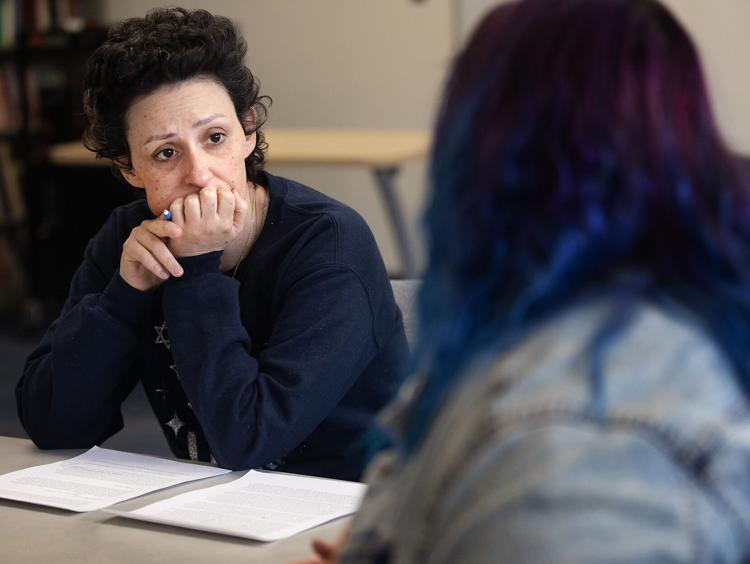 During the pandemic, F*ST storytellers were able to participate through virtual events or through Unclenched, the organization's blog that accepts submissions on a rolling basis. The blog was spearheaded by Bertram and is still active today.
However, you don't have to be a profound writer to tell your story with F*ST.
"If you just need kind of a little bit of support to be what we call performance ready, of course, we're going to give that support, give that feedback and give you those notes that you might need just to get there," Bertram says. "Storytelling is natural for human beings and the way that we relate to each other. And it predates any literacy anyway, right? Oral tradition, in any culture across the world, has been used in order to pass down critical information, to pass down history. So, I really think everyone's a storyteller."
Bertram isn't the only F*ST member who believes that everyone is a storyteller. Blumenthal and Spencer carry that sentiment closely, too, aspiring to expand F*ST's events for younger generations, such as high school and college students.
"That 18 to 21 college-age group has so much to say," Blumenthal says. "And it's such turbulent years and I would love to be a support system for these folks, high school and college (students). But at this point, we'd sort of have to do completely separate events and we don't have the people power, the resources to do all of it. So I would like to see board expansion so that we have someone in charge of specifically youth events."
Since F*ST generally hosts their monthly storytelling events at local bar venues, which are for ages 21 and up, they hope to find a permanent venue that is accessible to women of all ages.
F*ST's imminent growth will come in other forms, too — like a possible storytelling podcast and another volume of F*ST stories from the second half of the organization's existence. (The first volume, which features stories from the first five years, can be found at Antigone Books or Amazon.) 
"One of the big things, a really cool thing, that I've seen come up out of this is the transformative power that it can have," Blumenthal says. "For our storytellers, I have seen people's lives change, do a total 180, days after participating in this. It can be incredibly therapeutic and it can be incredibly transformative. There is a term we say, speaking your truth to power. That is real. And it's really phenomenal to see how people's lives can change once they speak their truth to power."
'Our light still shines'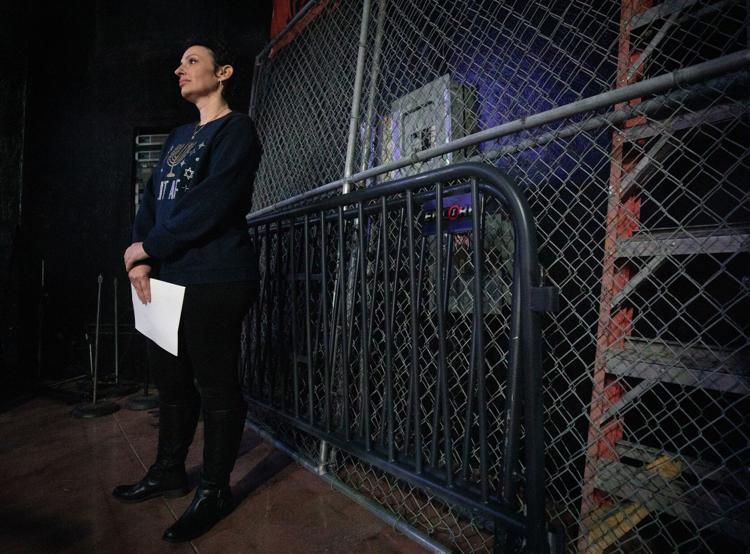 During the last F*ST event of 2022, Blumenthal took the stage wearing a navy blue crewneck sweater adorned with the picture of a menorah and the phrase "Lit AF" scrawled in silver glitter, while her great-grandmother's Star of David pendant necklace delicately hung from her neck.
She tells the crowd that she wasn't supposed to be the one telling a story tonight — another woman was set to speak but had a last-minute change of heart. She was nervous about sharing her story publicly, given the current socio-political climate.
But Blumenthal felt like the woman's story — and the similar story of many other Jewish individuals and families — was too important to not be shared that night, the third night of Hanukkah. 
Blumenthal stood on the stage and shared the story behind Hanukkah, its meaning and how it became a popular holiday in the U.S. But she also spoke about experiences that Jewish individuals face — like having to think twice about wearing Star of David necklaces in fear of discrimination.
Despite the challenges that Jewish individuals and families, including Blumenthal and her own family, have faced through the decades, "our light still shines," she says, filled with emotion.
"The light still f—ing shines," she says, before receiving an emotional embrace from another storyteller after leaving the stage.
And that light will remain aglow as long as people, like the women of F*ST, continue to share their stories with the community in their own time, words and voices.
So, whenever a storyteller is ready to tell their story, F*ST will be there.
"I think (there are) struggles that are out there for women and are unique to women. And I think that we find strength in each other's stories," Spencer says. "We've had so many women talk about leaving abusive relationships or surviving the aftermath of rape or dealing with pain and equality. And we've had, I mean, multigenerational people talking about and fighting the same fights we're still fighting now. But how has it changed over time? And it gives you hope to pass that torch and think we still have the energy to keep fighting this. ... For us specifically, I think that addressing the struggles and life experiences that are very unique to women is really important."
For more information about F*ST, check out their website and Instagram page.