---
Once a nondescript building closed to the public for decades on a curvy stretch of South Fourth Avenue mostly known for its Mexican restaurants, you'd now be hard-pressed to miss Galeria Mitotera.
The space, formerly used as storage for old jukeboxes and pool tables, is now painted a bright blue, a large mural of U.S. Secretary of the Interior Deb Haaland hangs from an exterior wall and a colorful strand of papel picado swoops down from the front door — signaling that the art gallery and gift shop is open.
Walk inside and you'll find paintings of calaveras, Latinx icons and the desert hanging from the walls alongside tote bags featuring Frida Kahlo and a map of South Tucson. Tables and shelves are topped with collections of decals, enameled pins and candles bearing Spanish phrases, bilingual books, art prints, and handmade jewelry mostly made by artists and makers from Tucson.
And from behind a sarape-draped counter, you'll be greeted by the gallery's owners Mel "Melo" Dominguez and Melissa Brown-Dominguez, a couple who have transformed the former storage space into a vibrant cultural and community hub in South Tucson. 
"We wanted to have an art gallery and a space to highlight makers and artists, but predominantly Latinx and Indigenous artists," says Brown-Dominguez, who is the arts administrator of the 3-year-old gallery and shop located at 1802 S. Fourth Ave. "We just saw this huge gap of space and accessibility for artists to feel seen and to feel a part of something and to feel supported."
The gallery's mission is to serve as a space that celebrates Chicanx culture, uplifts artists of color and is a place where the community and artists can gather, learn from and inspire each other.
The inspiration for the gallery is rooted in Mel and Melissa's personal experiences trying to make their way in Tucson's art scene as Los Angeles transplants.
The couple moved here in 2007 and described those early years as being filled with plenty of no's and more closed doors than opportunities, something they experienced first-hand, but say they also saw happen to other up-and-coming artists without the connections or credentials to get their foot in the door.
"We didn't want to keep witnessing, we came from the generation of you got to do it, if they don't invite you to the table you make your own table," Dominguez, a contemporary artist and muralist says. "And I'm a hustler I got like three tables back there."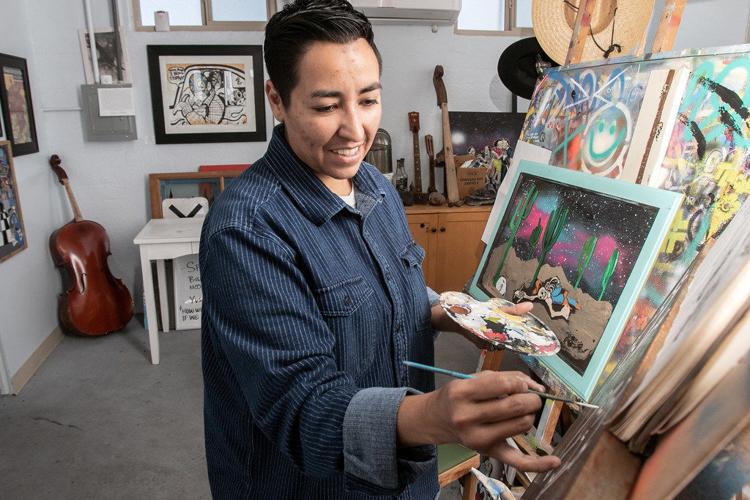 Fulfilling the mission of holding space for other artists of color and celebrating culture is woven into everything that happens at the gallery and takes many forms. In addition to their own programming ideas "the Mels," as they're commonly called, have rarely said no to anyone else's ideas for activating the space and frequently collaborate with other artists and community members on events, workshops and talks.
Since opening in 2018, the gallery has hosted an art show featuring all Indigenous artists, bilingual story times for families, served as a drop-off site for community food drives and toy drives, yoga classes author talks and book signings, paint nights, workshops that teach traditional recipes, art-making and Spanish, among many other community events. 
"We think about things and brainstorm things that we wish we would have had in our neighborhoods growing up, that now we feel privileged we can drive to another place and take a yoga class or we can travel somewhere else and experience something, but we always remember our roots of when we were kids, we didn't have that accessibility we had to take the bus and we had to find the money to get on the bus to go wherever we wanted to go," Brown-Dominguez says about the gallery's programming. "I think about the things that would lift my heart and my soul and make me feel more connected to fellow people of color."
At the gallery's lively monthly pop-up markets, Mercadito del Barrio, you'll find a mix of new and experienced makers and artists selling clothing, plants, art and gifts lining the sidewalk or filling the gallery's back lot alongside food vendors selling ceviche topped Tosti-locos, Cubanos and vegan tacos.
The vendor fees are kept intentionally low so the markets are accessible to people just starting their businesses and Brown-Dominguez is always available to answer questions or provide guidance to first-time vendors, to ensure they feel comfortable and prepared. 
"I just think what they stand for, what they represent, they welcome everyone and they have such a great following because they're always trying to do what's best and to support without thinking about what they're going to get back from doing what they do," says Alejandra Baltazar-Carlat who sells her polymer clay earrings under the name Tacobout Crafting at the gallery and its mercaditos. "I always tell them that they are such a role model for many because this is something that I never saw when I was growing up in South Tucson I never saw this representation or even seen vendors outside, there's always this negative perspective of South Tucson, but it's just the opposite."
In addition to what happens inside the gallery, the couple's work extends out into the community through the work and volunteer hours Dominguez spends leading art workshops and projects at area schools and the nearby John Valenzuela Youth Center and other community efforts both Mels are involved in. 
"A lot of people they've mentioned to me that we're moving really fast for Tucson and it's kind of aggressive and I can't help myself," Dominguez says. "… We just want to keep that momentum building on the flywheel … we want to make sure that we've held down space for people of color, Indigenous people, queer, local, we want to make that space known.
---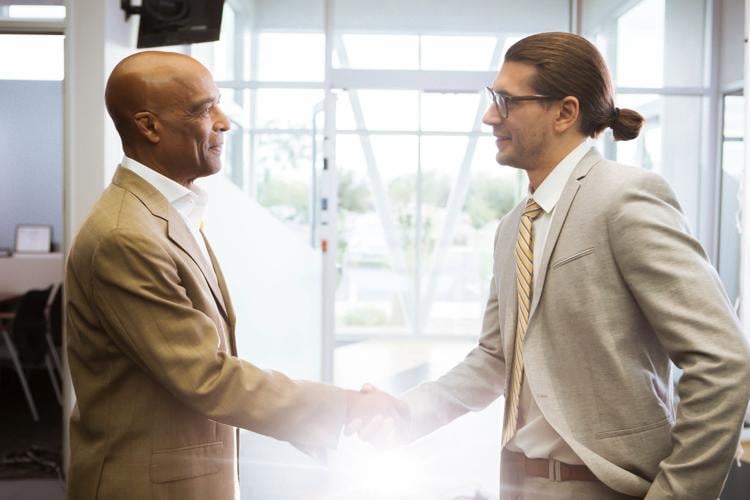 Supporting local-businesses as they Thrive