When Gaurav Deshpande's mom visited Tucson from Mumbai for his graduation from the University of Arizona in December 2018, she prepared a meal for the couple who had become like Deshpande's Tucson family. 
"She cooked at Gaurav's apartment and brought it over for us," says Patricia Gilman. "It was chicken, and she's a vegetarian and didn't eat anything, but it was delicious." 
Gilman, the co-chair of the Tucson nonprofit International Friends, has a trip to Mumbai planned in November and hopes to reconnect with Deshpande's mother then. 
These are friendships that last.
Gilman and Deshpande, who is originally from Mumbai, met through International Friends, a local nonprofit that pairs University of Arizona international students with local host families. 
"Most of us come from Asian countries with close-knit families and a lot of support," says Deshpande, who came to the UA as a graduate student. "(Host families) act like a support network here." 
Southern Arizona hosts commit to meeting with international students at least once a month during the school year. That could mean sharing meals, sightseeing or just grabbing a cup of coffee. It's whatever the host and student decide.
A lot of students come from China and India, though really they come from all over, Gilman says. 
"These are students who want to meet us and be in our homes and have meals with us and play with our kids or dogs, if we have them," says Pamela Harlan, who has been an International Friends host for about six years. 
Wenhua He, originally from China, met the Harlans in fall 2018 when she came to the UA for a Ph.D program in optical sciences. She loves their dogs and the backyard's lush gardens, where the couple has invited her for lunch.
Meeting the Harlans through International Friends has given her a way to learn more about Tucson. 
"I'm a hard worker..." she says. "I would mostly stay at school even on weekends, so this has been a good opportunity for me to get to know Tucson."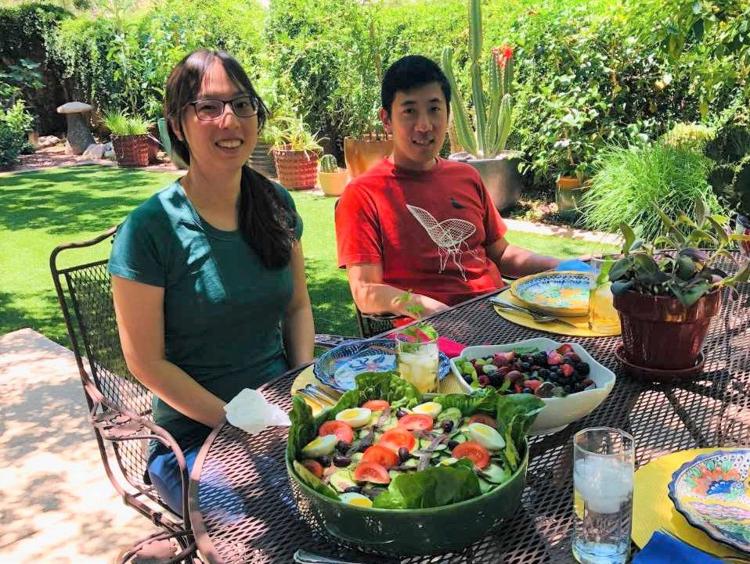 The volunteer-run nonprofit collaborates with the UA's International Student Services but is not part of the university, says Gilman, who has been a host for about four years. George Lee Garner Harvill, the wife of UA president Richard A. Harvill, founded the organization in the early 1950s to serve around 60 international students at the university, according to International Friends' website. 
Today, the organization serves around 100 to 120 international students ⁠— though far more attend the university as undergraduate and graduate students. 
"For many students, attending the UA is their first trip away from their family and/or home country," says Sylvia Ahanonu, an International Friends board member and liaison for the UA's International Student Services. "Having a surrogate family to share a home-cooked meal or enjoy activities on and off campus provides a much needed time away from the stress of academic pressure."  
She says students also turn to host families with questions about American culture, financial institutions, healthcare and other areas they may be hesitant to ask about elsewhere. In exchange, they get to share their own culture with their hosts. 
"They get to widen their horizons beyond the campus and then you have the ability to learn about their culture and country and history," Harlan says. 
Harlan says the first two students she hosted ⁠— graduate students from China and Taiwan ⁠— were game for anything. Six years later, she still calls them "our boys." 
"They're gone now and teaching at universities, and they'll still be like, 'We're coming home this summer' or 'We're coming home for Christmas," Harlan says. 
For five years, the family invited both students into their home and along for trips to Bisbee or to see sandhill cranes. The one-year commitment became a long term relationship. 
Hosts can indicate whether they'd like to meet an undergraduate or graduate student or if there are countries or languages of particular interest. 
Although many of the International Friends hosts are retired, any adult in Southern Arizona can sign up. 
"Frankly, it's for anyone interested in meeting people from other countries and having fun," Gilman says. 
To promote further relationship-building, International Friends organizes two picnics for families and students, along with field trips to iconic Tucson spots such as the Arizona-Sonora Desert Museum or Biosphere 2. 
Not all students and hosts hit it off — that does happen, Gilman says. And changes are allowed. But often, hosts become families to students thousands of miles away from home. Harlan recalls one student her family took with them on vacation to Yosemite National Park.  
Deshpande says having a family in Tucson helped him navigate everything from learning how to work a washing machine and dryer — "We don't have those kind of things back in India," he says — to the significance and foods of Thanksgiving. 
He also got to explore Tucson, going to festivals such as Tucson Meet Yourself. Even now, he says the couple is his go-to for advice about major decisions like buying a car. 
"I know a couple of people who completed their master's but haven't seen much of Tucson at all," says Deshpande, who now works in Tucson as a business application manager at Chamberlain Group. "They don't have those experiences, and because I was part of this organization, it gave me a sense of being part of this community."  
---
Become an International Friends host
With the UA school year beginning on Aug. 26, International Friends is preparing for an influx of international students. You can apply and learn more about the program at ifriendstucson.org