This story was created for The Sunshine Experts by #ThisIsTucson. Thanks for supporting the businesses that support us!
---
For months you scrolled Zillow, hunting for the perfect home. Finally, you made the offer, signed the papers and moved in. 
Until the monsoon roared. 
Monsoon season officially lasts from June 15 to September 30, according to the National Weather Service. That's potentially a lot of time for thunderstorms to wreak havoc on your property. 
Those dark clouds that we beg for in the hot months of June bring with them fierce winds, torrential rain, wicked lightning and flash floods. 
To help you protect and restore that property you hunted so hard for, we did some research on what to do if you've been on the receiving end of the monsoon's wrath and how to prevent it in the future. 
Just in case the lights go out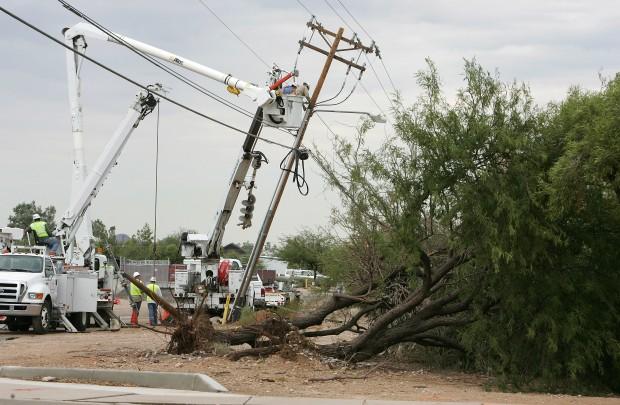 If a tree topples and takes down some power lines with it, you may find yourself sitting there in darkness. 
Believe it or not, there are some best practices for dealing with a power outage and a thunderstorm. Some are obvious (Stay away from downed power lines) and some make you think twice (Don't unplug your electronics if a storm is already on top of you. The wires are a conduit).
Sherri Cadeaux, a spokesperson for Tucson Electric Power, said "when a storm is moving it has the highest potential for lightning strikes about 20 miles ahead of that storm, so you should look to the sky, check weather forecasts and radar to see if it's coming in." 
This means you want to charge your portable devices before a storm arrives, so you're not messing with sockets and wires as it approaches. 
Here are a few other things TEP recommends, should you find yourself powerless during a thunderstorm. If you're interested in additional info, check out this TEP ebook. 
No staring into the fridge. Keep your refrigerator and freezer shut. The food inside will last far longer. 
Use your cell phone, not a landline (does anyone even have those anymore?). Landlines, too, can conduct electricity from a lightning strike. Also, now is not the time for a shower or to fill up a sink to scrub the dishes. Water and metal pipes also conduct electricity. If your power goes out, turn off appliances. 
Make sure you use surge protectors and turn off your air conditioner so a voltage spike doesn't damage your electronics or a sensitive part in your A/C unit. It's not guarantee, but it can help. 
If you want to be super prepared, put together an emergency readiness kit in a backpack or duffel bag, including a three-day supply of water (one gallon per person per day), nonperishable food, a first-aid kit, a flashlight, a battery-powered radio, etc. 
It's all about those gutters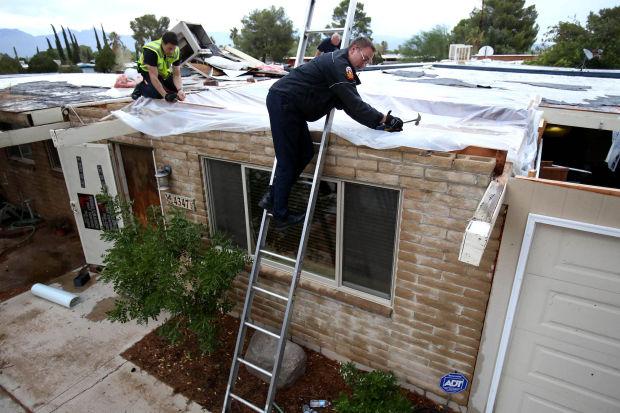 We know you can't totally prevent monsoon damage, but the contractors we spoke with said clean rain gutters are key to protecting your house from water damage. 
"Usually what we see is gutters getting clogged," said Josh Bowyer, a co-owner of Servpro of Northwest Tucson. "Try to keep trees cleared around those areas and gutters cleaned out. But don't get on a roof in a rain storm. Just make sure your gutters stay clean. They can cause water to back up, and if it pools off the roof, it goes right through the roof and through the ceiling and into your home." 
The national restoration company Servpro also has locations in the Green Valley/Sahuarita area and northeast Tucson. The company offers restoration and cleaning services for fire, mold, water and storm damage. 
"Obviously you're not going to be able to control a tree falling over ... but most people don't realize how much a shedding tree will do to certain types of roof systems..." said Dave Hinshaw, the Tucson project specialist for Lyons Roofing. "Always keeping those trees trimmed back helps alleviate some of the issue. You don't want leaves bunching up in the drain. It will back up and overflow and you'll have some issues when it was really just leaves." 
Start thinking about next year
Kyla Breland, the community outreach coordinator for Pima County's Office of Emergency Management, also suggested making sure that the landscaping and land around your home are graded so that water drains away from, not toward, your house. 
You should also consider flood insurance, as homeowner's insurance most likely will not cover a groundwater flood. You can search Pima County's floodplain map here, but that's only for unincorporated Pima County. Otherwise, you'll need to check with your local city or town. Breland adds that flood insurance typically goes into effect 30 days after the date of purchase, so you need to think in advance for this one. 
Hinshaw with Lyons Roofing recommends having your roof inspected every year or so if it's 10-plus years old. You should do that in the spring, he said, or following a hail storm, especially if you have a flat or shingled roof.
Too late. Now what? 
Bowyer said storm water coming through the ceiling is one of the most common types of damage his company responds to during monsoon season. 
Damage from hail and lightning is less common, he said, with lightning more likely to affect electricity than actual property. 
Michelle Donati, a spokesperson for AAA Arizona, said uprooted trees, trees that have fallen on a fence, home or car and a leaky roof or roof damage are the most common claims the company sees during monsoon season. 
If your property is damaged, safety is the top priority.
If there's water on the floor along with electronics, your gadgets aren't worth the risk, said Kristy Nash, owner of Quality Restoration, another restoration company in town. "Get out. It's not worth trying to save them yourself. Call an expert." 
If there's no threat but lots of water, Bowyer suggested elevating your wooden and metal furniture on blocks to prevent irreversible damage. During monsoon season, it can take restoration companies a while to work their way down the list to your call, he said. His team strives to come by within two hours, but if you're still waiting after an hour, start getting the water out of the house yourself while you wait. 
"If drywall gets wet, the best way to dry it is to make sure no more water gets into it," he said. 
But if you're dealing with water damage, this probably isn't a DIY job. 
"A typical homeowner cannot take care of water damage because they don't have the equipment or chemicals to prevent molding..." Nash said. "Water is very invasive and damaging and hard to see, and what may feel dry to the touch oftentimes is wet, and the only way you can tell it's wet is we have moisture meters and infared cameras that can see inside the walls."
Tree removal is also not a DIY job. If a tree tumbled into your house, do not try to remove it yourself. You'll need professionals to do that. 
"Even if it's a neighbor's tree that damages something on your property, it's important to call your insurance company and explain," Donati said, adding that claims caused by acts of nature aren't always black and white. 
Once the tree has been removed (most likely by a landscaping-type contractor contacted by you or your insurance), a roofing company may put up a temporary tarp to prevent further damage, Hinshaw said. 
Get on the phone ASAP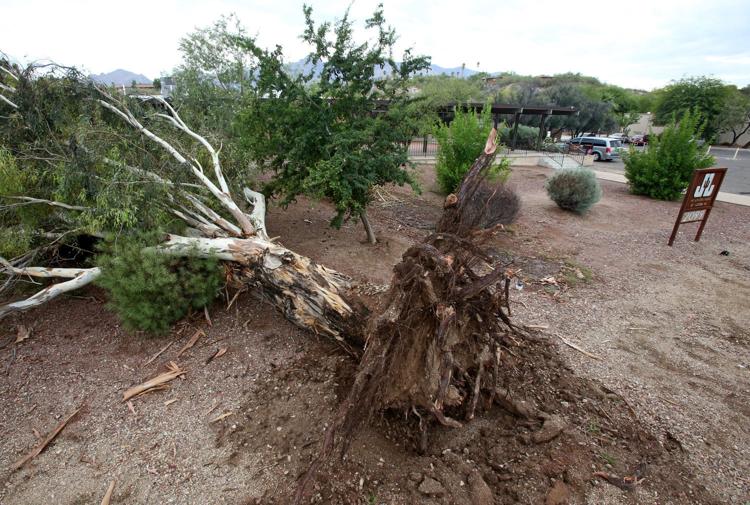 Take lots of photos of the damage before contractors arrive and contact your insurance company to get a list of preferred companies to work with, Bowyer said. 
Nash suggested making sure your insurance policy is up-to-date and provides the coverage you want. 
"If there is storm damage, I would notify my insurance company and then I would reach out to the contractor as soon as possible, because typically if you have (damage), other people are going to have it as well, and you want to get in there, and sometimes the line starts getting a little backed up," Hinshaw said. "The sooner you make the initial phone calls, the better." 
"Along with the storm will come storm chasers knocking on your door," Hinshaw said. "You want to do your due diligence."
---
Is there rain inside your house?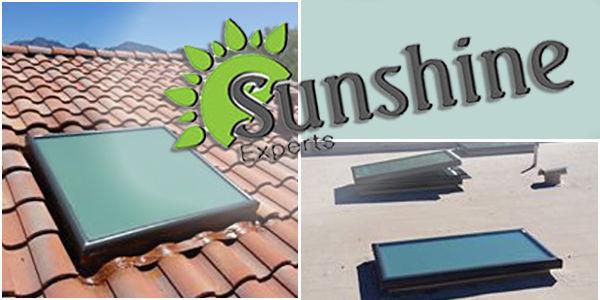 The Sunshine Experts are the only dealer in Southern Arizona of no-leak Wasco skylights — specially designed to be secure and hail proof. So you can enjoy the monsoon, knowing it won't pour in your home. Wasco skylights installed by The Sunshine Experts have a lifetime warranty and a no-leak guarantee. Call The Sunshine Experts today at 298-4522 for an estimate. They are an exclusive dealer and certified installers.