As social distancing begins in earnest, we find that the need to rally together as a community grows stronger. 
Restaurants need us to order takeout and delivery, now that their dining rooms are closed. Local nonprofits need us to volunteer and share our excess so that they can continue to serve those with the greatest needs. And our family and friends need us to check in, offer to run an errand or two and break up the monotony of a day at home with a laugh and a conversation. 
We need each other.  
We know Tucson is a town with heart, a town of people eager to love their neighbors and help where they can. If you're healthy and able, here are a few ideas of ways you can help — all the while keeping your (social) distance.  
Volunteer and donate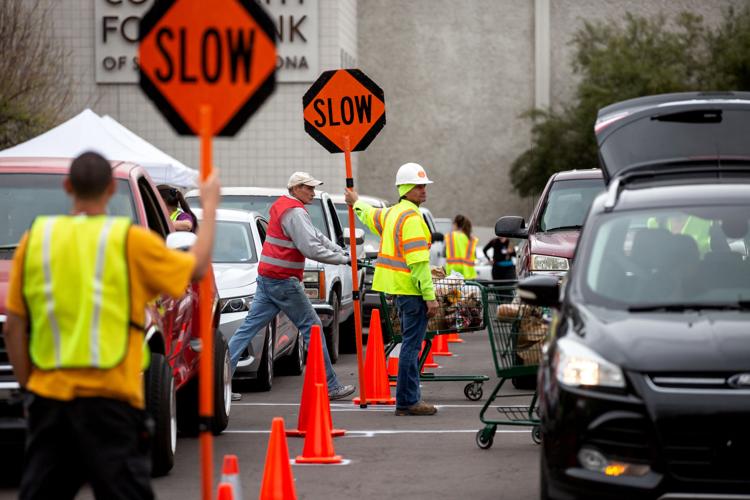 Hand sanitizer, nonperishable foods and cleaning supplies are suddenly hard to come by. And volunteers — many of them retired — are staying home. Many local nonprofits and other organizations that serve Tucson need help to continue to do so. If you are healthy and can volunteer or have extra goods to share, here are some places that you can help. 
Community Food Bank of Southern Arizona: The community food bank is one of many organizations in need of volunteers, as many of their regulars are retired and need to step back amid the coronavirus outbreak, writes Norma Cable, the public relations and marketing specialist, in an email. There has also been an increase in demand. Volunteers are needed to continue distributing and packing emergency food bags and boxes. Cable says the food bank is hoping to get some support from the National Guard, following an order from Gov. Doug Ducey Thursday.
Anyone who is 16 and older and in good health can help break down large pallets of food and pack it into smaller boxes for distribution to meet the surge in demand for emergency food boxes, according to this #ThisIsTucson story. The food bank is not currently looking for donations of food. If you can donate monetarily, $1 helps provide four meals. 
You can email volunteer@communityfoodbank.org to learn more and sign up. Go here for more information. 
Emerge! Center Against Domestic Abuse: Emerge helps survivors of domestic abuse by providing an emergency shelter and 24-hour hotline. The center also offers community education, prevention services and advocacy for children. To ensure that its emergency shelter is safe for survivors and their children, Emerge needs donations of some of the grocery store's hardest-to-find items.
Those are: Baby wipes, size 6 diapers, disinfecting wipes, tissue boxes, paper towels, toilet paper, Lysol spray, hand sanitizer and antibacterial soap.
Donate your supplies at Emerge's administrative offices, 2545 E. Adams St., during regular business hours. Go here for more information.
Interfaith Community Services: This local nonprofit operates meal delivery services and a food bank in several locations.
"We need people to donate food," says Ann Garn, the communications and publications coordinator for Interfaith Community Services. You can donate nonperishable food items at one of the ICS food banks, 2820 W. Ina Road or 8701 E. Old Spanish Trail Road. Check the website for updated times. 
You can also drop off food Tuesday, March 24, 10:30 a.m. to 2:30 p.m. at Casas Church, 10801 N. La Cholla Blvd., or Wednesday, March 25, 10:30 a.m. to 2:30 p.m. at St Mark Catholic Church, 2727 W. Tangerine Road.
ICS also needs volunteers to distribute and pack food. The food banks are currently drive-thru. For more information about volunteering or donating food or money, visit icstucson.org.
Mobile Meals of Southern Arizona: This organization has spent the last 50 years delivering food to homebound clients who can't shop for themselves and need assistance. These meals can accommodate medically necessary diets, and clients can also get pet food. Volunteer drivers are needed to continue this meal delivery service. There is also an opportunity for some paid work.
To sign up to volunteer or learn more, go here.
Sister Jose Women's Center: This nonprofit, 1050 S. Park Ave., provides a safe place for homeless women. Like many other local organizations, Sister Jose has seen a huge drop in volunteers. Executive director Jean Fedigan estimates that she has seen volunteers drop by half. Fedigan says people interested in volunteering should set up an appointment to learn more about where they can help. She says so far the center hasn't seen any illness and is trying to enforce social distancing measures where possible.
Right now, the center could use donations of napkins, water bottles, towels, body wash, shampoo, conditioner, hand sanitizer, bleach and new underwear. Temporarily, the center is not taking clothing donations, Fedigan says. Visit srjosewomensshelter.org for more information.
Pima Animal Care Center: The local shelter has seen an increase in animals coming in. As the shelter nears capacity, it is calling on community members to sign up to be "on call" emergency fosters for all kinds of pets, but especially medium and large dogs and animals with medical conditions, according to a news release. For those who are able to foster, PACC provides vet care, food and other necessary supplies. Go here to sign up. 
PACC is also asking people who find friendly strays to foster them until the pet can reunite with its family. If you do find a stray, take the pet to a vet clinic to scan for its microchip and file a found report. You can also donate financially to Friends of PACC, which helps stock foster supplies and more. 
Go here for more information.
Buy local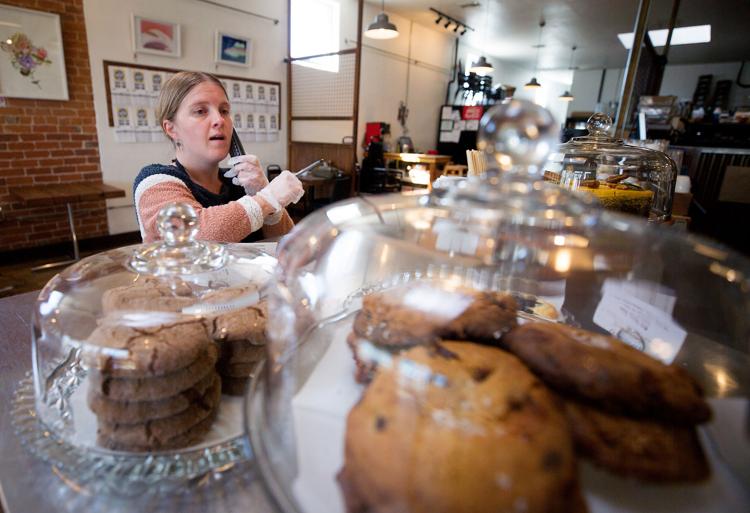 We are so impressed by how quickly our local shops and restaurants have pivoted to embrace closures, social distancing and the overall increase in people staying home. 
At the beginning of the week, Mayor Regina Romero mandated that all Tucson restaurants close their dining rooms and restrict their service to takeout and delivery. And by Thursday evening, Ducey asked the same of all restaurants in Arizona counties with confirmed cases of COVID-19. That means that all of our bars and restaurants are restricted to delivery and takeout only. Go local and take advantage of those services.
Here's a list of breweries and tap rooms with to-go service for beer and wine, and here's a guide to ordering local takeout. Here's a mega-list of restaurants that are still open. 
Beyond setting up online shopping (and by all means, PLEASE shop online from your favorite Tucson businesses), we're seeing lots of local businesses launch innovative ways to continue doing business without any person-to-person contact. 
Spadefoot Nursery has created an online nursery with curbside pickup. Purchase your plants online, select a pick-up time and then head down to 2831 E. Broadway. Go here for more information. 
Reilly Craft Pizza and Drink, 101 E. Pennington Street, will give you a pasta kit to cook comfort food at home. Call 520-882-5550 to order. Go here for more information. 
The Fourth Avenue Merchants Association is hosting a virtual version of the spring Fourth Avenue Street Fair, originally planned for this weekend. Go here to shop. 
The Loft Cinema is offering e-tickets to stream several of its films, since the theater is closed. Go here for more information. 
Antigone Books, 411 N. Fourth Ave., and Mostly Books, 6208 E. Speedway, are both offering curbside pickup for customers who order online or over the phone. Mostly Books also has something called the Quarantine Book Lover's Surprise where they surprise you with books based on your favorite genres. Call Antigone at 520-792-3715 and Mostly Books at 520-571-0110 when you arrive, and someone will bring your books out to you. 
Thistle is offering free delivery and shipping for fresh flowers. Go here for more information.
Let's Sweat is hosting a two-week workout challenge that is part fitness video, part personal exercise and part self care. Go here for more information. 
These are just a few of the local businesses that need our support. 
Donate blood
Across the country, the American Red Cross is experiencing a blood shortage, says Courtney Slanaker, the executive director of the Southern Arizona Chapter of the American Red Cross.
Locally, 52 drives have been canceled — but Slanaker says people have already stepped up to fill most of those spots. 
"We need people to donate blood today, tomorrow, next week, six weeks from now and six months from now," Slanaker says. "Their blood donations will make an impact, whether this week or next." 
To address the need, the local chapter of the Red Cross is hosting three emergency blood drives next week from 9 a.m. to 3 p.m. Tuesday, March 24 through Thursday, March 26 at the chapter's administrative offices, 2916 E. Broadway. If you're healthy, make an appointment at redcrossblood.org. You can also go here to learn about other blood drives near you. Slanaker adds that healthy volunteers are also needed to support the blood drives. 
All donors and staff will have their temperatures screened before they can enter the blood drive. Hand sanitizer will be available throughout the process, beds have been spaced when possible to meet social distancing guidelines and the disinfecting procedures have been increased, she says.  
"Thank you to all of the donors and blood drive sponsors who continue to provide this life saving service," Slanaker says. 
Go here for more information. 
---
Become a member of #ThisIsTucson. None of our stories are behind a paywall because we believe this work should be free. We just launched membership last week because we believe in the power of journalism to help people find answers, connect with their community and change things for the better — and that work is costly. If you believe in what we do, your contribution directly helps our team of five local amazing women keep doing this work for you.