---
When Amy Faulk tells people what she does for a living, they're often amazed.
"They'll be like, 'I didn't know the Humane Society had kids programs,'" she says.
Faulk is the humane education lead at the Humane Society of Southern Arizona. Her role consists of many things, but her favorite is working with kids and helping them learn and grow.
Through the Hand in Paw Kids Club, kids ages 6-11 have the chance to get hands-on experience with animals and learn about animal care and respect.
"It's an opportunity for kids to really get hands-on experience with animals that are considered pets," Faulk says. "We have a lot of opportunities for kids to learn about animals and care for them — it's a really good place for them to pick up compassion and empathy (for animals)."
Members of the kids club receive yearlong discounts to the Humane Society's kid-friendly activities and school break camps. The nonprofit has also hosted a handful of free events.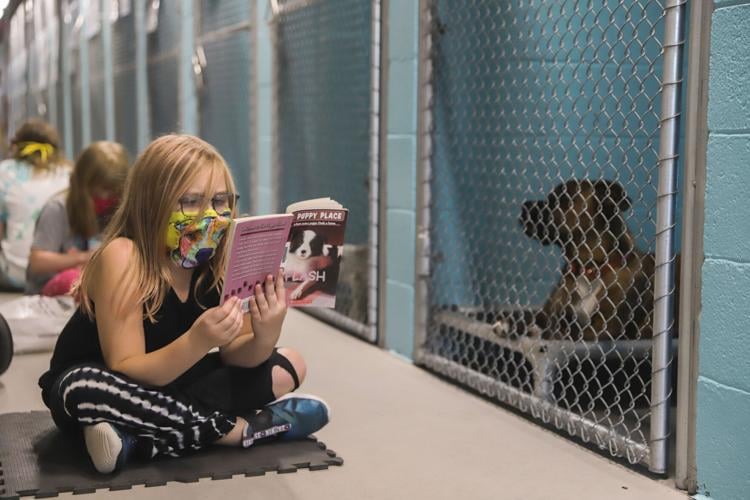 Frequent activities include the Paws and Pages program, where kids have the chance to read to shelter dogs who are shy, sick or have been long-term residents with minimal human interaction.
The program not only helps kids improve their own literacy skills, but the goal is to comfort the dogs and help them relieve any stress they may be feeling while in the shelter environment.
"As exemplified by shelter literacy programs across the country, this reading program will encourage our shelter dogs to approach the front of their kennels for potential adopters and thus improve their chances of a short stay with us at HSSA," the Humane Society says on its website.
"It's so amazing because the dogs will be barking and going crazy and truly within 10 minutes (of reading), they're enwrapped in all this attention and some of them are even sleeping," Faulk says.
The Humane Society also offers Movie & A Cuddle, which starts with story time for shelter pets, followed by crafts, pizza, popcorn and a movie for the kids.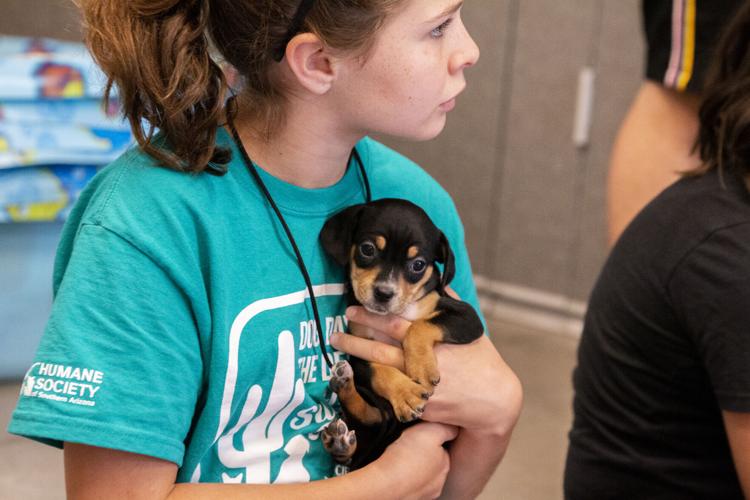 There are also camps, which are usually four days long, for nearly every school break.
Camps are typically themed, usually with at least two hours of hands-on time with the animals (including pocket pets!) each day. The upcoming winter break camp, which is already fully booked, has a marketing theme where kids will get to do mock interviews and learn how animals are photographed and why promoting the animals is important.
In the past, there has also been a medical-themed camp, where kids learn to use a stethoscope and get an understanding of first-aid. A different camp was specifically centered on animal welfare, where the Humane Society taught kids about day-to-day admissions and the exams given to animals when they first come into the shelter.
The Humane Society usually hosts between six to seven weeks of camps over the summer, often centered around different themes.
"Traditionally, we have kids that will do every opportunity for their age group," Faulk says.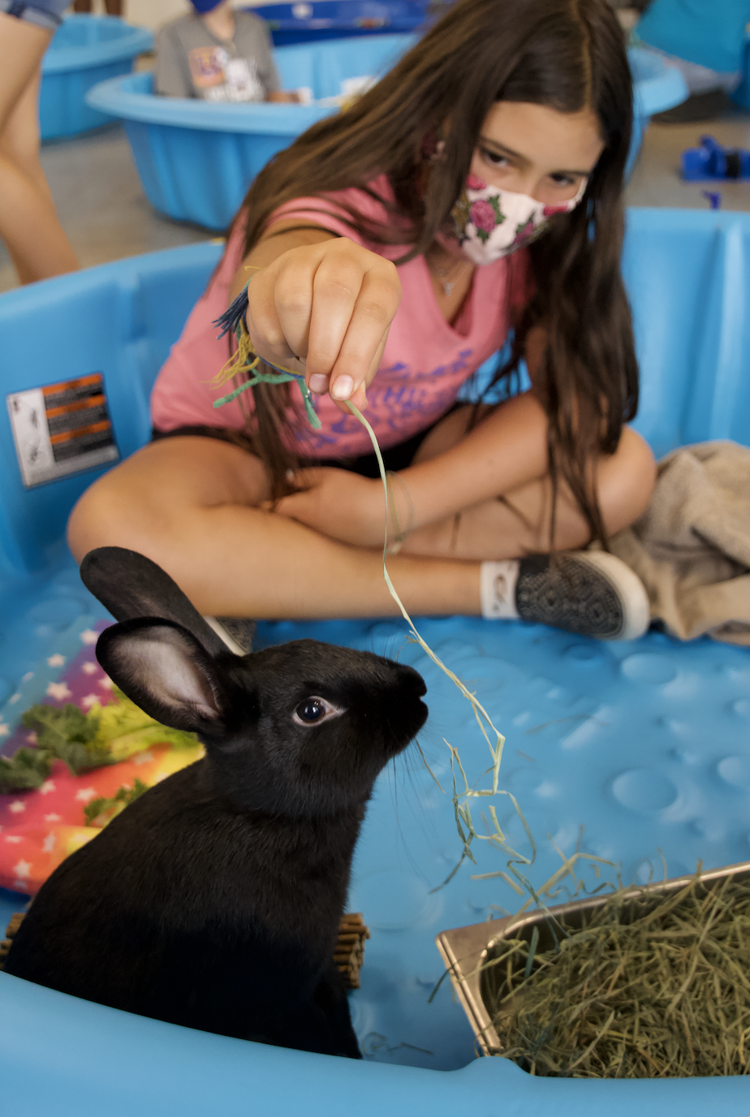 Membership to the Hand in Paw Kids Club is $50 for a year of discounts to the camps and activities, plus other perks such as a free first visit to the Paws and Pages program. You can enroll in the club here.
The membership fee supports the Humane Society and its efforts to better educate the community through its work with kids, in addition to adult education courses.
"I think — this is pretty cliché — but kids are truly sponges. They're so eager to learn about the world and do the best that they can do, so giving them the tools early on to be responsible and to really truly be advocates and allies in our community — it truly creates a better adult who knows how to care for animals, which is so important," Faulk says. "What we see a lot when people make mistakes with animals is that they truly just didn't know, so it makes a huge impact to teach kids when they're younger.
"It teaches them to be kinder and more compassionate with the humans around them, too," she says.
"I hope that (the kids) take away a greater understanding of the world around us," she says. "There aren't a lot of opportunities to really think about things other than us as humans. I hope they take away an appreciation for the world as a whole and all of its parts."
---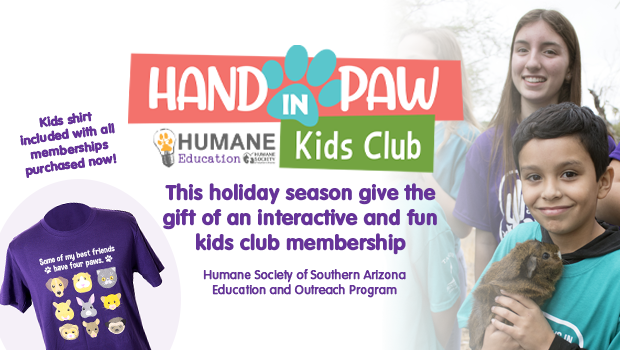 Do you have a 6- to 11-year-old in your life who loves pets and making friends? (Sponsored)
This interactive Kids Club will be the gift your child can enjoy all year long with special events, kids camps, and more! All memberships purchased now will also come with a pet-themed T-shirt! Join the Humane Society of Southern Arizona's Hand in Paw Kids Club today by clicking here.