Frank Powers is like a real life cartoon character. 
His booming, cheerful voice and wacky costumes create that persona.
He's also a comic artist, Tucson radio personality and event emcee.
Combining all of those things with his drawing, storytelling and writing skills —Powers hopes to make a difference in the lives of children. 
Oh, there's also a bright orange 1969 Volkswagen bus, AKA, Buster the Comic Bookmobile, involved.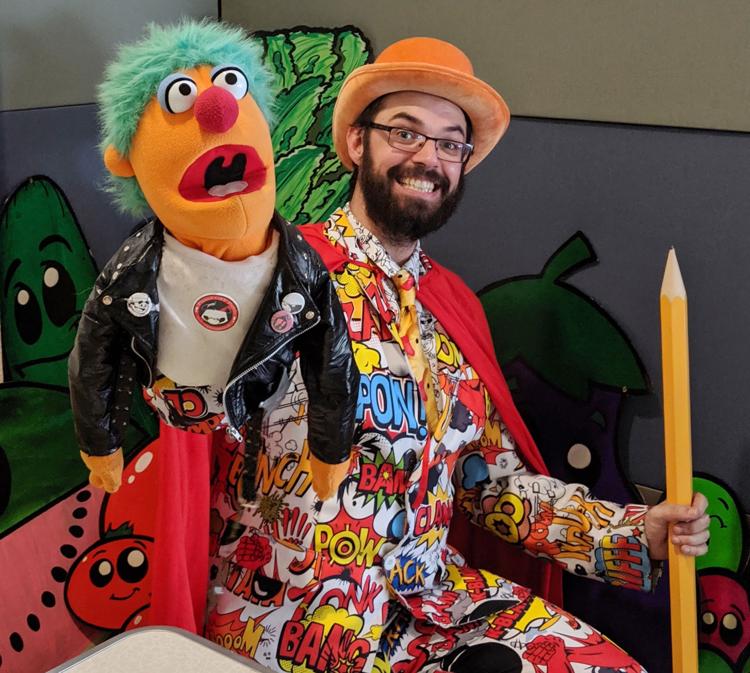 The Comic Bookmobile will be one of the tools Powers uses at public, private and school events to teach children how to draw comic strips. It's more than a drawing lesson, though.
It's a way to create a memorable and welcomed disruption to the everyday and a way to instill confidence and creativity in school children. 
"I want to be a flash-bulb memory. Because you know what has become the flash bulb memory?" Powers says. "Shooting drills. Because that's what disrupts the day now and it breaks my heart. I don't want that to be the thing kids remember in 15 years. I want them to remember the day the funniest man showed up, made cartoons appear out of seven shapes and looked at them and said 'I believe in you.'"
The plan is to show up at a school with his comic bookmobile, pop open the top and the doors and pull out bean bags and drawing tables to teach children how to draw comic strips. It can be a 45 minute lesson or a four week session. There will also be art and writing books for kids who don't necessarily want to draw.  
"It's really about making this explosive thing where they can sit inside the bus, around the bus and really interact with everything and just explore," Powers said. "It's a little free where say there are 30 kids, they don't all have to sit and pay attention to drawing. They can read books."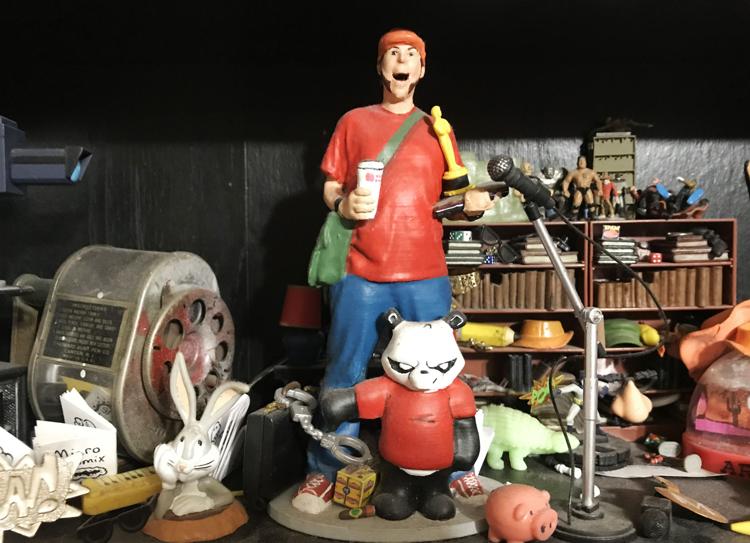 Private parties are also available. 
"Private parties are kind of like a comic con for kids," Powers said. "I treat the kid (guest of honor) as if they are a celebrity of comic con."
Powers makes a poster of the child for him or her to sign for their friends as if they're a star. The day includes trivia, games, art activities and dancing. 
The comic bookmobile has been in the works since Powers and his friend and business partner, Natalia Lopez, won Startup Tucson's Thryve Competition, (think local Shark Tank) in 2017. 
There are still a few things to be done, like installing a wrap of more than a thousand of Powers' drawings and getting glasses for the front of the bus (yes, eyeglasses), but he's ready to take his show on the road. Literally. 
He and Lopez took Buster to its first public events this summer, one at Oro Valley's Fourth of July festivities and to MegaMania hosted by the Pima County Public Library and Pima Community College.
"He did a class (at MegaMania) and after the class we followed him to the bookmobile," Lopez, 43, said. "He can get a whole crowd going. He's got all this energy. I swear if there was a way to bottle it, we'd be millionaires."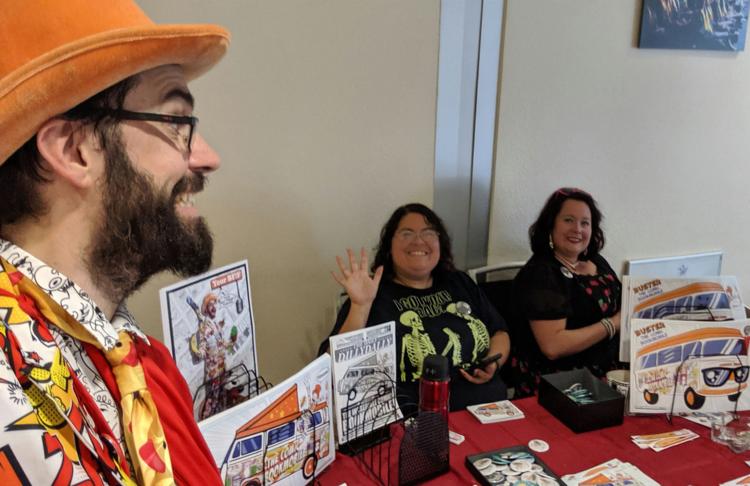 Lopez thinks every community should have a comic bookmobile. 
"I really want to see more art," Lopez said. "It seems like art programs are getting cut. I feel like kids are made to focus on standardized tests and nothing creative, but you need creativity to get through life."
Powers said he also has a few bookings for schools lined up for this year and also has plans to create mental health comics for children using one of his cartoon characters and to start a free weekly live drawing event for families. 
"You can just make a difference and that's what I want to do," Powers said. "Just this impactful memorable moment where I show up with the bookmobile."
Book The Comic Bookmobile for your school or private party by calling 520-204-0905.
A gofundme account has been set up to add the finishing touches to Buster. Find that here. 
---