An national nonprofit wants to cover Tucson with agaves to help the migratory bats that stop here every summer.
"We're trying to plant close to a million agave plants from southern Arizona and New Mexico to central Mexico for two species of pollinating bats or nectar bats," says Dan Taylor, the director of habitat, conservation and restoration at Bat Conservation International. "They're migratory. They fly up from central Mexico in the spring, have their pups in the U.S. and migrate back." 
One million agave plants is an aspirational goal for the 10-year initiative. 
The lesser long-nosed bat is the one we might spot around Tucson in the summer months (you're more likely to find the Mexican long-nosed bat in other parts of the Southwest). Taylor says they follow the bloom of cacti and agaves, heading north from central Mexico, likely along the coastal plain. From there, they head to Organ Pipe Cactus National Monument for the saguaro blooms and then onward to the Tucson area, maybe mid-summer, before heading back to Mexico. 
Along the way, these bats pollinate "native agaves, saguaros, organ pipe and other columnar cacti," says Jennifer Becker, a principal hydrologist for Pima County Regional Flood Control District. Becker has been part of the design and maintenance of Paseo de las Iglesias, one of the agave planting sites, since 2001. 
These little bats are key to our ecosystem. That's why Bat Conservation International and local partners are planting about 130 agave plants at six sites around the Tucson area, starting with Paseo de las Iglesias on Friday, April 26. 
Additional plantings in the coming days will occur at Sanctuary Cove, Pima County's Isabella Lee Natural Preserve, Tucson Audubon Society's Mason Center, Marana's El Rio Preserve and the International Rescue Committee and Literacy Connects gardens. 
Agave palmeri and agave parryi — the specific agaves that will be planted here in the coming days — depend on bats for pollination. And bats, hummingbirds and other pollinators depend on their flowers for food.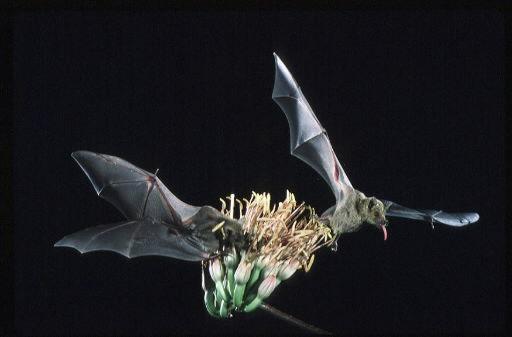 "These bats fill this nighttime ecological niche that is basically the same thing hummingbirds do during the day," says Jonathan Horst, the director of conservation and research for the Tucson Audubon Society. 
Bat Conservation International has already planted more than 1,500 agaves around southern Arizona, but this is the first Tucson planting.
Taylor says they already have 2,000 young agave plants growing at the Gila Watershed Partnership and another 1,750 young plants growing at Borderlands Restoration Network. Several thousands plants will soon be started in Sonora, Mexico, he adds. As those plants mature, they'll be transplanted around the region. 
Taylor says he imagines planting in even greater quantities during the Agave Heritage Festival next year.
"I would like this to grow to a point where we are creating an agave-planting day around the entire Tucson community," says Todd Hanley, the founder of the Agave Heritage Festival. 
All of this counters pressures on agave plants from development, climate change and harvesting for tequila and mezcal. To help the bats, the plants need to flower, which can take years, Taylor says. That's why they're only planting around 130 this year — they need more plants to mature. 
"If you're trying to preserve bats, you have to plant agaves, and if you're trying to plant agaves because their numbers have been decreasing ... you also need to help protect bats," Horst says. "You damage one, you damage the other, and if you can help one, you can help the other."