There's a new, colorful addition to The Chuck Huckelberry Loop that can't be missed.
The recently completed 4,000-square-foot "Tracks and Trails" mural featuring depictions of the fauna and flora of the Sonoran Desert is currently the largest mural in Pima County's Public Art Collection.
Local artists Jessica Gonzales and Rock "CYFI" Martinez painted the mural on three soil-retaining walls along The Loop. Work on the mural began last fall before pausing early this year and finishing the piece just in time for spring.
The mural is located on the north bank of the Rillito River near Country Club Road and can be accessed from the Rio Vista Natural Resource Park located at 3974 N. Tucson Blvd.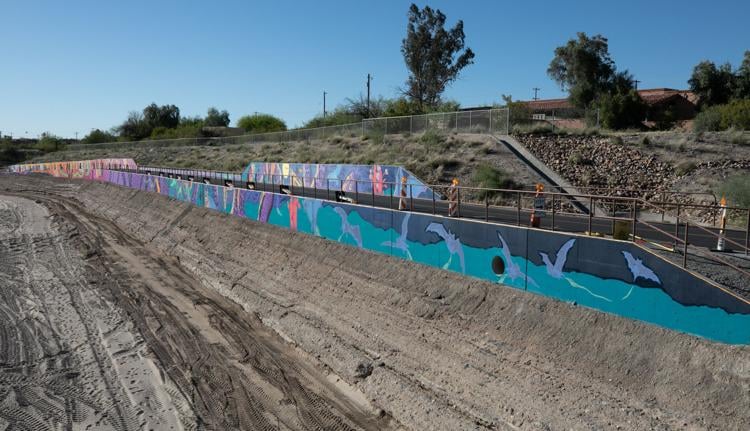 "We are so happy to share our completed mural, 'Tracks and Trails,' with the community," Gonzales and Martinez wrote on their Instagram pages. "When we were developing this piece, our goal was to create an immersive, visual narrative that celebrates the Rillito River and its surrounding ecosystem. Through a collaborative effort and blending of our artistic styles, the work honors the symbiotic relationship between wildlife, vegetation and the humans that call this place home. We used a hyper-real color palette and a high level of detail, contrast and texture to create a sense of illusion, intended to physically draw visitors in as they journey down the trail.
"Tracks and Trails is meant as both a symbol of unity and resilience and reminds us of our shared commitment to protecting this natural resource for generations to come."
The artists were selected for the project by a panel made up of local artists, professionals, and various committee members in February 2022, according to a press release from local nonprofit Arts Foundation for Tucson and Southern Arizona. The mural was commissioned by Pima County, according to Martinez.

"The chance to witness Rock and Jessica's collaboration, I believe, is an incredible opportunity for Southern Arizona public art," Woods Fairchild, public art project manager for the Arts Foundation, said in a press release. "A story of two local artists making the courageous move to collaborate for the first time after many years of friendship, having been fellow finalist competitors for similar project opportunities several times, and all the while, expressing tremendous support for one another's careers."
You may recognize Gonzales and Martinez from their many iconic murals across the city, including a colorful piece by Gonzales at The Loft Cinema, and the picturesque "Goddess of Agave" by Martinez.