Kids will have a new playground to play on at Reid Park in July.
The old playground (nearest the DeMeester band shell) only had pockets of play amenities and was not ADA accessible, says Joe O'Neill of the Tucson Parks & Recreation Planning and Development department. 
The new playground will be much larger and will feature a play area for children ages 2-5 and an area for children ages 5-12 as well as many ADA accessible features including ramps throughout and a rocker. Shade will cover parts of the play equipment.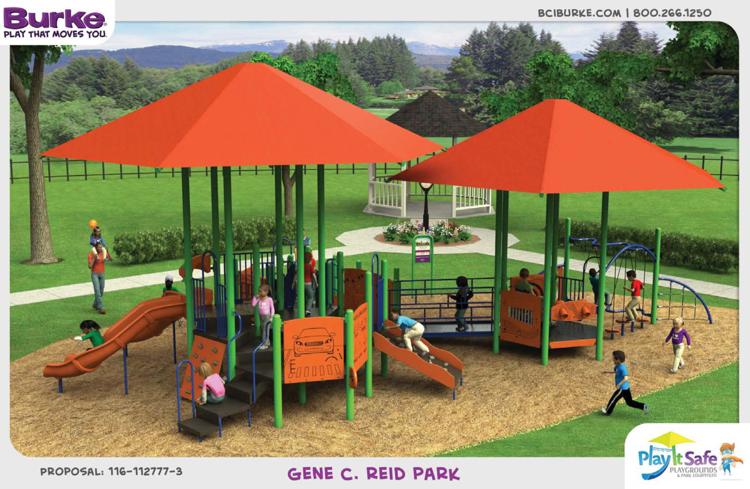 The existing swings will be refurbished. 
A new drinking fountain and new landscaping for the area is also in the works.
The project is scheduled to be completed by late July, O'Neill says.
A splash pad is also planned for the park, but the location is still to be determined, O'Neill says. That project is part of Phase One of the Prop 407 projects which means it will be completed sometime between the years 2020 and 2022.
Reid Park will undergo several upgrades and improvements over the next several years. Those planned projects and timelines include:
• New shade over the existing playground (2020-2022)
• Renovate the Arroyo Chico Greenway, Si Shorr Segment and walking path segment  (2020-2022)
• Renovate Ramadas 18 and 20  (2020-2022)
• Renovating the DeMeester Outdoor Perfomance Center (2023-2025)
• New park restrooms  (2023-2025)
• Renovation of the Edith Ball pool plaster, tiles and deck (2026-2028)
• Upgrade the ADA light and sound in the Therapeutic Recreation Center (2026-2028)