I've recently discovered that cacti bloom in sunset colors, and now I am obsessed. 
The prickly pears are no exception. 
You've probably noticed bursts of yellow, coral and maybe even red peeping out from among the prickly pear pads lately. That's because these cacti aren't about to be upstaged by their wildflower and palo verde blossom predecessors. And we are here for it.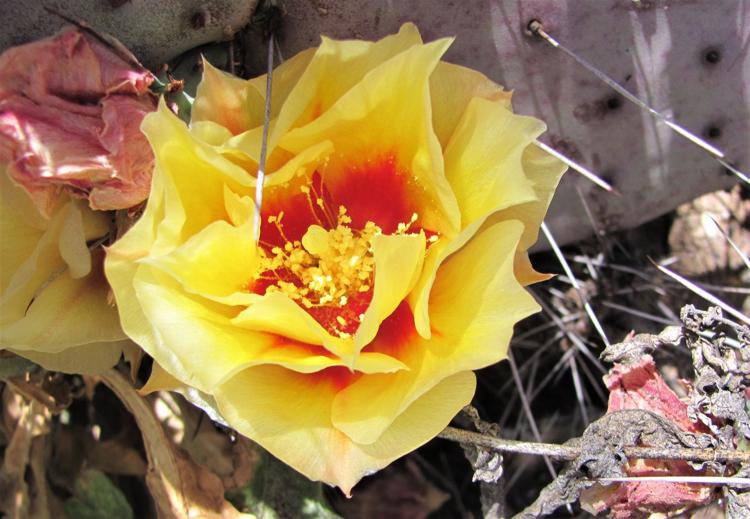 So, as you take in those brilliant blooms, here are three things to know about one of the most common cacti around. 
They're world travelers. 
Adam Farrell-Wortman, the horticulture manager for the Tucson Botanical Gardens, told us that there are native prickly pears in all of the lower 48 states. And although the cactus is native to the Americas, there are colonies on every continent except Antarctica.😮
They're easy to spot.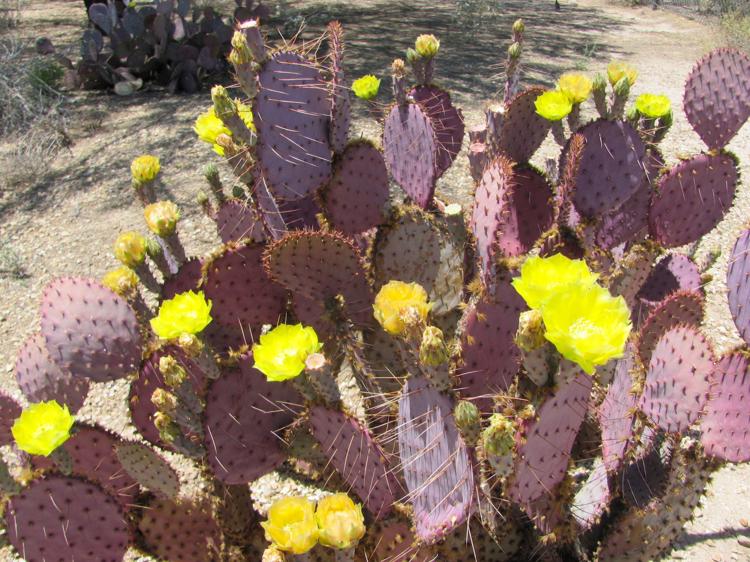 You probably knew this already, but you can identify prickly pear cacti by their flat, circular pads. Prickly pears are part of the opuntia genus, which has more than 150 species and tons of variations, Farrell-Wortman says. Some species grow as tall as trees while other are tiny.  
A handful of these prickly pear species call Tucson home. Here are three to look for: 
• Opuntia engelmannii has yellow flowers and purple fruit. An Arizona-Sonora Desert Museum fact sheet also calls this the most common prickly pear in the Sonoran Desert. 
• Opuntia ficus-indica has pads (nopales) with few spines and has long been cultivated for its pads and fruit. 
• You can spot opuntia santa rita by its purple pads. 
Now is their time to shine.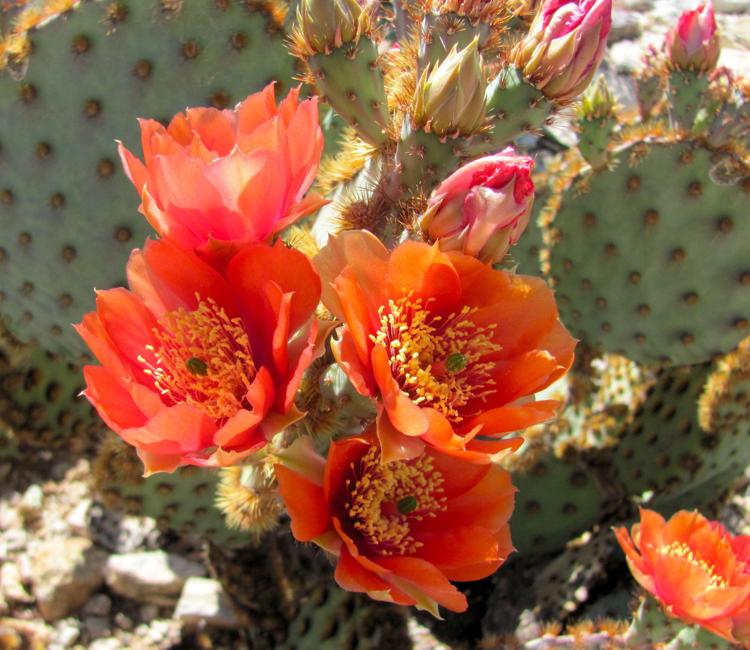 Prickly pear flowers typically appear in May and June, with their blooms encouraged by winter and early spring rains and triggered by rising temperatures. Super high temperatures, though, will limit how long they bloom, Farrell-Wortman says.
Individual flowers may last a few days, while a cactus can stay in bloom for two weeks or so. 
"If home owners want a better bloom, they can fertilize starting in spring with a low-nitrogen fertilizer, but they should cut the dose in half and only apply once a month," Farrell-Wortman says. 
In July and August, people harvest some varieties of prickly pears and turn their sweet fruit into syrups, juices and jellies. In stores, prickly pear fruit is often referred to as tuna. The pads (nopales) are typically harvested in the spring. Here's a guide on how to harvest all kinds of cacti, if that sounds like fun way to spend a day.  
Additional sources: "Cholla and prickly pear cacti are blooming bodaciously" by Doug Kreutz, published online by the Arizona Daily Star April 30, 2017; the Arizona-Sonora Desert Museum's prickly pear fact sheet.