Tucson mariachi and opera singer, musician and vocal instructor, Diana Olivares doesn't like to wallow.
She likes to find solutions. 
"During this pandemic when I had all of my gigs canceled, and so many musicians can relate, I was really down," she says. "I wanted to do something about it and I knew that I always wanted to start my own group. I was also very sure that there needed to be a message behind this new project and a clear direction that was positive and that could contribute and inspire the community, and that's when the wheels started turning." 
Her vision was to bring together other talented and dedicated local female musicians to learn about and showcase the music of historic and contemporary female Latin artists and composers, some of whom may not have received the same level of exposure as their male counterparts. 
It didn't take long for her to recruit four other women: Yasmine Durazo, Dominique Mesa, Andrea Gallegos and Azul Navarrete-Valera to start the group, Las Azaleas, which was established in May. 
Olivares says the idea for the group was inspired by her own lack of knowledge about just how influential women have been in composing iconic pieces of music like the popular Mexican bolero "Besame Mucho." Written in 1941 by Consuelo Velázquez, it's a song that has been translated into several languages, and performed over the last several decades by everyone from The Beatles to Andrea Bocelli. 
"I think the entire world knows that song and I didn't realize it was composed by a woman in Mexico, I had no idea," Olivares says. "As a mariachi musician ... I knew all these male interpreters and composers of music, but there were few women that really reached such a high status where they were known worldwide, so that really opened my eyes when I started realizing that lot of my favorite pieces were composed by women." 
Las Azaleas focuses on a different female artist each month by learning songs from her repertoire, filming a video of their interpretation of one of the songs and researching her life and work for the group's blog, podcast and newsletter. 
"We're doing our small part in helping expose their careers and helping expose their music through our performances," Olivares says.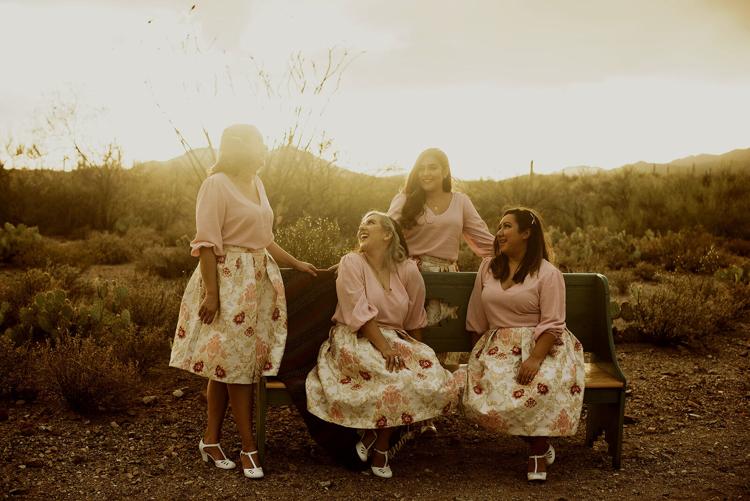 Members of the group all share the work of researching and writing about the artists. 
Yasmine Durazo, who sings and plays violin in Las Azaleas, researched the group's first monthly spotlight on Maria Teresa Lara, the much lesser known but also talented sister of renowned Mexican composer and singer Agustin Lara, whose career spanned many decades between the 1920s and 1960s.
While Durazo was very aware of Agustín Lara and his work, she says she had never heard of Maria Teresa Lara and was surprised to learn some of Agustín's well known songs were actually written by his sister. 
"Some of her songs were actually marketed under his name, whether it be just because he was more popular or because he was a man, at that time the men were considered more popular composers," Durazo says. 
Other artists Las Azaleas have spotlighted so far include Grammy-nominated vocalist Nydia Rojas and internationally known crossover artist Eydie Gormé, known as both an American pop star and the queen of boleros throughout her career from the 50s-70s. 
Olivares keeps a master list of all the artists Las Azaleas will feature that's comprised of musicians and composers that have inspired the group's members throughout their own journeys as musicians.
October's featured artist will be Linda Ronstadt and other names on the list include Selena, Natalia Lafourcade and María Grever. 
Olivares says she hopes the group will not only help spotlight the careers and contributions of pioneering women artists, but also inspire and empower young female musicans to form their own groups.
Like the other members of Las Azaleas, Olivares began playing music at a young age and has several years experience as a professional mariachi, opera and jazz performer. She says that with the exception of Mariachi Sonido de Mexico, under the direction of fellow Azalea Andrea Gallegos, there are very few groups in town — especially that perform mariachi or Mexican music — that are female led. 
"I want the little girls to see females playing music, playing music together and leading their own groups, being directors of their own groups," she says. "I really want girls to go out there and form their own groups if there's not a group out there for them to join. I want girls to form their own bands if there's not a band out there that needs their instrument. There's a lot of male directors in town and I want girls to know they can go out there and lead as well."
Band member Durazo, who is now in college and has been playing music since middle school says Las Azaleas, is the first group she's been in that's all female, and female led.  
"I feel like Las Azaleas is my safe space, we're very supportive of each other. This is the first group I've played with where we don't argue at all during practice. we're always on the same page," she says. "Diana is an extremely good leader, she knows exactly what she wants and she'll tell you that you're playing something wrong in the most polite way ... She listens to our input as well, I think that's what also makes her great is that she also makes sure we have some input ... and it's a collaboration."