Claire Harlin turned her love of thrift shopping into a small business — selling her finds online to Tucsonans who also had a love of all things vintage. That was about five years ago. 
Now, Harlin designs '70s-inspired clothing with a desert twist, selling it from her brick-and-mortar shop Classic Rock Couture in the quaint Southern Arizona town of Bisbee.
"It's like a mixture of Southwest charm mixed with '70s groovy rock 'n' roll style," Harlin says of Classic Rock Couture. "All the things I like make this one brand and shop."
"I kinda just think, 'Would I wear this? Would Keith Richards wear this?'"
And it's not just Arizonans sporting her clothing — her eye-catching jackets have been worn by a long list of celebrities including Miley Cyrus, Florence Pugh, Whitney Cummings and Elle King. One of Harlin's jackets was also recently spotted in a commercial for Little Caesars.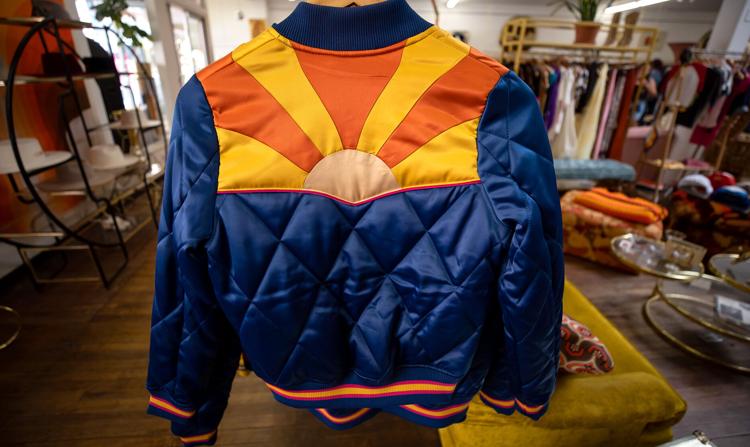 From posting her finds online to a Bisbee storefront
It started as a hobby at first — scouring through racks of clothing at Tucson thrift stores and selling the vintage discoveries online.
"Vintage clothing has kinda always been a thing I've been passionate about," Harlin says.
"It started with thrifting and selling vintage things, but to be honest, it wasn't a very great business until I really started manufacturing my own things," she says. "That was kind of a leap from scraping by to an overnight success. It grew kinda instantly, where I couldn't keep up with demand."
Harlin created her first design — for a dress — in 2017. She described the dress, which she no longer sells, as a "very boho Stevie Nicks dress."
Harlin says she gets her design inspiration from allover, with the Sonoran Desert being a big source of influence.
"Probably one of my biggest inspirations is late '60s, early '70s artwork — like psychedelic rock 'n' roll concert posters," she says. "Artists like Peter Max did a lot of advertorial type of work back in the '70s, but it's very psychedelic and almost cartoony. That style mixed with Milton Glaser, also from that era — the artists from the '70s have really inspired me in style."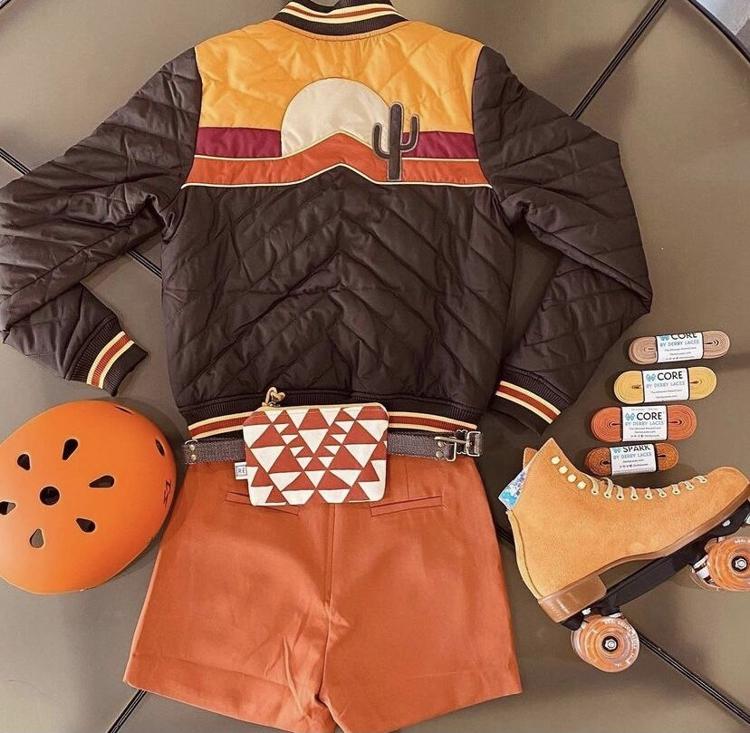 Classic Rock Couture really took off when Harlin designed a jacket that's dubbed Rising Sun. It sports an image similar to Arizona's flag on the back. 
"There wasn't anything like that out there and I would sell out and try to make more and have a waitlist of people waiting almost a year to get one," she says, adding that initially, she wasn't sure if anyone would like the design at all.
Harlin has since nixed the waitlist idea for the most part, but the Rising Sun jacket continues to be the shop's most popular item.
Some of its success could be thanks to Miley Cyrus wearing the jacket, followed by a character (played by Cobie Smulders) on the TV show Stumptown sporting the jacket in several episodes.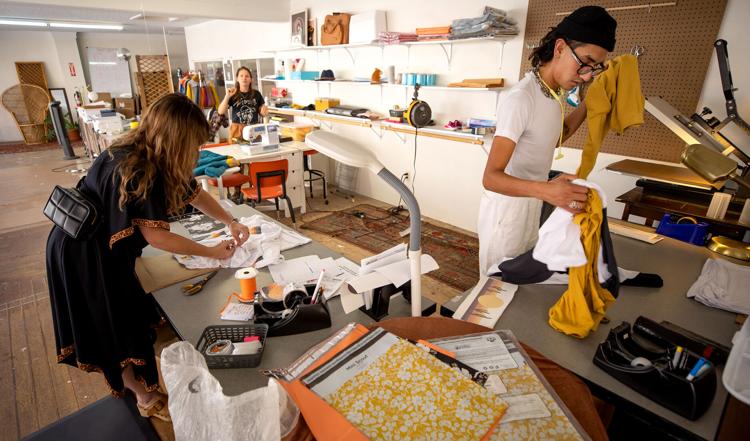 A year after releasing Rising Sun, Harlin moved to Bisbee — where her husband owns The Shady Dell vintage trailer court — and opened a storefront for Classic Rock Couture.
Harlin is also no longer a one-woman show and has a team to help her.
"All these people are helping me making it more successful and more meaningful," Harlin says, adding that she aims to make the work environment family-friendly for her employees.
Classic Rock Couture has since moved to a larger location in Bisbee.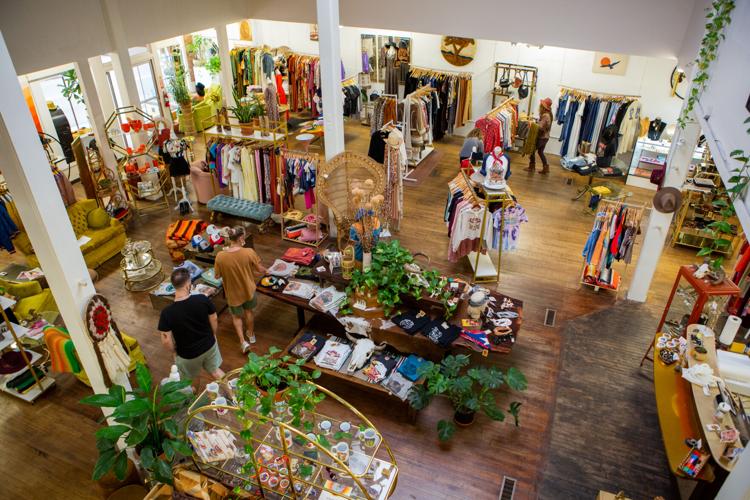 "It's really the coolest building. It's got so much history," Harlin says. "It was a JCPenney store up until the late '70s. This is the first time it's kind of like a department store, so when you walk into this store, it'll be kinda like how it was when it shut down. If you walked into JCPenney in 1977, this is what it's like."
Harlin never expected her business to grow to where it is now, but she was nominated by her neighbor to participate in a Startup Tucson program years ago. Harlin says the program was a "huge kickstarter" for her.
"It's very out of character for me to do something like that but it was really eye-opening for me — about the business side of things," Harlin says. "It really motivated me to take more risks. Like do I want things to just stay how it is — with just me and one more person helping me? Or do I want to grow this?"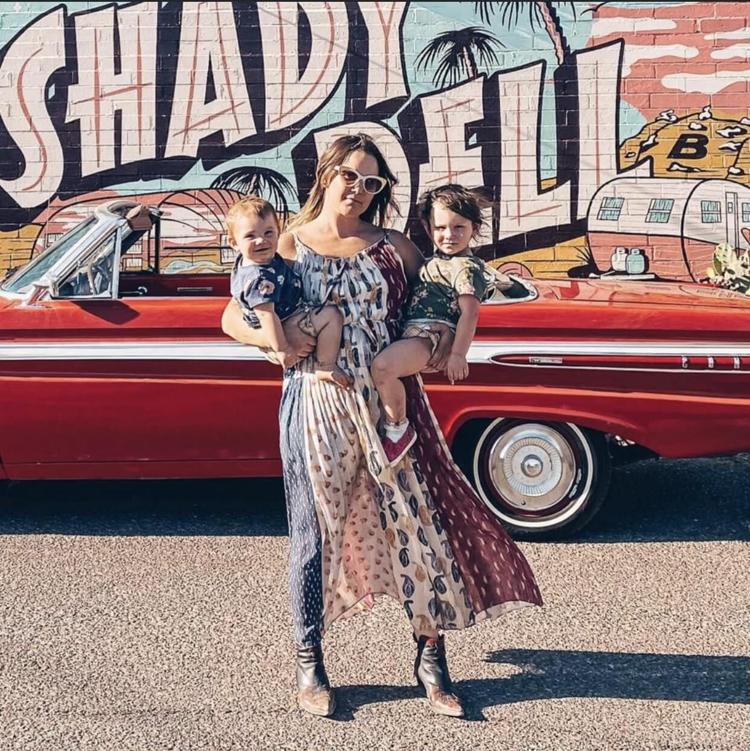 Other fun finds at Classic Rock Couture
Beyond Harlin's own designs, Classic Rock Couture is home to accessories, shoes and jewelry, all made from other makers — many of which are from Tucson, Phoenix and Bisbee.
And when Harlin first started creating her own designs, she says she began to steer away from selling her vintage finds online — but she never quit collecting them.
Now, Classic Rock Couture offers an expansive vintage section — a nod to where Harlin got her start. The items in the vintage section are sourced from thrifting trips in Tucson, Bisbee and other areas in Cochise County, in addition to Mexico.
"I'm back to my roots of selling vintage online. I'm really glad to have that back. I already had vintage stuff I was collecting and saving until I had enough staff to help list it," she says, adding that she also had two babies in the last couple years that changed what all she was able to juggle.
Stars wearing her designs
In many cases, Harlin has no idea when to expect her designs on a celebrity or in a TV production.
"It's really surreal to see it on TV and stuff, for sure," Harlin says. "It's fun because I'll wake up and my phone will be blowing up with people messaging me saying, 'Did you see this?'"
For example, Florence Pugh posted an unrelated video on her Instagram account and happened to be wearing a Classic Rock Couture jacket. Harlin had no idea until someone messaged her about it.
The same thing happened with the Little Caesars commercial.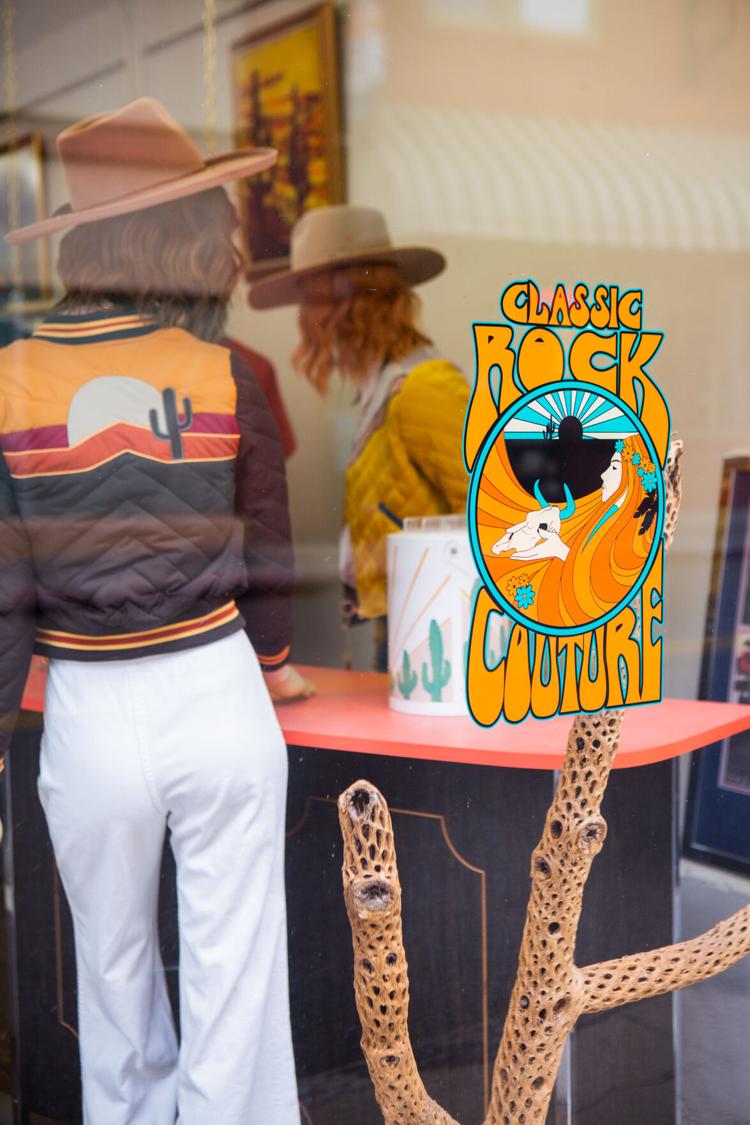 "Most of the major celebrity sightings are totally happenstance," she says.
"It's kinda cool, but what's even cooler is the people who really connect over (my designs)," she says. "I had two people send me a photo from Sweden or some crazy place and were like, 'We just met on the street and we're wearing the same jacket.' People are connecting over the jacket and it's really cool that it's a special piece of clothing."
"It is very fulfilling and it makes my job fun to feel like people are excited about it."
Find Classic Rock Couture at 38 Main St. in Bisbee or at classicrockcouture.com.