Keneshia Raymond believes that finding the perfect wedding gown as a curvy woman can be like spotting a unicorn — near impossible. 
Her online retailer Curvy Unicorn Bridal launched its first collection in January. (She and her team named the business right around the same time Starbucks dropped the Unicorn drink from its menu).
Like the Knot but for Tucson and for free. This is where you'll find everything you need to plan your Tucson wedding. Get tips, share ideas an…
The Grace Collection includes five gowns. Three of them double as reception dresses, with easy modifications that shorten or remove a longer overskirt. One is a actually a romper underneath the skirt. They're all lovely, with plenty of silk and lace. 
Raymond moved to Tucson from California with her mother and sisters. While she's loving the slower pace of life, she misses the ocean. For now, though, she's making her home here and hoping to find a local space where she can meet clients for consultations. 
"If you're a straight-size bride, it's easier to find dresses," Raymond, 36, says. "If you're a plus-size bride, you have to work harder to find a dress. Or you find a dress and go to try it on, but it's not in your size."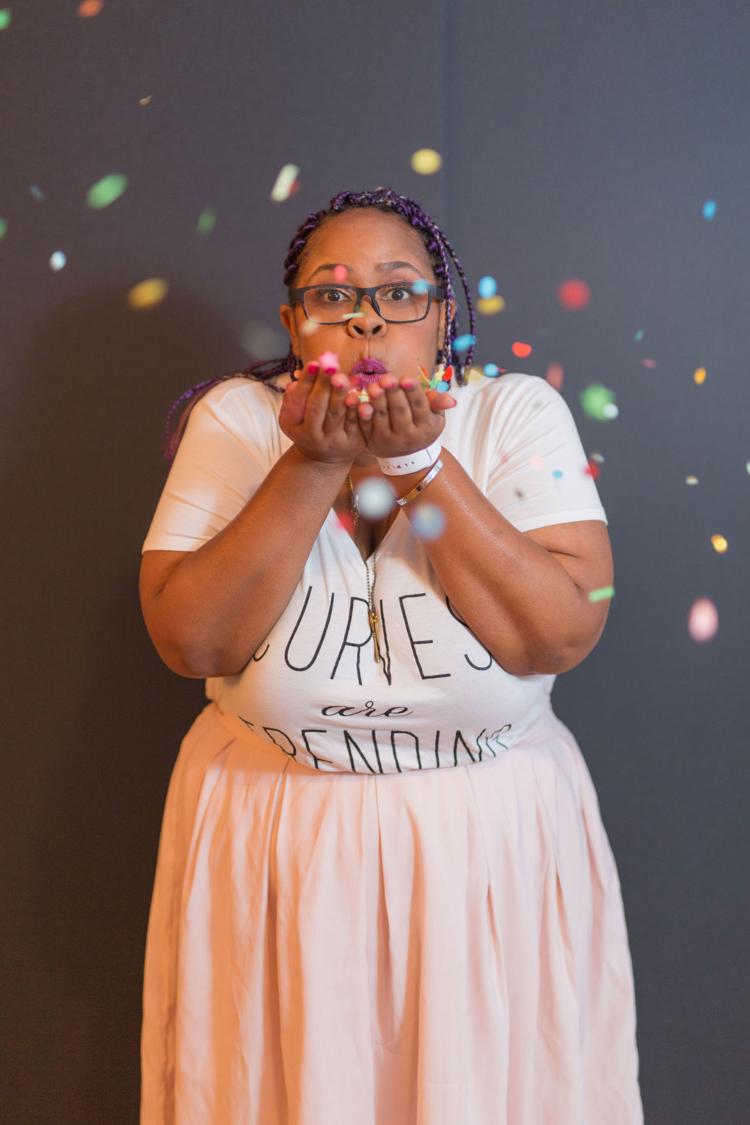 Raymond has spent about 10 years in the wedding industry, transitioning from baking to planning to wedding technology and education. Designing dresses came out of a need she noticed. 
"Working with designing shoots and editorial and going to get a dress, anything over a size 6 is kind of hard to find, because it's the sample size," she says. "So here I am shooting models that look the same all the time. And I'm not diversifying the profile, not only the color and ethnicity, but the size."
Although bridal stores do carry plus-size selections, Raymond says just "upsizing" smaller gowns doesn't necessarily mean a dress will fit right. 
"Say I want a dress in a size 22..." Raymond says. "I'm a plus-size girl, so I have more issues than anyone else. I have back fat or I have rolls and everything else, so now I have bought this dress because I fell in love with it, but the insecurities are there." 
Raymond says that when she began designing these dresses and working on the second collection, she asked women what they wanted in their dresses, so they can "feel comfortable and confident about their curves and planning their wedding." 
Raymond learned how to actually design wedding dresses from a gown designer she met through a Rising Tide Society, Tuesdays Together meeting in California.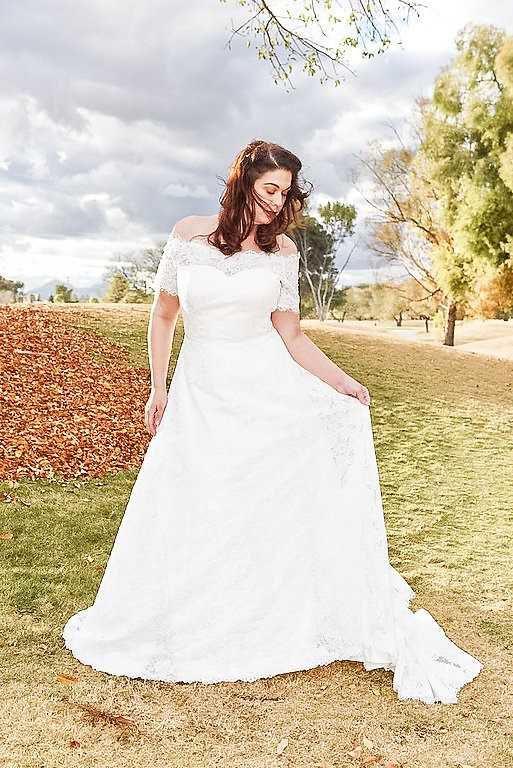 Raymond designs each Curvy Unicorn gown. Dresses are custom made to fit, with designs specifically meant to address potential insecurities (although brides don't get to try the dress on until it ships). Currently gowns range in price from $1,600 to $2,800. 
"There should not have to be someone who designs specifically for plus-size women, but the realistic side of this is that we do," she says. "You can't just upsize a dress and it works for everyone." 
She plans to release her second collection — inspired by ballet — in October. 
"You go into a store and there are hundreds of dresses and then there is this tiny section for brides who are curvy or over size 14," says Leslie Wong, the CEO of Burgundy Fox, a lingerie company that focuses on providing options for women of all sizes. Wong is one of Curvy Unicorn's advisers. "It's really sad and really daunting." 
Wong says that selling online also allows Curvy Unicorn to reach women who don't live near a city. To interact with people in person, Raymond organizes traveling pop-up shops. The next Arizona pop-up is Saturday, April 14 in Phoenix. (You can schedule an appointment or find more info about that here). 
Raymond never planned to get into the wedding industry. Instead, she wanted to be a dancer — a ballerina, to be specific. 
"But I didn't start ballet until I was 18," she says. "I had a teacher tell me because I was plus-size, I shouldn't. But I'm a prove-you-wrong kind of person, so I proved her wrong. I specialized in ballet and African dance and jazz and contemporary. My lifelong goal was to open up a studio." 
Through college, Raymond worked for her local government in California planning events. Following graduation, she started teaching dance and color guard in high schools. A stint in corporate America ended with layoffs, so back to teaching she went.
Her return to teaching coincided with the recession. As she watched funding disappear from the high schools where she taught, her resolve to become her own boss by the age of 30 solidified. 
The summer she decided to cook through a Martha Stewart cupcake cookbook, her life got a whole lot sweeter. 
She and her mom baked more than 100 recipes from the cookbook, delivering sweets to neighbors regularly. 
"And that turned into an actual business," she says. "I continued to teach until it got overwhelming. I couldn't teach and bake."
Baking — like designing today — connects Raymond to her beloved grandmother who died when she was 8. 
"For Christmas, she baked cookies and cakes and pies and those are some of my fondest memories," she says. "Baking, for me, fills that void. Designing, for me, fills that void. I would come home and that woman would have re-tiled the floor and re-wallpapered the walls and reupholstered the couches. ... She was Wonder Woman ... and designing and baking make me feel like she's there and I'm not missing anything."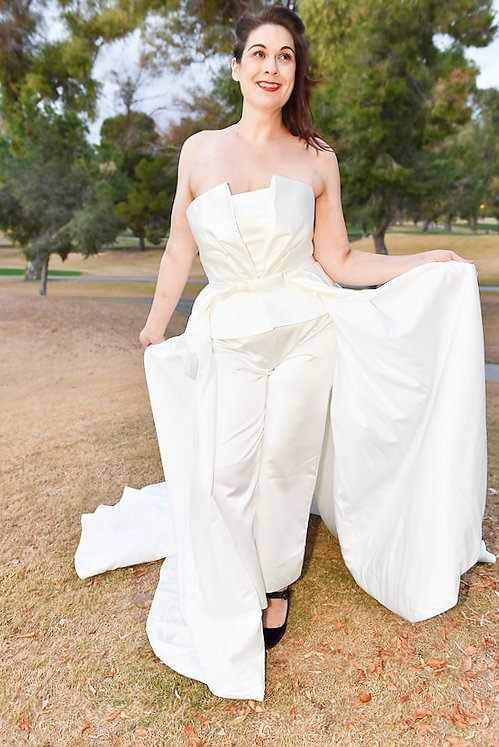 Raymond began baking full time for weddings and large events, often in Hollywood. Soon, she was planning more weddings and the cupcake side of the business slowed down.
Wedding planning and blogging led her to become a vice president at Wed Tech Summit, where she learned about the tech systems that make the wedding industry run. From that, she launched Blissful Creatives, an education service that helps wedding professionals succeed. 
She has been focused on that for the last five years. Now, through her online wedding dress shop, she wants to help brides find everything they need to feel confident and beautiful on the big day. 
"I didn't fall in love with weddings, I fell in love with love," she says. "That's what it is. You make the connection with the couple ... it wasn't something where I woke up and said 'I'm going to do weddings.' It was something that I fell in love with." 
For more information about Keneshia Raymond and Curvy Unicorn Bridal, visit curvy-unicorn.com.