This story was originally published in Spanish in La Estrella de Tucsón.
University of Arizona faculty Nadia Álvarez Mexia prides herself on being a cultivator of education for migrant students.
As part of her role at UA, as the director of transborder education initiatives, Álvarez Mexia assisted hundreds of students and fellow educators from countries such as Mexico, Colombia, Brazil and Chile, as well as from Asian and European countries, in carrying out their research projects, participating in summer courses or achieving degrees at the UA in Tucson.
She is the first Latino and migrant educator hired by the University of Arizona W.A. Franke Honors College.
Studying abroad is the dream of many young Latin Americans who, coming from their native countries, seek to secure internships, residencies or programs that will improve their communication in English and thus grow closer to their goals.
For more than 15 years, Álvarez Mexia has dedicated herself to enabling diverse and inclusive learning spaces where young people — as well as university teachers and researchers — can achieve their personal and professional goals.
"I compare myself, with great respect, to my Mexican countrymen who come to this country to work in agriculture. You are in the field, you work hard, maybe you will never enjoy the fruit of your harvest, but the satisfaction of seeing the land grow and produce is what motivates you to do your work," she said.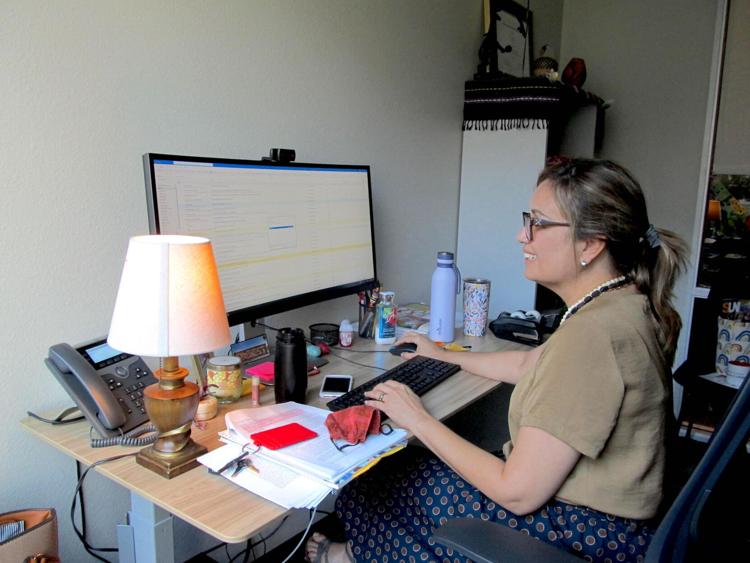 Forming alliances
Álvarez Mexia is the daughter of Mexican teachers — her mother was born in Ciudad Obregón, Sonora, and her father in Mazatlán, Sinaloa. Following the example of her parents, since she was a child, she was drawn to academic life and social service.
She grew up in a working-class neighborhood in the city of Mazatlán, on the Mexican Pacific, and finished her engineering studies at Tec de Monterrey.
After working for more than a decade as a teacher in her home country, Álvarez Mexia came to the United States with her husband and her eldest son, who was very young at the time. Both aspired to pursue doctoral studies. Hers took place in education and was focused on teaching with a specialization in language, reading and culture at the University of Arizona.
Her immigration status as a student — which prevented her from accessing a full-time position at the university — was not an obstacle for her collaborating with other universities in search of alliances that would facilitate the professionalization of foreign students in this country.
Since her years as a student in Arizona, Álvarez Mexia's efforts in inter-institutional negotiations have been rewarded by the achievement of around $3 million as a result of negotiations held with the students' home universities.
The most recent support was received this year. It is a $35,000 grant awarded by the U.S. State Department to expand the Transborder Education Program. Among 132 applications, the University of Arizona was one of the 26 institutions selected to create, expand or diversify the academic mobility of national students, particularly those who have been historically excluded, such as Afro-descendants, Indigenous or low-income.
For her work, she has received numerous distinctions. In 2020, Álvarez Mexia was recognized with the Women of Change Award by the secretary of education and culture of the State of Sonora.
Be authentic
"Why am I like this? I wonder," says Álvarez Mexia. "Then I remember my maternal grandparents, who were entrepreneurs."
She recalls the story of her grandfather, who migrated to the United States for a time and saw tortillerias in Los Angeles that used machines. After getting married, he introduced the first tortilla machine to his hometown in Sonora, a vision that changed the future of her family and impacted generations to come.
Álvarez Mexia encourages her students and those who dream of achieving their own projects to never stop being authentic.
"On many occasions we think that when we walk toward professionalization we have to let go of who we are," she says. "To me, my own experience has told me that the more authentic we are and the more we conserve our essence and prepare ourselves to continue moving forward and achieving what we have set out to do, we will be much more effective in reaching our goals."
From her teaching perspective, Álvarez Mexia invites other educators to take advantage of the diversity they have in their classrooms and to include the voices of their students in creating classroom environments where everyone is heard.