---
In the last few years, Meghna Gopalan has found her voice. 
The 2016 election sparked her interest in civic engagement, and earlier this year she participated in March for Our Lives. 
Then, while working on her Girl Scout Gold Award, the Basis Tucson North sophomore decided to speak up about women's healthcare. 
Now, she's helping with media outreach for the Tucson Women's March. 
"I can talk to new people now," she says. "I used to be a really shy person, but now I'm more outspoken and more informed about my opinions since I started doing political stuff." 
Meet Meghna Gopalan.
Note: This interview has been edited for length and clarity. 
Describe your Gold Award project: I'm planning on hosting an event to educate people about and de-stigmatize access to women's healthcare. I've been working with El Rio Reproductive Health Access Project, and they offered ideas on reproductive health justice which would broaden the scope of the project a little bit. I got interested in the topic with the Supreme Court nomination of [Brett] Kavanaugh...
You're involved with the Tucson Women's March media committee. Tell us how you got involved. I got involved with Tucson Women's March when trying to make contacts for my Gold Award and ended up joining a committee to increase participation in the march. I also work on spreading the word to other people of my age group to increase the volunteers from all different ages. Women's March gives me an opportunity to work to plan an event where my opinion and my input will help to create a difference.
What advice do you have for other girls interested in advocacy work? I feel like a lot of the time people think their voice doesn't matter, and even though it might be a small change that happens because of it, it's still a change. It's a bunch of small steps that can cause a change in the future. Find something in the news that actually interests you. Women's healthcare is a big issue, but if that doesn't interest a girl, she doesn't have to get involved in that topic in particular.
Got a future activist? Here's how your girl can get started.
Unidas is a program through the Women's Foundation of Southern Arizona that gives girls ages 14-18 the chance to learn about grant-making, social justice and the community. The semester-long program explores issues impacting girls and women in Tucson. By the end of the semester, the group selects a local nonprofit to give a grant of $5,000. The program runs twice a year. 
Pima County Teen Court volunteers serve as the jury, clerk and bailiff and attorney for teens who have been arrested, already admitted guilt and chose to be sentenced by a jury of their peers. It's a diversion program that also gives teen volunteers ages 12-18 a glimpse into how the justice system works. Teens can apply now for attorney training in February. 
The Youth Advisory Council is a program of the Metropolitan Education Commission. Every school year, middle and high school students represent their schools on the council and provide input on programs and policies that affect education in Pima County. 
Bonus: Whether your teen cares about art and literacy or immigration and poverty, pick a local nonprofit and start volunteering. Here are a few ideas to get started. 
---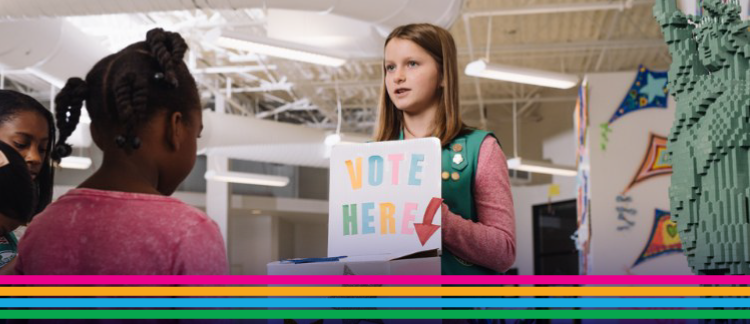 At Girl Scouts, the next opportunity to stand up, speak up, and take the lead is never far away. With us, you'll discover the G.I.R.L. (Go-getter, Innovator, Risk-Taker, Leader) in you, and watch her shine, again and again.
Girls who lead learn to make their voices heard—with bold moves like advocating for positive community change, standing up against everyday injustices, mobilizing others to donate or volunteer for causes, meeting with public officials and community leaders to educate them about important issues, and lots more.