Jake Sullivan grew up with walls of records and CDs in his home.
By 2015, he and Kellen Fortier thought it sounded fun to open a record shop — they didn't think too seriously about it, nor did they particularly care how long it would last or if it would become a longtime career.
"It was honestly just something that sounded fun that we could make work, even if it was just for a little bit," Sullivan says.
Now six years later, their record shop Wooden Tooth Records is standing strong near Fourth Avenue.
And with a recent resurgence of vinyl (for the first time since the 1980s, record sales actually surpassed CD sales last year), a handful of other record shops have also popped up in Tucson in the last handful of years.
"I think it's a lot of nostalgia," Sullivan says. "I think people are starting to see the value in owning physical goods. To me, I think about it as the same way that like, your favorite show is getting taken off Netflix to go on this (other) streaming service. It seems like things are going up and down on the internet and streaming services, but when you have the physical thing, that's never going to be a problem for you."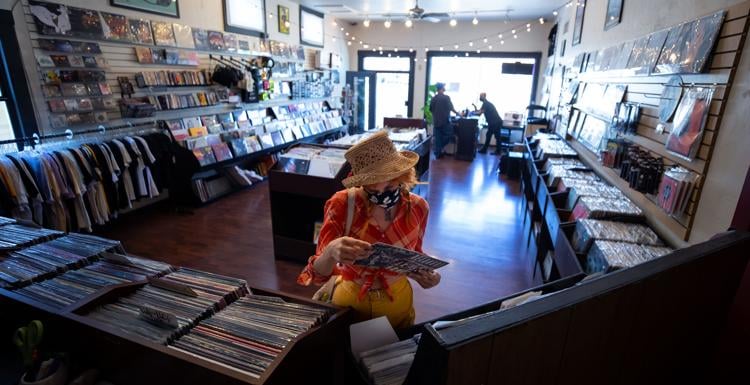 For Zia Records CEO Jarrett Hankinson, vinyl is about the experience.
"People have been reminded that it's actually fun to play around with physical goods sometimes," he says. "The bottom line is: You're experiencing something beyond the click of a button."

"This medium is still important to people. People are longing for that experience and want another level from their music," Hankinson says.
Then there's also the argument that music sounds better on vinyl.
"You get a deeper, truer sound when an analog recording has been pressed to vinyl," Lana Rebel, co-owner of Old Paint Records, said in an email. "But even for those who don't really care about all that, the physical product is an attraction too, with the art and the liner notes. You feel like you have a more personal connection with it."
Here are five Tucson spots to find your favorite music on vinyl: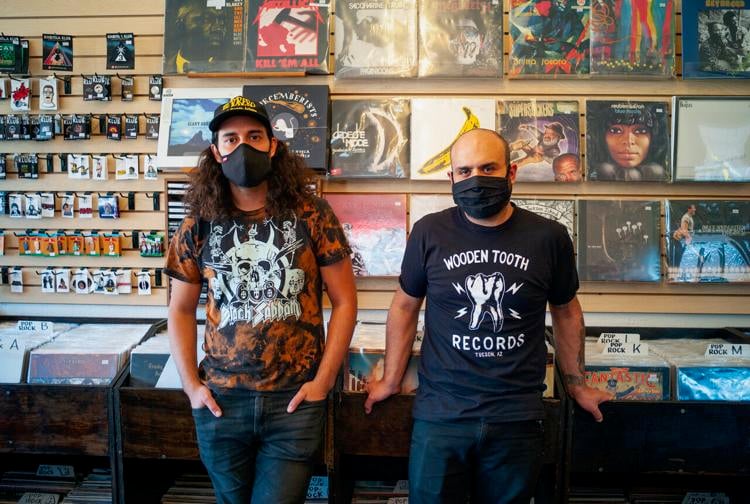 Owned by Jake Sullivan and Kellen Fortier, Wooden Tooth Records carries a bit of every genre.
"The most important aspect of how we stock the store is just making sure it's something Kellen and I can talk about passionately to people who come in," Sullivan says.
About half of the records at Wooden Tooth are new records ordered from distributors and the other half are used records from trades or sales that Sullivan and Fortier hunt for at places like estate sales or on Facebook Marketplace.
"I would hope that (customers) leave with an idea of something new to listen to that maybe they didn't know before, or maybe they finally are able to find a record they had been looking for a while," Sullivan says.
And before the pandemic shook the world, Wooden Tooth used to host live music, album release parties, book signings and other events. Sullivan hopes to bring those back — when it feels right.
"We definitely miss that," he says.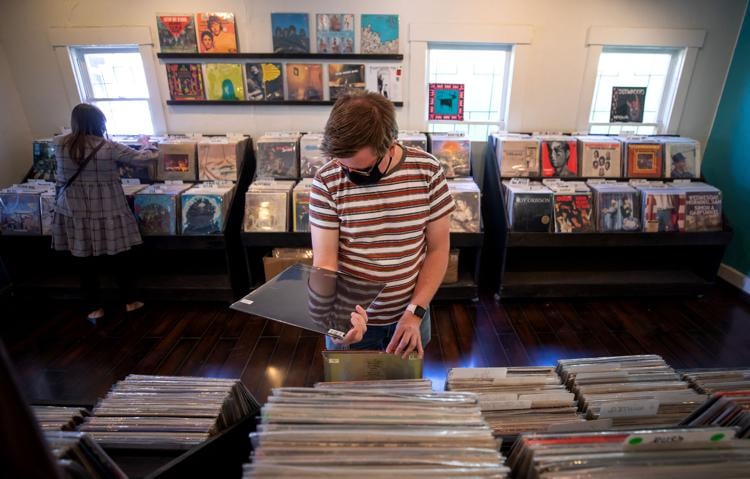 When he was a kid, Rich Hopkins was gifted a cheap record player from his parents.
"It wasn't very good, but I was happy to have it," he says. "I really used music in a lot of ways to tune out the noise. I love music — don't get me wrong — but it's kinda like a drug. It helped me cope with some of the aspects of my childhood that weren't quite so much fun."
After decades of collecting records, Rich Hopkins opened Hurricane Records three and a half years ago at age 60.
"I just thought I better do this sooner than later because it was something I always wanted to do, but there were always other things in the way," he says. "Finally, one day, I said, 'I'm gonna do it.' And I pulled it together and got it done."
Hopkins says Hurricane Records covers blues, jazz and classic rock well.
"I take a lot of pride in how I take care of my stuff and how I curate the collection I have," says Hopkins, who is also a musician himself. "I just love what I do."
Hopkins also saw an uptick in vinyl interest amid the pandemic.
"What I saw was people really really trapped inside their houses and they really started trying to figure out a way to kind of entertain themselves, so I think the idea of going out and buying turn tables and records got really hot," he says. "Now all I can say is it's very popular now and I'm grateful for it. But for me personally, I never ever stopped buying records."
Years before Desert Island Records was a thing, owner Jorden Wright did record swaps and sold them online or at yard sales.
"Then I got into buying really big collections and it just kinda steamrolled," he says, opening Desert Island about four years ago.
"I was really into music when I was young, but it was kinda that era where it was so expensive, so I had five cassette tapes and my mom had 20-30 CDs so we listened to those on repeat," he says.
As someone who likes all types of music, Wright tries to stock Desert Island with all genres. The shop also specializes in vintage gear such as turn tables and speakers and buys used records.
And exciting things are planned for Desert Island's future: The first is the launch of a YouTube channel that will feature in-store interviews with local musicians. And for each of the interview launches, a section of the store will be dedicated to the artists' albums and music picks.
Desert Island also plans to launch its own website soon, in addition to potentially hosting a block party.
"We want to start easing into those kind of post-pandemic events," says Dennis Fitzgerald who does advertising for Desert Island. "Eventually leading up to local musicians playing inside and DJ sets inside."
Growing up, Lana Rebel and Kevin Mayfield both had turntables in their homes.
"Many of our favorite albums were discovered by rummaging through thrift store bins and local record shops — many times grabbing something simply because the cover was great, having no idea what it would sound like," Rebel says.
"The fun of record digging just sort of snowballed for both of us."
In 2014, Rebel and Mayfield started Old Paint Records with a stack of records from their personal collections. Now, they order from distributors, accept trades or purchase collections from Tucsonans.
Old Paint Records has a range of genres from soul to hip hop to rock, pop and folk music.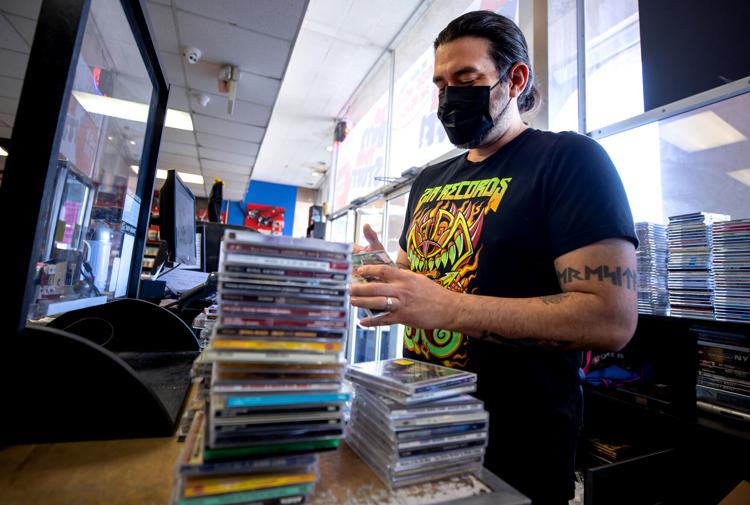 Zia Records has been in Tucson since the 1980s, though the first location opened in Tempe.
"My dad ran record stores when I was a kid. I had Neil Young blasting in my ears — a bunch of different music experiences around me as I was growing up," says CEO Jarrett Hankinson. "It wasn't a conscious decision to do it as long as I have, but it started out as me wanting to immerse myself into music."
As for what he hopes people get out of visiting Zia: "We want people to either remember or have those nostalgic moments with their record store or their video store, and we're looking for them to revisit that and share that with the next generation."
Hankinson, who grew up in Tucson and used to run the Speedway location in the early 2000s, also says Tucson is incredibly important to Zia.
"The Tucson market — they hold a special place in my heart," he says.