On a farm in Oracle, hundreds of lavender plants are just beginning to bloom. 
Soon, they'll infuse the air with a fragrance that's more of an invitation —  slow down, wander, stay awhile.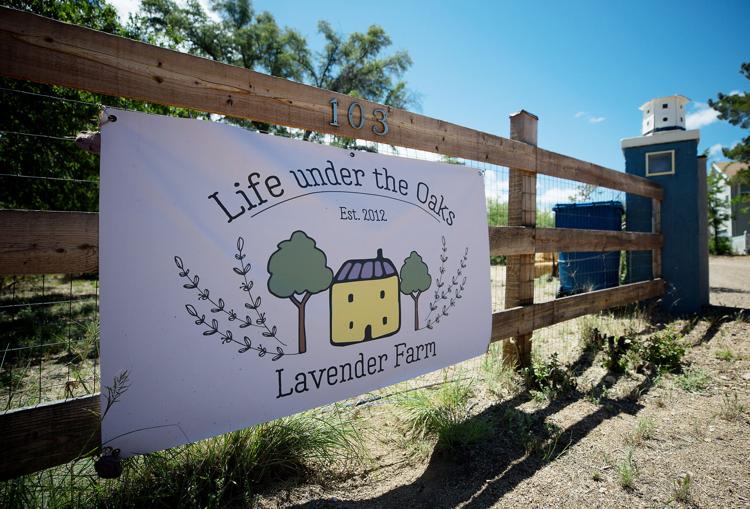 When you pull up to the farm, Amber, an Australian shepherd rescued in downtown Tucson, bounds up to the gate to greet you. A tire swing dangles from the branches of towering Emory oak trees and wind whispers through their leaves. 
The farm is quiet, bordered by Coronado National Forest, behind Mount Lemmon. A nature trail etched into the hillside offers an elevated view of the lavender field and its neat rows of silver-green plants. 
"It feels like you're in a fairy tale," says Meg Walter, who works on the farm occasionally. "It's nice to escape from mundane life and go to a place where everyone is getting together and united over the wonderful smell of lavender." 
The lavender farm is new to southern Arizona. Although the owners Carolyn and John Blair have owned the four-acre property since 2012, they just planted the 2,000 lavender plants last May. This summer should usher in the flowers' first full bloom, starting in earnest in June, Carolyn says.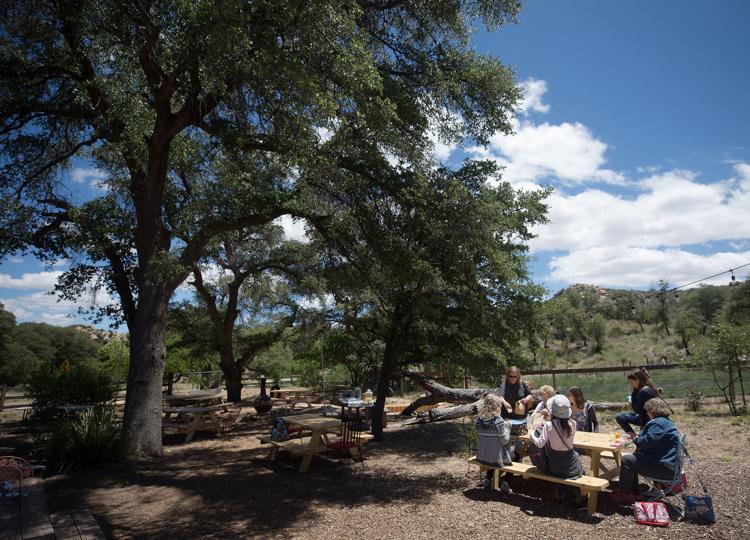 The Blairs host seasonal events here, including an upcoming lavender celebration in June. On Thursday, Saturday and Sunday mornings, they open the farm up to the public to explore. 
Beyond the lavender, you'll meet lots of critters who call the property home — cats, chickens and ducks; a bunny; goats named Lily, Starbuck and Freeman; a horse named Promise; and Mr. Friday, the most lovable miniature donkey around. 
"This was kind of my dream," says Carolyn, 52. "To have a place for people to come out and enjoy nature and enjoy art and see the animals."  
A place to call home
In a gift shop that doubles as her art studio, Carolyn creates and sells artwork, much of it inspired by life on the farm. 
This is a dream 15 years in the making. She can trace it back to a visit to Sequim, Washington, a place known for its lavender. 
Because her husband John grew up on a cattle ranch, the couple always dreamed of owning property. But John's career in the Army kept them on the move, stationed in places such as Germany and Virginia. John also deployed to Afghanistan and Iraq. 
"I worked but could never have a true career because you are always moving, and this was before the internet where you could have a remote job," Carolyn says."I feel like I'm finally getting to live my dream."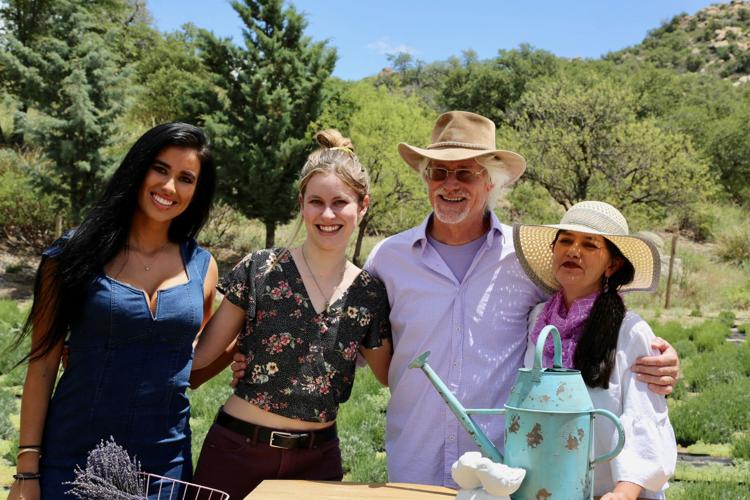 John, Carolyn and their two daughters Amelia and Rachel Blair lived in Oro Valley for about 10 years before buying the farm. 
At the time, Carolyn's parents were looking to move to Arizona. 
"And one day John came home with a flyer for this property (in Oracle), and I was like, 'They're not going to like it,'" Carolyn recalls. 
But the flyer wasn't for her parents. 
"So we came up over spring break in 2012 and it snowed, and as soon as I saw it, that was it. It was so magical and beautiful," Carolyn says of the farm. "And even though it was so overgrown ... we went ahead and bought it."
Putting down roots
Transforming the overgrown acreage into a venue fit for bridal showers and Mother's Day teas took time. 
Rachel Blair calls it a "family endeavor." 
"It was a family project to make it how our parents wanted it to be," Rachel, 20, says. "And the lavender idea sprouted up within a couple of years."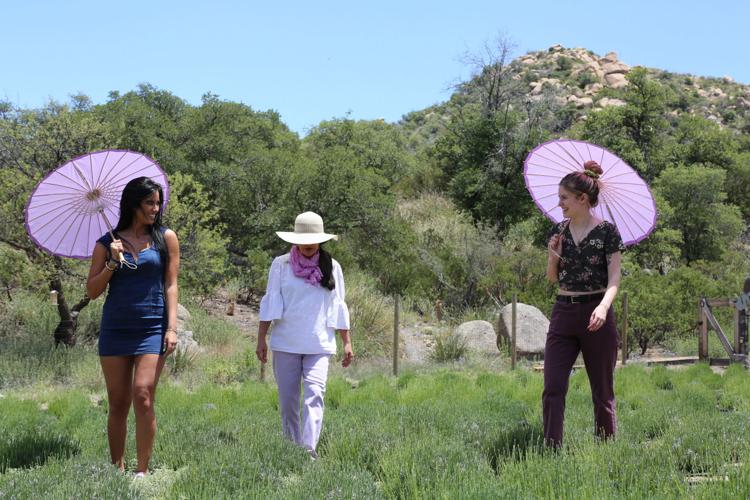 The field itself has undergone a transformation. At first, the family used half of the space as an arena for Promise, a barrel racing horse. 
But Carolyn never forgot her love of lavender.
The field has a slight decline, meaning it drains well. And the higher elevation, dry climate and cool air from Mount Lemmon make the spot suitable for lavender, Carolyn says. 
Other lavender farms in Arizona are further north. 
"Growing in the heat is just not the best," says Cindy Schooley, an owner of Windy Hills Lavender Farm in Heber, Arizona. "Trying to grow in Tucson or in Phoenix, it just gets so hot. That's why John and Carolyn can do it. They're up in a cooler area." 
Last summer, the Blairs rallied around 50 friends and community members to help them plant the 2,000 lavender plants.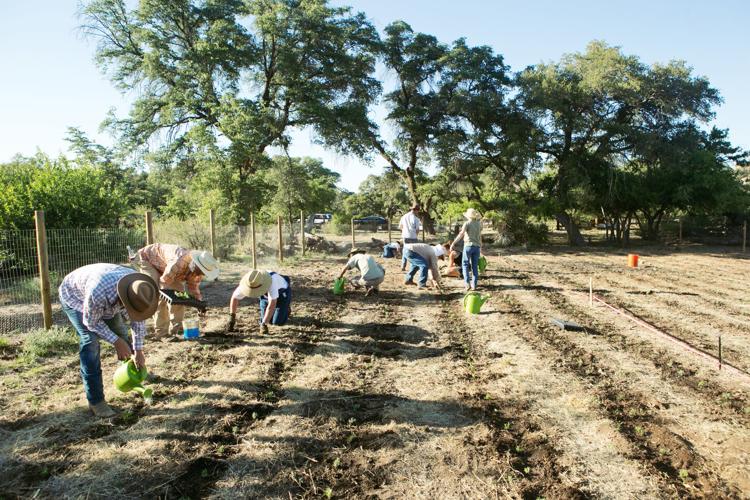 "It's neat, because everyone is invested in it, but it's also so much pressure, because it's like having a baby," Carolyn says. "We would go to bed at night when they were tiny and have nightmares of something getting in there." 
The farm grows three varieties of lavender — Royal Velvet, Grosso and Provence. Life Under the Oaks got its sprouts from Red Rock Lavender in Concho, Arizona. 
Elvia Schwenke, an Oracle resident of about 34 years, says the lavender farm is a great addition to the community, drawing visitors from Tucson, Phoenix and beyond. She says that on planting day, everyone worked in teams to dig holes and run watering buckets between the hose and the plants. She still volunteers on the farm occasionally. 
"It reminded us of a barn raising when people would come together to put up a barn for your neighbors and that's what we did," she says. "Those lavender plants are our babies." 
Maintaining the farm is a full-time job for Carolyn and something she and John can do together. Every morning, they walk the field, checking the water lines for leaks. And then there's the weeding.
Last year, Carolyn says she spent a few hours every morning and every evening pulling weeds.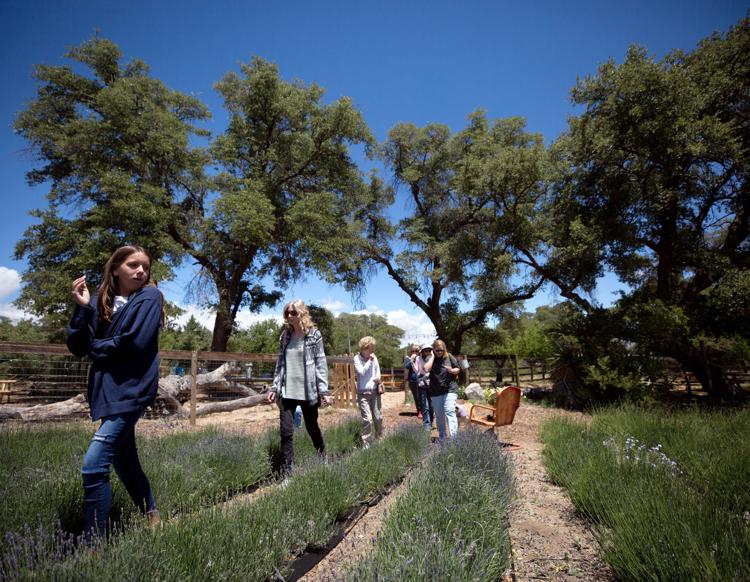 "Most people our age are retiring and want to travel, but we're the opposite," Carolyn says. "We traveled everywhere, so we are done traveling, and now we're in high-gear working on the farm." 
Sharing the love
Last summer, Life Under the Oaks had a small harvest of mostly culinary lavender. Right now, Windy Hills Lavender Farm makes their lavender products.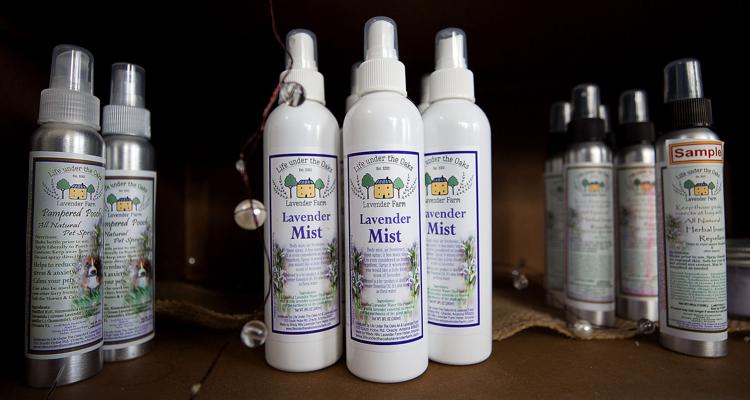 "We're excited for them to be down there," Schooley says."I have a lot of customers come from Tucson, and sometimes they make the trip just to come see me and our store." 
In the gift shop and art studio, you can buy a variety of products including essential oils, hand creams, soaps, bath bombs, sachets, culinary lavender — you get it. Life Under the Oaks also sells at the Rillito Park Farmers Market on Sundays (although they may take a break during the summer) and online.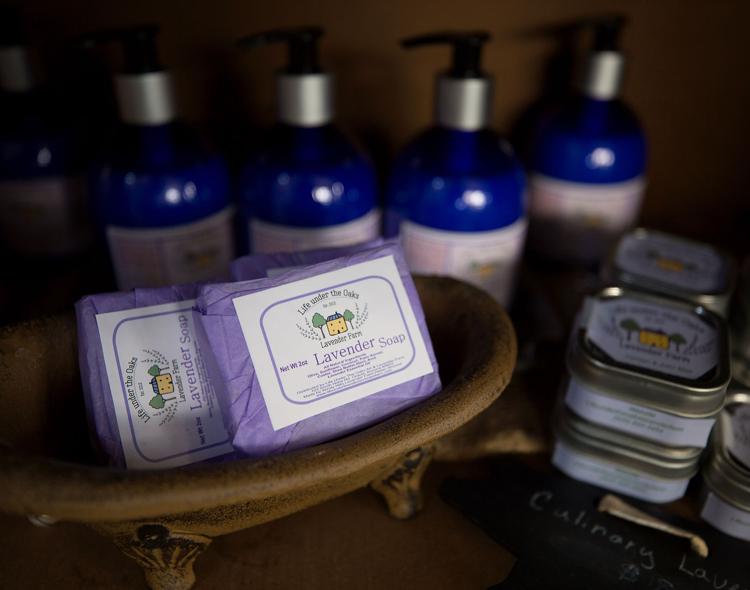 For Carolyn, the lavender has also been a balm to chronic health issues she has battled for years. Ironically, the intensity of planting exacerbated some of those issues, landing her in the hospital with an autoimmune diagnosis.
"I have my lavender routine at night," Carolyn says. "I use the oil and have a mask and use a spray. ... If you sit out in the field long enough, you'll feel all calm. When people come out, they're just happy and relaxed." 
Lavender has a reputation as a natural remedy for stress, among other things, though studies about its uses are mixed.
Medicinal or not, a morning in the field with purple blooms and mountain views has to be good for you.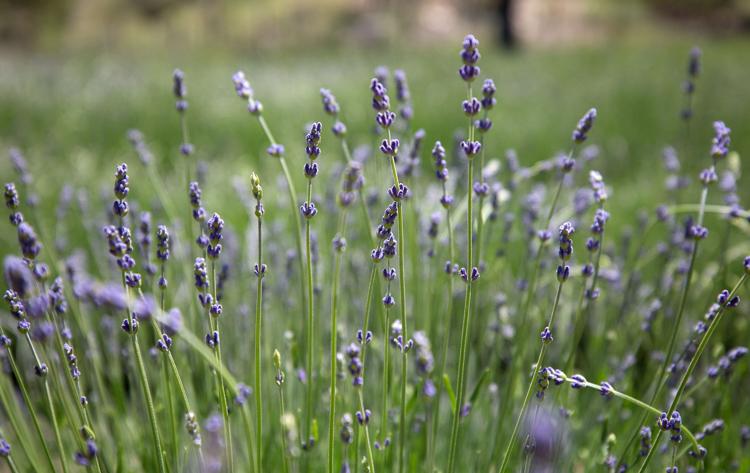 Walter, 20, is friends with Rachel and has been visiting the farm since high school.
"When I bring my family up there, down here in Oro Valley everyone is on their phones and playing video games," says Walter. "There, my little brother who is 10 says, 'I just want to be here forever.' It's just so different and it brings people back to a place where they can see nature." 
That's why Carolyn hosts art classes and kids camps and birthday parties on the farm — to share the sanctuary her family has created.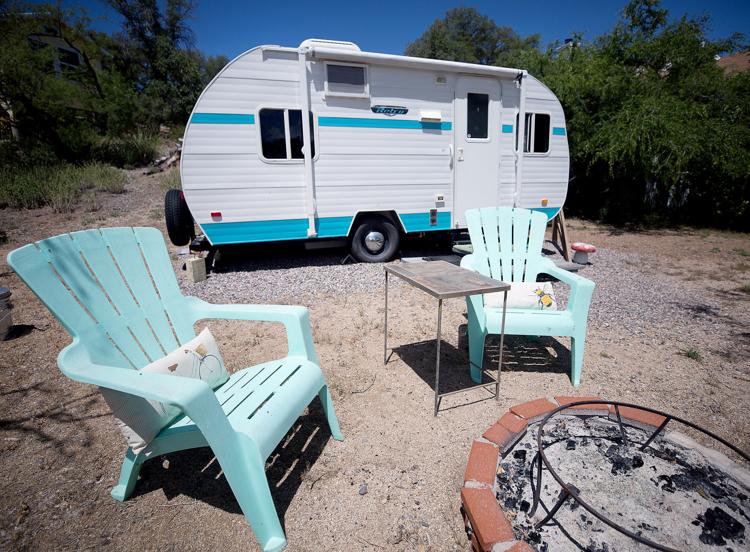 In June, when the lavender is blossoming, the farm will host its first lavender celebration with live music, a fancy lavender-inspired meal and lavender distilling. If you want to linger longer, there's a charming trailer on the property that you can rent through Airbnb. 
"We don't want it to get too big," Carolyn says. "I like that it's kind of quaint. You feel like you're coming home." 
---
Lavender Celebration
When: Saturday, June 15 and Sunday, June 16, 4-8 p.m.
Cost: $15 per person, while space lasts
Open farm days 
What: Explore the lavender farm and meet the animals.
When: Thursday, Saturday and Sunday, 9 a.m. to 1 p.m. unless there is a special event. The farm will also be open for Memorial Day.