This story was created by #ThisIsTucson and underwritten by Tucson Medical Center, safe and ready for you. Thank you for supporting the local organizations that support us!
---
Whether you're already holiday shopping, or you have friends expecting a baby, finding the perfect gift can be tricky. 
Welcoming a new life to this world is a big deal, after all. 
But, as always, Tucson businesses and makers come through. 
The majority of ideas listed here have shipping options, so you can have items delivered right to your friend's doorstep with no contact necessary, or even send some Tucson love to friends and family out out of town.
While you can't go wrong giving diapers and wipes, if you're looking for something a little more special, try these local ideas.  Also, many of these businesses are mom-owned, so if you're still not sure what to gift you can count on them for some expert guidance. 
Find the perfect gift at these local shops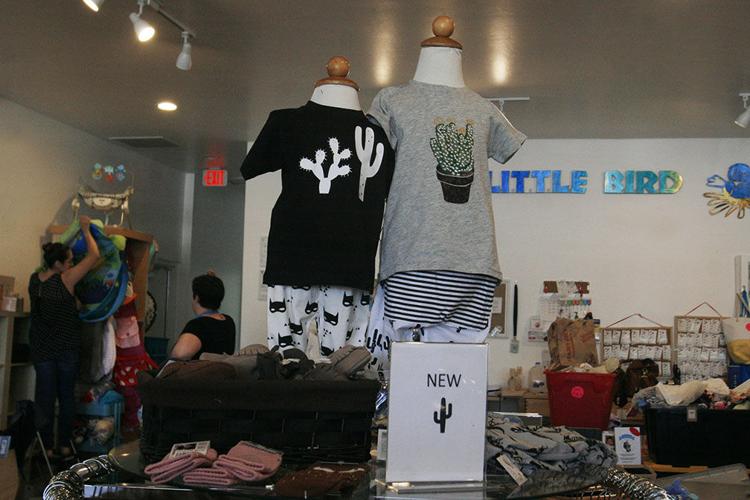 You can shop online at many of these retailers, but if you want to make a trip to shop in person, be sure to visit their website or call ahead as some stores may have modified hours or policies due to COVID-19. 
• Little Bird Nesting Company is a resale shop that sells handmade, new and gently used clothes, shoes and toys for babies and kids and it's a favorite among Tucson parents. Babies outgrow their clothes so quickly, and buying gently-used clothing and other items instead of brand new means you can help both the environment and the pocketbook. Pick up a few items or a gift certificate to the east side shop, which allows parents to choose whatever items they need most and can help stretch their dollar a bit further than your local big box store.
• Eastland Alley Co., a mom-owned business run by Kimberly Neal and Theresa Lambert, sells themed boxes to celebrate most major life milestones. The This Little Light of Mine box, which sells for $45, is meant to celebrate the birth of a new baby and features a travel candle, regular candle and room spray in a signature fragrance created by the boutique. 
• For gifts inspired by Tucson and the desert, you'll find a nice selection at Why I Love Where I Live. The store's kids section has an assortment of onesies, tees, and puzzles with cute desert and cactus graphics and a selection of multicultural children's books. 
• Be warned, a lame parent joke follows this sentence. What's a gift that you can keep opening again and again? A book! 😂But, for real though, adding a few books to a baby's library is an incredibly thoughtful and much-appreciated gift. You can gift a favorite from your childhood or discover a new fave by shopping at these local booksellers, where helpful staff can give you some great recommendations if you need 'em: Bookmans, Antigone Books and Mostly Books. 
• Mildred and Dildred is a charming Tucson toy store with thoughtful toys for all ages, including infants. Shop online by age or in store at La Encantada. The online shop has thousands of items. Just a heads up: Next month, Mildred and Dildred plans to move most of the store's operations to a new location near Pima Street and Swan Road. 
• Jen's Organic Home and Baby, has a wide selection of eco-friendly baby and kids furniture, bedding, toys. The store was started four years ago by a Tucson mom who was passionate about "finding the safest, healthiest, most eco-friendly products out there," for her own family she wrote on the store's website. Currently the brick-and-mortar location is closed for in-person shopping, but the online store is still taking orders which can be shipped or picked up. 
• Also, #ThisIsTucson's online shop has some pretty cute, baby cactus maternity and non-maternity tees available, if you're looking for a totally Tucson parent gift, too. 
For something handmade, try these local makers and artists
If you're looking for an extra special gift, here are a few options to find unique, handmade items from some of Tucson's talented makers and artists. 
• Tucson doula Adia Jamille is also a fiber artist who creates hand-dyed and handmade textiles. Her collection for babies and kids includes saguaro, rainbow, prickly pear and rain shower printed baby blankets and burp cloths and colorful onesies. She also sells Splendor Kits, or collections of care items for both mama and baby that she can curate for you, or you order items individually and create your own kits. The items she carries are mostly handmade products and all are from by Black-woman-owned businesses.  
• Serena McRae, the local artist behind Cactus Clouds Art, was inspired to create Affirmations Moms Actually Need after her experience with postpartum depression. The beautiful deck of 52 cards features illustrations and watercolors by McRae illustration each with a different message to encourage new moms. McRae launched a Kickstarter campaign to fund the project, and the decks will be available for purchase in early December online on the Cactus Clouds Art website. 
• Fourth Avenue upcyle shop Pop-Cycle carries a selection of sweet board and hardcover picture books, but for a truly unique hand made gift check out the store's Monster Booty Threads line of clothing and accessories. Pop Cycle co-owner Jennifer Radler sews adorable monster felt patches and uses them to embellish gently used clothing like these overalls, bibs and dresses. 
Make life easier with these helpful services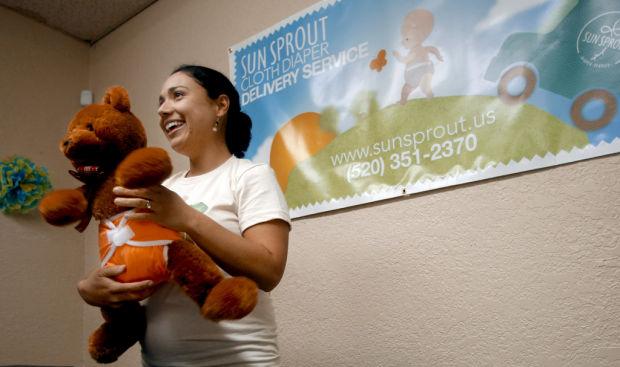 Sometimes, the best gift you can give is extra help for new parents. From having meals delivered to carting away dirty diapers, these Tucson services will make life just a bit easier. 
• Give the gift of clean cotton diapers that Mom doesn't have to wash. Sun Sprout is a cloth diaper delivery service that supplies parents with a week's worth of cloth diapers — and then cleans them each week! A basic subscription includes a diaper pail rental, a pail liner rental and the cloth diapers needed for the week. To give four weeks of the diaper service (the minimum required to start the service) costs $112 plus a one-time $40 registration fee. There are no refunds, so you should coordinate with the new parents before you purchase this one. You can purchase a gift card for that amount or more at sunsprout.us/gift-certificate. Also check to make sure the recipients live within the Tucson and Phoenix delivery area. 
• For new parents who might need an extra set of hands around the house helping with care or errands, consider a Trusting Connections gift card. The Tucson-based nanny and sitter agency has a wide range of services and gift cards can be purchased in any increment starting at $25. You can order a gift certificate online or by emailing rprather@trustingconnections.com. 
• Order a menu of meals that can be stashed in the freezer or cooked easily through Dream Dinners. If you're new to Dream Dinners, you can order the Meal Prep Starter Pack for $99 and select six medium dinners or three large dinners (or a combination of both). Meals can be picked up or delivered for an extra fee. Chef Chic, a local personal chef and catering service, also prepares and delivers meals (for a fee). You can order three- or five-entrée dinner plans that start at $175, plus the cost of groceries. When you order, you'll be able to submit your food preferences and any dietary restrictions. 
• Book a newborn photographer for keepsake photos. Expertise.com has a list of Tucson-area photographers that specialize in newborn photo sessions. 
---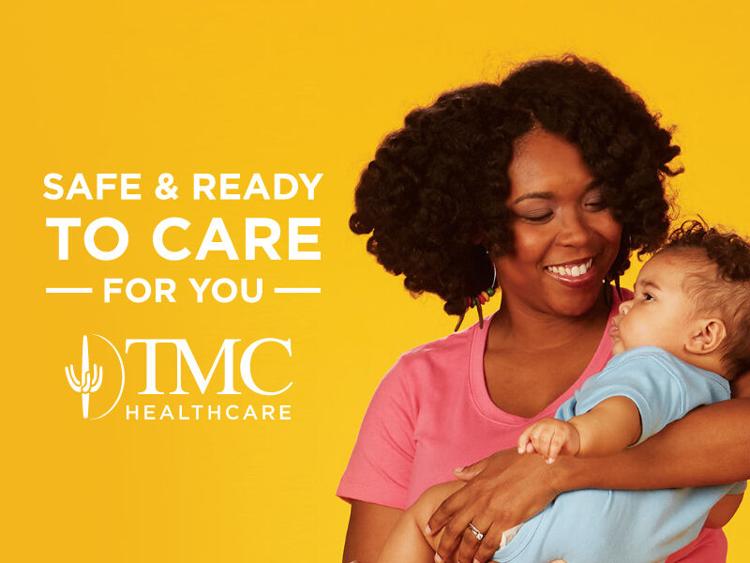 Tucson Medical Center is safe and ready for you
More mothers choose to have their babies at Tucson Medical Center than anywhere else in the region. Our experienced doctors, nurses, midwives and support staff ensures that growing families have the best experience possible. TMC is safe and ready for you.