Everywhere we look, we see pops of colors. 
On the morning commute, there's a row of Mexican gold poppies lining the road. And during the evening walk, purple lupines mark the way. 
Wildflower season is upon us.
Just like the weeds in your yard love all the desert rain, so too do the brilliant blooms springing up all over the area. Yay desert spring. This is why we all live in Tucson. 
This year is so beautiful an Instagram account dedicated to documenting blooms around the state has sprouted. Check out @wildflowerwatcharizona on Instagram for more statewide beauty.
John Wiens, a nursery horticulturalist at the Arizona-Sonora Desert Museum, says this year's wildflower bloom is a lot better than last year's, although it's not necessarily a banner year everywhere. 
Annuals — like poppies and lupines — germinate in the fall with enough rain. Then, throughout the winter, they need consistent rain every two or three weeks to keep growing, Wiens says. Perennials like brittlebush and globemallows don't need that initial rain and are better able to endure rising temperatures, he adds. 
A week of 85-degree days would wipe out the annuals, he says. 
Our spring season of flower power begins with wildflowers and continues with cacti and trees in the weeks to come. 
You might not spot fields of gold in all of these places, but temperatures are glorious and Tucson is blooming. 
Here are a few places to look for blooming beauties. 
1. Go to nature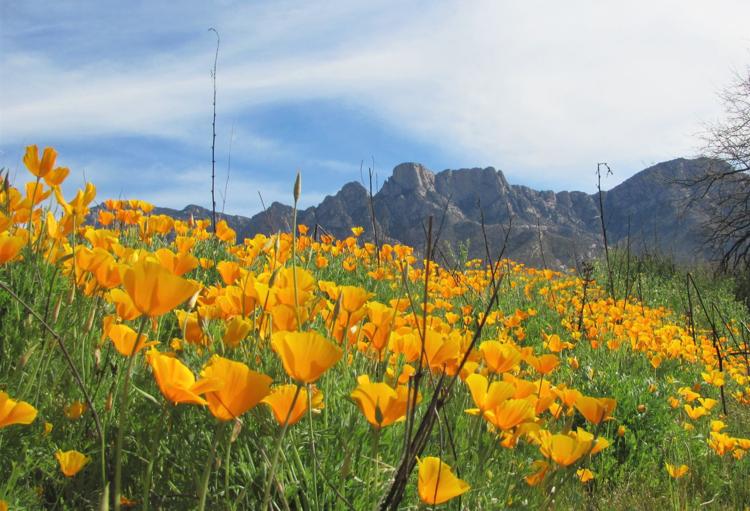 Picacho Peak State Park and Catalina State Park literally had fields of wildflowers this week. FIELDS. Bright yellow poppies have adorned the desert landscape in gold. 
Really, you can take any trail for wildflower viewing, says Michelle Thompson, the communications chief for Arizona State Parks and Trails. She checked in with park rangers, who recommended the Roadside, Nature and Children's Cave trails at Picacho Peak, adding that you can even see the flowers from the park road. 
Take Oracle Road north to get to Catalina State Park. If you want to head to Picacho Peak State Park, hop onto Interstate-10 westbound. 
The entrance cost for both parks is $7 for a vehicle with 1-4 adults and $3 for individuals entering by bike or on foot. The parks are open from 5 a.m. to 10 p.m. daily. For more information, visit azstateparks.com/catalina or azstateparks.com/picacho. 
2. Wander these lovely gardens
Get the most bloom for your buck. 
Admission is $15 for adults, $13 for students, seniors and military, $8 for kids 4-17, and free for members and kids 3 and younger. 
The botanical gardens are open 8:30 a.m. to 4:30 p.m. daily, with hours extended until 8 p.m. Thursdays and Fridays. Visit tucsonbotanical.org for more information.
On the northwest side, you can wander desert paths at Tohono Chul, 7366 N. Paseo del Norte. It's open 8 a.m. to 5 p.m. daily and costs $13 for adults and $3 for kids ages 5-12. Students with ID, seniors and active military get in for $10 and young children get in free. For more information, visit tohonochulpark.org. 
The Arizona-Sonora Desert Museum, 2021 N. Kinney Road, has more white silverbells than poppies right now, Wiens says, adding that, the museum didn't seem to get quite as much rain as other areas. Still, there are other things in bloom, he says. The desert museum is open 7:30 a.m. to 5 p.m. March-September. General admission for Arizona residents is $18.95. Bring your driver's license as proof of ID. Kids ages 3-12 are $10.95. Younger kids are free. For more information, visit desertmuseum.org.
3. Just go outside
Get some exercise and savor spring. As you can see just by driving down the road, there are wildflowers everywhere. We'll recommend a walk or bike ride on the Loop, a biking and walking trail that circles the city. You'll find patches of wildflowers as you go, plus it's totally free. 
In the meantime, we're just going to drop these photos of Picacho Peak State Park in bloom here.