Hours into the New Year, Tucson lost its first restaurant of 2021 when the owners of Fronimo's Greek Café announced on Facebook that they were closing their 25-year-old East Speedway restaurant.
The announcement came months after the owners, Tracy and George Fronimakis, were unable to work out a new lease with the owner of their building at 3242 E. Speedway.
"I was just like gut punched," Tracy Fronimakis said Monday, Jan. 4, of the failed negotiations as news of the closing spread on social media and attracted hundreds of comments from longtime diners.
Fronimo's joins several longtime Tucson restaurants that have closed since the beginning of the pandemic last March including Café Poca Cosa and Downtown Kitchen + Cocktails downtown, Bianchi's Italian in Marana, El Indio Mexican restaurant on the south side and Athens on 4th Greek restaurant.
Jan. 14 will be the last day that diners can enjoy Fronimo's tart tzatziki drizzled over freshly shaved lamb or beef in the popular gyros or the irresistible Athenian chicken bursting with bright lemon and authentic Greek spices.
Fronimo's has been doing takeout only since restaurants were ordered to close their dining rooms last March to slow the spread of the coronavirus. Even after the state allowed restaurants to resume dine-in with limited capacities in May, the Fronimakises decided to continue takeout only as they watched the state's COVID-19 numbers continue to rise. 
The couple has run the popular Greek restaurant at the East Speedway location since 1995 and had hoped to exercise a five-year extension to their lease last fall. But talks in the summer with their landlord, Scott Kivel, broke down when he proposed increasing the rent by $3 a square foot, a rate that the couple said they couldn't afford in the middle of a pandemic.
Kivel said the increased rate reflects what is being paid by his newer tenants Sprint and Athletico Physical Therapy. 
Last spring, Kivel gave his tenants including Fronimo's rent relief — excusing the April rent altogether and reducing rates by 20% for the months of May through July, according to a letter he sent to tenants that he provided to the Star.
"I think that I was one of the most generous landlords in Tucson to recognize the impact of COVID on small businesses," he said.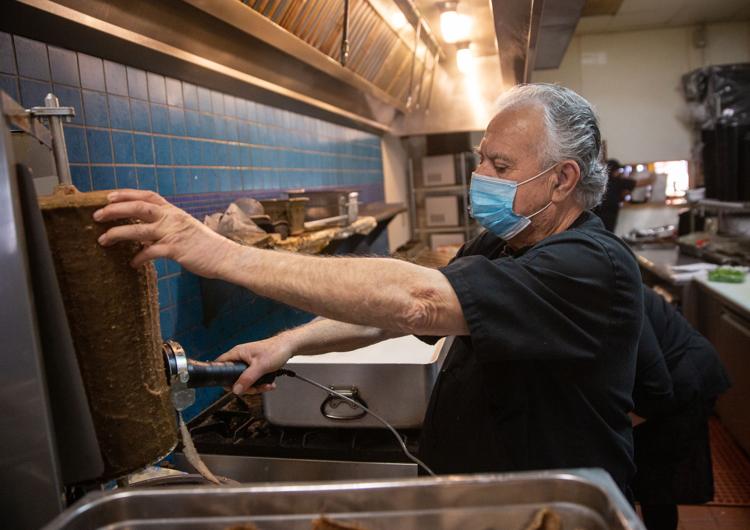 Tracy Fronimakis said that during lease negotiations, she and her husband asked Kivel to keep their rent at its current rate until the pandemic ended, but he refused. So the couple found a new location on East Tanque Verde and Kivel agreed to extend the lease beyond its September deadline to give them time to renovate the new space.
When lease talks broke down on the new space, the couple turned once again to Kivel for time and he agreed to extend the lease through Jan. 15.
Fronimakis said she and her husband are still looking for a new location, one that will likely be much smaller.
"We don't need that big of space," said Tracy Fronimakis, 64. "We have that big dining room and that big space, but we don't need it. I don't see filling it any time soon. My husband is 72; he doesn't want to have a big restaurant. We're just looking for something smaller with takeout and catering, maybe a few tables."