In a year like 2020, when a pandemic gripped the world and restaurants nationwide were closing their dining rooms, two Tucson foodie giants decided it was a good time to join forces.
The grab-and-go restaurant that marries Guerra's artisan breads and Flores' culinary prowess is the first fast-casual venture for Sí Charro, El Charro's parent company, since their short-lived Charro Grill in the early 2000s. And it is a venture that was built on the premise of community and the idea that a pandemic shouldn't stop creativity and collaboration.
"If you don't open new things and you don't accept the challenge then what the heck are you here for?" Flores said last week as her son Ray Flores and Guerra put the finishing touches on Monday's opening.
"I think once people see this, they are going to enjoy it," Guerra said. "I feel so lucky to have fallen into this."
Culinary Marriage
Early last year, before the COVID-19 pandemic settled in and turned the world upside down, Carlotta Flores inked a lease for the 3,600-square-foot, high-ceilinged space that was home to Island Plate Lunch & Bakery. Her son had discovered the space was vacant not long after Island Plate closed in November 2019 and Flores thought it would be perfect for her catering operations.
But Ray Flores had another idea: Team up with baker Guerra, with whom the family had been friends for years, for a COVID-19-friendly, grab-and-go restaurant like nothing they had done before.
"At the end of the day, if you consider everything you can do with a tortilla, we have done. … You just kind of run out of ideas and you start looking at bread," said Flores, who manages the family's nearly 100-year-old Sí Charro enterprise that includes three El Charro restaurants, their downtown Charro Steak & del Rey steakhouse and their northwest vegan-plus restaurant CharroVida.
Guerra and Carlotta Flores needed little persuading. Guerra saw it as a chance to fulfill his dream of being part of a restaurant. Carlotta Flores saw it as an opportunity to finally partner with a man she had admired since he first started baking artisan breads from his garage in 2009.
A dozen years ago when Guerra was baking in his garage, Flores wanted his breads for her family's restaurants. But Guerra was a one-man show in a small space; there was no way he could fill that sort of demand.
So Flores bided her time and admired Guerra from afar, waiting until his operation caught up with his ambition.
As Guerra gained a regional following that prompted him to move his Barrio Bread bakery to Broadway Village in 2016, Flores courted his friendship. They bonded over their devotion to locally sourced philosophies — Flores uses produce grown by Tucson schoolchildren in community gardens; Guerra champions locally grown heritage grains including Sonoran white wheat whose origins go back hundreds of years to Father Kino.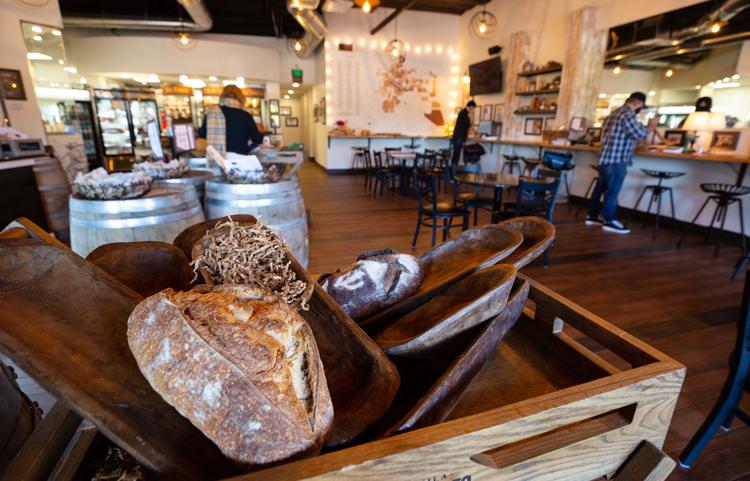 They also shared a deep sense of community and the need to support one another especially in a year like 2020.
"I was reading his bio and I realized he has Irish roots the way I do and there are so many similarities in our background," said Flores, who took over El Charro from her aunt more than 50 years ago when she was a young mother in her early 20s.
"Carlotta saw something in me," said Guerra, a University of Arizona graduate who taught in the Tucson Unified School District for seven years before launching his bakery. "I think our strength is knowing our community and our community knowing us. This is a chance to celebrate the community and offer some bright light in a time that's been a little dark."
A Pandemic Friendly Venture
Monday's grand opening follows months of planning every detail of Barrio Charro, from the framed articles on the walls that tell Guerra's and Carlotta Flores's stories to the socially distanced high-top tables for dine-in.
The idea was to create a restaurant that fit COVID-19 times. Everything on the menu, curated by Ray Flores and his chef, Julian Alarcon, and overseen by Carlotta Flores, can be eaten on the go. Painstaking details include packaging the Tucson Tlayudas — pizza-sized Mexican street tostadas on a large corn tortilla from local maker Alejandro's — in an aluminum container to keep them warm and creating a more sturdy torta roll for Barrio Charro's tortamanos.
Guerra's house Azteca roll is made with his signature heritage Sonoran white wheat and corn flour and is more dense than the classic store-bought bolillo that most restaurants use for tortas. The result is a roll that holds up to the juicy birria in the Pueblo Quesabirria tortamano or the carne asada in the Armando's Asada.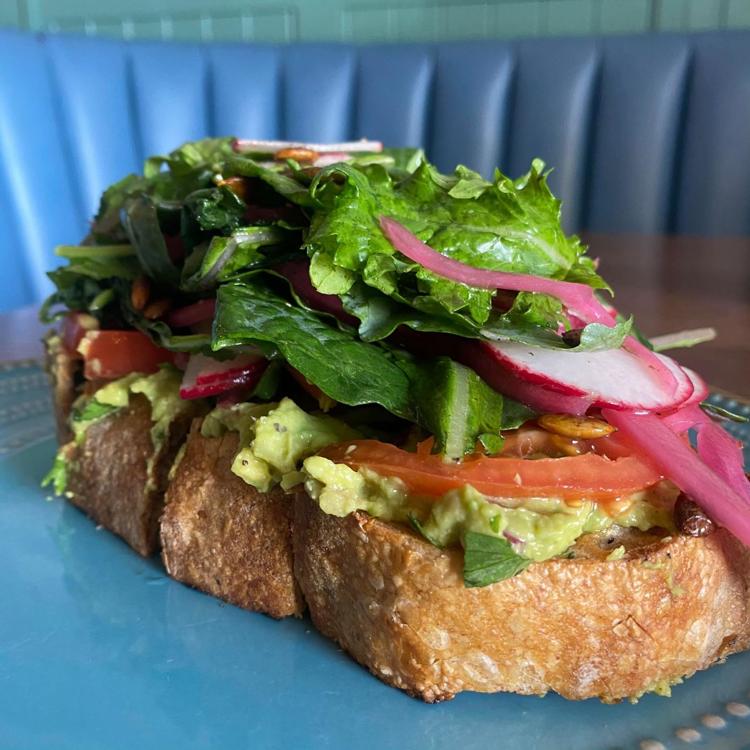 Sandwiches take their names from Tucson's 145 designated neighborhood associations, which are displayed on a giant map on the wall near grab-and-go cases offering fan-favorite Carlotta's Kitchen tomato basil and chicken tortilla soups, creamy El Charro refried beans, sandwiches and other packaged offerings.
In addition to the Azteca, Guerra created a pan rústico used largely in the breakfast sandwiches; and a chipotle and green chile focaccia called the pan de casa, that customers can also take home from the restaurant's pantry. The menu's Barrio Toasts section shines the spotlight on the breads, pairing them with El Charro beans and whipped butter in the Barrio Anita sampler or with a creamy mound of avocado topped with arugula and a balsamic reduction in the Barrio Santa Rosa avocado toast.
The menu also includes a grass-fed burger on the Guerra's Barrio Rustico bread featured at Barrio Bread, Los Planos flatbread sandwiches that come with crunchy, addictive housemade barbecue chips and a Westside Waffle made from soaking bread scraps in a trio of milks and cooking them in a waffle press. The waffle is served with a decadent banana pecan dulce (think bananas foster) and an airy, sweet cinnamon-sugar whipped cream.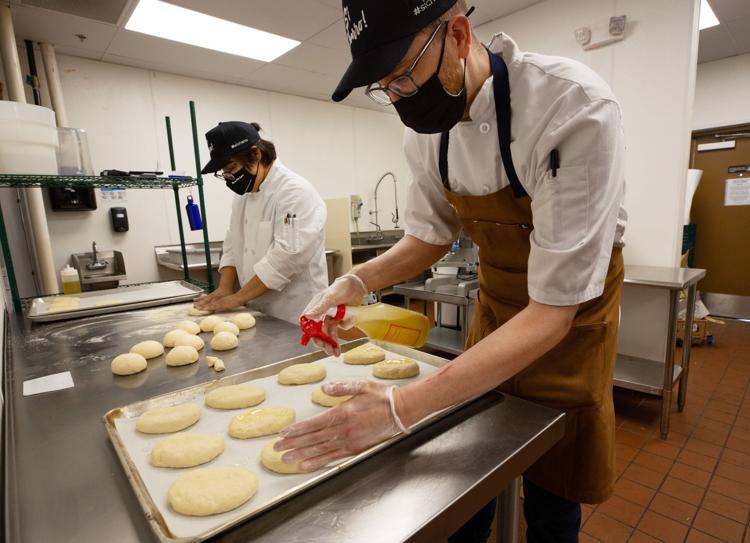 One of the Family
Last Monday, as cooks banged and clanked in the kitchen and Ray Flores pounded a nail to hang the last wall decoration, Don Guerra sat in the dining room of Barrio Charro, taking it all in.
"I'm very excited for the new year," the 50-year-old father of two said.
He and the Flores family aren't looking at Barrio Charro through a strictly financial lens, he and Ray Flores said. Instead, they see the venture as a way to unite the community, from incorporating the products of other makers like Alejandro's Tortilla Factory, Cheri's Desert Harvest fruit jellies and Desert Provisions salts and spices to giving the surrounding neighborhoods a ray of hope that even in a pandemic, life can and must go on.
But for Guerra, the project has a more personal meaning.
From the moment that Ray Flores approached him, Guerra has felt like one of the family.
"I feel like I fit in," said the two-time James Beard Award nominee. "I just kind of slipped in. There was no sort of getting to know everybody ... I just jelled with them right away."
The feeling is mutual, said the 74-year-old Carlotta Flores, whose El Charro Café was also a James Beard nominee.
"I saw him today and he was walking in with some bread and when I see him and when he sees me, there is no awkwardness," she said. "It just flows. There's such a comfort level and when I say goodbye, I feel like I'm saying goodbye to someone I love."
"He's just a super-cool guy," added Ray Flores. "We had a negotiation to get here, but it was always one with respect. I wish it were more like that in the world. … We just had good vibes. We just clicked."
If you go
Hours: 8 a.m. to 3 p.m. daily