We're doing our best. 
That's what I think a lot these days, walking into a restaurant and seeing servers in masks and face shields commanding the room. I think it when I'm sitting in the car, opening a container of spicy scallop sushi and using the armrest as a table for my wasabi soy sauce. I think it at home on my computer when a chef calls me to cry, and I can only offer the same bland acknowledgment: "We're doing our best. Hang in there." 
But sometimes our best is pretty, freakishly amazing, you know? I say "freakishly" because how else do you describe ramen noodles topped with fried chicken, eaten on a bench in a random parking lot next to the Youth on Their Own building? It's freakishly amazing, that's what it is. And yes I'm saying this out loud while I'm writing it. Because I'm doing my best too. 
The main question here, is how do you create a "best dishes" list when half the food you eat comes in plastic? This pandemic has taken the rules of restaurants and screwed with them; It's put everyone on an uneven playing field based on patios, room sizes and the ability to pack your life's work into boxes that will travel to someone's house and miraculously still taste good. It's not fair, and neither is a typical "best of" list. 
So I offer you this: A personal, yet outward-looking diary of Tucson's (and my) best food moments of 2020. I have spent the year eating cheesesteaks in parking lots, ruminating on why restaurants are so important to us. It's not just about the food. That's not why we do it. Restaurants are about connecting with other people. And right now, our service industry folks are doing the best job they can keeping us connected, even while they're falling apart at the seams. So let's celebrate them. 
Thank you, thank you, thank you to all the people who fed us this year, literally and metaphorically. I don't know how you did it, but even from six feet apart, you reached into our bellies and touched our hearts. 
Yeah on second thought, that actually sounds kinda gross, so here's the list. Don't hate me! 
Khao Soi chicken noodles from Tuk Tuk Thai
2990 N. Campbell Ave., suite 130, Phone: 520-777-7888, Website: tuktukthai2990.com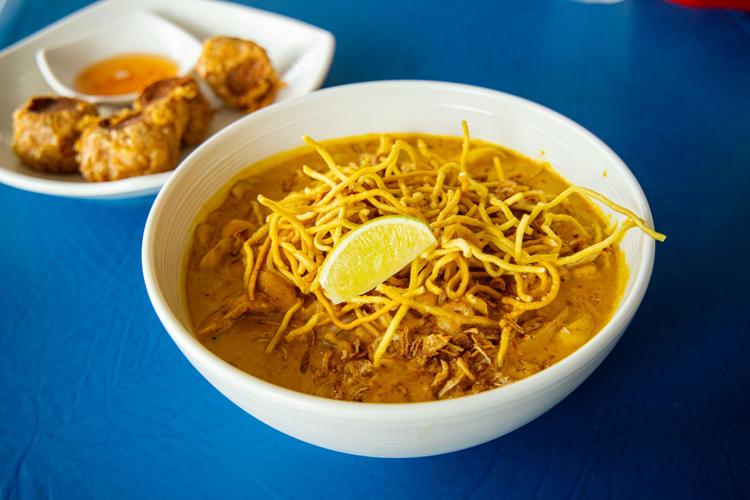 How many foods make you cry? At Tuk Tuk Thai, that answer is three. Not that I cried three times consecutively, but those three foods one after the other led to a finale of water works. (It's okay, I didn't get to see the water show at Disneyland this year, so now I'm good.)
What am I talking about? I'm talking about a plate of Asian meatballs that look like giant barnacles. I'm talking about mango sticky rice where the rice part is purple. And most importantly, I'm talking about these crispy noodles that swim in a velvety coconut curry, made from scratch. Like seriously, who came up with the idea to put noodles and curry together? Are they a genius?! Probably, but also they may just be from Northern Thailand, where the food is unbelievably good. And Tuk Tuk is now my favorite place in town to get this stuff. And props to them, the curry was just as delicious in the takeout container as it was on the patio. You don't get to ride the tuk tuk though, just your car.  
Other notables: Around the time my nephew was born this year, an incredible new restaurant opened up near Tucson Medical Center on Grant and Swan. Pho Ngan is making all sorts of rare Southern Vietnamese delicacies like rice flour crepes and giant pyramid-shaped dumplings made from glutinous rice flour batter. Over on Speedway, a new joint called eHotPot turned me on to the wonders of Taiwanese food, with its bento boxes and crispy pork chop.  And up by the Tucson Mall I fell down a Hong Kong rabbit hole after eating chicken wings at the 81 Hong Kong Cafe, which inspired me to watch "Chungking Express" and download Cranberries covers in Mandarin. And lest we forget my true love, mainland China: The Sichuan chicken wings at Noodleholics are outstanding. 
Chicken with African spaghetti from Nur Market and Restaurant 
3565 E. Speedway, suite 171, Phone: 520-881-6333, Website: nurmarketaz.com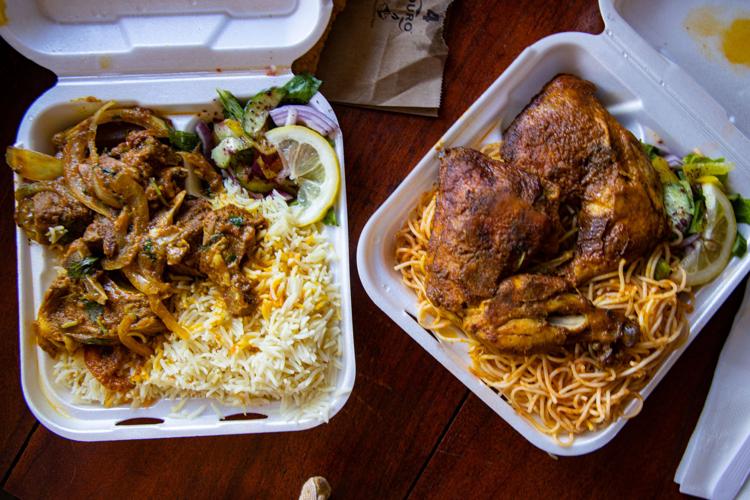 It was a good year for chicken. (Or maybe it was a bad year?) I just say this because three out of 10 dishes on this list are poultry. And this one is of the roasted variety, which means pure comfort food ... Somali style. But to be honest, the best part about this dish is the spaghetti. Yes, the chicken sits on a bed of spaghetti, which is actually a popular street food in the East African country of Somalia.
There you might find the dish paired with a side of banana, but the folks at Nur Market give you these fruity red and green chile pepper sauces as condiments. I could not believe the amount of flavor coming out of this little restaurant window, tucked inside a small African foods market on Speedway. This place is not new, and you might not even call it a restaurant, but markets like this were hubs for communities in 2020, and they're also a great place to expand your cooking chops. I love them. 
On the topic of markets: Here are some other gems I discovered this year. 1) The outstanding olive bar at Caravan Mideastern Foods, and the Persian ice cream too. 2) The hummus at Babylon which deserves a treatise of its own. But unfortunately the restaurant was closed this week for remodeling. 3) The Filipino shaved ice creation called Halo Halo, available at Nick's Sari-Sari Store. 4) And the barbecue pork from the front window at Lee Lee International Supermarket. Bite for bite, the best food you can eat. Period.  
Butchered meat to your door from Forbes Meat Company
220 E. Broadway, Phone: 520-474-2714, Website: forbesmeat.company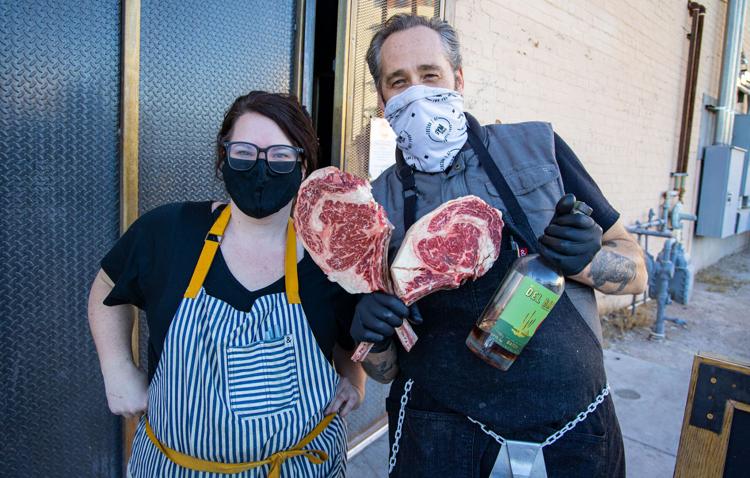 I don't usually include raw meat in a list of the best dishes, but Ben Forbes rocked it this year. This local butcher was always cool, but when the pandemic hit, he took his business on the road, delivering local and sustainable meat to people all over town. (He changed the way we eat, he changed the way we live, he changed the way we treat each other!) And he's still doing it, with free deliveries anywhere within three miles of his downtown butcher shop, in the back area of Thunder Canyon Brewery. 
I stopped by there this week to take this awesome picture of Ben and his apprentice Melissa Stihl, and he hooked me up with a local lamb roast that I'm about to cook tonight for Christmas Eve dinner. Not only did he cut it for me on the spot, but he even gave me a recipe on how to cook it. Even though we're not doing gourmet as much these days, food artisans like Ben bring the quality, and make us feel taken care of. 
More creative market vendors that fed us this year: We can't talk about farm-to-table without mentioning Erik Stanford of Pivot Produce, who developed a direct-to-consumer CSA box this year. He talks about it in this wonderful video that my colleague Johanna Willett helped put together. And while we're on the topic of CSA's, I have to thank Tucson CSA for providing me with a regular diet of roasted beets and leafy greens this year. I don't even have a subscription, but my neighbor Rachel does and it's keeping both of us fed!  
Chicken sandwich from Toss Fried Chicken and Ramen 
1655 S. Alvernon Way, Phone: 520-367-4183, Website: tossfriedchickenandramen.com
I remember when this thing came out. It was June and hot as a minor bad word that I hesitate to print in this PG-13 list. I thought, "Please God, send me something to be happy about!" And then the chicken sandwich appeared, and with it, a takeout bowl of ramen that was separated into two compartments. The broth was on the bottom, and the dry ingredients were nestled on top in a well-presented manner. This was my introduction to takeout ramen, a journey that would sustain me throughout the year. 
Toss Fried Chicken and Ramen does both, and they do them very well. The picture at the top of this article is a fried chicken ramen with the purest, most flavorful salty chicken broth imaginable. I liked that, but the chicken sandwich here is my favorite. And that's because, who doesn't love a good fried chicken sandwich, done Japanese style with shichimi pepper. Even when it's really hot outside, somehow it works. 
And now I feel guilty: Because I haven't mentioned my good friend Peter "Pops" Yucupicio of Pops Hot Chicken, who moved his chicken sandwich spot into American Eat Co. this year and added some crazy menu items like hot chicken mac and cheese. And speaking of the southside foodhall, I also have to give props to Mariscos El Bochas, which is turning out some of the freshest and most creative Mexican seafoods in Tucson. And I also had a bomb sandwich recently from GM Kitchen 86, which is run by a former resort chef Jorge DeLeon.
Quesabirria tacos from El Taco Rustico
2281 N. Oracle Road, Phone: 520-623-3478, Website: tacorustico.com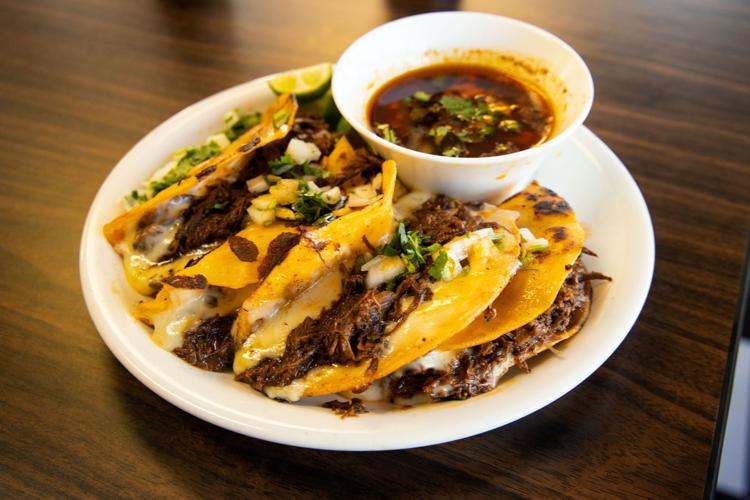 How often does a taco make you want to get on a bus and drive through Texas to a little city in Coahuila where you can see whole goats through the windows of stores? Once, my friends. Okay maybe twice, or every time you eat the tacos from El Taco Rustico. That's because the owner Juan Almanza is so charismatic, especially when he tells you about his hometown of Torreón, where he learned to make cabrito. (This Northern Mexican delicacy was recently celebrated in an episode of "The Taco Chronicles" on Netflix.) 
But enough about the goat meat tacos, because this entry is about birria. Beef birria, actually. It was a trend this year, big ... Everybody was making it, and I tried almost all of them. Juan's were the best, and the simplest too, all about the texture of the melty cheese and the juicy shredded meat, nestled inside that crispy tortilla. One recommendation: Get these tacos to-go and eat them as soon as you can, in the parking lot. You want these babies fresh. 
On the subject of Mexican food: I also really enjoyed the cheesy birria tacos at Rollies Mexican Patio. But I have a better memory that included rolled tacos doused in buffalo sauce, during a lovely patio lunch with Phoenix New Times reporter Chris Malloy. Down the street, the iconic Tacos Apson is expanding their business and opening second locations in Marana. Their takeout platters are killing it right now. And also, I got to try the Agua Prieta specialty pollo estilo Copa Cabana for the first time over at La Fresita. This giant box of fried chicken was one of the food highlights of my year.   
Pumpkin pie from Sydney's Sweet Shoppe
8969 E. Tanque Verde Road, suite 209, Phone: 520-777-7133, Website: sydneyssweetshoppe.com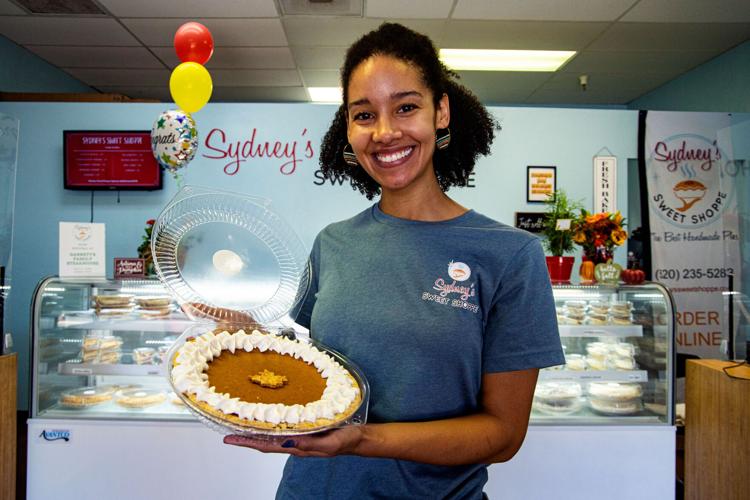 2020 was the year of the caterer, that small businessperson with a passion for food and an entrepreneurial spirit, who makes it work with little capital or resources. Small business directories like #BlaxFriday amplified these voices, showing our community that Tucson is full of talented chefs working outside of restaurants. Sydney Adams is one of these people. She started off baking pies in a commercial kitchen and selling them online, eventually partnering with restaurants like Garrett's Family Steakhouse.
And this September she opened a pie shop of her own, where she bakes fresh fruit pies, pecan wonders, creamy creations and more. I got to taste a few during her grand opening, and my favorite was the classic pumpkin pie. She sold me a slice and put it in a little pie-shaped plastic container, which I whipped open in the car and devoured immediately. Sweet!  
Pie stuff: My mom makes the best pies in the world, so it's been hard not spending a ton of time with her during the holidays. Thankfully lots of Tucson bakers had me covered. Tucson's kosher bakery Nadine's sold me a wonderful pumpkin pie over Thanksgiving, and also some fresh rolls made from challah bread. I hit up Beyond Bread's pie shop Back Dough on more than one occasion, and this Christmas I'm digging into a homemade apple tart from local caterer Everything Tart. It looks so beautiful, I can't wait. 
Gourmet takeout from Feast
3719 E. Speedway, Phone: 520-326-9363, Website: eatatfeast.com
Doug Levy is my man. Just look at this picture. It's him, a struggling restaurateur in the middle of a pandemic, donating food to frontline workers at a local hospital. Of course Feast wasn't the only restaurant that stepped up and did this. In April, the pages of this website were flooded with similar heartwarming stories, like Welcome Diner and LaCo preparing meals for unemployed service workers. Tucson Food Share working out of a closed Tallboys to put together free grocery bags. Janos Wilder, who was eventually forced to close his celebrated restaurant Downtown Kitchen + Cocktails, spent the spring prepping 1,400 meals for healthcare workers.  
This was the biggest story of 2020, and it makes me so proud to write about the Tucson restaurant industry. But back to Feast. Not only did their army of "Feastlings" help the heroes of this crisis, but they also figured out how to do gourmet in the age of the pandemic. Doug was especially proactive when this thing started, asking his servers to deliver meals like beef Bourguignon straight to people's doorsteps. I had one of these meals on a particularly depressing day, when I had been all alone quarantining for a week. I popped open that bottle of moderately priced French wine that they dropped off outside my door, and I thought for once, "This is kinda cool!"   
Spicy Gyokai Tsukemen from Kiwami Ramen 
4610 E. Speedway, Phone: 520-372-2838, Website: kiwami-ramenbar.com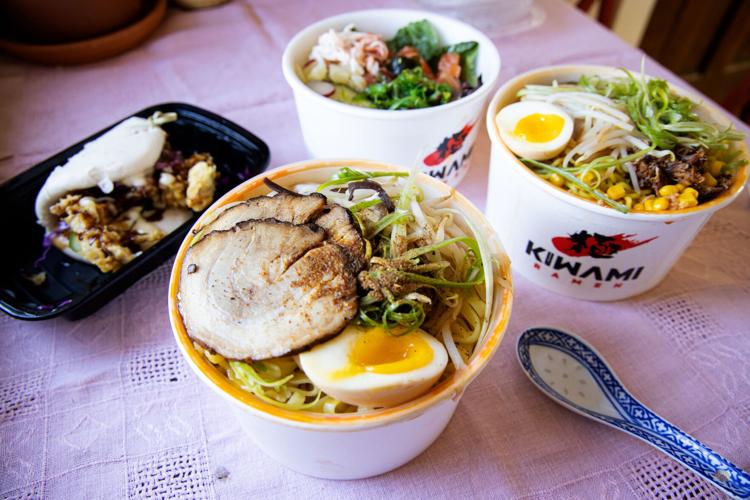 I have to admit, the first time I ate this, I mixed up two different dishes and accidentally poured the broth and the noodles together, which isn't how you're supposed to eat this ramen. It was a big bummer because I've been waiting to try Tokyo-style tsukemen dipping noodles for several years now. But that's what happens sometimes when you're getting your ramen from a drive-thru, and filming yourself eat it while taking pictures and thinking thoughts you're supposed to write for thousands of people!
Fortunately, I went back a week later and tried the tsukemen dipping noodles on the patio, where they were presented in two separate bowls for the dry ingredients and the spicy broth. They were fantastic! The coolest thing about Kiwami, aside from the fact that it's in an old Jack in the Box and has a ramen drive-thru, is the fact that it makes different noodle shapes for every bowl. The tsukemen are my favorite because they're thicker and wavier. But I also really enjoyed the signature spicy Kiwami Aka ramen, with the thin noodles that were much more delicate. 
Since this list is all about ramen: I can't not mention my favorite northside joint Ikkyu. Over the summer I was going there pretty much every weekend. I would order their cold ramen noodles and a scallop dynamite roll on the side, and eat them in my car at the Lee Lee's parking lot. I was also overjoyed when Obon opened back up downtown, and hit them up for some takeout tonkotsu ramen, the dish they're known for. That and a bottled chiltepin cobbler from the bar. 
Roman pizza from Posto Sano Foods
6370 N. Campbell Ave., suite 160, Phone: 520-638-6182, Website: postosano.com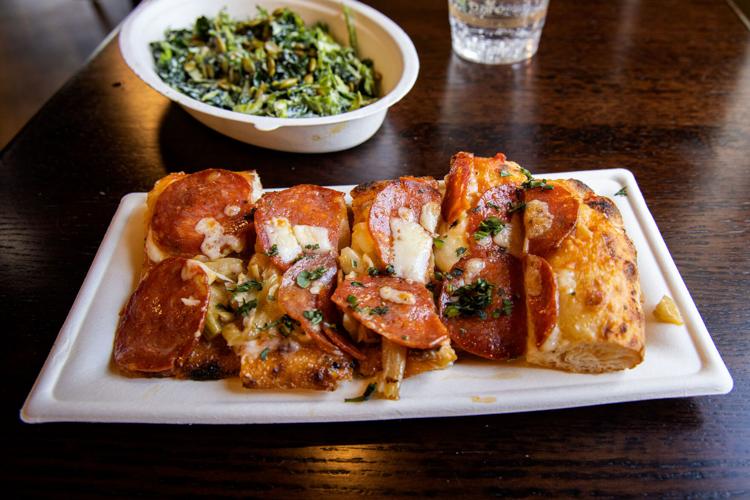 Posto Sano is the most underrated item on this entire list, and I'm including them here to make sure they stick around. Because I love this pizza. And I love the restaurant too, which is located in a revolving space on the southeast corner of Campbell and Skyline. Every time I go in there I feel like I've stepped off the streets of some major European city and walked into a cozy cafe. (It might be because they serve sparkling water for free.) 
This picture was actually taken before the pandemic in February, but as you can see, the casual takeout concept totally works! You order from a screen and out comes your Roman pizza, soft and fluffy like focaccia bread, with a crispy edges and the most delicious toppings. Posto Sano is my new favorite Daniel Scordato concept, and I've spent many Valentine's dinners digging into shrimp lasagna at Vivace. This can be romantic too, if you love yourself. 
More of my favorite pizza spots: Everyone knows pizza was the #1 food of 2020, so here goes. I survived on a regular diet of Rocco's thin crust this year. But I decided to go big on election night with a meat lover's pizza from Fresco, just in case I needed comfort food. And once Time Market opened back up again, my neighbor Rachel made the fig pizza her Sunday night dinner ritual. I would make a salad, and sometimes bring some cheeses and ...
Bread! From Time Market 
444 E. University Blvd., Phone: 520-622-0761, Website: timemarket.xyz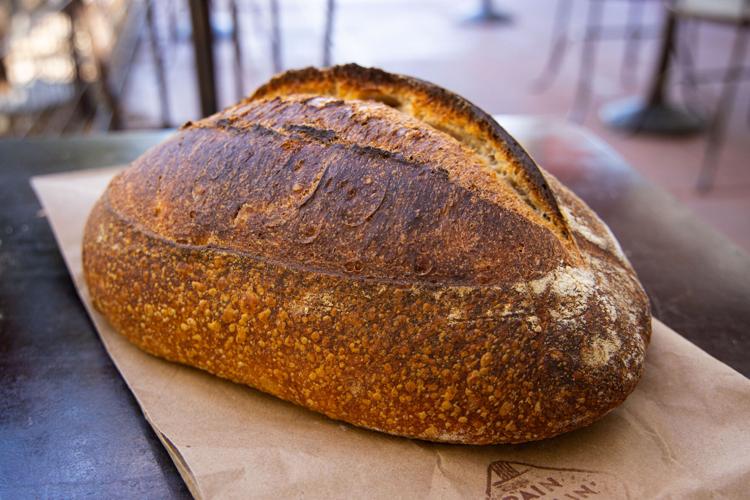 It's what I ate for breakfast and lunch today. Bread, it's what's for dinner. Especially right now, when everyone's got a baking hobby. Seriously, I am so impressed with all the stuff people are doing on Instagram. I have no idea how to bake, but kudos to you, with those slow-motion baking videos. 
But really though, it's not about the bread, the walnut loaf or the baguettes or that fresh-baked pain levain Time Market puts out every day. I go to Time Market because it makes me feel good. I can be around hip looking people and still feel safe, because the campus-area market has done an excellent job keeping the space clean and socially distanced. My #1 pandemic routine has been grabbing a coffee at Time Market, picking up some bread and maybe a soft cheese to eat for dinner. Thank you for being there for me, and all of us. 
Wait what?! She didn't say Barrio?: Okay everyone, calm down. I love Don Guerra as much as the next person. And I'm especially excited for his new restaurant Barrio Charro, with the folks from El Charro. He's the master, no question. I also dug the bread scene over at August Rhodes Market, by the Prep and Pastry folks. The bakery just debuted a monthly subscription box through Table 22, where you can get a regular supply of those wonderful English muffins for breakfast. And now, just like you were waiting for, my food writer mention of avocado toast. You thought we were done with that, didn't you!? Haha!!! Gotcha again ...