An ice-cold margarita tastes better when paired with Tucson's picturesque sunsets and scenic views.
With the perpetual warm weather and desert landscapes, it's nice to unwind with a drink outside. Luckily, Tucson has several options for people to sip on a cocktail while enjoying what mother nature has to offer.
Whether you want an aesthetically pleasing place for Instagram pictures or you want to fist pump to live music, below is a roundup of rooftop bars in Tucson.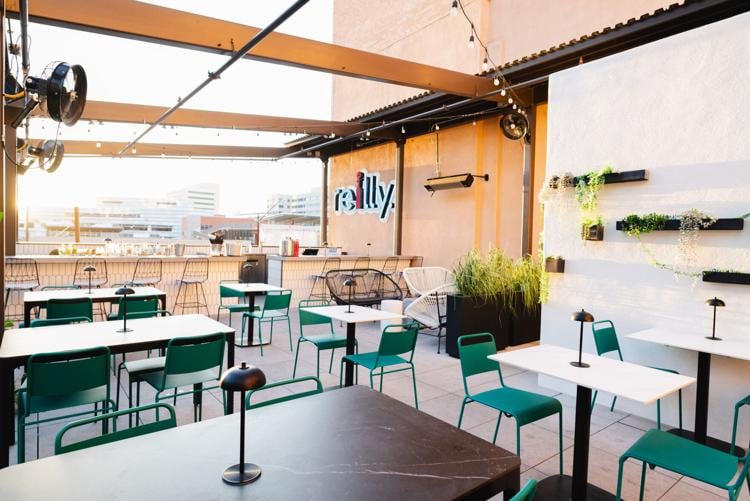 Reilly Craft Pizza & Drink
This pizza and pasta restaurant already features a beer garden and basement speakeasy; now add a rooftop bar to the list. The recently opened bar overlooks downtown Tucson where patrons can get a drink or a bite to eat. Just like the beer garden, the space is first come, first served. Since the bar is 100% open air, if it looks like rain or high winds are in the forecast, the bar will close.
The Moonstone
On the 14th floor of The Graduate Hotel, you'll find The Moonstone. Decorated with dreamcatchers, fire pits and quirky seating, grab a drink at The Moonstone where views are hard to top, giving patrons a glimpse of the University of Arizona campus and beyond. Food and appetizers are also available to order along with the bar's wide variety of beer, wine and cocktails.
Playground Bar & Lounge
After closing its doors for 2½ years, Playground Bar & Lounge reopened with a bang in 2022. Head up the stairs to the rooftop bar where you can soak up the downtown Tucson views while sipping on drinks like sangria and espresso martinis. Take your French toast outside on Sundays and indulge in their brunch options or put on your dancing shoes and dance the night away on weekends.
The Boxyard
Now this may be cheating, but The Boxyard has a balcony that puts you above others ... it's technically like a rooftop. The Boxyard is a mini food court with vendors that make a variety of foods and drinks from bacon-wrapped burritos to a cocktail dubbed Tucson Gatorade. Pair those with a lively atmosphere, string lights and bright blue furniture and you're sure to have a great time.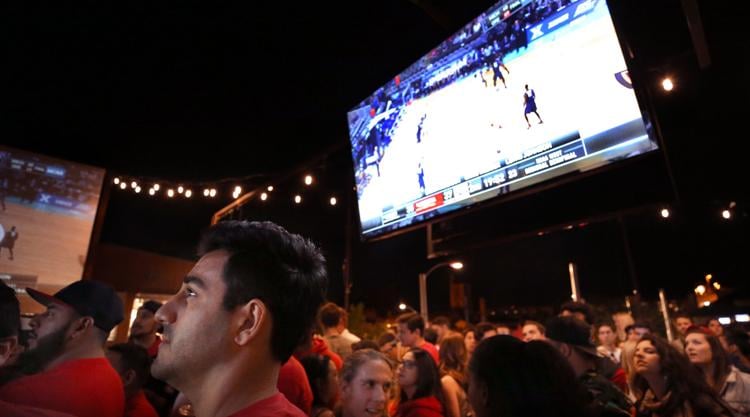 Gentle Ben's Brewing
Since 1971, Gentle Ben's has been the place for college students and University of Arizona fanatics to unite. While its rooftop bar isn't always open, you can usually enjoy it on Saturday afternoons for Deck Day, where it's jam-packed with dancing students and a live DJ. The best part: you can head downstairs for a meal after a few drinks.
Illegal Pete's
Got some time to spare before a UA game? Head to Illegal Pete's for a prickly pear margarita (one of my favorites in the city). While their rooftop bar is smaller than the ones listed above, it's still a great place to grab a drink and look over the bustling University Boulevard.
The Neighborhood DWTN
Known for their award-winning micheladas, this downtown bar serves over-the-top decorated drinks with the option to enjoy them outside at its rooftop bar dubbed Lust. Starting at 10 p.m. Thursdays through Saturdays, the rooftop seating area opens for anyone who wants to overlook Tucson's lively nightlife. If you're looking to let loose and dance to some Bad Bunny, The Neighborhood is up your alley.