In the Old West, cowboys held conversations by campfires, telling tales in solitary surroundings while their cattle slept and coyotes howled in the distance.
Today, modern cowboys like Russell True and H. Alan Day use technology to broadcast those chats about life in the West to devices around the world.
Every Monday, True, owner of the White Stallion Ranch in Marana, and Day, a longtime cattle rancher in Southern Arizona, meet to record "The Cowboy Up Podcast," a 360-look at Western life, both now and in years past.
Coming up on 50 episodes and nearly a year of recordings, "Cowboy Up" has covered a wide swath of topics ranging from trick roping and travel writing to frontier women and wild-horse photography.
Guests are welcome like long-lost friends in from the trail.
New Mexico artist Thom Ross, known for his larger-than-life re-creations of Western scenes, spoke on a recent episode about his interpretive painting of lawman Pat Garrett's pursuit of the outlaw Billy the Kid.
Other folks on the pod have included writer Bill Markley, photographer Jan Drake, hat maker Jimmy Harrison and Brian Downes, executive director of the John Wayne Birthplace and Museum in Winterset, Iowa.
Day and True play off of each other, asking questions of their guests and sprinkling in stories about their own experiences.
The podcast, which drops new episodes at high noon each Saturday and is available for free on several streaming services, including on Apple Podcasts at tucne.ws/1hrd, has an estimated 1,500 listeners a month from places as far-flung as Switzerland, Saudi Arabia, France and Germany.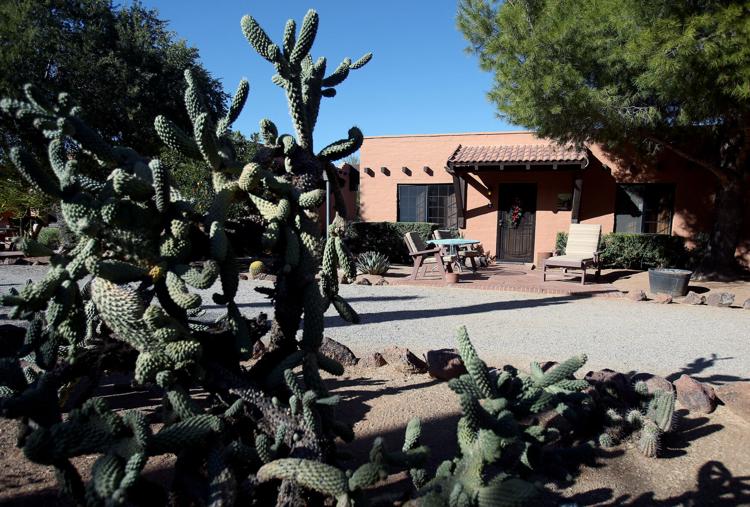 "We try very hard to keep the podcast entertaining," True said. "That is the key to getting listeners to appreciate the West and what we do. If we are not interesting, that won't happen."
Neither True nor Day find themselves short of stories when recording episodes.
True was just a boy when his parents, Allen and Cynthia True moved the family from Colorado to Tucson in 1965 to escape the cold.
Allen True was born in Wyoming and raised in Montana but he was not a rancher, Russell True explained in the podcast's very first episode, recorded in June 2020.
"My mother reminded him of the fact that being a wrangler for two months at Glacier (National) Park in the summer didn't make him a cowboy," True said. "It just made him a horse roper and a money collector."
Still, the Trues forged ahead and took over the White Stallion, which had been a guest ranch since 1945. Today, it is one of only a handful still operating in Southern Arizona, with 43 rooms and a five-bedroom hacienda, set upon 3,000 acres bordering Saguaro National Park West.
Day's grandfather started the Lazy B Ranch near Duncan, Arizona, a 200,000-acre cattle ranch reaching into New Mexico, where Day grew up with his two sisters — former state senator and Pima County Supervisor Ann Day and former Supreme Court Justice Sandra Day O'Connor.
Sandra and Alan wrote a book about the ranch, "Lazy B: Growing up on a Cattle Ranch in the American Southwest," in 2002.
Alan Day managed the ranch for 40 years, and also owned ranches in Nebraska and South Dakota before retiring in 1996.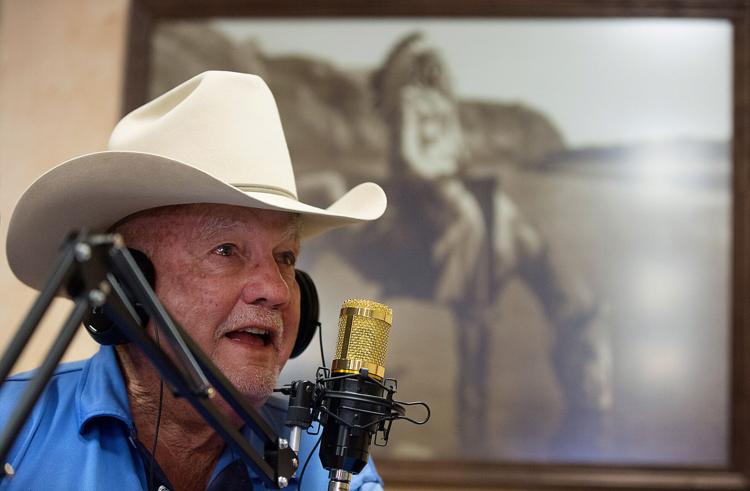 "I have done cowboying all my life," Day, 81, said. "Both (Russell and I) have that background. We have a pretty big library of stories between the two of us."
Local radio producer Stan Hustad, who runs a podcast production business called The What it Takes Radio Company, had been pitching a cowboy-themed podcast to True for several years.
"Storytelling is the only effective means of communication," Hustad said. "If you want to affect people, you tell them stories. I knew they were storytellers. I knew we had real radio."
The pandemic pushed True to consider the podcast, but "I didn't want it to be a vanity project," he said. "I needed somebody else who had a draw, who was interesting and who could work with me."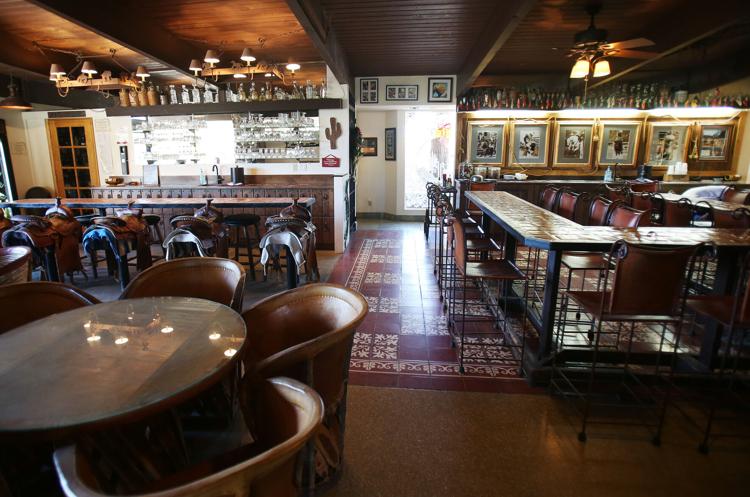 Day, who didn't know much about podcasting before joining the show, fit the bill.
Day liked the idea of sharing tales of the West and learning a thing or two in the process. His publicist, Lynn Wiese Sneyd, who also serves as a literary consultant for the Tucson Festival of Books, helps put the show together.
"The more technology we get, the more nostalgic we are to look back at cowboy things," Day said. "It was and still is a simpler way of life."
Episodes, which run 30-50 minutes, are recorded in one of the community rooms at the White Stallion Ranch.
Russell said the podcast allows visitors from all over, including those who have been unable to come and stay at the ranch because of the pandemic, the ability to tap into the Western way of life from their living rooms.
"We normally get a lot of people coming here from places like the United Kingdom, Europe," True said. "For people from those areas, the rural west, Arizona, New Mexico, Utah, symbolizes what makes America different."