Anxiety and depression have been a part of Paola's life since she was 10 years old.
Her anxiety would cause her to overthink worst-case scenarios, but antidepressants helped. When the coronavirus pandemic started, those thoughts got worse.
Paola began to fight more with her boyfriend. She was convinced that he did not love her and that he was only staying with her because of the kids.
"So I thought, 'hey, if I'm not alive I don't have to worry about any of this. I can just 'sleep' forever," said Paola, who asked that her last name not be used in this story. "When I started thinking about what to write on my suicide note and in my letters to my loved ones, that's when I sought help."
She called COPE Community Services, a behavioral and physical health clinic, and was evaluated and diagnosed with depression, anxiety, PTSD, and bipolar and OCD tendencies. She was prescribed more medication and started therapy sessions, which she says have helped.
When the coronavirus began to affect Arizona residents, AHCCCS, the state's Medicaid program, applied for a federal grant. The state received $976,751 to create a crisis counseling program in response to the pandemic. The program, Resilient Arizona, managed through the Crisis Response Network, served 2,822 people from April 30 to Sept. 20.
The initial grant funding was set to last five months. Using data and evidence of the need from the initial grant, the state got a second grant of $2.3 million to support the program until June .
Resilient Arizona has been sorely needed because a crisis like a pandemic causes most people to feel some kind of distress, like hopelessness, irritability, fatigue or anger, says Christopher Anderson, manager of the Crisis Response Network emergency management program.
"The prevalence of common mental disorders such as depression and anxiety is expected to more than double during a humanitarian crisis or a pandemic or a disaster," Anderson said. "And then you add on populations that are already isolated and marginalized will experience increased relational poverty as a result of losing their natural and community-support networks."
The goal of the crisis counseling program is to mitigate the effect of the pandemic on people's mental health before it becomes a long-term, diagnosable illness, Anderson said.
"For most people, that distress will improve over time," he said. "But it is estimated that approximately 9% of the population affected by a disaster will develop moderate to severe mental disorder as a result."
The program is free and anonymous. It can be accessed by dialing 211, a statewide help line program the Crisis Response Network manages. The network has contracted with six providers throughout the state, with La Frontera providing services in the Tucson area.
Anyone can use the service, regardless of preexisting conditions, Anderson said.
When a person reaches someone by phone, they are transferred to the provider in their city, a mental health specialist who will work with the person through what they're feeling.
Counselors teach people how to manage stress during the pandemic through coping strategies and can refer them to long-term services, Anderson said.
The services are available in Spanish and English, something Anderson said was important to ensure everyone in the state has access to the program.
He said the pandemic can cause community support networks that once helped people manage their mental health to disappear.
Of the 2,316 people who used the crisis counseling program between April 30 and Aug. 30, about 23% self-identified as Hispanic, and about 10% are Spanish speakers, Anderson said.
'What if we get sick?'
Before seeking help, Paola's anxious thoughts raced through her mind, and she had several daily anxiety and panic attacks.
"What if we get sick? What if we can't work and we can't pay the rent (now mortgage)? What if the internet is turned off and children can't do school? What if my mom, who is high risk, gets sick and doesn't make it?"
Paola says she was afraid to get out of bed in the morning. She was irritated with everyone and everything. She'd quickly lose patience with her three daughters as well as he mother.
Her new medication and therapy have helped Paola see a more hopeful future.
"When I was considering enrolling in school, I explained my entire train of thought to my therapist, and she pointed out that I was thinking about all the negative, but not the positive," said Paola. "She completed (the positive) for me, and I started school a week later."
She has also taken to gardening recently, and employees at her local nursery recognize her now, she says.
"I had never in my life been able to keep a plant alive, and now I'm growing them!" she said. "There is no feeling quite like putting tiny seeds in soil and watching them sprout and grow. I spend hours outside potting and planting and replanting and organizing and fertilizing. It's peaceful to me. I look forward to going out and looking after my plants every single day."
Paola says the staff at COPE were really helpful, but taking that initial step to call for help wasn't easy. She was afraid of what her family and friends would think.
Paola says the stigma around mental health can be especially strong in the Hispanic community. Depression can be seen as an excuse people use to be lazy, and anxiety is often dismissed a attention-seeking.
"I think my background has everything to do with my reluctance to seek help," she says. "There is no such thing as depression or anxiety to Mexican people. At least not the older generation. I like to think us millennials are starting to shake that off."
"The only thing that matters is how hard a person works," she said. "And anything that gets in the way of that is seen as an excuse."
Yazmin Garcia, a peer-to-peer program manager at the National Alliance on Mental Illness (NAMI) of Southern Arizona, has seen that stigma while facilitating support groups in Spanish and providing advocacy for the Hispanic community.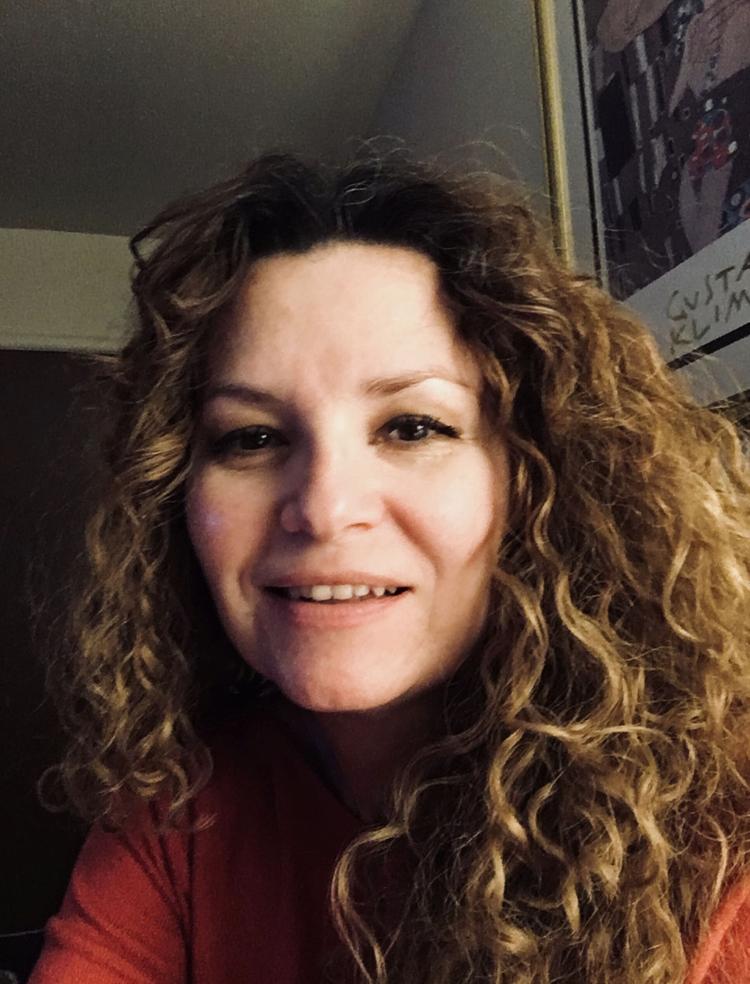 She says people in the support group, usually older Hispanic community members, are reluctant to look for help because it's a taboo.
"It is difficult for them to accept that something is happening with their mental health," she said.
The Hispanic community also has a tendency to prioritize work, and other tasks over caring for their health, whether it's their physical or mental health, Garcia said.
Nationally, about 33% of Hispanic of Latinx adults receive treatment for mental illness annually, compared to the U.S. average of 43%, the NAMI website says.
Latinx and Hispanic communities face language barriers, are less likely to have health insurance and a lack of cultural competence within the medical field may cause misdiagnosis, according to NAMI.
"For instance, they may describe their symptoms of depression as 'nervios' (nervousness), tiredness or as a physical ailment. These symptoms are consistent with depression, but doctors who are not trained in how culture influences a person's interpretation of their symptoms may assume it's a different issue," the website says.
Legal status for undocumented immigrants and the stigma associated with mental health illness are also barriers.
'Unpacking years of historical trauma'
Alyssa, who asked that only her first name be used in this story, struggled with that stigma when she decided to seek therapy and told her mother about it.
She works for the University of Arizona in the health and wellness field and helps others with access to health care, insurance and substance abuse services.
But, despite her experience working to help others care for their behavioral and mental health, it took her some time to seek therapy for her own anxiety and obsessive-compulsive "tendencies," she wrote in an email.
"It finally registered for me that as much as I have been working in the behavioral health field and mental health field, I always supported therapy for other people, but never registered that it was becoming a need for me."
She started therapy about a year ago and says taking the first step to sign up was a challenge largely because of the stigma around seeking professional help that exists in the Latino community.
"It took me a while to sign up for therapy because therapy is seen as a weakness in my culture and family," she says. "I remember as a young adult my family would say negative things about therapy like, 'Therapy is for crazies! Oh, it's just an excuse. They're just lazy. Why can't they be strong? I was!' Insert any negative thing you've heard about therapy here."
Alyssa says her mom even questioned why she felt she needed therapy.
"It was an uncomfortable conversation to defend my investment in my personal mental health," Alyssa says. "She didn't have much to say about it but later warmed up to the idea that therapy is a necessary tool for many people and that included her daughter."
Eventually, Alyssa says her mother sought therapy for herself and recommended it to another family member. She says this has helped improve their relationship.
"This was us unpacking years of historical trauma, and I'm grateful she heard me and took action for her own mental health," Alyssa says.
Before the pandemic, Alyssa and her therapist were planning to reduce her biweekly sessions to once a month but prolonged the change at the start of the pandemic to "prevent a spiral," she says.
She carried the added stress of possible furloughs and concerns for her family's health.
"I experienced a gloom-and-doom reality for a few months, partially because my parents and nephew are high risk. Fear of their death kept me anxious and panicked," she says. "Layer on the social injustices that have always been around finally being at the forefront of our daily conversations, I was struggling with my activities of daily living and to meet work expectations and deadlines."
Mental health is just as important as physical health, she says, which can be a culture shift for many people, especially those in the Latinx community.
"I feel in our Latinx culture women are especially raised to put others first. That leaves us struggling to survive and sees asking for help as a weakness especially for Latinas," Alyssa said. "Something I try to remind our community is we can only help others be OK when we are OK ourselves. That means investing in our mental health from the get-go."