Imagine this: You and your family outside, relishing that fresh, fall air, admiring a local work of art. 
You are not thinking about the election. You are not thinking about COVID-19. You are just enjoying the art and your people and the weather that makes us love Tucson.
Well, good news, friends. This is 100 percent doable. 
We already know Tucson to be an artistic community, and pandemic and politics aside, that hasn't changed. Plus, there are plenty of outside options, so you can take in all the art in a physically-distanced, safe setting. 
As always, remember to take a mask and check safety policies and details with each organization, as things may change. 
Here are five outdoor ways to engage with Tucson's art scene.🎨🎭🖌️
Explore a sculpture garden
The Tucson Jewish Community Center, 3800 E. River Road, has an outside sculpture garden with more than 40 sculptures by local, national and international artists. The garden is open to both members and non-members, but to visit, everyone must make a reservation and follow the Tucson JCC's COVID-19 safety procedures. 
There's no charge to wander the garden, but donations are welcome.
Take a self-guided, neon sign tour
As part of Tucson Modernism Week, the Tucson Historic Preservation Foundation has created a self-guided tour of iconic neon signs. Technically, this is a driving tour, but we say roll down your windows and enjoy the fresh air anyway. The free download of the neon sign guide will be available during the duration of Tucson Modernism Week: Friday, Nov. 6 through Sunday, Nov. 8. 
---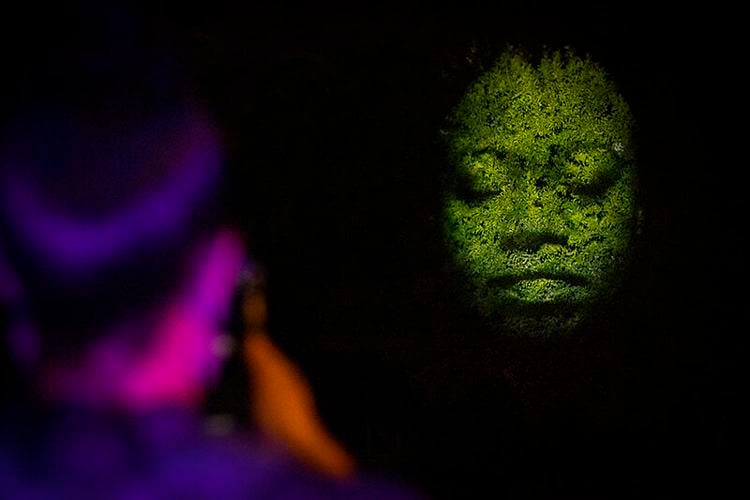 Meet Arizona Arts Live Monuments (Sponsored)
Monuments takes place each night from Oct. 29 through Nov. 29 in the trees of the University of Arizona. Projecting the faces of some of our local heroes in an outdoor environment that allows for physical distancing provides the community an opportunity to engage with and enjoy this work at their own pace each evening.
---
Catch a pop-up ballet performance
Enjoy a pop-up ballet performance outside with Ballet Tucson November through December. Company and youth ballet dancers will perform. Upcoming performances include pieces created for Dia de los Muertos on Nov. 7 and 15 and the "Dance of the Sugar Plum Fairy" on Dec. 5, 12 and 20.
You'll be able to spot performances at the Tucson Botanical Gardens, Tucson Museum of Art, the Reid Park Zoo and St. Philip's Plaza, according to press materials. To watch the shows, you'll just need to purchase admission to the venue and select timed tickets that correspond with Ballet Tucson's performances. No special tickets are necessary. St. Philip's Plaza is free. For more details about timed entries, contact each individual venue.
Find public art near your neighborhood 
One of the joys of life in Tucson is the abundance of public art. We have sculptures decorating street corners and murals adorning walls. In fact, for a few years now, #ThisIsTucson has been keeping track of the murals we spot in a list that has grown to include more than 60 local murals! 
Peruse the two lists and then take a walk or bike ride to the art nearest you. Or, use the lists as a guide to create a personal art tour for your family. 
See a play, drive-in style
You'll park your car at least six feet from other cars and tune in to a radio station that will broadcast music, actor voices and sound effects. If you do choose to sit outside your car, you'll need to wear masks. You can also pre-order snacks. 
Tickets start at $25 per car.