We know Tucson is such an incredibly lovely community. 
And, among the things that makes it so special are all of the places where we gather, enjoy a good meal and admire the surrounding Sonoran Desert. 
This week, Tatum Rochin, the artist behind The Tucson Type, is our featured guest for the second #ThisIsTucson Member Meetup. She'll share some drawing tips and teach you some basics for creating your own custom-icon illustrated maps that reflect the different places that make Tucson home for you.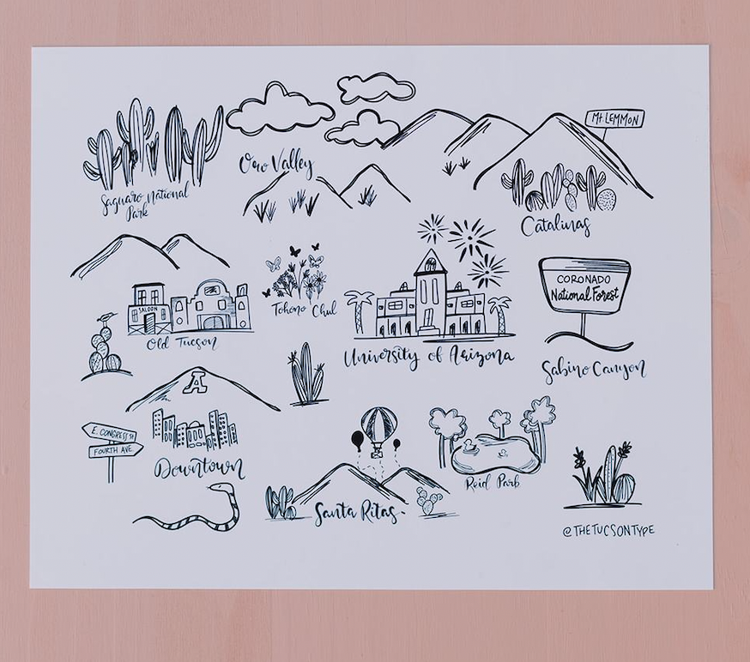 Rochin launched The Tucson Type earlier this year, turning the hobby she took up to unwind from her day job into a business designing decals, tote bags, art prints, a coloring book and more. She's completely self taught and will share some of the things she's learned along her art journey and what inspires her work. 
This virtual event is free for our #ThisIsTucson members. If you're not a member and still want to join the event, you can become a member here. 
Becoming a member supports the work of our five-woman team so that we can continue bringing you stories that connect you to the community and are helpful to your daily life. Researching, communicating and connecting our community are some of our core values, something that has become harder to do as people are asked to stay home and our staffers face furloughs. Our members help keep us strong!
What: #ThisIsTucson member meet up with The Tucson Type
When: Thursday, June 4, 5:30 p.m. to 6:30 p.m.
How to register: If you're already a #ThisIsTucson member, check your email for the Zoom sign up link. If you're not already a member you can join here and we'll be sure you get the invite, too.