For Tucson transplant and hairstylist Emma Laehn, cosmetology is something they've always found their way back to.
When they moved to Tucson from Wisconsin eight years ago, they thought they were done doing hair. 
And even when the COVID-19 pandemic struck, Laehn put a pause on doing hair once again. But every time they think they're finished, there's something that draws them back to the industry — the clients.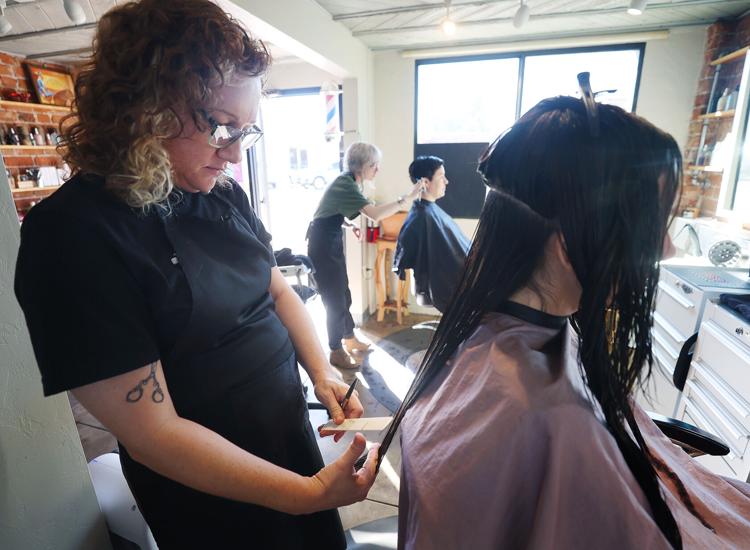 "When the pandemic happened, I stopped doing hair for a while and then I started doing hair in people's yards," Laehn said. "So, I was going to their house and we'd both wear masks and I'd cut hair outside. And I had been feeling like I didn't really want hair to be my everything at that point.
"But I really fell in love with the experience that I was having with my clients. It wasn't rushed and there was no timeframe on it. I was doing one person's hair and then going back home. And the personal experience of all of it just felt really, really nice."
Once the pandemic started to subside, Laehn, like many people during that time, was left with the question: What do I do now?
As a mom and then-full-time student at the University of Arizona, Laehn needed something that allowed a flexible schedule. However, the idea of working for another salon and constantly having to adjust their schedule for school and life didn't seem ideal.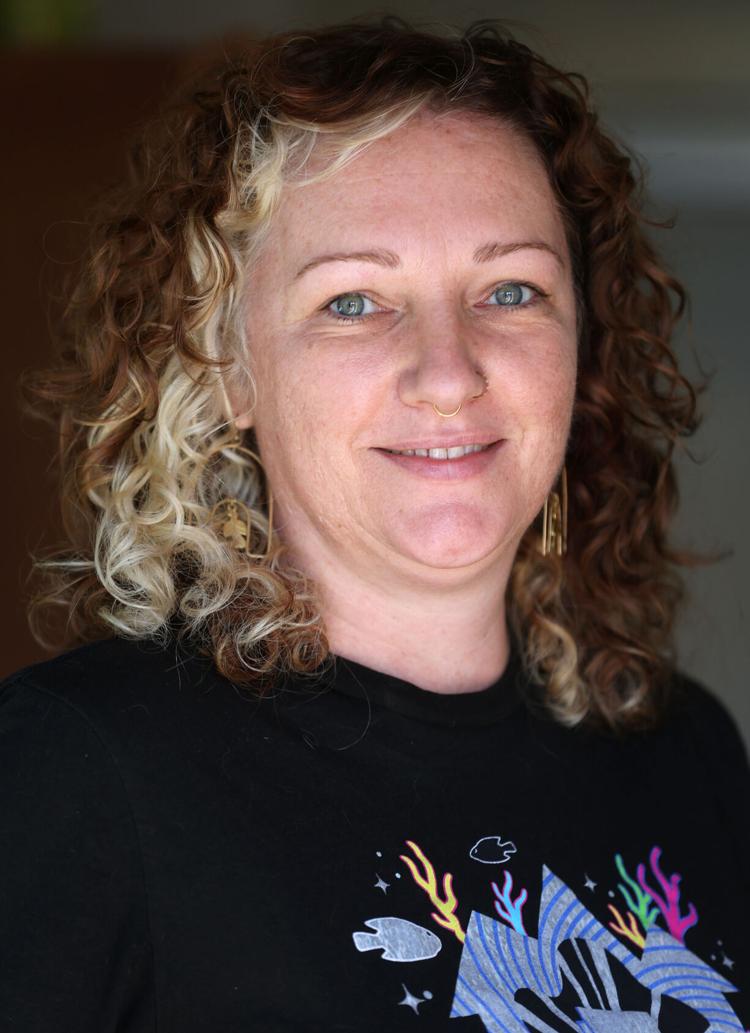 But when Belle Starr Salon on Tucson's west side started selling items from its space, Laehn had an idea.
"Belle Starr has actually been around since 2015," Laehn said. "But they had hit a point where they just were at a crossroads and weren't planning on reopening their space. So right when I started looking for something, I saw their posts that they were selling off things within the space. I contacted them and asked if they'd be willing to just sell the business with everything. We talked about it and a week later, I took over."
Laehn took over the name, social media and salon near St. Mary's Road and Grande Avenue in March 2021. Belle Starr Salon officially moved to its current location at 431 E. Seventh St., off Fourth Avenue, in February.
Currently, the salon has two hairstylists including Laehn, who has been in the industry for around 25 years and was one of the co-owners of a salon back in Wisconsin.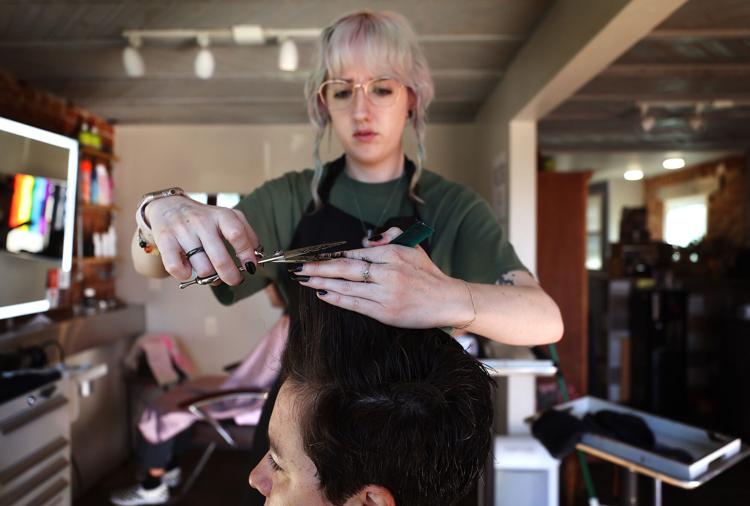 'We just really want everyone to feel like they can come here and feel heard and seen and have good hair'
Before opening Belle Starr Salon, Laehn knew they wanted to create an inclusive and accessible space for all — including the LGBTQ+ community, who make up a big part of their clientele.
"What I wanted was something where people felt really comfortable, that it felt like anybody could come here and that it's accessible for all people," they said.
To reach that goal, Belle Starr Salon offers services like non-gendered haircuts and sliding-scale pricing on haircuts.
Unlike other salons that charge a set fee for a service, Belle Starr charges based on time. For example, if your haircut takes less than the allotted time, the price will be adjusted accordingly. 
Current services offered by Belle Starr Salon include haircuts, haircut refreshes, bang trims, neck trims and color, including fantasy color.
"It's very arbitrary because men's haircuts were always cheaper than women's haircuts," Laehn said. "But men's haircuts sometimes take less time, sometimes they take more time. They're a lot more detail-oriented when it's shorter barbering cuts, so it didn't make sense to price it that way.
"And we're serving a gender-expansive community. So, by saying we have men's and women's haircuts, we are making people choose a category to be in and I'm nonbinary. Most of our clientele is nonbinary, transgender (or in the LGBTQ+ community) and if we're gendering our haircuts, we are excluding a whole group of people. So by making it non-gendered, it makes it more fair for pricing and also makes more people feel welcome to come here."
All services are gratuity-free, too. Instead, Belle Starr hosts monthly fundraisers for local community-centric organizations, such as the Splinter Collective which helps raise awareness about the current housing crisis or The Outlaw Project which helps build tiny homes for transgender women of color. Its most recent fundraiser for Splinter Collective raised around $1,000.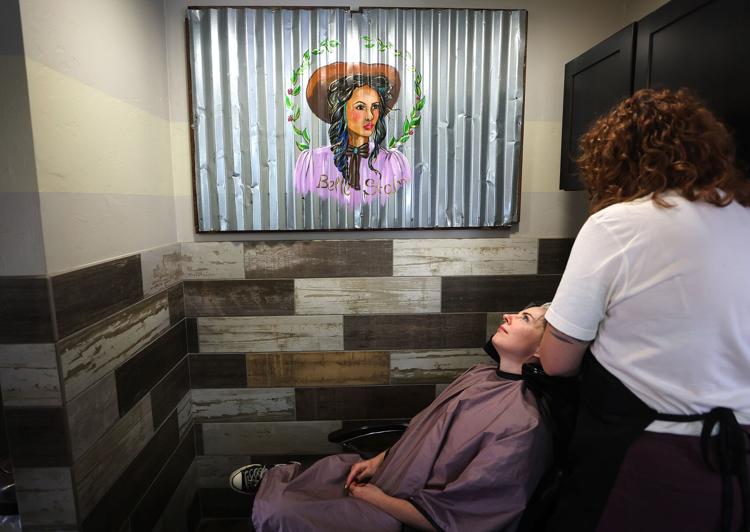 "I've worked in higher-end salons where you're charging a lot of money and it's really only for a set few people. And those people tend to treat you like a service person and not like a human being. I just didn't want that environment anymore," Laehn said. "I wanted something that I felt inspired to be at and that people felt like they wanted to come sit in my chair. And through that, it's become a queer safe space and we try to be very accessible for neurodivergent needs — whether it's that they don't want product used on their hair or they need a quieter space or they want to be in a space by themselves because they're immunocompromised and they still want us to wear masks.
"We just really want everyone to feel like they can come here and feel heard and seen and have good hair."
Since the move in February, the salon's clientele has mostly remained the same except for more people from the university and surrounding neighborhoods.
"I just feel really grateful that this exists, that people want to come here," Laehn said. "I have clients that I've had for a while say, 'I'm hearing really good things about your salon from friends.' It feels really awesome to hear those things and that we're making people feel good and making people want to come to us."
To make salon services even more accessible to the community, Belle Starr Salon offers pay-what-you-can haircut days on the second Sunday of every month. The haircuts are first come, first served, typically from 10 a.m. to 2 p.m. Whether you can pay half the price of a regular haircut or $5, no one is turned away for a lack of funds.
"I really wanted people who can't afford those prices to still have the opportunity to have a haircut that makes them feel good," Laehn said. "So doing that once a month felt like a way to make sure that I'm still giving everyone an opportunity to get their hair done."
The next pay-what-you-can haircut day is from noon to 4 p.m. on Nov. 19. This month's event starts at noon instead of the usual 10 a.m.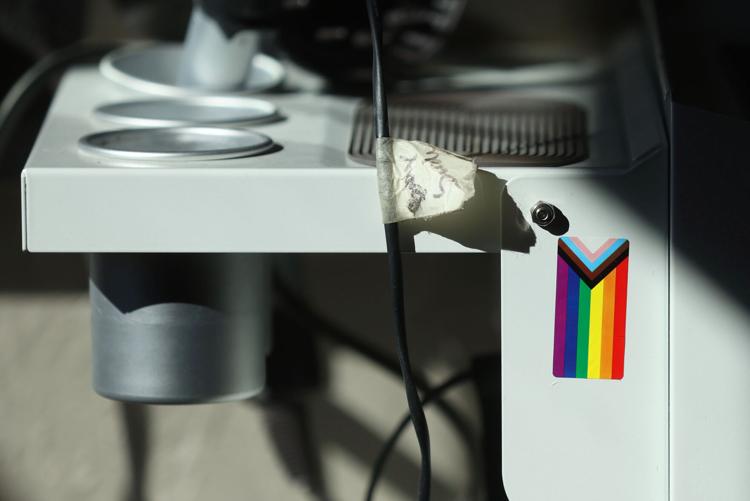 The event on Nov. 19 also marks another special event at Belle Starr Salon — a queer clothing swap where attendees can trade clothes, shoes and accessories for something new. The swap is one of the many types of community-oriented events that Laehn would like to continue holding at the current space and when they move in the future.
In the next three years, Laehn hopes to hire another hairstylist and buy a new building for the salon.
"I don't want to create a big booming salon; I want to keep it small and quiet. But I'd like to include more community events and a gathering space, among some other ideas that I'm playing around with," they said. 
"We're here to serve the queer community and people who may not feel comfortable going to other places, (we're here) to create a comfortable atmosphere," Laehn added. "It's going to continue to be a safe space for people to come to."
For more information about Belle Starr Salon, check out their Instagram.