Alex Wolfe has always been a nature aficionado. 
They grew up in Sierra Vista playing games with their neighbor, seeing how many toads they could catch and hold in their hands during monsoon storms. (Their record is 26, by the way.)
Alex would gaze at the many horse lubber grasshoppers that lined local streets, followed by cars driving through the roads, unable to avoid the grasshoppers and ultimately crushing them.
The memory of the fallen grasshoppers was one of Alex's first experiences with grief over human-caused death in nature.
"I remember just sobbing as a child over my sadness and grief about how many of these grasshoppers were dying," they said. "And I continue to experience sadness like that as I got older and I've always passionately loved nature and animals."
That passion and respect for nature and animals became a common thread through Alex's life, a thread that helped lead to their latest journey — the opening of Tucson's newest curiosity shop, The Heathenry.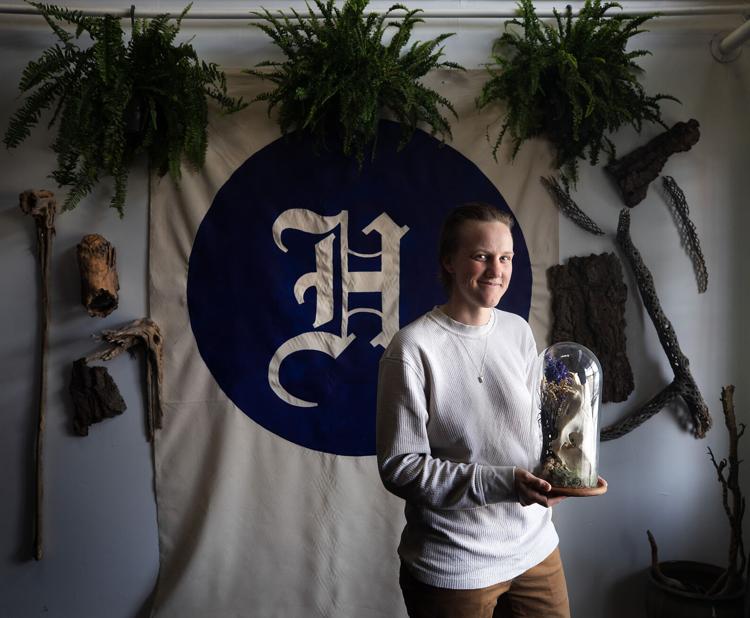 The Heathenry, 657 W. St. Marys Road C10, is a queer, family-owned curiosity shop and tattoo studio co-owned by Alex and their partner, Karolina Olivia, a tattoo artist and fellow nature enthusiast. Since it's a family business, you can count on seeing their kiddos, Izzy and Wilde, and some of their furry friends around the shop.
"The foundation of The Heathenry is really a place for appreciating the beauty of nature, both in life and in death," Alex said. "I'm a big advocate for respecting the natural process of life and death and finding beauty in that process. And honestly, I think my collecting of dead things was part of my own processing of that whole experience of like, 'Wow, things die, and we all die.' But it comes back new and beautiful and there's still so much to appreciate about it.
"So, some might call it an oddities shop but we don't really consider ourselves much of an oddities shop. Though some people find things odd, it's more of a curiosities shop, so things that are built and created to honor the beauty of nature and share a respect for it."
'It's something that we bring into our lives, in our homes, to appreciate it and honor it.'
Everything at The Heathenry is bound to pique your curiosity.
There are cases of animal skulls from javelinas and coyotes, taxidermy mounted on the walls and tables filled with handcrafted nature-centric art items from Alex, Karolina and other local artists.
One of the shop's most recognizable items is its glass domes that house preserved animal skulls and dried plants, all of which are legally and locally sourced by Alex and Karolina.
"We are not about commodifying nature," Alex said. "Everything has value, so much value, right? But we're not here to make it a commodity. It's not something that we put on our wall to make us feel cool or special. It's something that we bring into our lives, in our homes, to appreciate it and honor it. And for it to bring something that's really bigger than just a cool piece on your wall."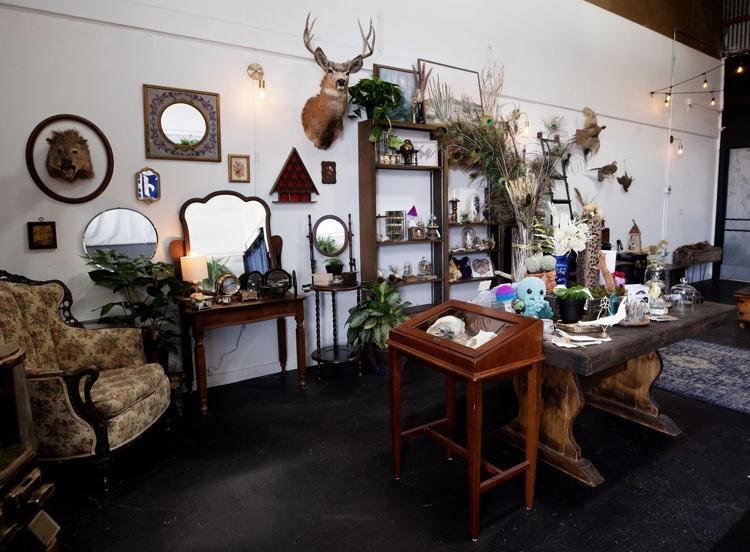 Karolina, who has a background in art, said she tends to take a more minimalistic approach to her handcrafted items, while Alex prefers to create more elaborate designs that almost mimic nature diagrams.
Since the items in the shop aren't mass-produced, their inventory depends on a couple of factors — what they are able to forage and how long it takes to process and clean certain items, like skulls and other bones, for example.
Most bones take days, weeks or even months to look clean, shiny and white. It's part of a process called maceration, according to Alex, who has collected bones for around 10 years.
"What's very important to me is that the quality of our products is very high," they said. "So while it is possible to just go out and pick a bone up outside and then put it on a table, that's not really what I'm trying to send you home with. I want you to really have something that is at its peak, as far as quality. So, I do take the time to make sure that the bones that we have are cleaned and are as close to a museum-quality specimen as possible."
Regardless of the deceased animal or bug that makes its way into the hands of The Heathenry, Alex and Karolina treat the creatures with the utmost respect, giving them a name and even coming up with a backstory of the possible life they lived.
After the bones and bugs are cleaned and preserved to perfection, they make their way to one of The Heathenry's glass cases, domes or boxes to await their new home.
"I'm actually glad that it does take some time for people to find the right piece," Alex said. "I don't want people to just sort of buy it and take it home, I really want it speak to them. 
"So, it's always fun waiting for the perfect person to pick out their new pal essentially and there have been moments where we've been at markets and somebody's come along, and there's a piece that nobody's really paid attention to and then somebody goes, 'Oh my God, I have to have that.' And that brings me, just like, this (joy). I'm like, 'Yay, I knew you were out there, like I knew that you existed and this was for you.' I'm always so grateful for those moments."
For Alex and Karolina, The Heathenry is more than just a shop. It's a workshop for Alex, a tattoo studio for Karolina and a safe space for, well, everybody.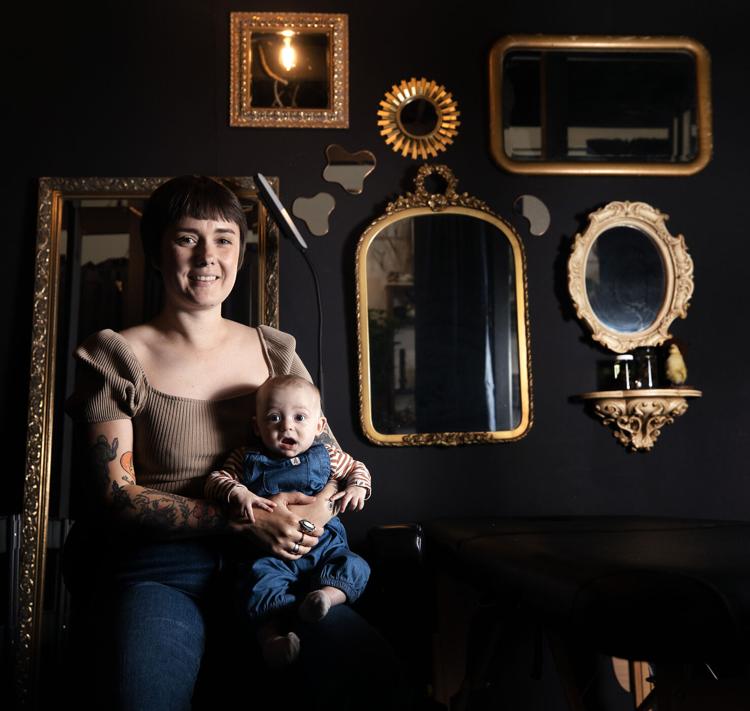 "We want to share our passion. We want to share our art," Karolina said. "And we want people to feel comfortable and safe and like they're part of our family, I guess, is truly how we want people to feel."
Even if you don't go home with a new curiosity item or a new tattoo, there's one thing that the couple hopes you will take away from the shop — a new appreciation for life in nature.
Alex, who has a degree in environmental science and wildlife management and currently works as an environmental educator, hopes to spark that appreciation by educating folks who visit The Heathenry about animals, nature and even death.
"There's nothing cool about death in a sense, right? Things dying is sad. There's so much sadness and grief around death, but there's also so much beauty and so much learning," Alex said. "Most of us had to do dissections in high school and for a lot of folks, that is not where it's at and I totally respect that. We want to bring a little bit of that education that you may not (have had) hands-on with animals. But you can come in and you can pick up a skull and you can learn a lot about that animal, or you can pick up a bone and learn a lot about that animal.
"And that's really what my big founding philosophy is, that everything should be educational, and it should be honoring the life that was lived."
All my friends are heathens
Part of creating The Heathenry involved one easy task and one not-so-easy task.
The easy task? Coming up with a name to bestow upon the future shop.
For that, Alex was inspired by their roots, growing up in what they described as a "hyper-conservative religious family."
"I grew up to be this person that is very queer, very spiritual, but not necessarily Christian," they said. "And very fascinated by all the things that are just a little bit strange or different in nature. And I just thought it was kind of funny that my friends and I would always joke about all the heathenry we were up to and just a bunch of heathens. And there are pieces of the work that I do that feel heathen-esque. … I guess the truth is that I'm a bit of a heathen. And so I'm always up to some heathenry. And that is how I named the space."
The not-so-easy task? Finding the perfect place for The Heathenry to call home.
Alex and Karolina knew they wanted a cool, old space with a lot of character. And they had the perfect spot in mind, near St. Marys Road and Interstate 10, but the timing never worked out... until recently.
During a routine trip to their storage unit at Wildcat Storage, located in the same building they were interested in, Karolina stopped by the office to pay their storage rent but to also inquire about available spaces for the shop.
"I went back to the car and I was like, 'Alex, we're gonna look at these spaces. I know that I wanted to go pay rent, but they're actually available right now,'" Karolina said. "It wasn't like we found it on Craigslist, it was just something telling me (it was meant to be)."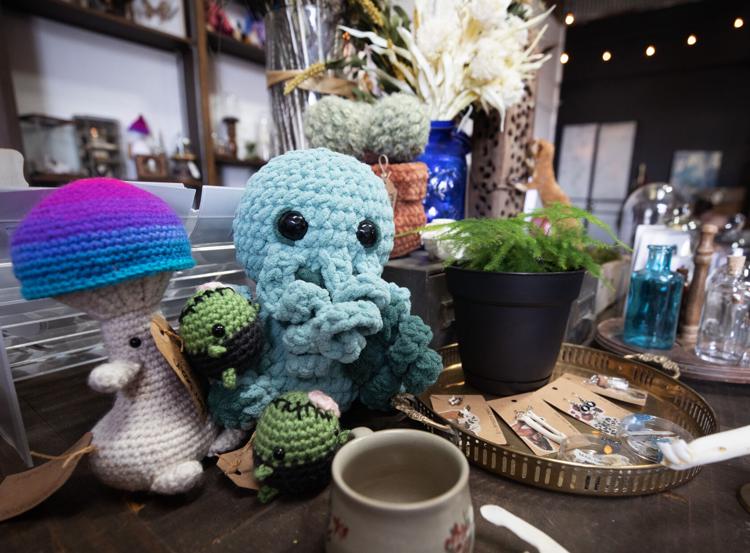 Now that The Heathenry is officially open, the duo is excited to connect with other curiosity and oddity enthusiasts in Tucson. They plan to host educational workshops, talks with environmental experts, socials, tarot card readings and more.
Eventually, they hope to open part of the shop as a maker space for other curiosity fans to craft their own items.
"Everybody's bringing their own unique way to appreciate oddities," Alex said. "But I think what makes us different is that I do not consider us an oddities shop. Some might call us an oddities shop, but I really love calling us a curiosities shop. Because I want to pique your curiosity. And I want to teach you something, I want you to learn or gain an appreciation for something. So, I'm not inviting you in to be spooked. I'm not inviting you in to be creeped out.
"Whether you consider yourself an oddities person or not, I still would love to have you come visit The Heathenry and see for yourself what we're doing and learn a little bit about the curiosities of nature." 
The Heathenry is located at 657 W. St Marys Road C10. Their current hours are noon to 5 p.m. Friday through Sunday. For more information, check out their Instagram page.