Maria Iturralde is all about good vibes.
Her shop, Hola Chingona, located at 412 E. Seventh St., is the embodiment of good vibes. There are the pastel-colored walls, rainbow-wired lights and shelves filled with handcrafted novelty items bound to bring back childhood memories for any Hispanic millennial.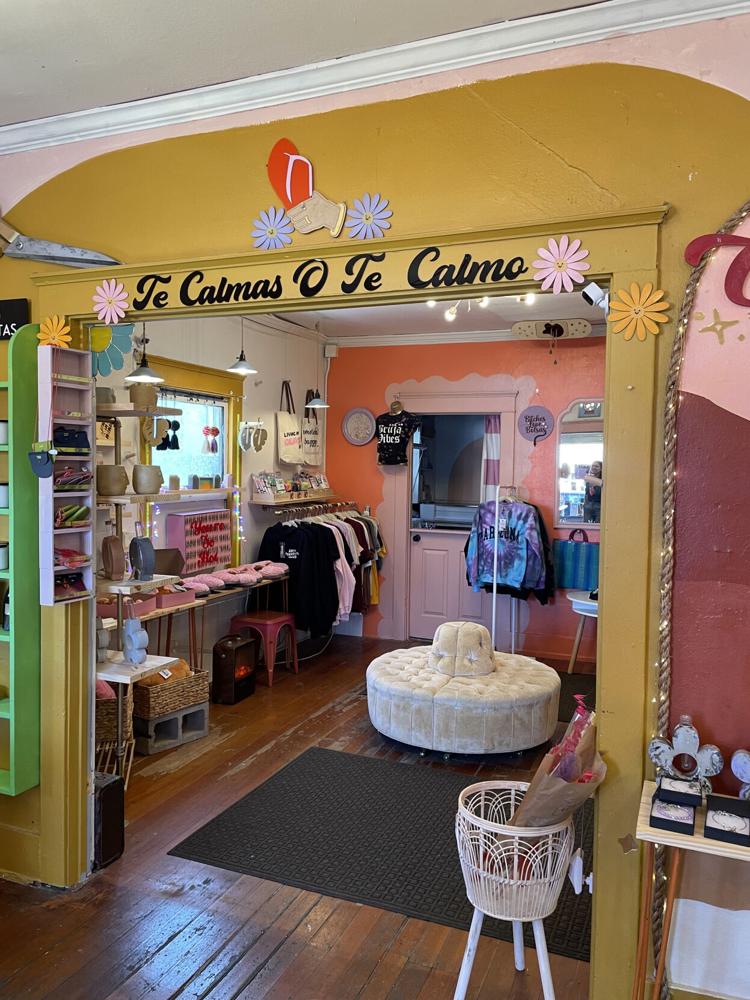 Don't believe it? Just check out the large "Te calmas o te calmo" sign with a hand-drawn hand holding a chancla (flip-flop) that hangs above you in the store's central archway. Or, if that doesn't do it for you, take a whiff of the Velitas' "Sucia" candle that smells exactly like your mom's (or nana's) best friend on the weekends — Fabuloso, the all-purpose lavender cleaner.
But, before you can even get to the good stuff inside, you're welcomed by two red carpet-style stanchion posts with pink velvet ropes leading to the shop's white door that says "Chingona" in bold font. 
"Chingona," according to the shop's door, means "a mujer (woman) who is intelligent, fearless and can get things done."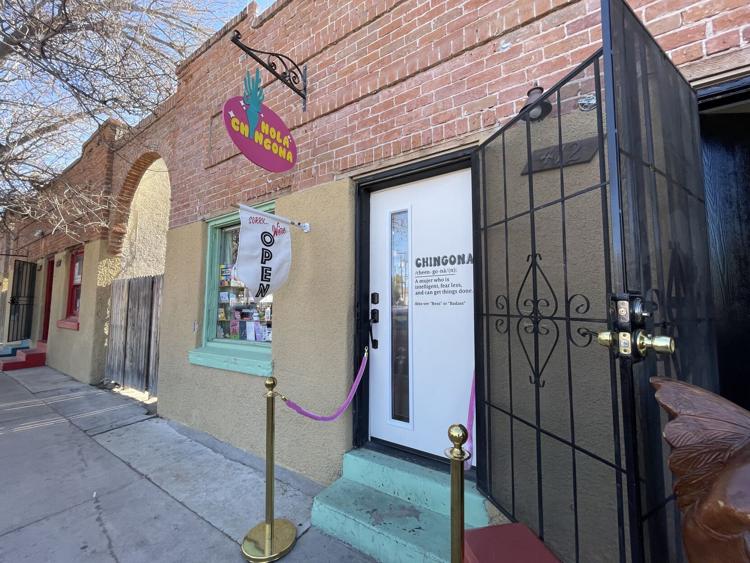 The term Chingona has always been a significant part of the shop name, which recently got a "facelift," Iturralde says. The shop was previously known as Chingona Arizona — until a few days ago when Iturralde decided to make the name change to Hola Chingona, just before the brick-and-mortar's first birthday on Jan. 16.
"It just sounds right. It feels right," she says. "And I think for growth purposes, to make it something bigger than Tucson and bigger than Arizona."
For Iturralde, everything she has done so far with Hola Chingona — the design, name, product choices and layout of the shop — has been influenced by feeling. What feels good? What feels right? What vibes does this bring to the shop?
"As far as not just customer base, but the appreciation for it, I had no plan," she says. "I just wanted a space to sell the stuff I made. And it just kind of became what it is now. Naturally, I didn't force anything and I'm gonna really try hard to keep it that way. But just the amount of people that have connected with the store, I think that has taken me by surprise, probably more so than anything else."
When Iturralde works on handcrafting items in Hola Chingona's workspace (aka the tiny backroom of the shop), she can overhear the laughter from customers as they look at the giant pink concha slippers, the cochito coin purses stored in traditional pink panadería boxes, or any of the handcrafted cards with cute, funny — and some NSFW — quotes.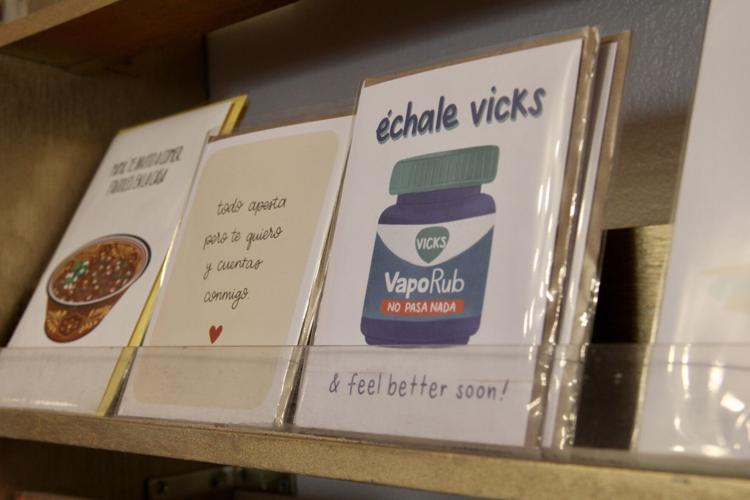 "It's the laughter of good memories of their moms, of their tías, of their nanas, of their childhood," Iturralde says. "I'll be back there just laughing at other people laughing because laughter is so contagious. A few people have said that they felt seen or that they felt like this place was for them. (That) now is pushing me even more to make it more special for everybody where initially it was just to find a space for myself."
Pure Chingona 💪
The journey to the current Hola Chingona is a long one — filled with twists and turns and pivots. Some may even say it's been a lifelong venture to get to this point, but Iturralde always knew she was bound to make things.
"I've always been super creative, super crafty, always making stuff or trying to invent (things)," she says.
Growing up on Tucson's south side, Iturralde and her cousins would play this game she called "everything in the world."
"We were a call center and a business that offered everything in the world," she says. "And so I was always trying to make the next big thing even as a kid or try to find a way to make money whether it'd be putting a box on my door, so you can't come in unless you put $1 in or something. So it's always been instilled in me to just always make stuff."
Iturralde first learned how to sew around 2010 while she was in school to become a surgical technologist. The hobby quickly became her "first love," she says.
She started by making scrub caps, doing that for years until she wasn't passionate about it anymore. She eventually decided to take a clothing construction class at Pima Community College where she learned how to make her own sewing patterns.
From around 2016 to 2018, she participated in pop-up markets to sell her handmade items but ultimately decided to go back to school, this time for surgical assisting. 
To finish the surgical assisting program, she needed to complete 140 surgical assists before she could take the final exam. In the spring of 2020, she had 18 assists left — and then COVID-19 struck and her program was put on hold.
While her program was on hold from March to September of that year, she sewed over 300 surgical masks. She learned how to use a Cricut machine and began creating new things like mugs, cutting boards, reusable cups and jewelry. 
One of her favorite creations are her unique bolo ties that can be worn as a necklace or a tie. One she currently has for sale at the shop is of a hot dog, complete with ketchup and mustard bottle charms at the end of each string. It even comes stored in a custom hot dog box.
"I always compare myself to Belle's dad from 'Beauty and the Beast,' like a totally wacky inventor because when I get into that mode, I'm just crazy," Iturralde says. "I learned a lot in a very short period of time and the amount of things I could make went from things with fabric to just about anything. And with that, I started taking the idea of maybe opening a shop a little bit more seriously. The idea initially was to open up a store where people could rent out their own little booths, like an antique shop except for makers and rent out their own little spot to have their own little piece of something. But being such a small space, I found initially it didn't work out. So I went to consignment and now I think I have 20 local people in the shop and then 40 or 50 small businesses from all around."
At first, Hola Chingona was a place for Iturralde to have her own space to create and craft away from home, but it has grown into so much more over the last year. It's become a place for young Mexican-American millennials to connect with the local maker community. (Iturralde still has her own space to create, too, with her newly acquired studio right around the corner from Hola Chingona.)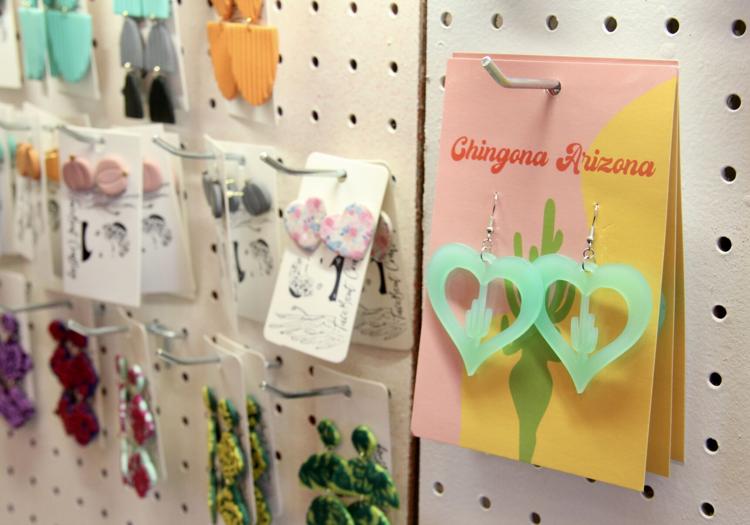 Some of the other makers featured in the shop include Taco Bout Crafting, Luna and Saya, No Bad Days Design Studio and Tierra Mia.
All items have a Chicana flare, but even if you don't come from a Hispanic background, you're bound to find something cute to pick up during your visit.
"My whole family is from Mexico but I was born and raised here in Tucson," Iturralde says. "And so the store is really just me in all of my Mexican upbringing, culture, as well as growing up, in all that pop culture during that the '80s, '90s and 2000s. I feel like that's really what the store is, it's really colorful, weird, with semi-inappropriate humor. … When people walk in, all these different types of people, they find something to connect with. And even someone that's maybe not from a Mexican background but still grew up in Tucson, there's so much of that culture here that I feel like so many people still connect to it."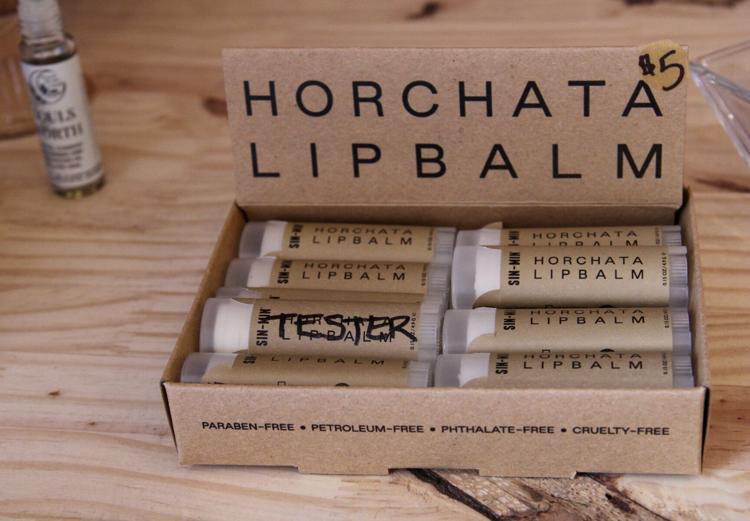 And the shop isn't going away anytime soon because Iturralde is locked in at the Seventh Street location until at least 2025, she says. Eventually, she hopes to bring back maker classes and possibly expand or open a second location.
But for now, she just wants to get back into her love of sewing and bringing good vibes to Tucson.
"I take it day by day. And just like when I opened the store, I didn't have a goal other than giving myself a space outside of my home to be able to make things because it's so easy to get lost inside of your house," Iturralde says. "And then taking care of your kids and then working your regular job and I just really wanted a space to be able to focus on something and then I really felt like I could make it grow if I just had a space and that's what I wanted. It's just a little space to sell my little things and call it a day, but the connection that people have with this place (during) this last year has made me want to make it grow not just for myself, but for all of them."
For more information about Hola Chingona, check out their Instagram page.