If you're a woman of STEM, there's a group in Tucson just for you.
It's called 500 Women Scientists.
Don't let the name fool you. There are actually more than 20,000 people in more than 100 countries (including 77 in Tucson) who have signed up and pledged to build a more inclusive scientific community. 
What is 500 Women Scientists?
It's a grassroots organization that was started after the November 2016 election when four women got together to write an open letter reaffirming their commitment to speak up for science and for women and underrepresented groups of people. 
The hope was to get 500 signatures from women in science. Within hours of posting that letter, the goal was surpassed.
From there it turned into a national group with local pods in cities across the country, where women meet to create a support network, make plans and take action. 
The thought behind creating small local groups is that change comes from deep roots and strong, personal relationships, rather than large crowds. 
"So, sort of a grassroots effort as women scientists; identifying what are the priorities for say, Tucson," said Rachel Gallery, assistant professor in the School of Natural Resources and the Environment at the UA and one of the group's organizers. "We started the group a little less than a year ago. There are 77 members, which is wonderful, who are self-identifying women and self-identifying scientists. We use those terms in the most inclusive way possible."
During this past year, the Tucson pod has held an all-women panel discussion on current events in science and spoken at Tucson's science rally in April. 
It also hosts monthly meetings where the group gets together to socialize, network and focus on a specific theme. 
"For me, what we're trying to do is we're fighting to expand the diversity of faces, of voices and of minds in science so that it better reflects and serves society," Gallery said. "We're trying to build a community and serve as a resource as mentors within Tucson ... Many are engaged in science outreach and we want to continue to put ourselves out there as science advocates, anywhere from K-12 outreach to giving public talks and establishing partnerships with communities in Tucson. It's also about making new friends within this group of women."
Lydia Jennings, a PhD student in the UA's Department of Soil, Water and Environmental Services was a student in Gallery's class when the group first started. It was appealing to her because of the outreach and activism opportunities.
"It's an awesome organization and a vocal collection ready to be change agents; but also a really fun organization of awesome women ready to peer-mentor other women, which is something I've been looking for in my educational process," Jennings said. "I was compelled to join the Tucson pod after seeing the Science March happen and seeing that some of the voices of issues are not being amplified enough and recognizing how diverse our community is."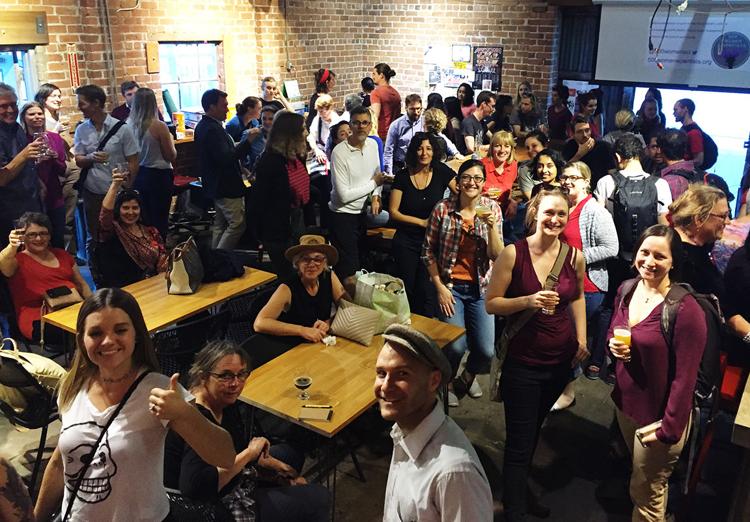 Part of the group's mission is to make sure the community knows how important science is to our everyday lives. 
"This means listening to as much as talking to community members," Jennings said. "I hope we're able to mentor future generations of scientists, but also bridging other professionals as well. We have such a strong community here and I think there's so many ways science effects everyday lives that we want to amplify."
Another aspect of the group is finding ways to promote each other. 
For example, if someone is looking for a speaker, the group has a database of women contacts.
There's a push from the organization's national level to get women to write more op-ed pieces.
"Women's opinions on whatever aspect of science are under-represented in the public domain, so we have this major push for women to write more op-ed pieces," Gallery said. "The more women you see sharing opinions the more you're gonna do it."
Many members are volunteering time to speak at schools and engage the kids there on various outreach projects, as well as seeking out mentoring opportunities.  
Activism is another part of the group's focus. 
"There are so many policies which are impacting our community as a whole and I think in the past, scientists have wanted to stay away from politics but I don't know how we can do that anymore," Jennings said. "As knowledge holders we can't stay silent. We need to highlight how taxpayer money funding our studies benefits the community. That's our responsibility as knowledge holders and seekers."
Gallery says that although there are a lot of women in STEM careers in Tucson, there aren't enough women in senior positions. 
"I'm at an assistant professor level and hopefully transitioning to associate, so I'm examining my role in academia and how I can create more opportunities for women in leadership positions and for myself, too. If you don't have someone in a leadership role you can look up to as a mentor, it doesn't really occur to you it's something you can accomplish."
And it's not just women, but women from underrepresented communities, Gallery said. 
"I think that is one of the main components of what we would like to focus on in the Tucson pod is how to make that happen," Gallery said. 
If you identify as a woman and a scientist, you can join the group. That doesn't necessarily mean you work in a lab or are a researcher. 
"I truly feel like we're all scientists," Gallery said. "Children are natural scientists because science is about being curious about how the world works and trying to work through problems toward solutions, and to me, that's science. Most of us do that in our daily lives. So we don't wish to exclude anyone who says, 'oh I'm not really a scientist.'"
If you are interested in joining, click here to sign up. It's free for now. If you just wish to sign up as a supporter, there's a place to do that there too. 
---