Cactus, agave and other desert gems inspired Celeste Mills' jewelry long before the world fell in love with succulents. 
Mills, 44, remembers sitting with her Pascua Yaqui grandmother, listening to stories about her family, her childhood and the rich, spiritual symbolism of flowers to the Yaqui.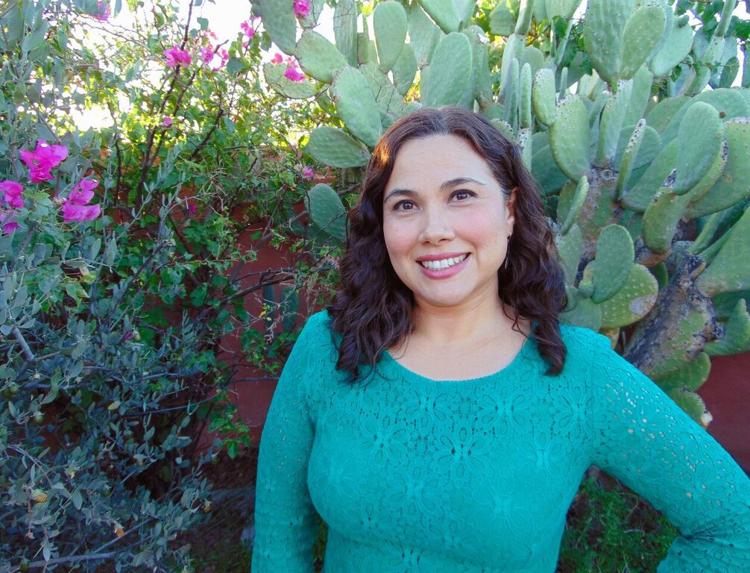 "She really taught me to appreciate the natural environment, and she had a lot of plants and flowers in her yard," Mills says of her maternal grandmother. "She let me pick them and make little bouquets ... and she always had lilacs everywhere because she loved the way they smelled. And orange blossoms, too." 
That's why you'll see lots of beautiful desert imagery in her jewelry.  
Mills, a Tucson native, has been in business making jewelry since 2001. Originally, she called it called Blissful Epiphany Jewelry, but in 2016, she changed the name to Cactus Bloom Design. 
To make her jewelry, she often sits on her patio, surrounded by cacti and agave. On Saturday night, you can find her at Pop Cycle, where she'll be hanging out as the featured artist for the shop's monthly happy hour. 
"We're so into cactus, and she does a lot of cactus and she does a lot of plant life..." says Libby Tobey, the store manager at Pop Cycle. "Her designs are so earthy and simple and elegant." 
Mills has artists on both sides of the family. Her mother and aunts doodled all the time, mostly natural scenes, and her father taught Mills to draw people. Her father's side of the family, originally from Sonora, Mexico, also expressed creativity in more three-dimensional ways. 
"There was no Pinterest back then, but they mostly did crafty things," she says. "They taught me to make Mexican flowers and my grandmother and aunt taught me to sew and make clothes for my dolls ... My dad was always tinkering with more mechanical things as an electrician, so he had a lot of wires and things like that in his workshop ... I started making bracelets out of tubes and wires, and then I started selling them to my friends."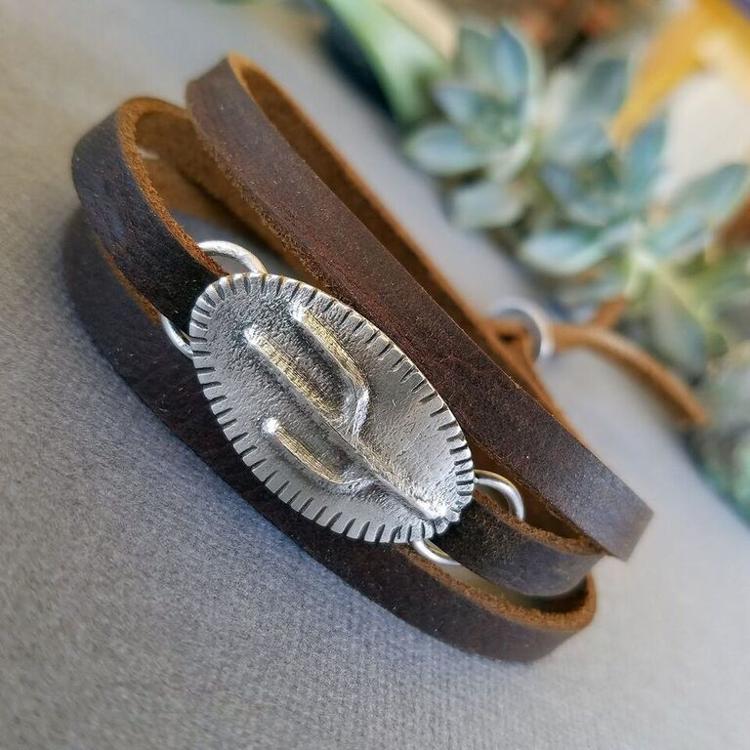 That's a trend in Mills' life. People have always wanted to buy her art. 
As a young girl, she would take drawing requests and charge around five cents for pictures. And then she got into the jewelry-making biz. 
"But the time I got to middle school, we had taken a trip to Mexico, and the gift shops had some really intricate friendship bracelets, so I bought some of those, and the whole trip I spent taking them apart and trying to put them back together to figure out how they were woven, and by the end of the trip, I was able to replicate them," she says. 
At first she made the bracelets for herself. But then friends wanted in. 
She spent her weekends filling custom friendship bracelet orders. 
Her art went on hold when she became a mom at a young age — until she realized working full time at Intuit wasn't satisfying her creativity. 
"I started making my own jewelry just for fun, and then my coworkers  started wanting to buy them," she says, guessing she was in her mid to late 20s at that point. 
So once again, Mills began filling orders. 
Eventually, she began making jewelry full time, selling at local shops such as the now-closed Bohemia. 
The dip in the economy drove Mills back to a desk job, this time doing marketing and graphic design for a local plastic surgeon. She had another child and eventually transitioned back to making jewelry full time, this time adding freelance graphic design to her repertoire. 
She made that leap about two-and-a-half years ago. 
You can find her jewelry online through Etsy and in person at Pop Cycle, the Tucson Botanical Gardens, the Arizona-Sonora Desert Museum and a Native American cultural museum in Palm Springs, California. 
"When I'm making a piece, I mostly just want it to be beautiful," she says. "That's my main thing I'm hoping for. I want it to represent the desert and I want whoever is wearing it to feel good when they're wearing it." 
Mills says she started incorporating desert motifs into her work more than 10 years ago. She's loving the current cactus trend.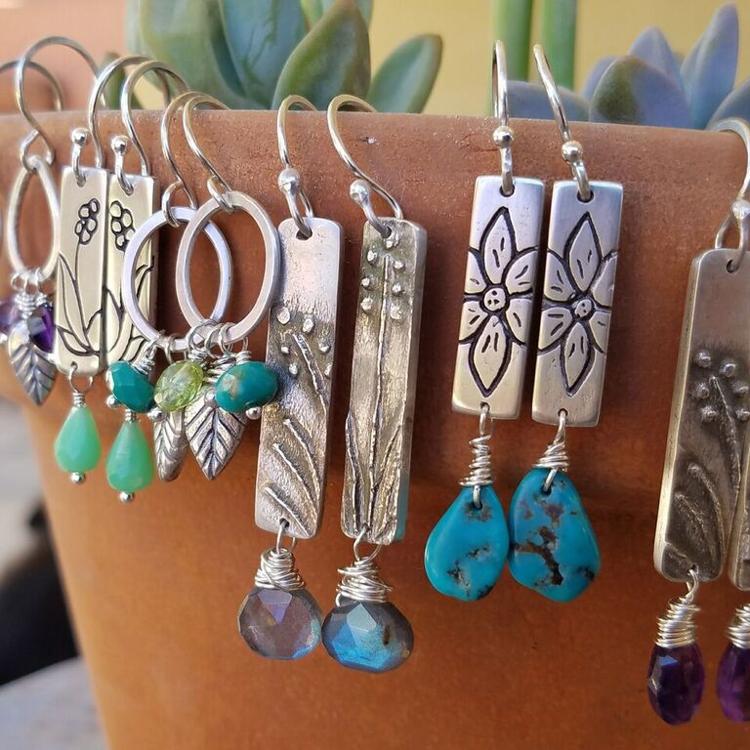 "I love the muted colors of the desert ... and I love when you get a bright pink flower or yellow flower and just the contrast and juxtaposition of that...," she says. "I can stare at them forever." 
Her jewelry is dainty and modern, quietly influenced by her Native American and Mexican heritage. She uses sterling silver and Arizona turquoise (when possible). Some pieces are 14-karat gold filled. She learned to work with metal through a Tucson Parks and Recreation class. 
"When I first started doing desert cactus designs, I just did whatever came naturally and I didn't mention anything about my Yaqui heritage or anything like that," she says. "It just seemed completely natural and normal. Tucson is an awesome place, because all of these cultures fuse together, and even if you don't come from that background, you're still just immersed in it. That's just Tucson." 
---
If you go
What: Happy Hour with Cactus Bloom Design
When: Saturday, June 30, 5-7 p.m. 
More info: Visit the Facebook event here. 
Shop native american jewlery made by Celeste Mills. You get to meet the artist, check out her latest creations, enjoy refreshments, tunes and art.