---
With face masks now required in Pima County, to wear a face mask or not is no longer the question.
But the best kind of mask to wear? That's still up for debate. 
A study led by Amanda Wilson, an environmental health sciences doctoral candidate in the UA's Mel and Enid Zuckerman College of Public Health, found that not all homemade masks have the same effect. 
Wilson, working with researchers from Ohio and the United Kingdom, created a computer model to compare how well masks of various materials reduce the risk of infection from the novel coronavirus. The research was published in the "Journal of Hospital Infection." 
With data from existing studies, the team used the model to estimate factors such as how much air someone inhales, the concentration of the virus in the air and how much a mask would filter out for the wearer, Wilson says. 
They also compared how risk changes when someone is exposed to the virus for 20 minutes versus 30 seconds. They looked at the risk without a mask and while wearing a variety of masks, including N99, N95 and surgical masks — plus masks made from nontraditional materials such as a cotton T-shirt or scarf. 
And while Wilson's research shows that the N99, N95 and surgical masks are the most effective for blocking the virus, public health officials have consistently asked the public to reserve those for healthcare workers. 
The next best option, according to the team's research, was vacuum cleaner bags, which can be used in a filter pocket of a cloth mask (although there is debate online about whether all brands are safe to use this way, so check on the materials list of the brand you use). Those reduced the risk of infection by 83 percent during 30 seconds of exposure to the virus and by 58 percent during 20 minutes of exposure. 
A scarf, in comparison, reduced the risk of infection by 44 percent after 30 seconds and by 24 percent after 20 minutes. That was the lowest-performing mask material. 
"People think, 'Oh, if I wear a mask,  I can go out wherever I want for how long I want,' and that's not what the model is showing," Wilson says. "Even if the mask is filtering air, it's not filtering 100 percent of the air, so you're still exposed possibly to some virus, and as you spend more time in that space, especially if someone is infected and not wearing a mask, your infection risk starts going up." 
After vacuum cleaner bags, tea towels, cotton-blend fabrics and antimicrobial pillowcases came in as the next best options. Wilson points out that the research is limited by the source data they used to explore different scenarios in their model — for example, the original study about cotton-mix fabrics that Wilson and her team used doesn't give specifics about the makeup of that blend.
She adds that for some of the materials, "the efficacy varies a lot," meaning one type of material can have a huge range in how well it filters out the virus. Also, some of the rankings are super close to each other. 
"The type of modeling that we're doing is called quantitative microbial risk assessment," she says. "You can use data from literature to estimate health outcomes." 
The Centers for Disease Control and Prevention recommends that people wear cloth face coverings in public as a means of protecting others from any infected respiratory droplets you may spread through coughing, sneezing and talking. Because COVID-19 can be spread by people who don't have symptoms, wearing a cloth face mask acts as a barrier and reduces the droplets spread by the wearer, according to the CDC. That, combined with washing your hands, staying home and keeping 6 feet of distance between you and others can help slow the spread of the virus. 
"We were putting this together for a healthcare audience, although it has value for others," Wilson says of her research and its focus on the protection masks can provide to the wearer.  
And while the main reason to wear a mask is still to protect those around you, the team's research shows that some homemade mask materials may offer a range of protection for the wearer, too. 
"The main point I wanted people to walk away from this with is that wearing masks is important and not every mask is equal," she says. 
Where to wear a face mask
On June 19, the Pima County Board of Supervisors passed a resolution requiring everyone over the age of 5 to wear a face covering when in public, if 6 feet of physical distancing cannot be maintained. This means face coverings are required in public places throughout the county. Exceptions include children under the age of 5 and people who cannot wear a face covering for medical reasons or are hearing impaired. Masks are not required when you are eating or drinking at a restaurant; swimming; or exercising outside as long as you can maintain an appropriate physical distance from others. You can find additional details and exemptions by reading the resolution. 
Where to get one
This team of both nurses and quilters created their mask pattern to mimic the properties of medical masks using materials easily found at home. 
If you'd rather buy a mask, thankfully options abound these days. Why I Love Where I Live is selling $15, Tucson-themed masks. These are cotton with elastic loops and a pocket for a filter (filter not included). For every mask purchased, the business is donating one to a local organization in need. 
Qmulative is also selling stylized masks featuring sugar skulls, cacti and more for $15. These masks are cotton with a filter pocket (but no filter). 
How to wear a cloth face mask
It's important that you wear your face mask correctly and that it fits snugly around your face with no gaps. It should also cover both your mouth and nose and rest on the bridge of your nose and under your chin. If your mask doesn't fit well, it's more likely you'll fiddle with and touch it, which is a no-no. 
The Pima County Health Department has tips for how to properly wear and  clean your cloth mask and recommends washing it with detergent and hot water and letting it dry each night. Cloth face masks should be washed after each use or at least at the end of each day. If you do use your face mask more than once before washing it, wash your hands before and after putting it on.
---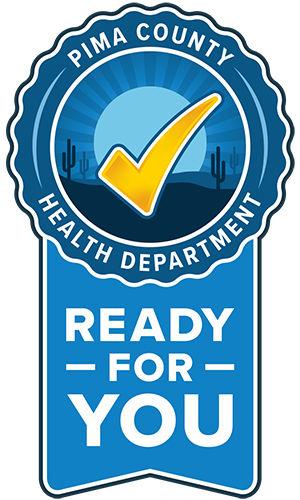 Stay safe with Pima County's new "Ready for You" program
Despite all safety precautions, high risk individuals should continue to minimize public exposure.